Choose the Best Models for Different Types of T-Shirts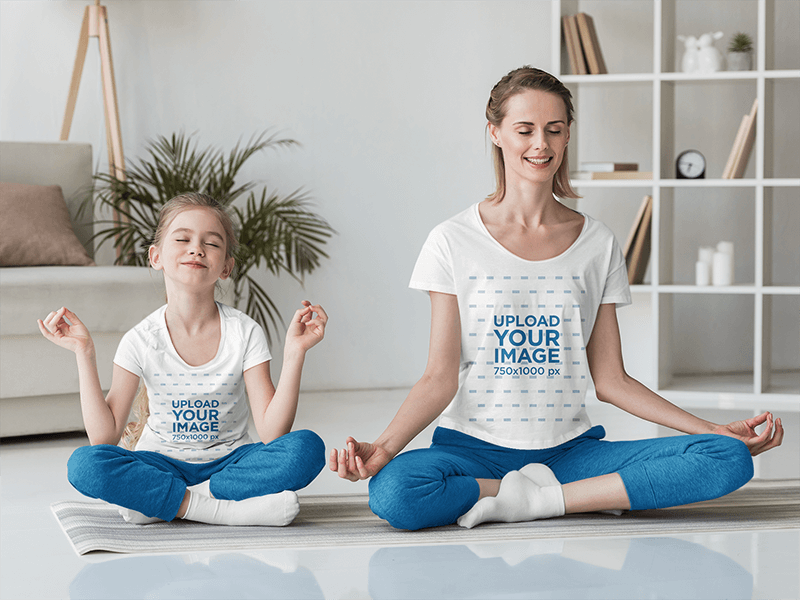 In this article, you will see a number of t-shirt mockups with explanations of how to choose ideal mockup models that would most enhance the sales of your designs and make them more compelling to buyers. As an example, we'll use the WaveIfYouLike novelty t-shirts brand. The concept behind these t-shirts is that people who share your passions would see the shirt on the street and wave to you, creating smiles, spontaneous magic moments, and potentially acting as ice breakers. But how do you actually create a t-shirt that accomplishes such a goal in mere seconds using Placeit mockups?
Let's proceed to our first example, which is everyone's favorite Internet passion – cats.
These are the Best Mockups for Cat Lovers
Before deciding on the type of model to have in your product photos, be certain about the target market for a shirt. The market for this cat t-shirt are passionate and proud cat ladies or people who want to give a great gift to the special cat lady in their life.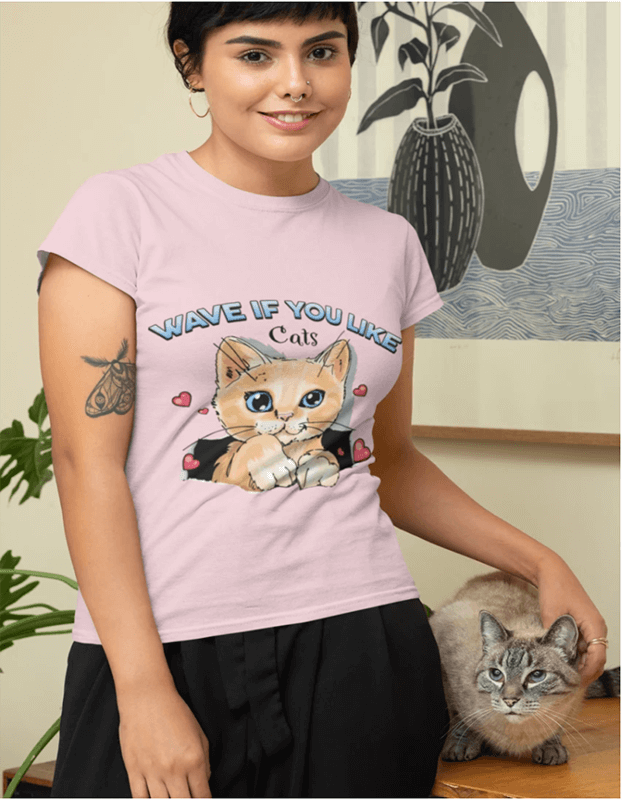 Since the cat ladies themselves will be overwhelmingly female. Plus, since the brand is social and about connecting with like-minded people, we would choose a female model, preferably one who is waving or friendly and engaging. Plus, we need a model that conveys the shared love of cats.
Luckily, Placeit's mockup generator has an option to search models by ones who have pets and suddenly I have options for models with cats.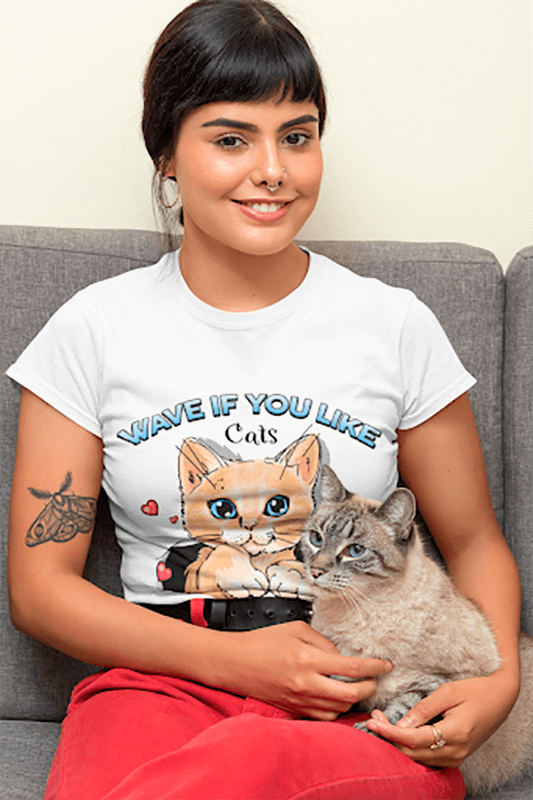 This image is great. The model has a warm smile. She looks comfortable, charismatic, and her cat snuggles perfectly to the cat in the design without blocking it. Plus, cat owners love to snuggle with cats and this photo makes it look like there is warmth, unity between the two cats, and multi-cat cuddling who miraculously happen to both have blue eyes. Multi-cat cuddling is hashtag #catladygoals.
One thing to keep in mind is that the bottom of the shirt design is almost cut off by the model's belt. To solve that, during the cropping of the image, raise the image a little bit. See your editing as you telling the models how to dress and understand that you must act as the director and not as a passive observer. Be proactive about changes and adjustments you think might enhance the photos. Attention to detail is crucial.
🔥 You might like: Free Placeit Alternatives
These are the Best Mockups for Hikers
This hiking shirt has a female cartoon character. Even though both men and women can wear this shirt, the female cartoon character makes this shirt a better fit for women. During the original design, it was thought that the shirt is equally a match for men and women, but product testing showed that men hesitated to wear a shirt with a hiking woman on it and asked for a similar shirt with a man or nature without people.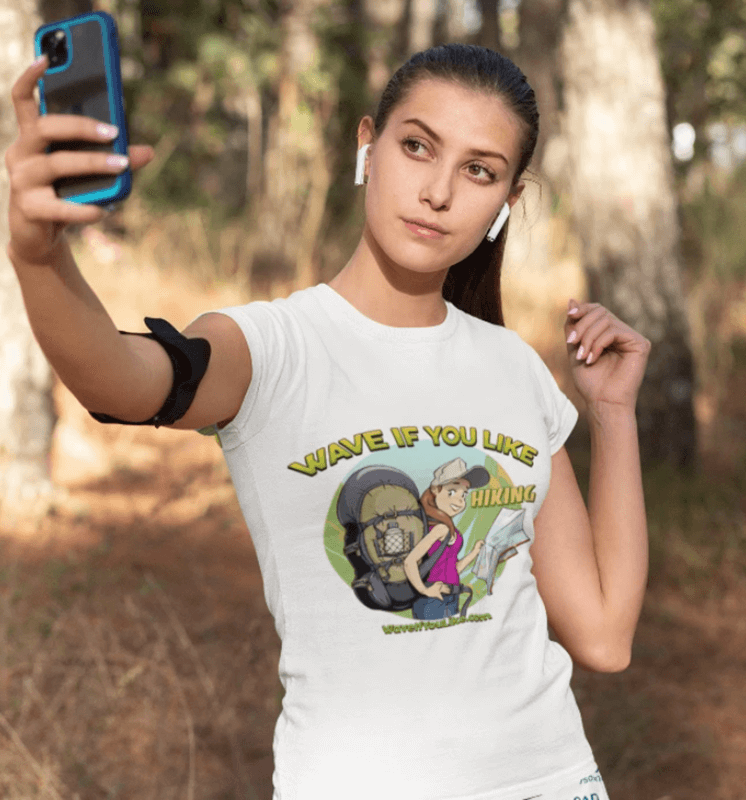 Since the theme of the shirt is hiking and outdoors, we can do a lot with PlaceIt images. For example, we can have romantic or social settings. The most important is for the image to get the potential buyer imagining how much better their hiking would be with this shirt.
Here is an example of a model that makes people imagine the fun photos they will post on social media because as everyone knows, you're not having fun until all your friends see photos of how great of a time you're having.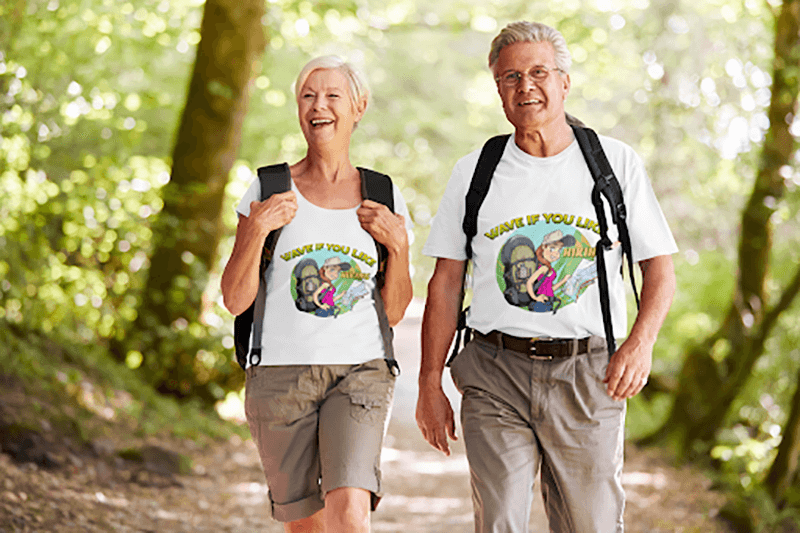 This type of design can get people imagining how romantic it would be to hike outdoors with a partner and share that passion together. It's also great if you run ads or promote to an older demographic. 
These are the Best Mockups for Beer Drinkers
T-shirts for men that focus on younger male-centric topics must tap into what men think about. And everyone knows what men think about, we can help their imagination get going with images of women. So for a male-centric t-shirt like this beer t-shirt, the model should be a "girl next door" type of woman. Also, you can keep creating and adding extra features to your brand and try the beer label maker!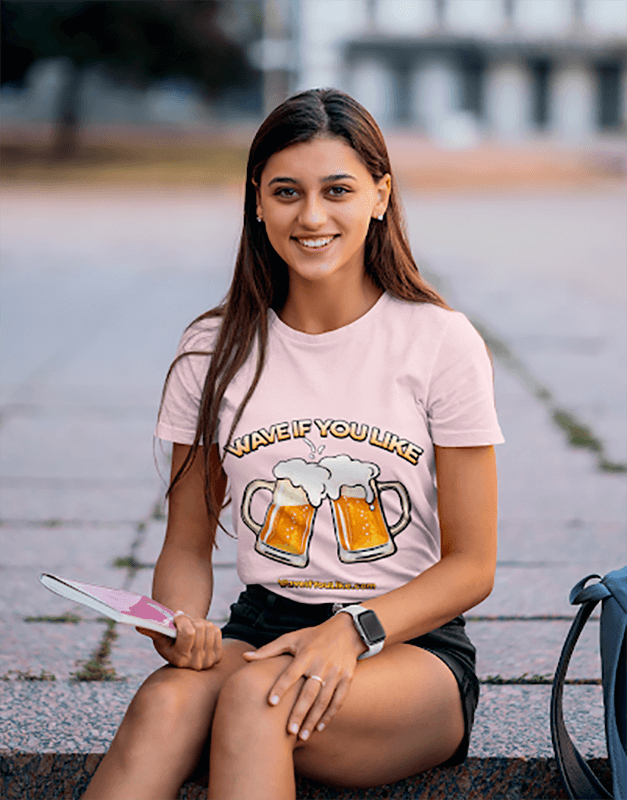 How Much of Buying is Emotional?
People think that they make rational and logical buying decisions. But that is much less the case than people think. In fact, some people argue that all decisions are mostly emotional. You decide what you want based on how good you feel it will be for you. For example, if in one hand you had an apple and in the other, you had a pear, you'd start leaning toward the one you prefer before you really had a chance to think about it. Emotions simply kick in much faster than the part of the brain that deals with logic due to the structure of the brain. So if the imagery in your product photos is chosen with the goal of triggering the right emotions, you are on your way to making the sale.
On the other hand, if your images or products don't inspire emotions, it may be the key to understanding why people aren't buying or why people aren't clicking on your social media posts. For example, when people see the photo you post on Facebook if it elicits an emotional gut reaction response and creates interest, a large percentage of people will interact with it. That will give Facebook signals that this is a great post and Facebook will show it to more people which will result in more sharing, traffic, and buying. But if your image doesn't inspire interest, little of those desired things will happen.
Last Words
In conclusion, buying is emotional and this is why it's important to choose the right mockup for your product. And even though we share similar emotions, we are also unique in how we process ideas and which images spark emotions in us. The deeper you understand the emotional pulls and psychographics of your target audience, the better you will be able to pick images that trigger strong buying emotions in your customers. So don't just assume you know your target audience, talk to them, and get feedback. Every time you learn something new about your target audience, you will be improving your sales.
Look for the perfect mockups to showcase your designs on the perfect occasion for example find awesome mockups for your thanksgiving designs, summer season shirts, LGBT festivities , and even for the back to school months, and you can even put these same designs into our mockups for tablets and PCs.You can find basically anything on Placeit!
---
The Best Mockup Models for Your Designs
We tell the best tips to choose the perfect mochup models to showcase your designs. Make you t-shirt designs look stunning over some beautiful models. You can find all kinds of models for all kinds of t-shirt style on Placeit!
Mockups with Models
---