The Easiest Mockup Generator
Placeit is the perfect mockup generator. It's as easy as choosing a mockup, dropping your screenshot and downloading. You can choose from hundreds of mockups to create your own, in seconds. And by hundreds, we really mean over 800+ mockups for iOS, Android and Windows Mobile apps. We have all the latest devices mixed between different types of environments, from work to casual, from home and families to fun and bars. Placeit acts as a mockup generator because it will create a photorealistic mockup as soon as you drop your screenshot, including realistic glares and shadows. No need for any Photoshop work. Our professionally shot images really allow you to make the best use of our mockup generator.
Here are some examples: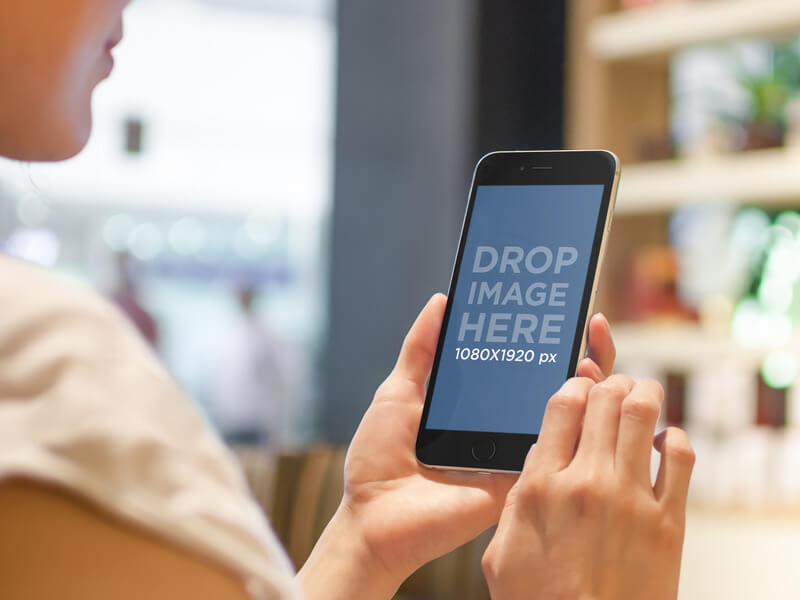 Try it here. We see a young woman, relaxing at a local tea shop. She's deeply engaged in her iPhone. She could be doing anything on her phone; checking email, playing a game, streaming a video or enjoying the latest app. The possibilities are endless! Which makes this mockup perfect for advertising your app or mobile responsive website. The image of the iPhone is angled just right so you can drag a screenshot from your site, right onto the phone. This mockup is a great way to reach your audience and grab their attention!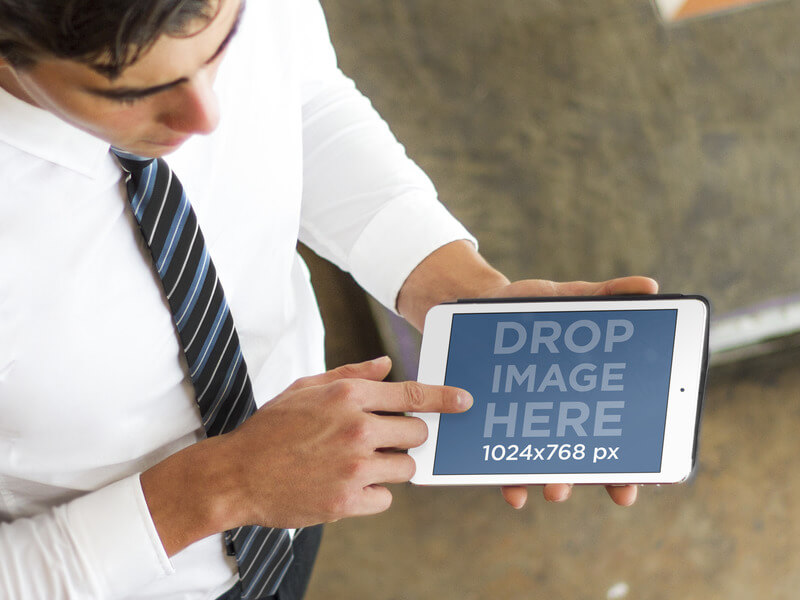 This is an amazing iPad Mini mockup, it features a young businessman who is holding the white iPad Mini in landscape position and the image is a top view shot, which provides an excellent view of the iPad's screen. This mockup creates a business atmosphere as it looks like this young man is showing important business data to a coworker with his iPad, he may even be using a productivity or business app to share statistics or other important data, it could even be your app what he is showcasing. All you need to do is drag a screenshot of your own app into the iPad's screen and you'll get an amazing mockup you will be able to share with partners or potential users, mockups are a great tool to enhance your app marketing strategy, give it a try with this iPad Mini mockup. Try it here.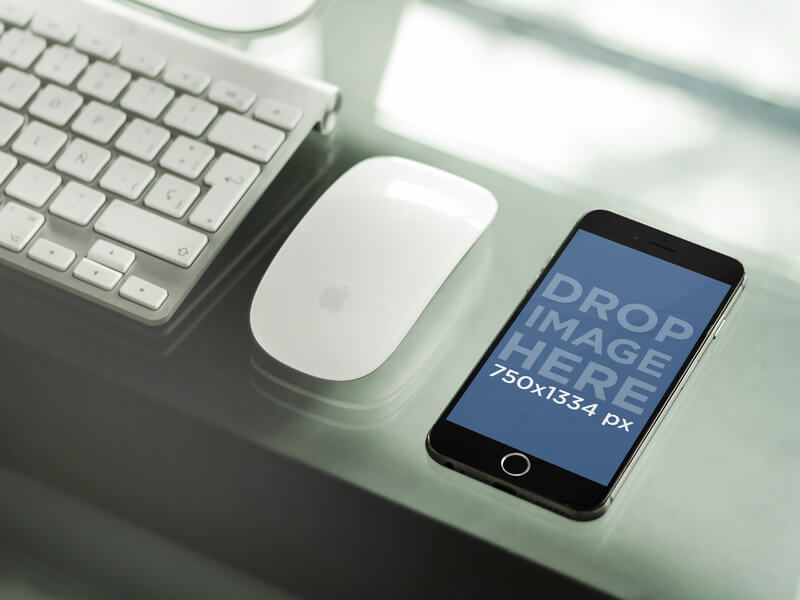 This is an elegant and professional looking iPhone 6 mockup; just the ideal place for you to display a screenshot of your new iOS business or productivity app. Take a look at this image, the beautiful black iPhone 6 lays in portrait position over a sleek glass desk, the device is being perfectly aligned to the computer's keyboard and mouse, which generates a beautiful arrangement that really makes the iPhone's screen stand out and become the main focus of attention. Imagine your app being shown inside that screen? Make it happen! Just drag your image into the black iPhone's screen or type your mobile responsive URL above and it will automatically create a screenshot. Use device mockups to display and share your new iOS app with clients, partners and potential users as a part of your app marketing strategy! Try it here.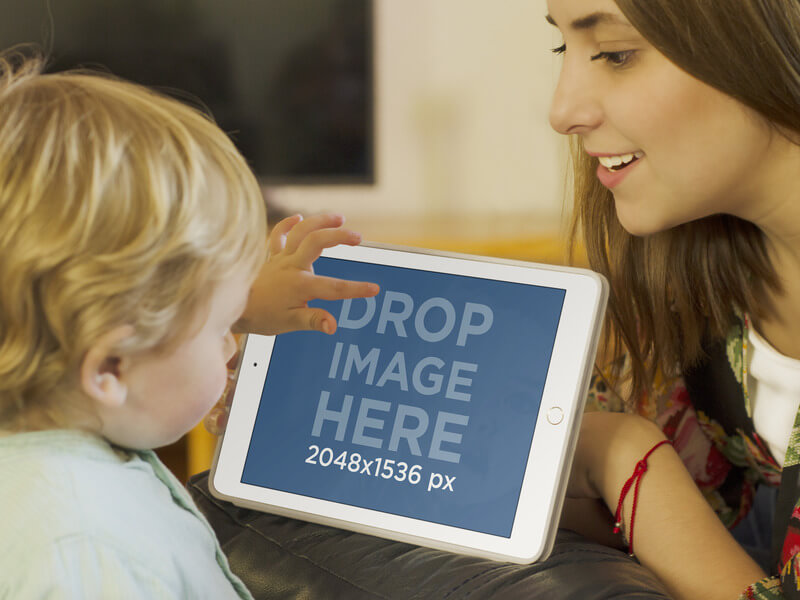 In this iPad mockup we can see a young mom enjoying some quality time with her son, he is barely a toddler and is already familiar with high-end technology, as we can see him tapping on the screen of a white iPad in landscape position; she smiles with amusement of her child's abilities with the device. This is the perfect scenario in which you can display your new iOS kids app and show it to the world as a part of your app marketing strategy. All you need to do is drag a screenshot of your app directly into the screen of this iPad, or simply type your mobile responsive site's URL above and it will automatically generate a screenshot that fits; your end result will be an amazing image that will carry your app in a wonderful context that will provide a clear idea of what your app does and who your market is. Placeit is definitely a great app marketing tool, go ahead and try it out right away. Try it here.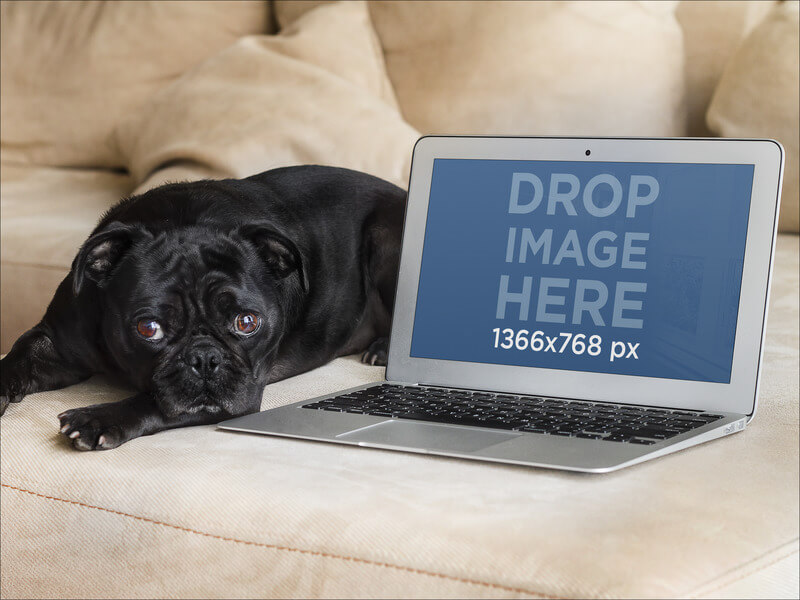 It doesn't get any cuter than this. This beautiful black pug puppy just came home from a walk outside and is exhausted so he lays over the couch, next to a MacBook Air, the perfect place for you to display your new pet care website or web app. Actually, any website would look stunning next to this cute puppy. The photograph has great lighting and the arrangement works fantastically, as it allows you to display a full screenshot on the MacBook, which steals the spotlight and provides a great context for you to present your new site in. Use MacBook mockups as a part of your online marketing strategy to provide your potential users and clients a clear insight on your website's design and features while being used. Besides, this mockup generator makes it super easy for you to create an amazing image within seconds! Just drag and drop your screenshot over the MacBook screen. Try it here.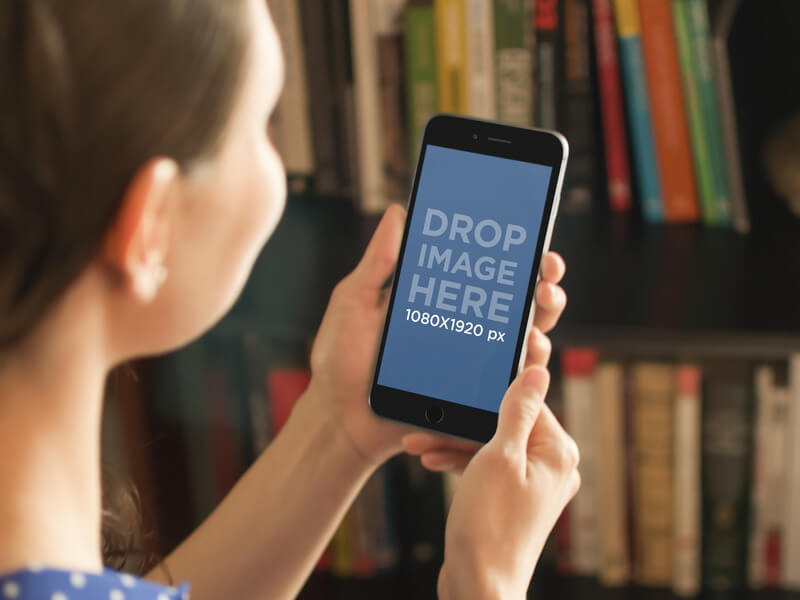 Try it here! Your mobile responsive website can be enjoyed anywhere! And this young lady is proving it. In this scenario, a young woman is using her favorite app in a library. She has a big smile on her face, you can tell. Perhaps she is a student, using the latest educational app? Maybe she is taking a long deserved study break with a fun new game or shopping app? The possibilities are endless! The only thing missing from this scene is your app! So, download this mockup today and add a screenshot of your site or logo. And you'll be ready to share your incredible app with the world!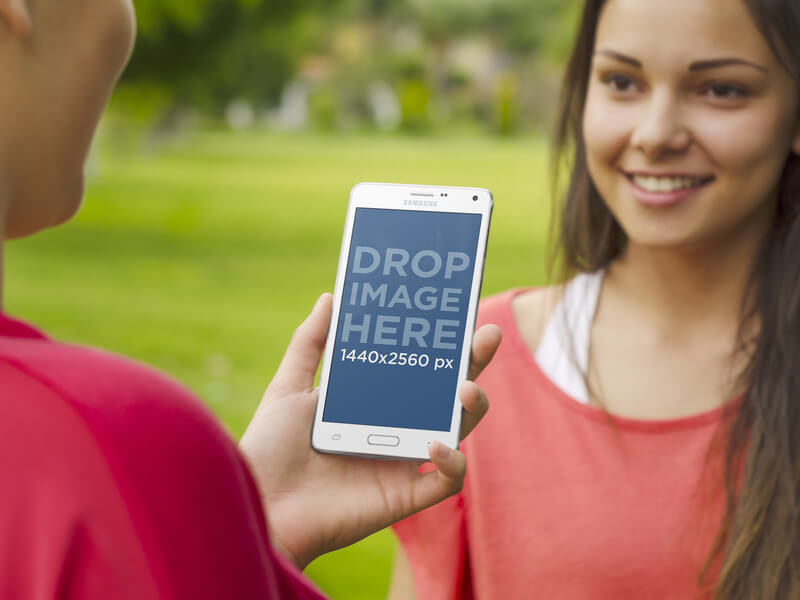 A beautiful, professional Samsung Galaxy Note mockup, showing two friends hanging out at the park. One of them holds the phone while the other smiles. Buff up your app marketing strategy with this device mockup. It's always better to show your design in context, so we created Placeit to help you. All small sizes are free. You can just drop an image and Placeit will generate your personalized mockup in seconds. If you designed an android app and need to showcase it, try out this Samsung Galaxy Note mockup. You can also input a URL and it will show on the device screen. Try it here.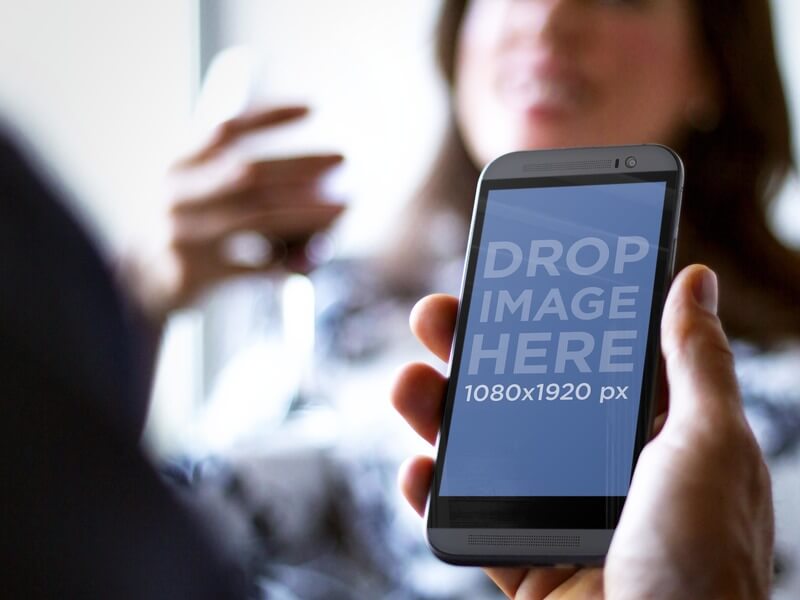 Try this HTC Mockup here! Have a leisure or event app to promote? Then this mockup is ideal for you. This scenario features a young couple relaxing over drinks. Perhaps they're on a date and the man is looking up movie times? Or the couple is having dinner and he is checking a social media account? Or maybe he is making reservations for a spontaneous trip they just decided to take? There are a lot of marketing options here. The close-up shot of the HTC's portrait screen means that you can easily upload a detailed screenshot from you app. Making this Placeit mockup the perfect marketing tool for you.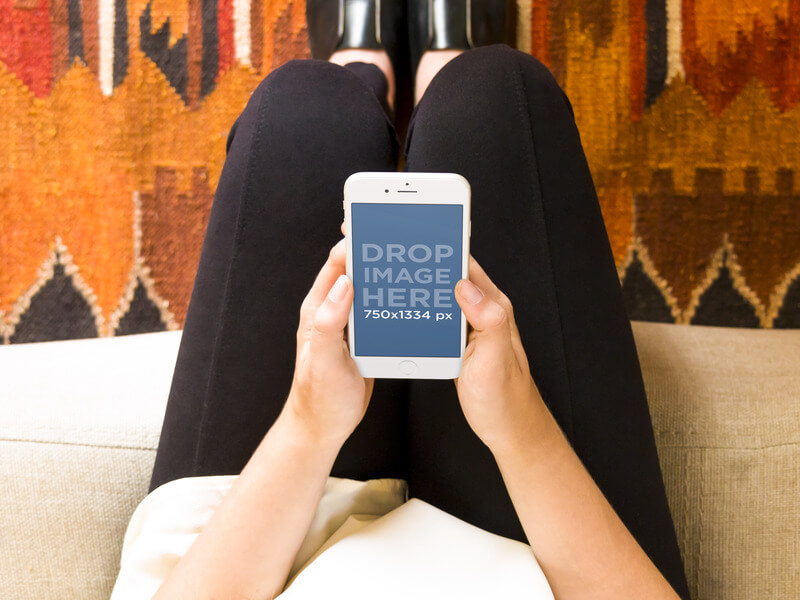 Did you recently launch an iOS app on the App Store? Is it doing as well as you'd hope? Perhaps it's time you take a new approach to your marketing strategy. That's when Placeit's iPhone 6 mockup templates come to your rescue. What makes Placeit so effective? It allows you to take real life scenarios to help promote your product within context. Take this scene for example, here we can see a young woman using her white iPhone 6 in portrait position while relaxing on her couch. Who can't relate to this scene? You can easily use this home scenario to promote you iOS app or mobile responsive website. It's quick and easy, try it out right away by simply dragging your own screenshot directly into the iPhone's screen. Try it here.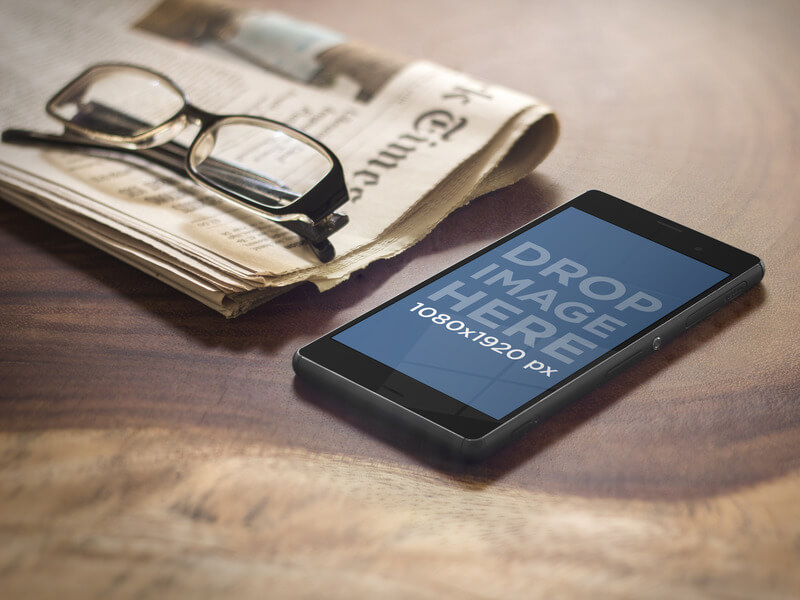 Try this Android mockup here. There are thousands of Android apps at the Google Play store, in order to make yours stand out you must think outside the box, using device mockups as a part of your app marketing strategy is a great idea since they will allow you to share an insight of your app's design and features while being used in a real life scenario. Take a look at this particular mockup, the image has a great lightning which generates a warm environment that complements perfectly with the items on the table, we can see a newspaper with a pair of reading glasses on top of it, and next to these, the beautiful Sony Xperia, isn't it a great mockup? Try it out now by simply dragging your image onto the Sony Xperia's screen, or just type your URL above.
---
---