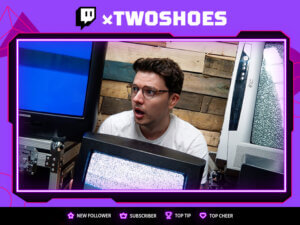 For all those wondering how to become a Twitch streamer, the answers are about to be revealed in this fun interview we had with one of our favorite content creators: xTwoShoes! Let's go! 
Here You'll Find:
Meet Daniel Kelly-Atkinson
Dan, also known as xTwoShoes, is a fantastic streamer who spends long hours of his day interacting with his community on Twitch. In addition, he creates top-notch educational content on YouTube -to support and share with those who have the desire to become streamers-. And if that wasn't enough, he's the founder of his own company called LVLUP -a full-service creative studio for content creators-. Undoubtedly, all these qualities make him one of our favorite creators, and therefore, we decided to interview him to tell us his best tips. So in this blog, we have summarized them for you. Let's get started!
🔥 But before, don't miss out on these Placeit Reviews. Check out what some influencers -including Dan- said about us! 
---
1. Future Streamers: Find a Compelling Reason to Get Started
This may be one of the most important points because it underpins what lies ahead. If you already have in mind to start a new life and become a streamer, think and analyze well the why of this situation. By this, we mean don't do it because it's a trend, do it because you really want to. In Dan's case, he never thought about becoming a streamer, but life put him on the right path. And even though it was something he had never imagined, he always had a lot of love for the platform. 
"I've always loved Twitch, always loved the idea of it and connecting with people… I was kind of lonely during the pandemic… So I was looking for companionship, and I think people were looking for something to do, and then people just started to watch me, and then it became my job." 
---
2. Practice Makes Perfect
Luckily, Dan opened up to us to share some details he wished he had known when starting his streamer career. Since he admitted that being new to this world – during his first few months – "I had no idea what I was doing." 
"I learned the hard way by doing a lot of things that I think are wrong." 
In Dan's words, some of the main mistakes any newbie who has taken the plunge into streaming on Twitch can make are:
Not investing or putting effort into your branding,

Not having a plan or schedule for streaming.

Not complementing your streaming channel with a presence on social media. 
So we asked him: what would you do if you were starting your Twitch channel again but with all the information you got already?
"I think maybe devoting more time to my channel from the start. It would have been much more beneficial for me because I didn't do anything else other than stream. I didn't have a YouTube channel, I didn't have a TikTok I didn't post videos, so I think I definitely would have done that much sooner and managed my time a lot better. It's crazy how social media has become so important."
Before, and some years ago, it was mainly acceptable not to have complementary networks. But now, with around 8.6 million Twitch streamers wanting to do the same, the game's rules have changed. So time to level up your presence on social media! 
👾 Keep reading:8 Incredible Social Media Tips for Twitch Streamers
---
3. What to Do When the Competition Is Fierce?
First of all, let's understand that competition is healthy and can even serve to inspire and surpass ourselves. Our recommendation is to observe -for all those who want to become Twitch streamers-. Have you noticed that sometimes you look for content or tools that you can't find because they don't meet 100% of what you need? Well, that's what happened with Daniel's professional career. He wasn't only streaming but creating helpful content on YouTube. 
"There are a lot of amazing YouTubers who make educational content, but there's a couple of things that I figured out that I didn't hear anyone else talking about that. So I said, hey, I'll make the video; I'll put it out there, and I called it "How to actually grow on Twitch."
So what we can learn from Dan's success story is: 
Detect an unmet need and get down to work,

And expand your presence to other social networks or platforms. (not only on Twitch) 
These two actions made his channel stand out because, in his words, at the time, he only had 50 followers, but that content was what triggered the growth of his channel. So much so that, as of today, and a few months later, Dan has 10.2K subscribers. 
🔥 Psst, keep learning: How to Grow Your Twitch Channel in 2022
---
4. Expectation vs. Reality of a Streamer's Life
Becoming a streamer can be the dream life and job for many because you basically just have to play video games, stream for a few hours, earn money, and live with no responsibilities. Well, that idea is so far from reality, especially for those small streamers who are just starting out. Dan says:
"It's not just about sitting down in front of a camera and playing a famous game to get views and engage with people. There's actually so much effort, sacrifice, and even leaving your comfort zone behind." 
👾 Learn more about this topic: The Life of a Gamer: Expectation vs. Reality
It should also be noted that people only show what they want others to see in this virtual world. I.e., you can look at your favorite content creator and think that you wish to have their life because it seems easy and attractive. However, Dan explains that that person is probably overworking, ridiculously tired, and even sacrificing relationships and giving up on other aspects behind a smiley face. Truth is, you can't simply see what goes behind closed doors. 
And yes, "streaming it's a hard job." But you have to understand something, you are your priority.
"You have to look after yourself because if you can't operate, you can't run a good show. So, you need to find a balance." 
---
5. Must-Have Twitch Tools for a Streamer
Aha! This is probably one of the things every aspiring streamer wants to know. After all, you need to be prepared to go to war, don't you? So, xTwoShoes has summarized for us the necessary tools that every Twitch streamer needs -from his point of view-. 
A camera.

For example, Dan loves his camera because it's small and he can take it anywhere.

Discord.

To engage with your community when you're not online. 

And finally, for analytics, he recommends going to

twitchtracker.com

, where you can take a look at your growth and your statistics as a streamer. 
😉 Don't miss out on the Best Twitch Tools to Boost & Grow Your Streamings
"And then, honestly, like all jokes aside: Placeit!". "Placeit has been very good for me because I'm a really bad designer, as I said in some videos." So Daniel agrees that Placeit is a lifesaver, especially "when you're new on Twitch, and you have no budget or the resources to pay someone to do it." Even someone "who has the worst graphic design experience" can use it with ease and create amazing results.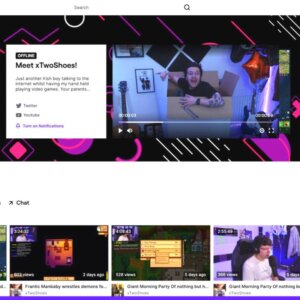 ---
6. Equipment for Streaming on Twitch
"I'm a believer that you do not need to go and spend thousands of dollars to be a streamer." 
In his own experience, not even a prominent, talented figure invests in the nicest or the most expensive equipment. It's more about investing in yourself. "Maybe learning a new skill that might help you on your streams, learning how to edit videos and better craft stories. That's the main investment people should make." 
Also, Daniel points out that "anyone who has a basic webcam and a decent microphone can do very well on Twitch." So go ahead and…
"Tell your story and show people your voice. You can do a massive show on the internet instead of spending money on some stuff that you probably don't need."
🎮 You might like: What is the Best Gaming Gear Every Gamer Should Have?
---
7. Is There an Estimated Budget for Twitch?
"Yeah, if you want to stream on a P.C. like me, you would probably need about $500 or $600. I think that's probably in and around the budget, but the thing is that you can always build that."
Therefore, you shouldn't wait months to save up to buy the most sophisticated equipment; you can always upgrade your equipment. 
You just have to take the leap of faith and begin your journey doing what you love: streaming on Twitch. No matter how many people see you today, do it for you, and the rest will come later. 
---
8. What's the Winning Formula to Succeed on Twitch?
"I think it's a combination of different things. Understanding analytics, SEO, and the algorithm help, but what will really make you stand out is your voice and your content at the end of the day."

"You can understand the previous factors, but if you don't have anything original to say or a tone of voice or a story to tell, people won't listen to you even though you're analytical." 
Take note: Content comes first and analytics later. However, both have a significant impact. The key is to know how to combine them and get the best out of each.
---
9. Is It Even Possible for Small Streamers to Live From This?
"Yes and no." However, "for somebody who's just starting on Twitch, let's say since day/month 1, you should not treat it as a business… You shouldn't go all-in on it without any backup plan."
But for those who are already on this path, you need to learn how to diversify your income. You can't rely on one channel; you need to find alternatives to your primary source. "Put away some money in case of a rainy day and plan out your finances, budget, and spreadsheets. Keeping track of them is part of the boring side of Twitch that nobody wants to hear about, but that needs to be done." And last money advice: "Don't pressure yourself to make it a business when it's not a business." 
🤑 You may be interested in reading: Make Money on Twitch: A Guide for New Streamers
---
Last Words
Well, we've come to an end. We've already given you a taste of what you'll find in the interview. But if you want to have a good time and discover Dan's best-kept secrets, watch the video! 
P.S. Remember, you're one decision away from becoming a streamer. Go for it and have confidence in yourself; you never know how far you can go. You might be at home today, but tomorrow you could be living your dream, in another country and with your own business, just like Dan -an atypical Irish guy-. 
Also, if you feel like it, you can find hundreds of unlimited resources like logos, banners, overlays, and more to start your Twitch channel!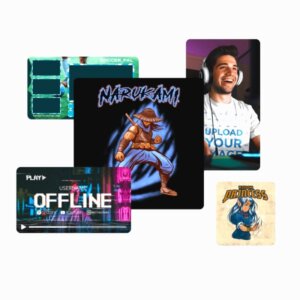 ---
---