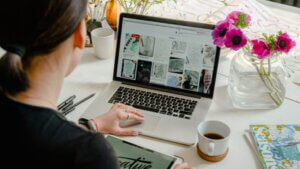 Many artists have had to change their working style to grow their social media following. The main reason behind it is the growing popularity of social media over the last decade. It has become the primary source of credibility for every artist, individual, and organization.
Here You Will Find:
The number of people connected to the official handle of an artist or organization marks the trust people have in them. As easy as it sounds, to organically grow your audience, you might have to put in more hard work than anticipated.
🔥  We talked to a social media expert; check out what she has to say about growing your profiles!
Some artists and businesses also hire personal social media assistants who help them handle their social accounts professionally and increase their followers. 
But before we get to the nitty-gritty of increasing your social media following, let's take a minute to understand what it really means and how you can up your social media game. 
What Is Social Media?
Social media are platforms that people use to interact and engage with each other and share ideas, thoughts, and data in any form. The ever-changing and ever-evolving feature of this tool is the reason why it has survived over the ages. 
Social media is an excellent tool for artists worldwide to portray their talent and put their work out there to find more audiences and potential customers. This marketing tool has revolutionized how people interact and shop today. The best way to be connected with your audience is through Social Media engagement.
Advertising and Social Media
In this fast-paced world, social media has outgrown its purpose. Social Media was earlier used just for connecting with each other before the wave of trends set in like sharing photos, blogging, gaming, social networking, and much more. 
Individuals now use this communication way for various reasons, mainly to keep in touch with friends and family. But now, is much more than just catching up with an old friend. 
It has opened a wide range of marketing opportunities for small businesses and artists.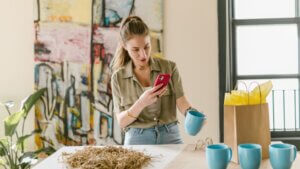 How to Start?
The first most important thing to remember while using social media to grow your business as an artist is that you need to set your goals right. You need to be sure of what you will be providing to your audience. 
Once you know what your service or business is aimed at, it is much easier to choose the right audience. Depending on the knowledge of your audience, you can decide which age group and demographics will be interested in your creations and then plan your social media marketing strategy accordingly. 
Different demographics have different preferences and reasons for using these platforms. However, one of the fantastic facts connected to this online world is that nearly 42% of the world's population, that is, 3.2 billion people use social media!  While the ages 50 and above have higher users on Facebook, Millenials are more inclined to the recent wonders such as; Instagram, Snapchat, Pinterest, Twitter, and LinkedIn. 
Facebook has been one of the most popular Social Media platforms where finding the right audience is much easier. However, for businesses and artists who don't have time to engage with their audiences on social media, hiring digital marketing assistants who research and work to manage social media for other pages is a good solution. 
✨ Use these tips to create a top-notch LinkedIn marketing strategy!
What Do You Need to Keep In Mind?
After recognizing your ideal audience and platform, it is essential to remember that every other platform has its unique way of analyzing its insights. To make the job easier, strategically plan your activities. 
The intelligent way of doing so is to make posts that suit every social media platform according to the ongoing trend rather than simply spamming the same post everywhere. 
Here Are a Few Things to Remember
1. Simplicity Is Key
Words sure play an essential role in marketing and connecting with your audience. Using simple language which is understood by a more significant number of your audience will help increase the reach of your posts.
To connect with your audience, you must know what language works best. Then, use statistics and insight from your previous posts to ensure you are going the right way. 
2. Consistency 
People forget while working on their social network handles that consistency is essential. The more consistent you engage with your audience, the more reliable you become to them. 
Plan your activities to get noticed by the right people during the right time of the day. The sole motive of keeping your social channels active is not just to be seen by new people but also to create a brand image while doing so. This helps leave an impression on the potential customer, who comes back for more. 
While time is money, investing time and being consistent might look like a big task if you manage most of the work. That is why people look for social media managers to handle their accounts more professionally. 
3. Trial and Error
All media sites have a different algorithm for promoting creators. Keeping that in mind, it is essential to consider the fact that what worked for some other business might not work for you. 
So what could you do differently to achieve progress? For starters, be flexible and open to experimenting. Every day is one step closer to what you are working for, given you are in the right direction. 
Try out different things and new things which might give you the right opportunity to reach more people. 
4. Monitor Everything Closely
While trying out everything new, the important thing to remember is not blindly following the rules but also being creative. Closely monitor the activity on your handles to notice which experiment worked well for you. 
Observe where the audience is coming from or what activities they are performing to your posts, whether it is likes, saves, comments, or simply viewing. 
The more you know about your social accounts, the easier it is to know your audience and connect with them. Knowing the age group of your audience is also another critical factor in understanding what kind of content is relevant to them. 
5. Quality Over Quantity
It is essential to work on the quality of what you put out there. Whether it is pictures, videos, or graphics, make sure that all of those are of high quality. 
The critical point here is to leave an impression on whoever views your content. Quirky, aesthetic designs and popping colors go a long way in social media posts. 
Many designing websites available on the internet, like Placeit, provide amazing design templates for anything and everything depending on your needs. Learn How to Make Social Media Images with Placeit 
6. Patience
While trying to decode this tool, you must remember that the more you invest time in these sites, the more growth you will find. Patience is the key to growing, and like any other activity, it takes time. While working on growing, there are no shortcuts. Although there are easy ways to generate fake impressions on various sites in today's times, remember that these ways can blocklist your account in the long run. 
7. Engagement
Having an active audience on your page is very important in terms of growth. Engagement refers to the activity your audience performs on your posts. 
It can be in the form of likes, comments, shares, and saves. Why is it important? The more engagement you have, the more people stay on your profile which determines that your content is worth spending time on. 
Social media algorithms work to promote popular posts based on high engagement rates.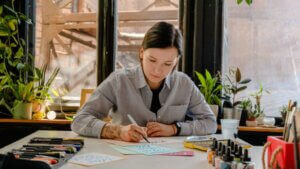 What Works Best on Social Media?
Use original content only. 

Be more transparent.

Reply to people's messages and comments as soon as possible.

Do not chase followers. Let it be a natural, organic process.

Plan giveaways to engage your audience regularly.

Use CTA's to direct the audience to your website.

Be innovative in your social media campaigns.
4 Hacks to Work Smartly
1. Follow trends. All platforms tend to promote their new features and push the reach of each post that follows the trend. Hence one of the best ways to stay head-to-head with your competitors is by following the latest trends.
2. Use hashtags. Another method to stay connected with the audience interested in your work is by using hashtags related to your art or business. This way, you can connect to the same community of people.
3. Share and support all. While trying to grow, it is essential to be on good terms with your competitors as it will help you in the long run. While promoting your own business remains a priority, supporting and sharing other competitors' work is also essential. The key here is to find the right balance between spamming and promoting the right content. 
4. Stand out. People love creativity and observing new things. Original, unique, and creative are the three mantras to follow on social media.
Remember, the real purpose of this digital channel is to feel connected. Connect with your audience to make them feel special. Make them search for you or become the talk of the town. Go creative and go gaga on that new reel trend! Also, remember that even great artists need some help to Creating Social Media Images: Best Practices
Social Media Is an Excellent Tool for Promoting Your Work
If you use it consistently and follow the basic rules of creating engaging content, you will soon be able to grow a loyal following on social media that will engage with you and turn potential customers in the long run. So use it wisely, and you will benefit from it as your following grows.
You may like: How to Grow on Social Media Using Stop Motion Videos
---
Author's Bio: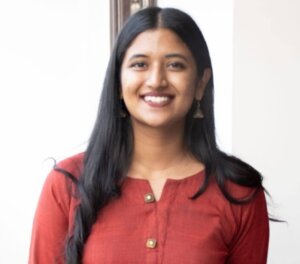 Sneha is a content writer with Wishup who loves to explore and try her hands on everything. With her wit and good hold on sarcasm, she will challenge your meme game. She started writing at the age of twelve and hasn't stopped since. 
---
---