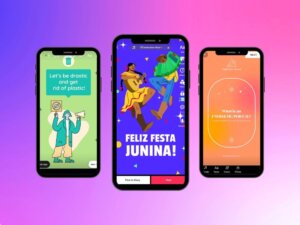 YouTube Shorts vs. Tik Tok vs. Reels, a tough decision, right? Well, no worries! With this mini-guide, we'll decipher together which is the best vertical video format for your marketing strategy through a fun quiz. Plus, we'll delve into the pros and cons of each video platform to get the best out of each. Shall we get started?
Quiz: Which Vertical Video Fits You Best?
---
Here You'll Find
---
Why Are Short Vertical Videos So Popular?
Not many years ago, we used to enjoy massive, traditional, and horizontal format content, but the arrival of smartphones changed the game's rules.
▶️  Check out Placeit's lower-thirds YouTube templates.
First of all, because these mobile devices suggest the practicality of having everything at our fingertips, it's no surprise that vertical mobile design is behind this idea. Then, how these innovative tools became part of everyday life, the ways of communication adapted, and gave an opening to a new format in social networks, which undoubtedly presents a much better adapted and easy-to-consume content.
And while TikTok wasn't the pioneer -keep in mind that before there were the 7-second videos of Vine and even Snapchat- this Chinese technology company did know how to do its homework to come to revolutionize the market with an improved proposal that has delighted millions of users around the world. So much so that tech giants like Instagram and YouTube decided to follow in its footsteps.
---
YouTube Shorts vs. TikTok vs. Reels: Similarities
Now, let's take a look at some of the features shared by these technological giants:
Aspect Ratio: 9:16 (makes the video vertical)
Resolution: 1920 px by 1080 px
File Format: .MP4 and . MOV.
An intelligent algorithm that detects and learns -through interaction- which are the preferred topics of each user.
An extensive library of commercial music to insert into videos. Even users can discover more videos using that same track by clicking on the circular audio shape.
Simultaneously, users can leave or look at the comments while the video is playing.
These platforms include buttons to like, comment, share, and follow accounts. Double-tap to indicate a video is liked.
Vertical videos allow users to continue viewing more content by simply scrolling down.
It's possible to upload one or more pre-recorded video clips or even record one from scratch.
All can be posted instantly, or you can choose to schedule them for later.
Shorts, TikTok, and Reels include hashtags and account tagging.
Videos constantly play if no action is taken, such as exiting the app, visiting a profile, swiping down, or pausing.
Plus, it's possible to add or hide subtitles.
Now, let's narrow it down a bit more and let the first and second place – TikTok vs. Instagram Reels – tell us what other features they share:
Location can be added.
Users can Duo (on TikTok) or Remix (on Reels) to reply with another video.
Its video editor allows changing the speed, adding a green screen, video and voice filters and effects, beautifying the physical appearance, adding timer, text, and emojis, answering questions, and even templates for adding photos and videos.
Also, brands and users can verify their accounts, just like the blue verified badge on Twitter.
---
With that being said, let's look deeper at the main features of every video platform:
YouTube Shorts

In this battle of YouTube Shorts vs. TikTok vs. Reels, the king of videos also decided to venture out with its own version of short-vertical videos. Let's check more details!
Release Date: A beta version was launched in India in September 2020, but its official launch was not until March 2021 in the United States.
Origin Country: United States
Video Length: up to 60 seconds
Max File Size: 2 MB
🤑 You won't want to miss out: How to Make Money on YouTube
Why Do YouTube Shorts Rock?
Firstly, Shorts are available all around the world. So anyone can become a content creator!

They are ideal for communicating quick news without doing a long video.

Viewers only have to scroll down to keep watching and discovering more Shorts. 

They bring you closer to people and help you to make your videos visible and gain followers in a short time. 

For advertisers, it's an advantage that now, ads are displayed within the "Shorts" tab. 

The "subscribe" button is visibly larger than on other platforms. In addition, it has a vibrant red color that makes it easier to click on. 

Shorts are perfect for those channels that already have a consolidated audience since their subscribers are the first to watch their content.

Lastly, it's a platform used by and from children to older people.
"In the United States, the largest audience (95%) is concentrated among 18-29-year-olds. This is followed by the 30 to 49 age range, which occupies 91%."
💥 Are YouTube Shorts worthy? Find it out by clicking on the link! Or check out our YouTube templates for your channel.
A Few Disadvantages of YouTube Shorts
There isn't a great variety of videos compared to other vertical video platforms, as some tend to repeat themselves. 

It isn't possible to

monetize

YouTube Shorts.

Metrics and statistics aren't very advanced.

The Shorts video editor is quite basic and doesn't work with artificial intelligence. 

It isn't possible to download videos (by an Internet user). 

Even though you have created great content, if YouTube Shorts doesn't invite you to the creator's Fund, you can't receive any money from that, no matter how much effort you've invested in them. 

New accounts that start from scratch are unlikely to succeed with Shorts, as they get very few views and interactions. However, one video can go viral, but it doesn't happen frequently and less with all of them.
🔥 You might want to read the best 8 Tactics to Make Your YouTube Video Viral
---
Tik Tok

The newbie that revolutionized short and vertical videos is still on fire! With one billion active monthly users worldwide, TikTok has positioned itself -since the beginning of the covid- as the preferred social media of Generation Z, surpassing even Instagram. The marketer's prediction is that by 2023, it's estimated that it'll even be a new favorite, leaving behind Snapchat -at least in the USA-. 
Release date:

September 2016

Origin Country:

China

Video Length:

from 15 seconds to 10 minutes

Max File Size:

287.6 MB
🔥 Want to learn all about the commercial side of TikTok? Then read this TikTok for Business 101: A Guide to Growing Your Brand
Why Do We Love It?
It's a network that brings out new features and trends constantly. Effects and sounds are the key ingredients to spark new trends. 
"Did you know that Tik Tok Stories are now available?"
TikTok is an ideal social network for telling authentic stories. Funny or everyday experiences are a hit because they make users identify with the content. 

It allows videos to be saved in playlists to make it easier to group content. 

It has a particular setup, so users can download videos to their mobile devices and even use them as wallpaper.

TikTok allows you to reach a large audience and gives anyone the chance to become a creator and make their content viral. Everyone has that power!
"We're honored to be a home for our immensely diverse community of families, small businesses, and creators who transform into our favorite stars." Tik Tok 
Thanks to these relaxed and fun ideals, TikTok vertical videos tend to maintain high interaction rates, as people feel comfortable expressing their opinions, either as viewers or creators.

It's possible to monetize (both for views and even thanks to live streams). On the other hand, brands can take out ads that look like a standard video, but the best thing is that they aren't intrusive. 

Additionally, it's a great bet to promote products due to the authenticity and creativity of their creators. A clear example is a famous and influential hashtag called #TikTokMadeMeBuyIt.

Finally, TikTok has the best analytics to polish your marketing strategy if you're a fan of data. 
TikTok's Factors to Improve
While a lucky break can make your videos go viral, if you want to grow at a fast pace and be recognized, you need to be consistent and disciplined. 

You can replicate videos on other platforms. However, they'll include the TikTok watermark. 

It's banned in certain countries like India, and for some months, it was blocked in Pakistan and Bangladesh. 
🔥 Take a look at the 10 Instagram trends defined by Generation Z and start building your marketing strategy for 2022. 
---
Instagram Reels

Reels couldn't be left behind! After seeing the great success of TikTok, they also wanted to join this initiative, which led them to increase their numbers in the digital world. Also, you must know that Reels are 25-34-year-olds' favorite platform, followed by 18-24-year-olds. 
Release date:

August 2020

Origin Country:

United States

Video Length:

from 15 to 60 seconds

Max File Size:

4 GB
🔥 You can't stop reading: How to Make Instagram Reels That Reel-Ly Go Viral
Instagram Reels' Highlights
Its interface is clean and aesthetically pleasing. Also, the "Follow" button is bigger. 

Exclusive section to watch reels inside the Instagram app. 

When opening the first time, it suggests you scroll down to keep watching. 

It could be good if you already have an established audience, not for new accounts; the visibility is super low. 

Thanks to its shopping feature, people can buy directly from the Reels without abandoning the platform. 
😉 Check Out The Ultimate Guide to Creating Instagram Shoppable Posts
Why Do We Give It Thumbs Down?
You can't pause videos, but you can mute them. 

External videos can't be saved on any device. But yours definitely! 

It is hard to know what is the best or winning content (among the Instagram resources) 

Reels are only available for phones, not for the desktop version. Note: For computers, it is possible to view the reels as long as you visit a specific account, but you won't find the "Discovery" option.  

Basic analytics, not much information available. 
😎 If needed, go and watch our video on How to Make Instagram Videos
---
Who Wins the Final Battle?
So, if we have to choose between YouTube Shorts vs. TikTok vs. Reels, each has its pros and cons. However, if you expect a definitive answer, TikTok would be in the first place, as it has more exposure and interaction. Plus, it even allows anyone to be seen and continue to grow; whether it's a small or big creator,  an influencer, or a brand, everyone can be known and foster an active community.

On the other hand, the name and prestige are already assured if we talk about the other big companies, but it often goes beyond that. For example, Instagram is a great bet. However, it still has things to improve, and we all know the headache that its unpredictable algorithm can cause. And what about YouTube shorts? Despite being the second most visited site on the internet, it seems that short videos aren't the best Google product because its users come there to watch long hours of video; they "look for solutions to a problem or learn something." On top of that, there's still much room for improvement.

So as a final verdict, the recommendation is not to put all your eggs in one basket but to know how to distribute them intelligently. Study and experiment with what content works best in each social network and focus your efforts according to your strategy.

As in this entertaining video of Buildapreneur, in which he tested YouTube Shorts vs. TikTok vs. Reels
Now it's your turn to comment on who wins this battle between YouTube Shorts vs. Tik Tok vs. Reels
---
FAQ YouTube Shorts vs. TikTok vs. Reels
---
---