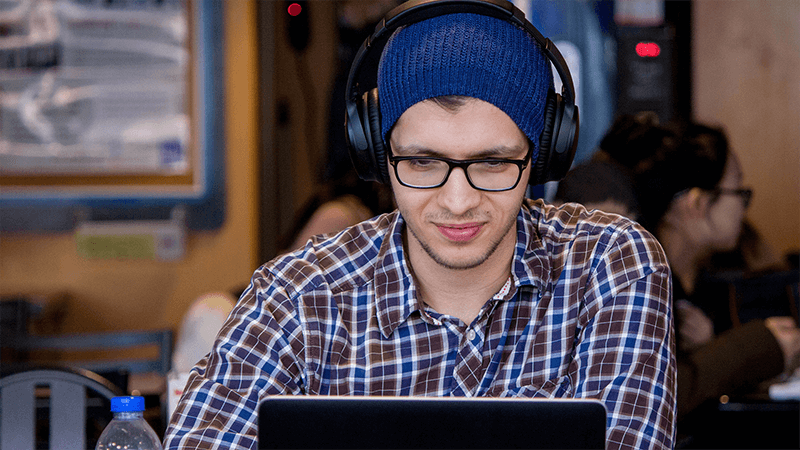 Are you on the road to becoming a YouTube star and it's time to start making some cash from your channel? YouTube stars are self-made celebrities who have earned their audience by creating valuable content for their niche. If you own such content you can easily get your YouTube income with a few different paths! 
Every day 5 billion videos are being watched on YouTube, plus the average watch session of people is up to 40 minutes! There is definitely a market opportunity! So we are here to tell you how to make money on YouTube.
What You'll Find: 
How to Earn Money from YouTube?
There are two ways to make money directly from YouTube and a few others indirectly. To earn money directly from YouTubeyou can:
A) Be an advertiser or 
B) Be an ad platform
As an ad platform, you make videos that people will surely watch so then you become a paid YouTube affiliate or partner. But let's get into more detail about both options so you can make a wise choice: 
1. Advertisers
The difference between advertising on TV or using your YouTube channel is that you get to target more specific audiences. There are a few types of ads you can choose depending on what is your goal for that specific campaign. 
Trueview Ads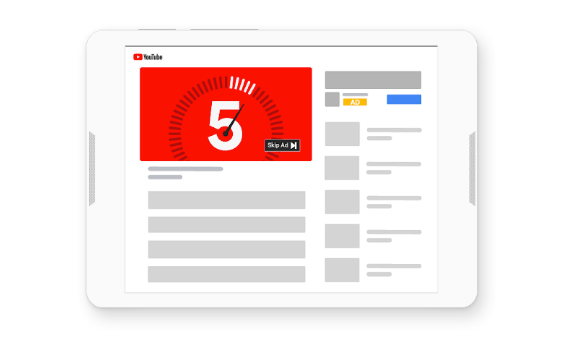 Trueview ads are great to tell a story in longer spots. These come in two forms, in-stream or in discovery: 
These are played just before the viewer's chosen video. Viewers can jump thee after 5 seconds and they last between 12 seconds and six minutes, but of course, you should put your "hook" on those first 5 seconds. 
They appear on the right sidebar of a video, just below the "up next" suggested result.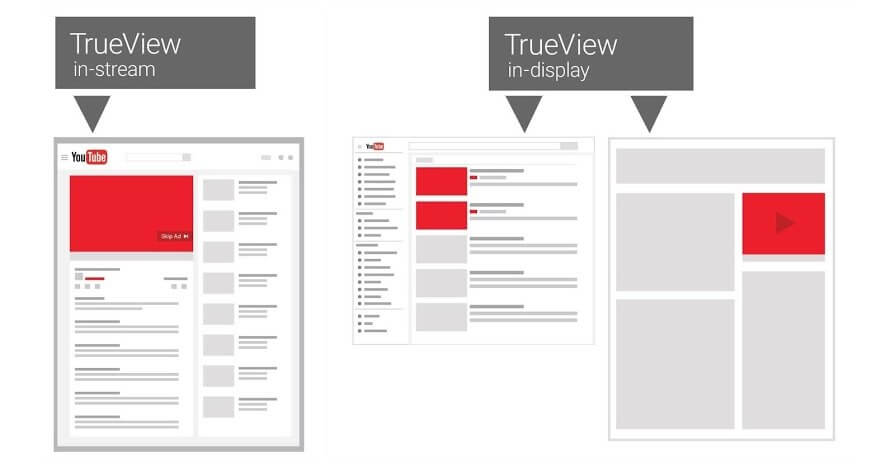 These Ads are great for brand awareness. Both formats work as pay-per-view, which means you pay a fixed rate for every view after 30 seconds of watch (or the entire video if it is shorter) or a click on the ad while it's playing. You can manage all ads with Google AdWords. 
Preroll
Like in-stream ads, preroll play right before a video, but these ads can't be skipped. You pay per click, so with these types of ads, you should focus on your call to actions and the landing link you will be sending them to. These are great for lead generation. 
Pro Tip: You can also use YouTube remarketing options to send new videos to users who have already viewed one of your videos. 
Bumper
Bumpers ads are the shortest type of ads. These are six seconds spots that are played just before a video. These are the best for brand awareness in the form of short breaks between playlists, music, watching several videos, etc. They are paid cost-per-minute bidding, which means you pay for 1,000 plays of your ad on YouTube.  They are also a great compliment for Trueview ads. 
2. Advertise Platform
In this scenario, you are the one being paid to host others' content. Building a solid audience puts your channel in a great position to monetize your content. Brands will take a look at your channel too! 
This is why it's important to understand who is your audience. What's your audience's gender, age range, geographic location, your audience overall engagement, etc. To get all your audience insight simply take a look at your YouTube analytics or compare your channel to others using sites like Social Blade. 
How to Monetize YouTube?
For starters, to get your content to be eligible to be monetized it should stay away from: 
Sexually suggestive content, including partial nudity and sexual humor

Violence, including displays of serious injury and events related to violent extremism

Inappropriate language, including harassment, profanity, and vulgar language

Promotion of drugs and regulated substances, including selling, use, and abuse of such items

Controversial or sensitive subjects and events, including subjects related to war, political conflicts, natural disasters, and tragedies, even if graphic imagery is not shown
Avoid your content getting flagged and your video demonetized. 
With that said, you have 3 main options to monetize your videos:
1. YouTube Partner Program
This program allows YouTube's most successful channels to monetize their content by serving ads paid by other YouTubers (the advertisers). 
YouTube Revenue

: $723,500 – 11.6 million per month
Viewers should fully watch an ad or click on it for you to get paid. Forbes estimates that for top talent, a YouTuber can make about $5 for every 1,000 video views. With that said, a YouTube video with 1,000,000 views can make upwards of $5,000, which makes being a YouTuber a pretty lucrative job! 
YouTubers can make anywhere between $0.01 to $0.03 per view with AdSense, with an average of $0.18 per view.
2. YouTube Shorts Fund
Due to the addition of YouTube Shorts, Google announced that now the creators of this type of vertical video will also be able to receive an additional income, coming from the YouTube Shorts reserve fund of USD 100M. 
🔥 Learn all you need to know about YouTube Shorts and find out how worth it is to incorporate them into your video marketing strategy!
What Are the Requirements?
You must be 13 or older in the United States

Also, you have to be a resident of one of the countries mentioned

in this list

.

You must have uploaded at least one Short in the last 180 days.

Last but not least, the videos uploaded should be original and without any watermark from any other social media platform.
How Does It Work?
YouTube will communicate directly with the channels it considers promising and suitable to make a payment for the quality and engaging content of their videos and the effort involved. Creators can receive from 100 to 10,000 USD. 
Note: depending on your country of residence and local laws, you may have to pay taxes on the bonus received from YouTube.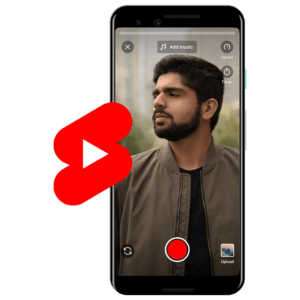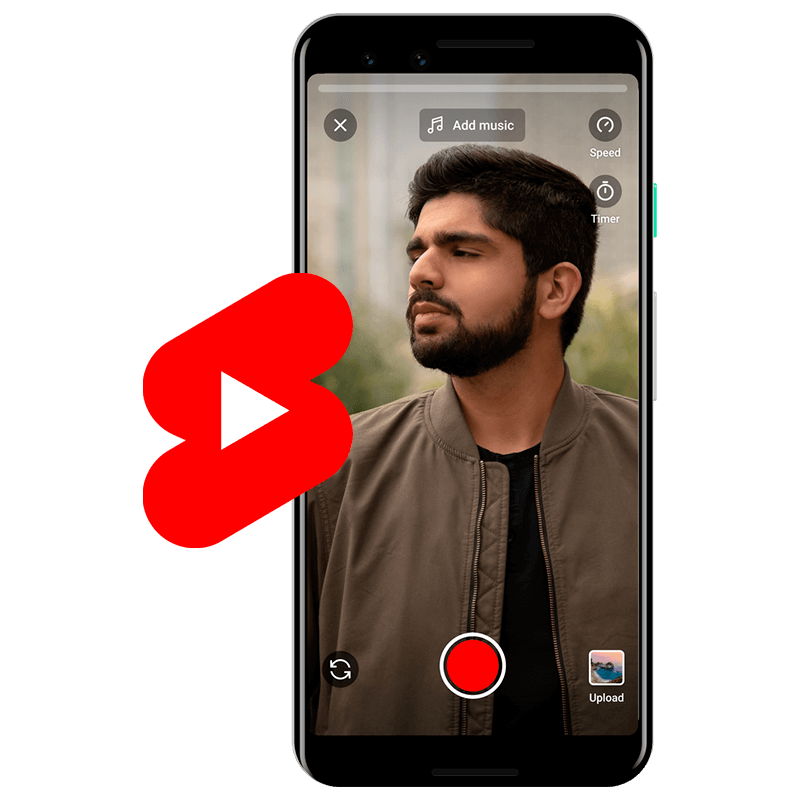 💣 Check out a comparison we made in 2022: YouTube Shorts vs. Tik Tok vs. Reels: Which Is best?
YouTube Monetization Requirements
The criteria to join this program involve:
Having at least 4,000 public watch hours in the last 12 months

1,000 channel subscribers in the last year

You will need an

AdSense account

to get paid, so go ahead and sign up for one.
Advertisers use AdSense to bid for a space on your videos. You will get paid once your balance reaches $100. This means depending on your channel, you might not get paid the same amount every month. 
If you have these requirements, you can apply to join the program. To submit your channel for review click on your YouTube homepage top-right account icon and select "creator studio". Click "channel" on the left side and then "status features". Under monetization, click to enable, and then you'll just have to wait.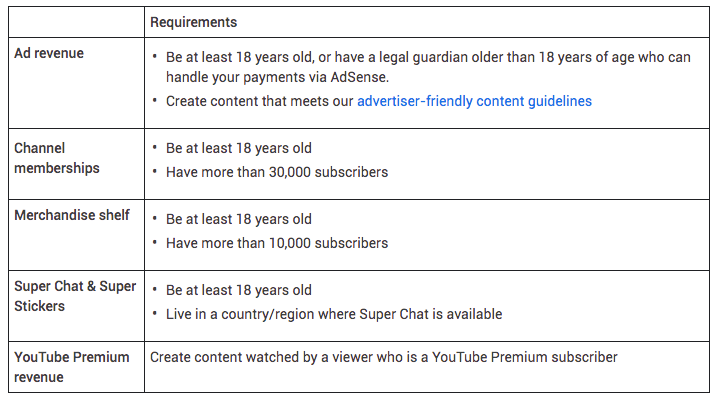 Within a week or so, you'll receive an email with YouTube Partners' decision. Profits are split 45% for Google and 55% for you. 
Remember to post frequently, having a few good videos won't cut it, you really need to be a YouTube star. 
T-Series, the most popular YouTube channel in the world, makes no less than $724 thousand per month from its YouTube channel, where the majority comes from advertisers through the YouTube Partner Program.
Ways to Make Money On YouTube Partner Program:
Get ad revenue from the display, overlay, and video ads.
Your members make recurring monthly payments in exchange for special perks that you offer.
Your fans pay to get their messages highlighted in chat streams.
Your fans can browse and buy official branded merchandise that's showcased on your watch pages.
To start selling your merch create your custom designs using our t-shirt design maker, although they look great on any kind of merch: t-shirts, coffee mugs, hoodies, tote bags, hats, and more. 
Then you can add your designs to eye-catching images using our mockups. These also help increase your brand awareness by putting your brand out there in the offline world. 
Using a dropshipping or a print-on-demand service allows you to release responsibility to a third party. This limits your work to designing merch and then just waiting for your profit!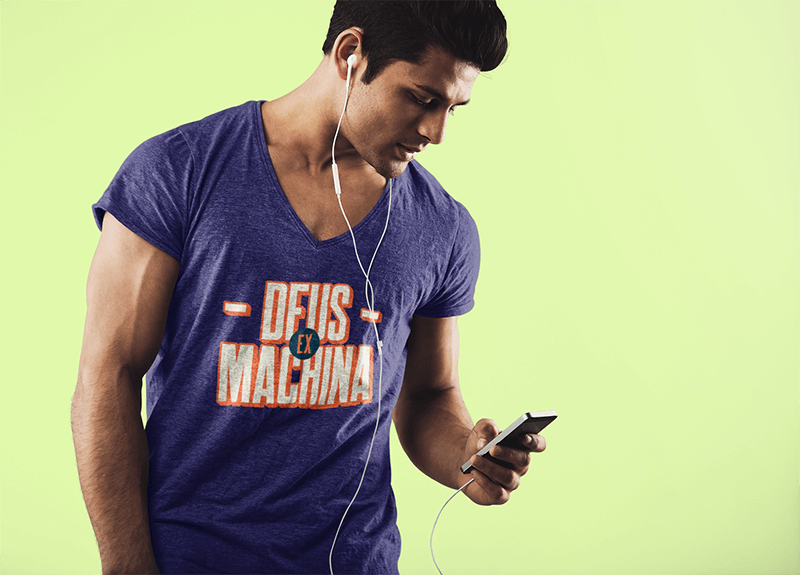 Check Out YouTube Premium
YouTube Premium is a paid membership that allows viewers to support their favorite channels and enjoy their content without any ads. 
1. Affiliate Links
This is a great option for YouTube channels that offer reviews, how-to's, and frequently recommend products. No eligibility requirements. You become an affiliate of brands, posting very discreetly links to their products on your video descriptions, and you are paid directly by them. 
Start by joining an affiliate program like Click Bank, Amazon's Affiliate Program, and Travel Payouts. Or affiliate marketplaces like Grapevine Logic (you need 1,000 followers to join), Famebit (You need 5,000 followers to join), Channel Pages, Crowdtap, and more. 
YouTube revenue: $6,900 – $109,800 per month
Whenever you partner up with a brand, be transparent about it. Then you can use strategies like product placement, sponsorships, and more to make money from your channel. 
Use Your Cards Wisely
When you place your cards strategically on your video it looks way more organic. Promote your products or someone else's this way whenever you are mentioning such products or when they are less distracting.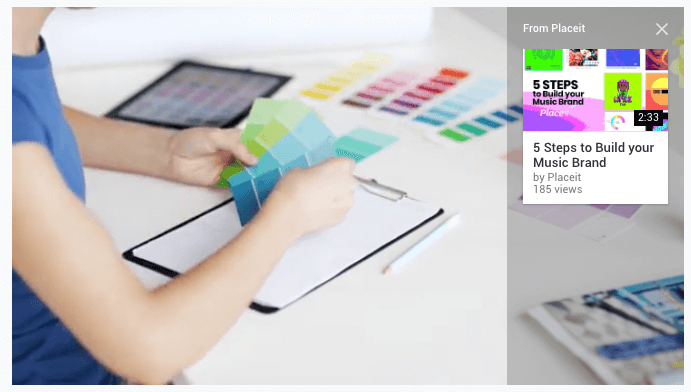 Other Indirect Ways to Make Money from YouTube
1. Fan-Fund Your Channel
Viewers can donate to your channel if they like your content. You can choose a recurring fan donation for your project which means your viewers should pay the same amount over the same time lapses or you can let them donate any quantity. To achieve this, you should offer really cool incentives like one-on-one videos, private classes, merch, and more to convince them to support you. 
You should be 100% transparent about what the money will be used for. Here are a few options to fan-fund your channel:
Super Chat is a feature for live videos. It lets you create a tipping jar for your viewers to donate while watching you. 
This membership platform makes it easy for creators to get paid through their fans' subscriptions. Fans can subscribe for as little as a dollar a month and receive exclusive rewards.
🤑🔥 Get to know all details on How to Use Patreon 
Let's get you a combination of both one-off and recurring donations.
This is a link you can include in your YouTube channel to receive donations from your fans. The best part is that Ko-fi takes 0% of your donations!
2. License Your Content in Exchange for Money
If one of your videos goes viral, you can license it to make money from it whenever another media wants to use it. For example, a news media want to use it on their program, they would have to pay in order to use it. 
3. Record a Call to Action
Record a call to action on your videos. Ask your audience to subscribe if they liked your video at the end, in the middle, or anywhere you want to make this request during your content.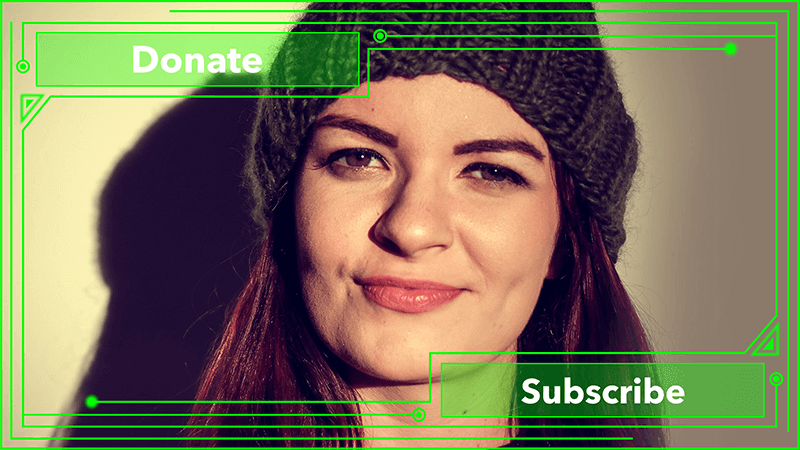 How Does YouTube Send You Money
As mentioned before, when you are receiving money directly from YouTube you will be getting your profits from your AdSense account and YouTube Premium. These are the only options for direct payment from YouTube. 
Track Your Performance
Open Google Adwords to track the results of your ad. Evaluating is an important part of your plan to build a profitable channel. See which ads perform better and which could use a few changes. 
Also, target your preferred audience, you can be as specific as you need, or if you need to, launch a few very broad ads. 
A Few Other Things to Keep in Mind
Are Subscribers Important?
While subscribers per se, won't make you money, they are more like to engage with your channel, which makes it look pretty attractive for brands. 
Post Regularly
Becoming an important channel on YouTube definitely involves posting on a regular basis. Create a schedule to make it easier on you, your fans will be waiting for your new videos!
Use Eye-Catching Animations
Using high-quality items on your channel can really help uplift your view time. Use cool intros and outros, amazing animations, engaging end cards, design appealing thumbnails, and all the YouTube templates you need. 
FAQ
Last Words
That's a wrap, you guys! Let's recap: there are a few ways you can make money from your YouTube channel directly from YouTube or indirectly. 
Directly from YouTube: become an advertiser or become an advertising platform. 
Indirectly: You can fund your channel from your subscribers, sell merchandise, and license your content if it goes viral. 
Whichever way you choose to go always keep in mind to stick to a content schedule to keep your viewers interested and dress up your channel with cool high-quality assets to make it look dashing. 
---
How to Make Money on YouTube
If you are looking for ways to earn profits from your channel, read our "How to make money on YouTube" tutorial post to choose the best fit for your brand. There are several ways you can make a business out of your YouTube content, so read ahead!
Use YouTube Templates
---