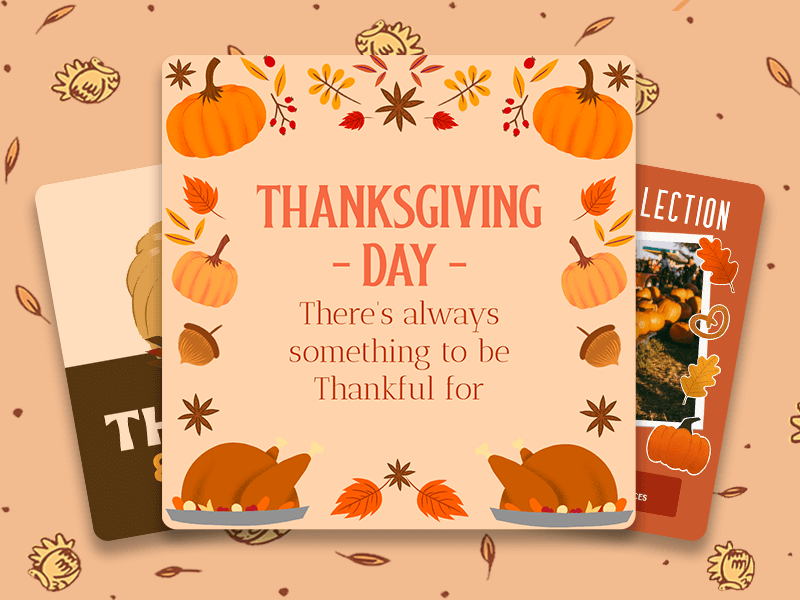 Looking for the perfect way to get your Thanksgiving message out? Thanksgiving social media posts are a great option because they allow you to reach all of your followers in one fell swoop. Not only will you reach your entire list of followers, but you can also get creative with the design and message.
Listen, we know that Thanksgiving is all about stopping to give thanks and show gratitude, but it's also right at the start of the major fall sales period. This means that for many brands, it can be hard to solidify a Thanksgiving message that is genuine and heartfelt while also promoting holiday items and sales.
No matter what kind of message you want to send this year, we've got Thanksgiving post ideas for every event and situation!
Find Thanksgiving Social Media Post Inspo
Should Thanksgiving Be Included in Your Social Media Marketing Strategy?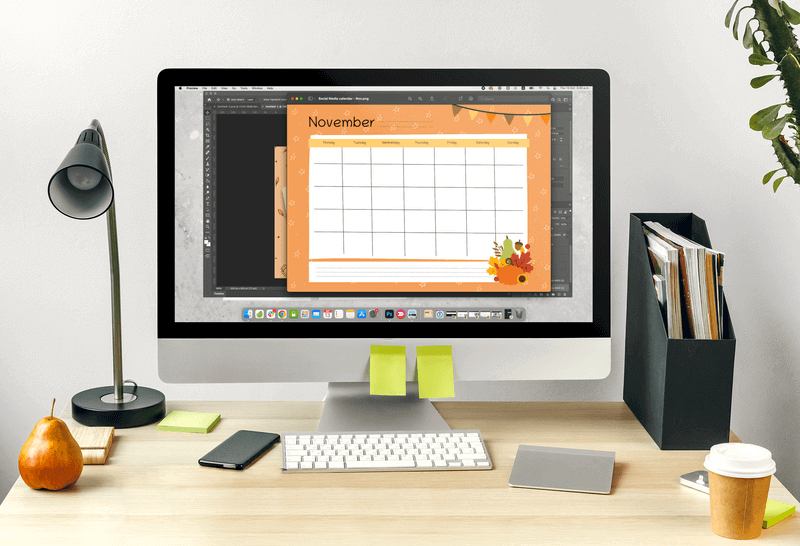 While Thanksgiving marks the beginning of the fall sales period for many businesses, it isn't considered a big shopping holiday. Since this day is celebrated with family and is meant to be a day of reflection, it can be tricky to navigate as a brand owner.
As a business, you don't want to come off as not genuine or corny in your messaging. This is especially true if you're using the moment to show gratitude towards your audience. To decide if this is a good idea, look at your audience and your brand's values.
If a Thanksgiving message makes sense for your brand and your audience, go for it! Just make sure that your message aligns with your brand's voice and has your own twist.
It's also important to keep in mind that not everyone celebrates this holiday. So, before posting turkeys and pilgrim hats, be sure this isn't offensive to your audience.
Another approach brands can take is promotional posts for last-minute Thanksgiving items or in anticipation of big holiday sales. If you own a food store, a bakery, or a decor shop and you expect last-minute shoppers, then posting about your current stock, deals, and Thanksgiving dinner must-haves is a great idea.
And finally, let's be honest, for retailers, the biggest shopping quarter of the year is underway, and you probably want a piece of the pie. Posting about deals on Christmas gifts, Black Friday specials, and any other enticing discounts is a way to stay top of mind right before the biggest shopping weekend of the year.
If you've decided that including this holiday in your social media strategy makes sense for your brand and audience, then check out these Thanksgiving social media posts for business to get all eyes on you.
💡 Learn how to create a social media calendar with some easy tips!
Thanksgiving Social Media Posts by Platform
Now that you decided Thanksgiving will be a part of your social media calendar this year, it's time to get to work.
One thing you will have to decide is what social media platforms you will use to post Thanksgiving content. This is entirely up to you, but you will have to use what you know about your brand and your social media engagement to make your final decision.
To give you some Thanksgiving post inspo, check out some examples of what you can be posting on each social media platform.
Design a Facebook Post for Thanksgiving
Facebook can feel a bit more personal, so feel free to give thanks and show your gratitude for all the good things that have come your way this year.
Facebook will resize images to fit the 1.91:1 aspect ratio when posting, so try and stay as close to that aspect ratio as possible to avoid getting cut off. If you're posting a carousel with multiple images, these will be shown in the 1:1 aspect ratio.
Don't forget that you can also post Stories on Facebook. Those should fit the 9:16 aspect ratio or 1080x1920px to look their best.
Get inspired by our collection of Thanksgiving templates for Facebook: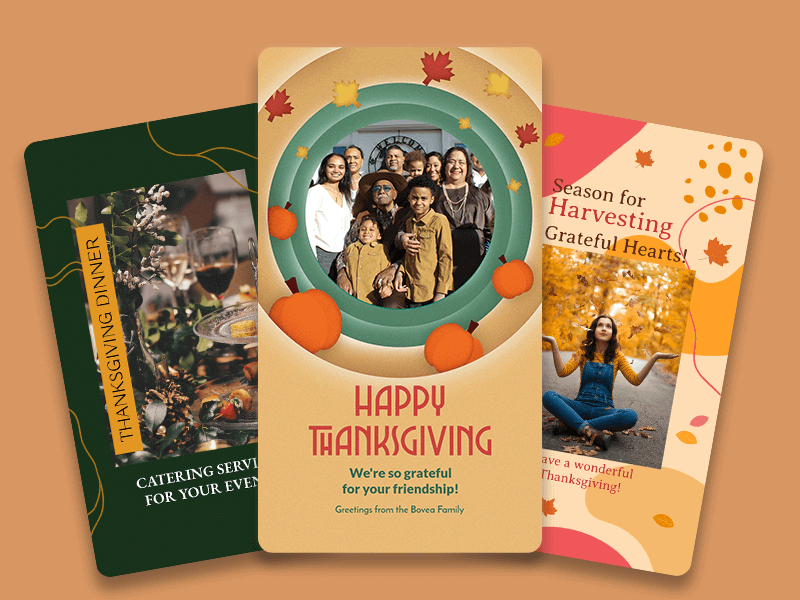 Eye-Catching Thanksgiving Instagram Posts
People scroll through Instagram pretty quickly and don't stop unless something really catches their attention. Instagram is also known to feature more content from brands and influencers, which can lean less personal. This is the perfect place to promote a sale, hold a giveaway, or promote your latest collection.
Keep things visually striking to stop people as they scroll and follow up with a captivating caption.
You can post videos and images in landscape, portrait, or square dimensions. With Stories content, do your best to keep them at a 9:16 aspect ratio or 1080x1920px. For Instagram Reels, follow the same size recommendations as with Stories.
Check out Placeit's collections of Thanksgiving designs for Instagram: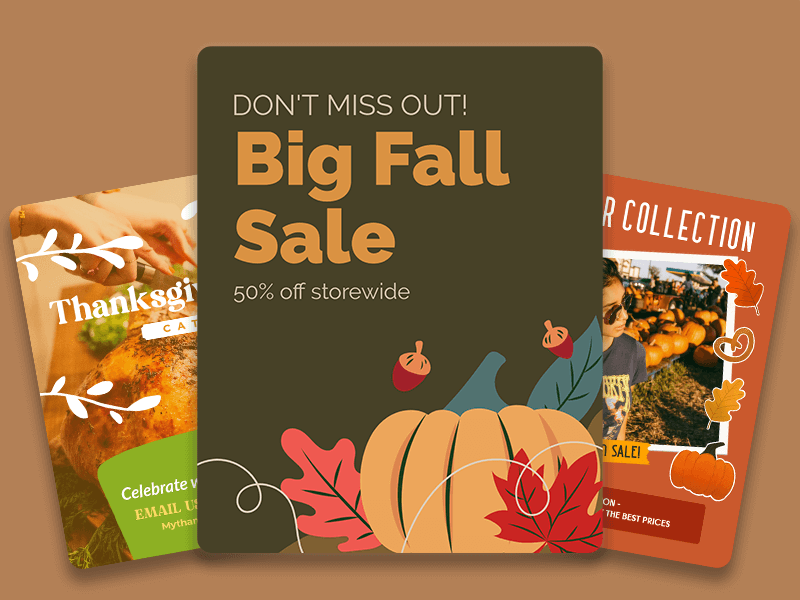 Inspiring Thanksgiving Pinterest Pins
Pinterest is all about showing off cute outfits, envy-inducing home decor, mouth-watering recipes, striking designs, and fun DIYs. To get your Pins noticed, make sure they're vibrant, visually appealing, and to the point. Since your Pins are displayed right next to other Pins, you'll need your designs to really pop.
Try to keep posts to a 1:1 aspect ratio and story Pins and Fleets to a 9:16 aspect ratio.
Create Thanksgiving Pins with these social media templates: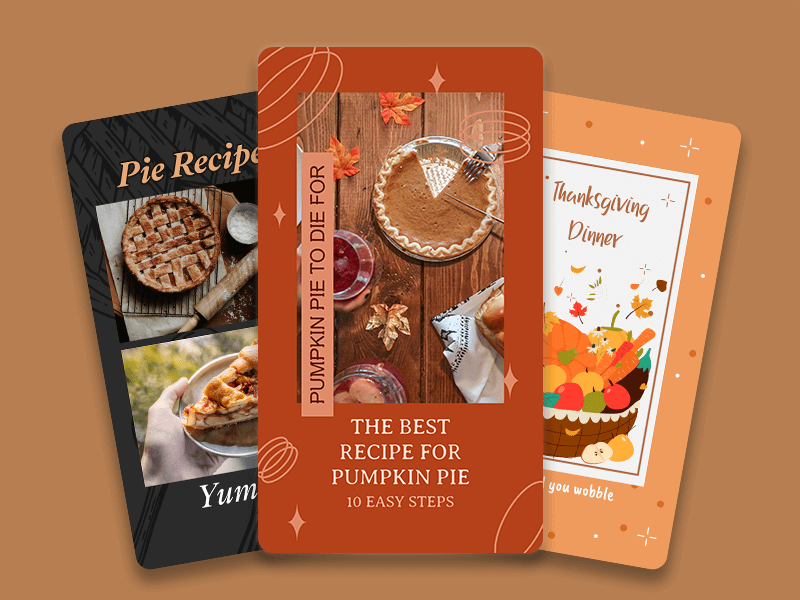 Show Your Gratitude With a Festive Post
Opting for a Happy Thanksgiving social media post is a great option. It's a great opportunity to share a positive message and send well-wishes to your followers, loyal customers, and community members.
This is also the type of post you can use to share what you're thankful for this year and encourage others to reflect on their own year.
These types of posts can be quite simple and include Thanksgiving motifs, a seasonal quote, and a personalized message from your brand to your audience.
You can also opt to go for a funny message with a Thanksgiving pun or joke. Again, whether you opt for a funny or heartfelt message will depend on what makes sense for your brand.
Having a major Black Friday sale? Or do you have amazing deals on your current fall or holiday collections? Let your audience know with promotional social media posts!
Most people will be spending Thanksgiving with family and friends, but that doesn't mean they aren't going to look at their phones. In fact, many people will be scrolling through social media hoping to see some Black Friday announcements that are worth their while.
Since Black Friday starts a few hours after Thanksgiving dinner, now is the time to remind your audience about your blowout sale.
🦃 Learn how to create festive Thanksgiving and fall shirts and more seasonal apparel for your shop this season!
To expand your reach even further, consider running ads on social media. Especially if you're having a Black Friday or Cyber Monday sale, purchasing ads to promote your sale can result in a lot more traffic and transactions.
Make sure your ads reach people well before your sale starts. Start running your ads in the days leading up to the sale and also on Thanksgiving. This is when people are sorting out what exactly they hope to buy on Black Friday.
Hold a Thanksgiving Contest
Surprise your audience and get them hyped by hosting a Thanksgiving contest or giveaway on social media. Get their attention by popping up in their feed or Stories with an exciting giveaway they can participate in.
Use Thanksgiving designs that match the theme of the holiday and your giveaway. Get creative with the prize and with how users can participate.
You can host a simple giveaway that requires your followers to like your post, share it, and tag friends in the comments or something more interactive, like having them share what they're most thankful for.
Whatever you decide to do, just be sure your post is eye-catching and that you follow through with the giveaway.
Share Your Favorite Seasonal Recipes
Sharing a Thanksgiving recipe may not make sense for every business or every social media platform, but there are instances where this can be the perfect Thanksgiving post.
Bakeries, foodies, grocery stores, and even lifestyle bloggers can share their favorite holiday recipes through Pinterest Pins, Instagram Reels, and even TikTok videos. Of course, it makes sense to post these before the big day so that anyone who plans to make your recipe can plan ahead.
Use Thanksgiving templates to create eye-catching graphics featuring your recipe. The better looking your post, the more likely you are to attract clicks and more traffic to your website.
Send an Invite for Your Thanksgiving Event
When you think of Thanksgiving, your probably think of turkey, mashed potatoes, green beans, and pie. That makes sense because Thanksgiving dinner is one of the most integral parts of the holiday.
Unfortunately, not everyone has the means to put together an elaborate meal. This is why many businesses step in and host Thanksgiving events. Use a Thanksgiving invitation template to get the word out about your Thanksgiving dinner, brunch, or general event.
This is a great option whether you're hosting a paid event for families to get together or looking for volunteers to help you feed the hungry on Thanksgiving.
If you're looking for something more personal, like for a Friendsgiving event, use a Friendsgiving invite template you can personalize and send in the group chat so that all your friends know they are more than welcome to join you for dinner.
This holiday is all about giving thanks and giving back, so do your best to ensure everyone is included and taken care of.
Say Thanks With Beautiful Thanksgiving Videos
Your Thanksgiving social media posts don't have to be still images. Why not create holiday-themed videos for your feed and Stories?
You can send a warm Thanksgiving message to your followers, say thanks to your followers, or even promote a sale. Check out Placeit's Thanksgiving video templates to create your own in no time!
Videos tend to be more captivating on social media than still images, so include them in your calendar.
The power of a good hashtag is undeniable. Your Thanksgiving social media posts will be seen by your followers, but using the appropriate hashtags in your captions will ensure your posts are more easily discoverable by those who don't necessarily follow you or even know who you are.
If you're skipping the hashtags because they seem corny, you could be missing out on a lot of potential traffic.
Using hashtags ensures that your posts will show up in related searches and will be categorized with similar posts.
Stick to hashtags that make sense with your post and that will give people what they are searching for. Some popular hashtags you can use this Thanksgiving include:
#thanksgiving
#thankful
#love
#family
#fall
#turkey
#thanksgivingdinner
#happythanksgiving
#holiday
#grateful
#thanks
#turkeyday
Prepare Your Content for the Busy Holiday Season
Thanksgiving is only the beginning of the fall sales period, which means you're likely also planning other holiday marketing content at this moment. Whether it's Black Friday, Cyber Monday, Hannukkah, Christmas, New Year's, or all of them, be sure you have what you need to keep up with your content calendar.
Placeit by Envato has all the templates you need to make this holiday season a success, whether you're looking for Christmas templates, New Year's designs, or Black Friday templates to promote your sale.
Keep up with all the important eCommerce holidays with our ultimate eCommerce holiday calendar!
To post or not to post on Thanksgiving is a big question for many small business owners, but there isn't an easy answer to this.
It may sound like a non-answer, but the truth is that you should make a Thanksgiving social media post only if it makes sense for your brand and for the type of audience you have.
Deciding what to post is another major question brands have, but this is easier to narrow down when you think about your goals. Do you want to reach out and say thanks to your loyal customers or do you want to promote that major sale you have coming up?
No matter what it is you decide to post, keep it on theme for the holiday and make it eye-catching.
Let us know what you plan to post for Thanksgiving this year in the comments below ⤵️
FAQ - Thanksgiving Social Media Posts to Try This Holiday Season
---
---