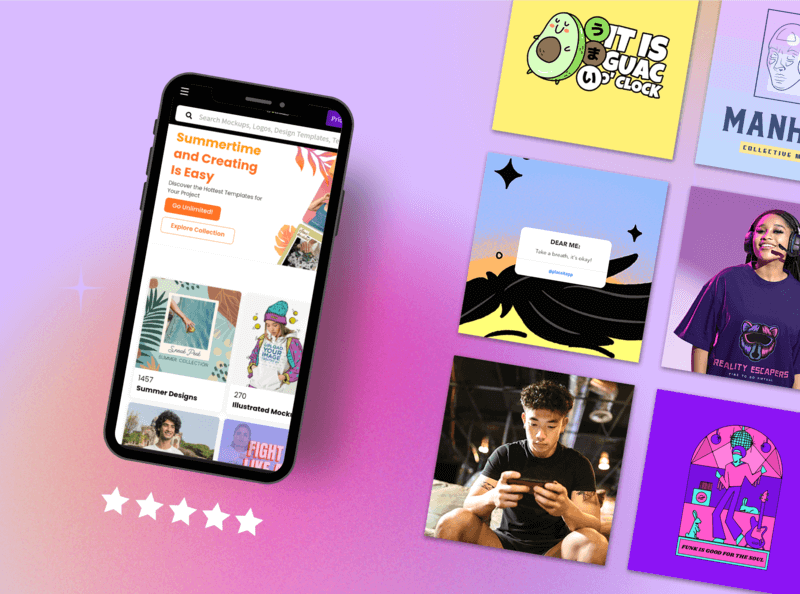 We know that nowadays, to acquire a product or service, it's vital to be prepared with information. And the more we know about the brand we're interested in, the better. By now, you've probably already read some Placeit reviews on sites like TrustPilot, Facebook, or even on other blogs. However, if that's still not enough, let some influencers and well-known personalities from the digital world tell you what they really think of us.
What Will You Find Here?
---
Why Did We Decide to Create This Post?
The digital era has allowed us to have everything at our fingertips, from making a simple query in a matter of seconds to shopping online with total security. However, nowadays, many of us need to be sure that we're making the right choice before making such a big move, and in recent years, the best way to do this is through reviews. Thanks to them, we can get a complete picture of what users think and thus form our own opinion. 
So today, it's our turn, and that's why we have compiled different Placeit reviews from various influencers and affiliates who have used our platform. 
Basically, the dynamic consisted of looking for some Placeit users who know how the platform works, are familiar with the different features, and have even made several creations with Placeit. Therefore, we asked them to be as transparent as possible when answering the questions because, at the end of the day, it's always good to receive feedback to continue raising the quality of Placeit and its services. So, are you ready to read a few Placeit reviews?
---
Meet Our Guests
The following influencers and affiliates helped us to create this compilation. Each of our guests has a specialty field, and that's why we decided to classify these Placeit reviews into four categories, which correspond to our main sections: Design, Gaming, Mockups, and Videos.
⭐ We're deeply grateful to all of you guys for taking the time to answer our questions.
---
Placeit Reviews: Designs
---
Guilherme From Designerd
Say hi to Guilherme! He's not only the founder of Designerd in Brazil but also a digital entrepreneur passionate about creativity. Let's see what he has to say about Placeit!
Could You Tell Us About Your Business?
To begin with, let's go back to where it all started. "Designerd started at the end of 2009 with a very simple goal: share helpful links and tools for designers and other creative professionals. After that, what started as a hobby gradually became a business. Today, Designerd is one of the main sources of references, tools, and tips for many professionals working with creativity."
Why Did You Choose Placeit?
"Placeit is an excellent option for professionals who want to create mockups and templates quickly. As our readers are mostly design professionals and students, we chose Placeit for its ease and practicality, proving to be an indispensable tool for everyone who wants to save time when creating graphic elements for their clients (or for themselves)."
Also, the head of Designerd saw significant changes when they decided to use Placeit.
"When we started to publish content focused on the creation of mockups and cited Placeit as an option for this, we saw a very positive response from our audience. Many of our articles occupy the top positions in Google results and receive thousands of visits per month, showing that many people really search regularly for this type of solution. In conclusion, having Placeit as a partner in this area makes all the difference because we can produce this type of content more often, making our readers even more satisfied."
Our Best Feature Is?
"For sure, the practicality. While other solutions require programs like Photoshop to create mockups or other graphic elements, Placeit allows you to do this directly from the browser. This is a significant time-saver for both inexperienced people and professionals with many skills. Additionally, the tool is intuitive and inclusive, making it possible for anyone to create high-quality graphic pieces."
Has Placeit Helped You With Any Challenge?
Regarding this question, Guilherme believes "that when a designer uses Placeit to create mockups and templates quickly and practically, it directly impacts his results. Likewise, the time saved allows them to serve more clients. At the same time, the platform's variety means he can create graphic elements for all types of clients. All these results, in the end, in a significant efficiency gain as a creative professional."
Anything Else You Would Like to Add?
"More and more people are looking for inclusive and practical solutions to create graphic pieces that before were restricted only to professionals with specific knowledge and software. However, Placeit came to fill this need. So, the recommendation is to continue offering creative solutions for various types of people."
Where Can People Find You?
---
Jorge From Ruva Designs
His name is actually Jorge Ruvalcaba, but he's better known as Ruva. He's an ingenious Mexican graphic designer and content creator specializing in graphic design, web design, branding, and esports, that shares this knowledge with his online community. So, whether you're a beginner or an experienced user, you'll surely find a tutorial or even a masterclass that will awaken or polish your skills in these creative subjects.
Could You Tell Us About Your Business?
Ruva has been dedicated to solving brands' visual issues for a bit more than three years. These actions "gave me the tools to start my digital design agency, where I create and position successful brands." Likewise, Ruva creates valuable design content on his social media channels.
Why Did You Choose Placeit?
"I think it's an incredible tool to help new people entering the digital era to have a more professional design on their platforms and social networks." He also added, "All the tools it contains are essential as a designer, streamer, or content creator."
Our Best Feature Is?
When it comes to what best works for his community, Ruva highlighted this feature: "Mockups, because they help them (his audience) to visualize a new perspective of their design in garments or different applications."
Has Placeit Helped You With Any Challenge?
"It helps me by promoting the importance of having a professional visual identity in each brand because this way, people care more about their image and that of their brand."
Anything Else You Would Like to Add?
As a final message, Ruva recommended to us: "Always follow the trends of the moment in the animated designs and each of Placeit's categories."
Where Can People Find You?
To get in touch with Ruva, go directly to his Instagram and YouTube channels. Also, if you prefer, you can email him at: jorge@ruva.mx
---
Ian Worcman
Ian is a talented 21-year-old who dedicates his time to being a Physical Education student in Rio de Janeiro and simultaneously being a Streamer-YouTuber. From the magical lands of Brazil, Ian will teach you how to create top-notch content and even how to monetize it. So if you want to follow a digital expert, Ian will surely be happy to help you.
Could You Tell Us About Your Business?
"My business is focused on my YouTube Channel and social media, like Twitch, Instagram, etc. I have had this channel since 2019, but I only started doing what I do today in the middle of the pandemic."
In fact, Ian confessed he started in the online world because he wanted to make video games live. But later, in the middle of 2020, he took another path, destined to empower others to create content smartly and strategically to make a living from it.
Why Did You Choose Placeit?
"I chose Placeit because it has a lot of professional material and adds value to my work and audience."Additionally, Ian highlighted the service our brilliant team has given to him. So, cheers to Sam and José for providing five-star attention.
To sum up, he added: "Having Placeit by my side was a good choice because it helps both sides. On the one hand, my audience – who likes the content I publish about Placeit – and you, who by growing, help me grow as well." Without a doubt, it's a win-win for both.
Our Best Feature Is?
For him and his audience: "The ease of creating and editing professional designs without knowing the area. Plus, the value is affordable."
Has Placeit Helped You With Any Challenge?
"Placeit helps me because it's a great company and helps to bring more people to watch my content."
Anything Else You Would Like to Add?
"The only thing I'd improve in your service would be to make more editing options and styles available in the designs. However, out of that, everything is perfect."
Where Can People Find You?
Check out all his social networks. Additionally, here are direct links to his Youtube channel and Instagram account. So, you can stop by and say hello!
---
Placeit Reviews: Gaming
---
Victor From UrbVic
Meet Victor Rodriguez, better known as UrbVic, in the online world. He's a Twitch streamer and YouTuber who creates awesome and cool content related to the world of gaming and videos. Yay!
Could You Tell Us About Your Business?
"My traditional work experience wasn't the most enriching, which made me look for a new and independent path. For example, nowadays, my business is all about information, and I like to be documented about my hobbies and therefore, to transmit them to people with these interests; as there will always be someone looking for that knowledge."
Why Did You Choose Placeit?
"Probably because of its digestible interface and ease of promoting the platform, the Placeit brand within content creation is well-known. Above all, it speaks well for one to have reputable partners because they inspire trust for the content creators and the community that consumes that content." Moreover, "The platform for creators is a very easy-to-use tool. Also, the commissions and payments are clear, which is very important for one as a freelancer nowadays."
Our Best Feature Is?
When it comes to this Placeit Review, Vic shared: "The creation of overlays in a simple way for your pages or social media channels is undoubtedly the most popular feature."
Has Placeit Helped You With Any Challenge?
"Promoting Placeit also helps me to have more integrity in my content, for the most educational part. Therefore, there's a collateral effect/outreach with the other content that I can carry out."
Anything Else You Would Like to Add?
"Probably mobile support or mobile applications to be able to do the same as on pc. That would be practical, especially when there are new and more formats to cover (Tik Toks, Reels, and Shorts). Unfortunately, there are few quality resources for these new formats."
Thanks, Vic! We'll add it to our notes! Wink wink 
Where Can People Find You?
"My YouTube channel is the best option, for instance."
---
Daniel From xTwoShoes
Dan isn't just a cool Irish boy. He's making it big in Dubai, where he's a full-time streamer and YouTuber. By the way, if you want to read a full interview on how to become a Twitch streamer, click here. Dan shares all his best hacks and advice.
Could You Tell Us About Your Business?
"I decided to make my own Youtube channel explaining what I have learned as a small streamer in the hopes of giving a few benefits to other small streamers. Consequently, I've been making advice videos for streamers, tips and tricks on how they can better their streams and their content. As well as answering some questions not a lot of people talk about and I think people should know."
Why Did You Choose Placeit?
"So, I use Placeit for many different things. Personally, I have a background in video editing, but I'm really bad at graphic design, and Placeit makes it easy for me to make little designs for my streams.
For example, a big part of getting viewers to come to your streams is using other platforms to promote it. Therefore, I use Twitter a lot to make posters or social media posts; and to advertise promotional material."
You might like our Wanted Posters to give a funny twist to your business communications.
Also, Dan loves using Placeit Instagram Stories, especially when he's about to go live on platforms like Twitch. He says: "Instead of me just saying it, I post on my Instagram Stories. As a result, people have this lovely animated, really nice professional-looking design, and all those things help drive traffic to your stream because it says, hey, this person is really taking it seriously, and it's a professional, and most importantly, making those assets on Placeit takes me 5 minutes, but look like I spent hours on them. It's totally awesome and valuable to me. "
Finally, he pointed out that he also uses it for small things: "For example, for when I want to put on my streams like little pictures or new alerts for my followers or subscribers."
Our Best Feature Is?
Dan told us that he enjoys having the ability to do things by himself, and that's something Placeit perfectly does.
"A lot of YouTubers and streamers work with a lot of different people, and they have to explain what they want, but I love the fact that I can do it myself with Placeit."
Has Placeit Helped You With Any Challenge?
"Again, just being able to design things by myself. Hiring designers and paying people could be quite costly, and I feel the price of Placeit and the rewarding feeling of doing it yourself is really helpful, and it has helped me overcome that challenge."
Anything Else You Would Like to Add?
"No bias here, but Placeit is a 10 out of 10. This is something that has given a lot of creators the opportunity to do things by themselves and get creative. And a lot of time, people are limited by their abilities in the creative fields to do that. For example, if I went into Photoshop, I'd be really limited by my ability to use it to actually get creative, whereas, with Placeit, I can unlock that potential and make something really cool."
To sum up, Dan also suggested that creating a mobile app might be a great feature. What do you guys think about it? Is it a yay or nay?
Where Can People Find You?
Follow Dan on his YouTube and Twitch channels. No doubt, you'll have a great time learning about the gaming and streaming industries.
---
Placeit Reviews: Mockups
---
André From Mockup World
Say hi to André, "the founder of Mockup World, a massive catalog of completely free and high-quality PSD mockups you can use in Adobe Photoshop."
Could You Tell Us About Your Business?
"Mockupworld.co has existed since 2014, and since that year, it has helped many people! Whether you're looking for an iPhone, iPad, iMac, MacBook, Apple Watch, packaging, t-shirts, a street sign, cars, or a huge billboard mockup – you'll find it here. In other words, Mockup World is an online service that offers designers and web developers free access to hundreds of ready-to-use mockups!"
Why Did You Choose Placeit?
"Not everyone needing product mockups knows how to operate Photoshop – or let alone owns the software. That's where Placeit jumps in: The service makes it super-easy even for inexperienced users to create stunning mockups right in their browsers."
Currently, and "since 2014, mockup world has had a partnership with Placeit. In fact, this site offers several links to Placeit."
Moreover, André shared this: "I'm also looking forward to implementing the Placeit I-frame to make it even more seamless for visitors looking for a convenient alternative and a quick way to create mockups online.
Our Best Feature Is?
"I never had a single complaint in the past eight years – only hearing good things. To clarify, people love Placeit's freebies because they can evaluate the quality before signing up."
Where Can People Find You?
"Directly on the Mockup World website, Facebook, or Twitter."
---
Ramiro From Montink
Meet Ramiro Neto, an admirable Brazilian man who went from being a salesman to CEO of one of the largest print-on-demand companies in Brazil! Undoubtedly, a powerful story that has required a lot of effort and passion. Let's see what he thinks of our tool.  You won't want to miss this Placeit review.
Could You Tell Us About Your Business?
"I started Montink 8 years ago after having tried everything. Firstly, I was a door-to-door salesman. I sold eggs, quail meat, natural sandwiches, and kebabs. However,  I ended up creating a startup that made t-shirts with phrases of soccer teams' fans.
"At the time, the fact that I was able to create products at the scale of a brand sparked the following question: 'What if we created a platform that anyone could log in, customize with their own brand, register products, and when the customer bought, the factory itself would take the order, manufacture and send it straight to the customer's home?' Sounds crazy, doesn't it? Well, I'm a little crazy, but I managed to get it off the ground. Therefore, that's precisely what Montink does, and today, after 8 years, it has already transacted more than R$15 million. In addition, we have impacted more than 200,000 people who opened a store on the platform and have already passed 6,000 clients."
Why Did You Choose Placeit?
"One of the main pains of our customers isn't always having a team or a person who can create the prints and arts of their store, both for mockups and social networks professionally. And as we seek to leave the Montink platform as simple and intuitive as possible, when we tested Placeit, we saw that it had a total fit with our platform and, most importantly, to solve our customers' pain."
Additionally, "We strongly believe in the power of partnerships, of communities, and despite having a development team, we understand that by integrating other strategic platforms to Montink, we can also take our solution to more people through the audience exchange that is naturally generated."
Our Best Feature Is?
For Montink, what its customers say and think is extremely valuable. So when it comes to the feature they and their customers like the most, here's what he told us: "From the feedback we have received, they really like the ease of use and especially the fact that they deliver pieces in a professional manner, which builds credibility when a customer accesses their brand's online store."
Has Placeit Helped You With Any Challenge?
"Usually, the brands (its clients) that care about the quality of their store's layout, set up a nice window display and keep their social networks presentable, generate better sales results than those who don't care about these essential details for an eCommerce. And, for example, if our client sells more, the chances are much higher that he will continue using the Montink platform and even refer us to other people."
Anything Else You Would Like to Add?
To conclude: "One of the things that have always been part of our culture at Montink, and we think it has a lot of positive impacts, is that our platform is developed based on what our customers want and what they ask for. Therefore, I recommend that Placeit continue to listen and deliver what users request."
Where Can People Find You?
"You can contact me directly through my personal Instagram and also through Montink's channels on YouTube and Instagram."
---
Placeit Reviews: Videos
🔥 You might like reading more about Placeit Video Maker: Learn How to Create an Awesome Video
---
Justin From Primal Video
Straight from Brisbane, Australia, we caught up with Justin. A super talented guy and video expert who has a YouTube channel, along with his brother, Mike, where they upload specialized content to help you amplify your business and brand with video!
Could You Tell Us About Your Business?
Justin Brown from Primal Video helps you grow your audience and scale your revenue with online video. Certainly, he's masted video marketing, and now he creates videos to help people to make better videos to grow their businesses.
Why Did You Choose Placeit?
To clarify, "we don't actually use Placeit; what we do is help people make videos, and Placeit helps out people make videos." In other words, "It's an awesome tool to create video animations and animated texts, intros, outros, and graphics the people can use in their videos."
For example, "We have tutorials on our YouTube channel where we show people how to use Placeit and how easy it's to use for specific use cases like animated titles or video intros."
Our Best Feature Is?
According to Justin: "It's awesome that Placeit makes the whole video creation piece easier."
Has Placeit Helped You With Any Challenge?
"We don't use it internally," but "Placeit is a good mix of the price and what you get access to. It's easy to use, is fast, and on top of that, you can create something professional looking in a very short period of time."
To conclude, Justin added: "Placeit is an amazing tool to use to help people level up their video creation to make them look professional with animated titles and animated graphics." So if you want to get a more professional video, Placeit is definitely the right tool to achieve that goal.
Anything Else You Would Like to Add?
In conclusion, Justin gave us some helpful tips we could improve to continue delivering a fantastic service. His comments were regarding changing the wording of some texts as well as implementing more customization options. Thanks for that!
Where Can People Find You?
Here's his YouTube channel, so go there and start learning and implementing powerful video marketing techniques and tools. We're sure you'd love his content!
---
Henrique From Produccine
Henrique was the one who helped us answer these questions, but he isn't alone. In fact, he shares Produccine's success with his co-star Ani. Together, they're part of the Youtube Contributors Program, a select group of 160 experts worldwide – and selected by the red giant – to assist YouTubers and help them improve their work. So, we're talking to experts who do their job incredibly well. Let's find out what they have to say about Placeit. 
Could You Tell Us About Your Business?
"We like to be entrepreneurs, and talking about Youtube is something that attracted us a lot. Our company, Produccine, started with a channel on the platform and, over time, transformed into what it is today. We believe that the platform brings a unique opportunity for content creators and companies to reach people around the world with relevant content. YouTube opens doors, and we teach people to use the platform in a smart way, taking advantage of this feature."
Why Did You Choose Placeit?
"We like how Placeit makes it easy for users who need to professionalize their designs and Youtube channel. In a few clicks, it's possible to create sensational pieces even without having great technical knowledge of design or video editing. It also makes it easier for the audience we reach, the fact that it's a platform in the Portuguese language and the values are in local currency."
Moreover, Henrique highlighted something key when giving this Placeit opinion: "We receive several proposals for disclosure in our channel, but we do not accept to disclose any brand. The solution must be relevant to our audience, be the best option in the market and understand how to negotiate with us influencers." 
Our Best Feature Is?
For his audience, what best works is "The ease of creation and support for the Portuguese language certainly make a difference."
Has Placeit Helped You With Any Goal or Challenge?
"Unite the useful to the pleasant. Promoting Placeit becomes a win-win for everyone."
Anything Else You Would Like to Add?
To conclude these Placeit reviews, Henrique recommended: "Continue caring about the end user and respect the partners/affiliates; that will certainly make Placeit grow more and more."
Where Can People Find You?
Follow Produccine closely on their website, on Instagram, and of course, on their YouTube channel. 
---
To Wrap Up These Placeit Reviews
While we found different types of users, we realized that all the Placeit reviews we got, share something in common. That is, the people we interviewed, speaking from their perspective and the feedback their community has given them, mentioned that Placeit by Envato is a very easy-to-use tool that will get you professional results in no time. Plus, it has an accessible cost! So, there's no need to hire a designer or use a complex design program. On the contrary, you're the one who will be able to create stunning masterpieces in just a few clicks. And beyond that, let's remember that visual identity is fundamental to communicating the right messages to your audience -especially when you're involved in the digital world, whether you're a content creator or a business owner.
So, if you want to start making a significant change on a visual level, try Placeit to discover all the benefits it has. We're sure you'd love it!
Let us know what you think of these Placeit reviews. Would you like to read more? In the meantime, why don't you check out our post, in which we interviewed 12 of our graphic designers. Take a deep dive into our 'What do graphic designers do' post to learn more about what's behind each template you see on Placeit.
---
---
---