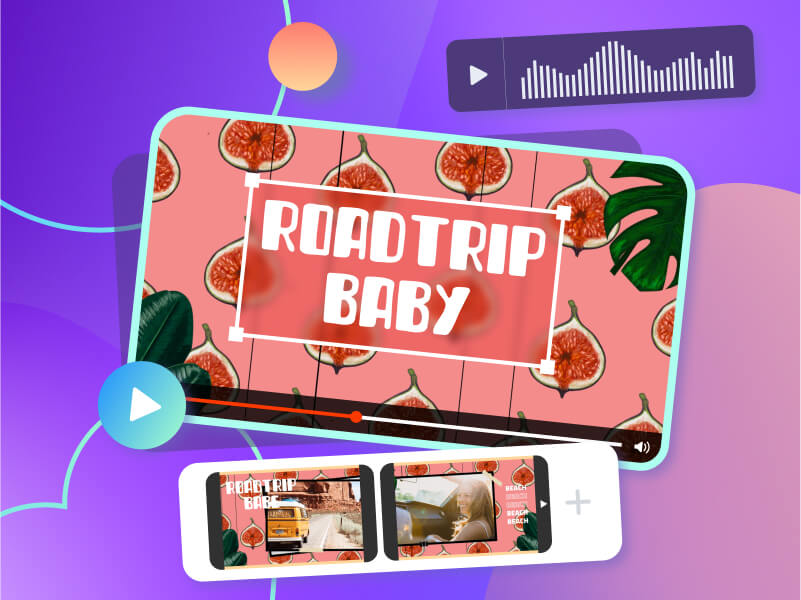 If you're in the video editing world, you know that a picture is worth a thousand words, especially when it comes to the initial parts of any video, where the first seconds matter a lot. Therefore, if you need to give an impactful presence to each of your videos, Placeit Video Maker will be the perfect ally to help you capture your audience's attention in seconds. Ready to receive a guided tour on how to use our tool from A to Z? Let's get started then.
This Is What You'll Find:
---
What Types of Videos Can You Create?
With Placeit by Envato, you can create all these kinds of videos in a matter of minutes and still get a beautiful and professional result. Here are some examples: 
What better way to capture all eyes than with an animated logo? This kind of graphic is highly recommended for gamers due to there being plenty of graphics of wild animals, sports, and otherworldly creatures. Creating one of these logos will help you stand out more easily from the competition and be recognized because not many brands or content creators have a logo with movement. Start making your own with just a few clicks. 
---
As its name suggests, you can quickly and easily create videos, obtaining a super professional and attractive result. This type of video is perfect for any social media content, from Instagram posts to Twitch Screen Makers and much more! 
---
All the video graphics you need for Facebook are available with Placeit Video Maker, from video posts to stories, ads, and even covers. Just choose a beautiful template and add your best lines of text to impact the online world. And of course! Speaking of social media, you'll also find thousands of Instagram video templates on any topic to impact Instagram's visual community. What kind of video will you upload next? Are you promoting a campaign, a product launch, a tutorial, a testimonial video, or just uploading a memorable quote to interact with your community?
---
You've already recorded all your content for a video but need an intro? No problem, we've got you covered. Placeit Video Maker has a massive collection of videos for you to put at the beginning of any horizontal video. These templates are ideal for YouTube channels or any other video platform. 
---
These videos come ready to use, so just quickly change the promotions, add your logo and customize with your brand colors and voila, you'll have a short video announcing the best deals available. 
---
This type of video contains several fragments within one, allowing you to add more images, videos, and lines of text. Work your magic and create a professional slideshow in minutes! 
⭐ Don't miss out: Sell More with a Creative Slideshow Video Maker
---
To make your streams look on a whole new level, try these templates from Placeit video maker. You'll find videos from starting and ending screens to banners, animated overlays, lower thirds, and OBS stream overlays. There are plenty of them to make your visuals look super cool in seconds! Some designs are even inspired by some of the most famous video games, from cute themes like Animal Crossing to something more legendary like Call of Duty or the popular Fortnite game. 
---
Finally, we couldn't leave out videos focused on one of the giants and boosters of video. For Youtube, Placeit video maker contains thousands of templates. Whether you decide to make an intro, an ad, or an end card, you'll have everything you need – and more – to brand your channel in a very pro way. 
🔥We recommend reading: How Video Can Help You Establish a Successful Brand Voice
---
A Complete Walk-Through of the Placeit Video Maker
Step 1. Head Over to Our Video Maker to Explore All Types of Videos You Can Create
Go to Placeit.net. We suggest you create an account (it's free), and it will help you to edit more efficiently and allow you to save your changes. 😉
Once inside Placeit, click on the Videos section. Here you'll find that you can create different types of videos—for example, Instagram Stories or Promo Videos to promote a product/brand. You can click "Get Started" to explore our vast library of videos if you aren't sure which video to choose. 
---
Step 2. Browse Our Huge Library of Video Templates and Look for Your Ideal Template
Once you're inside the Placeit Video Maker, you'll notice thousands of templates. So it'd be a great help if you filter your results by "Mixed," "Best Selling," and "Newest" to find the most popular content or new additions that are constantly being added to our video library. 
If you already have something in mind, we recommend exploring the search bar to better filter the results. For example, search for "Aesthetic". Then all the templates containing that keyword will appear.
⭐ #ProTip:  You can browse the different pages we have or look in the left bar to filter by video type (Facebook post, intro maker, youtube ads, etc.) and even by theme, such as "Instagram Story". 
Afterward, you'll see the results more narrowed down, and then it'll be time to choose the Placeit template you want to edit. 
---
Step 3. Choose a Video Template That Matches Your Style and Goals
While the Placeit Video Maker library is extensive, you can preview each template. Just try hovering over a template to play it quickly. Once you've chosen the template you want to edit, let's start customizing it!
---
Step 4. Ready to Design? Let's Start Customizing!
Text
First, how about starting with the text? 
You'll be able to insert your messages and change the typography. You'll notice there are three sections: "Recent", "Saved", and "Suggested". If you're a newbie, you'll only have the "Suggested" part available, which will include fonts recommended for this template by our creative team. However, there are still many more fonts to explore; just click on "More fonts." There, you will see fonts grouped by categories, from "all fonts" to more specific types such as "Brushed" or "Retro." For example, "Bebas Neue." If you already have a favorite typography, just search for it in the search bar.
⭐ #ProTip: If you haven't found a typeface, suggest it to us. Just click on "Let us know." 
Once you find the font you were looking for, click on it, and it'll be updated automatically. Finally, you'll notice that some templates contain different lines of text. You can hide or make them visible by clicking once on the eye icon. 
---
Colors
Now, how about changing the color? To do so, select the small box. Again, you will notice four categories: "Recent", "Default", "Swatches", and "Custom". 
💡 "Swatches" are more for beginners because you can quickly choose a default color from the color range. While "Custom" can be for intermediate levels, as it requires a HEX code to find an exact color or browse through the color shades until you find the perfect one. In this post, we briefly explain how to use them. 
Once you find your color, click on it, and that's it. You'll see the changes reflected immediately. 
---
Playback Speed
When it comes to some video formats -and depending on the chosen template-, you'll see that you can easily adjust the speed of the video. You can select from 0.5 (slower), 1 (normal), and 1.5 (faster). 
---
Images
Then, why not add a beautiful stock photo or upload your own files to customize further? It can be a photograph or even a video! Whatever media you choose, you can adjust it to fit perfectly with the template. You can make it bigger or smaller; the gray checkered area means there will be a blank space, so if you want to avoid that, make sure your file is completely covered to prevent it from being cut off.  
---
Audio Track
Our last step is to add some music. Notice how there are three icons in the bottom bar: "Audio", "Replace", and "Listen".
⭐ #ProTip: For the audio, if the button is marked in yellow, it means that a music track is active, but if you want to disable this option, press it, and it will change to gray, which means that the video has no music. 
On the other hand, if you want to listen to the original melody of this template, click on "Listen." If you like it, leave it like that and if you're going to modify it, click on "Replace." There, our music library will open, where you can filter by genres such as "Blues," "Dreamy," "Classical," and more. You can enter a keyword in the search bar that resembles the feeling/instrument you want to convey, such as "Happy" or "Ukelele." To check how the audio tracks, press the "Play" triangle and if you want to use it, select the box that says "Select" so that the track is automatically modified.  
💡 Fun fact: all our audios are royalty-free!
---
Additional Features
With Placeit Video Maker, you can:
Mark this video as a favorite so you don't lose your selected template or simply save it for editing later.

Make a copy, which means save it as a draft. After each significant change, we recommend clicking on it to continue saving your progress. 

And finally, share this template through a link or via social media. 
---
Step 5. Time to Preview All Your Changes!
Once your video is how you like it, or even before -to preview your changes in action, you have to click on "Play all slides." 
---
Step 6. Download Your Video and Share It With the World!
Finally, once your masterpiece is processed, you can watch it completely. On that screen, you can download it or click on the "x" to continue making more changes.
🔥 Notes: there might be some variations according to each type of template, but in the end, all have pretty much the same features. 
😎 Watch the whole process within minutes:
---
Ready to Give Placeit Video Maker a Try?
Because, let's be honest, visuals have always played a fundamental role in any product or service. For instance, we could have the same product type with similar features, but aesthetics make the difference between buying or leaving a product at first glance, especially in the online world. 
Moreover, on the internet, surely you have noticed that many brands, content creators, and small business owners beautifully present their products or services. Well, the good news is that now you can do it too. With Placeit Video Maker, it's easier than ever to create stunning, creative, professional results. No matter your expertise with design editors, or your profession, anyone who wants to project an attractive image can do it using our tool. So, whatever your goal or idea, you'll find a video template that meets your needs.
To sum it up, remember that each one is customizable, so you can add style and convey the right messages. 
Let us know in the comments what kind of video you'll create today with Placeit Video Maker. 🤩
⚡️Before you go, check out Placeit's free templates of the month! You'll find some free video templates you can try out at no charge!
---
FAQ Placeit Video Maker
---
---
---