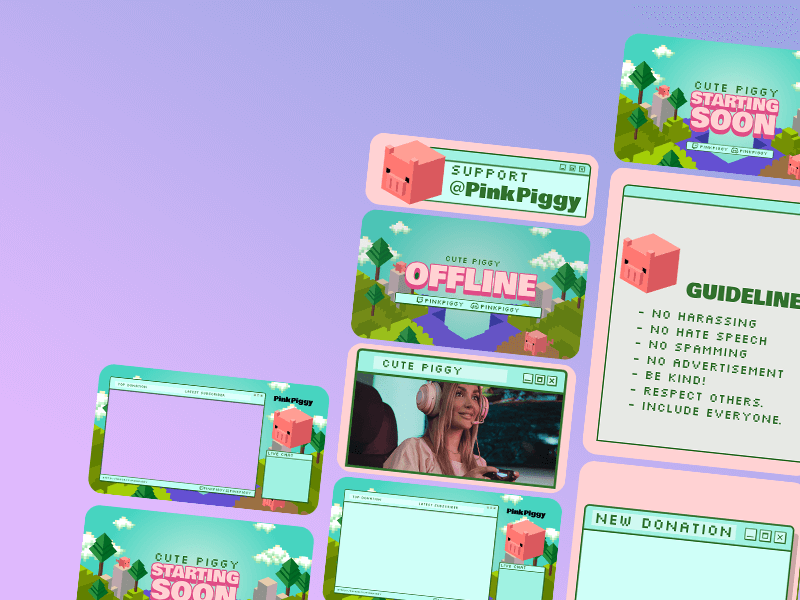 As a streamer, getting your Twitch branding just right is a huge part of growing and reaching your goals. If you're just starting out your channel, this can seem like a huge task that requires lots of work and a hefty investment. But, with Placeit's Twitch sets, this has become so much easier!
In this guide, we'll show you how you can use Twitch sets to create a cohesive brand and channel design. We've also included some essential tips to get your channel off the ground in no time!
First, Master Your Visual Branding with an Eye-Catching Logo
Before we jump into your channel's design, it's important that you know about visual branding and what role your logo plays in this.
Your visual branding will play an important part in your brand. It includes all of the visual elements that epitomize your brand and make it stand out. Selecting the right color palette, font families, and graphics is key because they are how users will differentiate your brand from others.
The best place to start developing your brand identity is with a gaming logo design. To get this just right, you'll need to know what you want your brand to reflect and communicate. This can include your values, your place in the market, and your personality.
Look at brands you like to figure out how they've successfully designed a visual identity that reflects what they're all about. Take note of color choices, graphics, fonts, and their tone. Pay attention to what's working for them and what you want to avoid in your own brand.
Once this is clear, you can design a logo that reflects your brand's values and personality more accurately. Take your time designing a logo that matches your brand and that you can also see yourself sticking to for a long time. Rebranding can be tricky if you already have an established brand, so it's best to avoid this.
Now that you have a logo you love and that matches your brand, you can use it as a guide as you create other designs for your gaming channel and your brand as a whole.
⚡️ Don't have a logo for your gaming brand? We've got you covered with our customizable Twitch logo templates!
Use Twitch Sets to Create a Cohesive Visual Brand
With your logo done and ready to shine, next up is creating visually stunning assets for your Twitch channel. These should match your logo design and make your brand more recognizable and memorable. As you create custom designs for your channel, stick to a limited color palette, a couple of font families, and use your stream name wherever possible.
Before you start streaming on Twitch, be sure you know what assets you will need for a visually striking Twitch channel that sets you apart from your competitors. Placeit has a whole collection of Twitch sets that include everything you need to create professional Twitch designs that match your brand perfectly!
One of the benefits of streaming on Twitch is that you get a lot of space to personalize your channel and really make it stand out. Not only can you add a profile picture, but you can also upload custom designs like a banner, panels, and overlays. While this is great for branding your channel, it also means you have quite a few designs to create.
👾 Not sure what streaming platform is right for you? Check out this Twitch vs YouTube comparison before making your final choice!
As we mentioned before, all of these designs should look like they are part of a cohesive set. It wouldn't make sense to have a dark and moody banner in the same space as a bright and cheery overlay. So, how do you create so many assets that match without spending too much money or wasting precious time? With a Twitch set!
A Twitch set, sometimes called a Twitch package, will include all the items needed to create a beautiful Twitch channel. Rather than creating a banner design and then trying to figure out how to create an overlay that matches, you'll have all these items in one place for easier customization.
There's no need to scour Placeit's collection of Twitch templates to find items that match since they're now held together in carefully curated sets.
What Does a Twitch Set Include?
A Twitch set will include everything you need to establish the look and feel of your channel. The amount of Twitch templates in Placeit's sets can vary, but these will typically contain the following items:
– Twitch Banner
– Twitch Offline Banner
– Stream Ended Video Screen
– Twitch Panels
– Twitch Overlay
Your logo design and your Twitch channel assets will also influence further designs down the road. As your brand grows, you will likely increase your social media presence, create merch for your followers to purchase, and you may even need printed items like business cards. When you get to this place, stick to your already established visual identity to keep things cohesive and strengthen your brand.
How to Use Placeit's Twitch Sets
Customizing Placeit's Twitch templates couldn't be easier. Whether this is your first time designing Twitch assets or you're a seasoned pro, we're sure you'll love the results!
Let's hop right into how to customize your Twitch templates:
Head over to Placeit and, in the main menu, hover over Gaming. In the dropdown menu, hover over the option that says Twitch Templates and click on Twitch Sets.
Start editing your design by typing in your text and selecting a font. If you can't find the right font in the dropdown menu, scroll to the bottom of the list and click on More Fonts

to explore even more options.

Next, click on the little color square to open up the color picker tool and choose colors for your text.
Now, to the right of the template, you'll see more color customization options. This is where you'll choose colors for the background, a frame, and other graphics.
Below these color options, you can pick graphic elements to complete your design. Depending on the template, you may be able to choose a frame, an icon, or an image.
When you're ready, hit the download button. But, wait! Don't leave yet! There are more templates to customize as part of this Twitch set!
You'll notice a little pop-up at the top left of your screen that lets you know this template is part of a set. Click on the purple button to see the rest of the templates included in the bundle.
Once all of your designs are ready and downloaded, you're ready to update your Twitch channel!
Pro Tip: Save the fonts you've used by clicking on the star icon next to them. This will make your fonts easier to find in the future. And what's best, you can now take advantage of our Placeit's brand kit to get all your branding assets together and ready to customize any template in a snap. 
⚡️ Looking for even more Twitch templates? Check out this guide on how to make Twitch emotes with Placeit and set them up in your stream!
Quick Twitch Branding Tips for Beginners
Before you start your Twitch career, check out these quick Twitch branding tips to get you on the right track!
Picking your niche can take some research and some introspection. Before you decide what your niche is, ask yourself what type of content you want to stream, what your strengths are within that, and what you will be able to offer your audience. This will give you an idea of what your niche is so that you can start looking at other streamers in this niche.
As you look at other streamers, ask yourself how you can stand out. What you can offer that's different? Can see yourself sticking to this niche longterm?
These questions will let you know if you're on the right track, but it can take some trial and error. As you stream and develop a relationship with your audience, your spot within your niche will become clearer and easier to define, making it easier for you to grow your brand.
Know Who Your Audience Is
Having a clear understanding of who your audience is will make it so much easier to create the content they want.
To get a clearer understanding of who makes up your target audience, look at your competitors and scope out who's watching them. Identify key characteristics of their audience like their age range, their gender, what countries they're in, and what type of content they interact with most.
Having these things down can help you with content planning, social media presence, communication style, email marketing strategy and even channel design.
With your niche defined and your target audience identified, it's time to focus on you. As a Twitch streamer, your brand can be more personal than that of a big business. Your brand will revolve around you, your identity, and your values. Needless to say, having these clear is a must so that they shine through your branding.
With that said, keep in mind that you don't have to stream as yourself. You can also create a character for your streams. A classic example of this is Dr DisRespect. He created a name for his stream that pointed to his character and then crafted this character through the way he dressed, the way he spoke, and his interactions with his audience. He completely changed the way he looked by donning a wig, sunglasses, and facial hair. This can be risky, but it can also lead to major success.
Whatever way you choose to go, make sure your streaming name, logo, color palette, tagline, and everything else about your brand match your chosen persona perfectly. Be consistent and stick with it for the best results.
Figure Out What Makes Your Stream Different
Like with any other brand, you'll need to find something that makes yours stand out from the competition. If you're in a market that's super saturated, this might be more difficult but extremely rewarding.
As you investigate your target audience and plan out your streams, think about why you've decided to become a Twitch streamer. Was there something missing from the streamers you like to watch? Did you notice an audience whose requests weren't being met?
By answering these sorts of questions and highlighting the features that set you apart from the rest, you'll be better able to identify your value proposition. Once that's clear, it'll be much easier to develop your brand and marketing strategy while highlighting your value proposition.
As you start to develop your brand and plan out the sort of content you want to create, don't forget to set goals for your new endeavor.
Setting goals is a must if you want to see your stream grow. The best way to set goals is to set SMART goals. These are goals that are Specific, Measurable, Attainable, Relevant, and Time-Bound. Rather than setting a goal to grow your stream, opt for something like the number of followers you want to have by a certain month. This statement is already more specific, measurable, and time-bound. Just be sure to keep your growth goal attainable and ask yourself why this matters. This will let you know if it's relevant to your long-term goals.
Check in on how you're doing with your goals every so often so that you can ensure you're on track to meet them. If you notice things aren't going great, it's a sign that you need to shift your strategy and try something new.
Don't get down on yourself if you don't meet your goals. Analyze what didn't work out so that you can set new goals that are more targeted and come up with new strategies to help you grow your stream.
If you're wondering how to grow your Twitch channel, staying consistent is key.
Maintaining a consistent brand is essential if you want your brand to be recognizable and memorable. This means using the same logo across all the platforms you use, sticking to a color palette across your entire brand, and maintaining a consistent tone throughout your communications. If all of this is constantly changing, you'll lose people along the way.
Staying consistent in terms of when you stream, what type of content your stream, and your interaction with your audience should also be consistent. Make your streaming schedule public so that viewers know when to tune in, but also commit to actually showing up. If you post videos on other platforms, keep a regular posting schedule so that you don't lose your audience.
Of course, you can experiment with the content you create, but be sure that what you post is still on target for your audience.
You're Ready to Conquer Twitch
Now that you're ready to get to work on your Twitch assets and are a pro at using Twitch sets, there's no stopping you!
Of course, your gaming brand's visual identity isn't the only thing you'll need to master to succeed, so be sure to use the tips included in this post to create a memorable brand that your audience will connect with.
Before you go, keep in mind that if you need more branded designs as your business grows, Placeit by Envato has you covered!
FAQ: How to Use Placeit's Twitch Sets
---
---