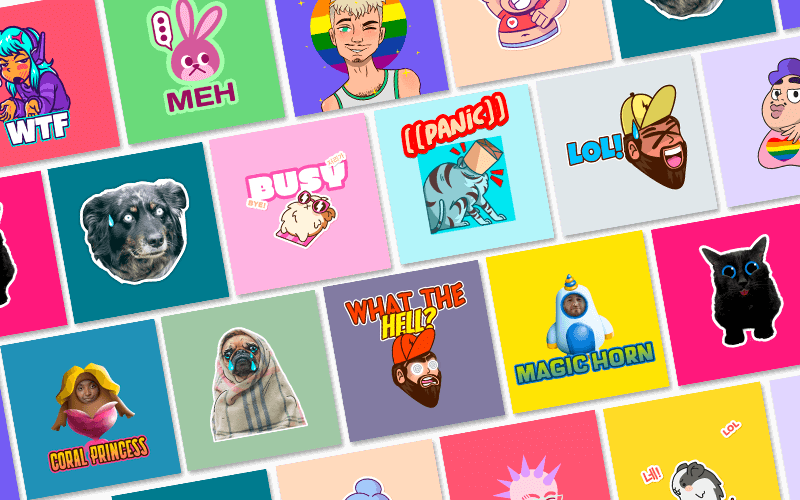 Want to amaze your followers with amazing Twitch emotes on your channel? Then you should definitely read this! We tell you everything you need to know about emotes, plus, how to make Twitch emotes in just a few clicks with an easy tool.
What are Twitch Emotes?
Twitch emotes are symbols that streamers use on their chats to make a message more expressive, graphic, and emotional. Emotes on Twitch can be used in stream chat by entering their letter and symbol combination via keyboard or by choosing an emote from the emote menu. 
Yes, I know what you are thinking, so they are just like emoticons, well that's about right but emotes are unique to the Twitch platform. 
There are two types of twitch emotes: global and custom.
Global Twitch Emotes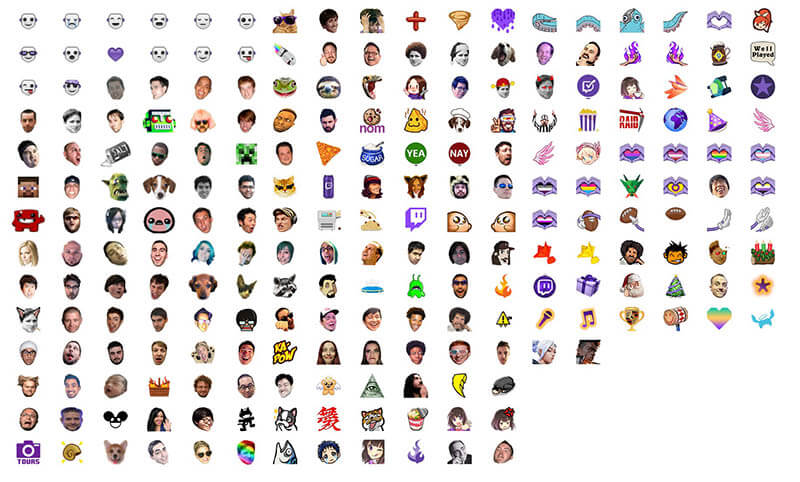 Global emotes are accessible to everyone. These include emotes like :HeyGuys: (a casual greeting), :LUL: (laughter), :bleedPurple: (Twitch pride), :NotLikeThis: (dismay) :HeyGuys: (a woman waving), and much more. 
💡​ You can add special widgets completely free to see your emotes during a stream like KappaGen. It creates an on-screen explosion of emotes as a sign of celebration.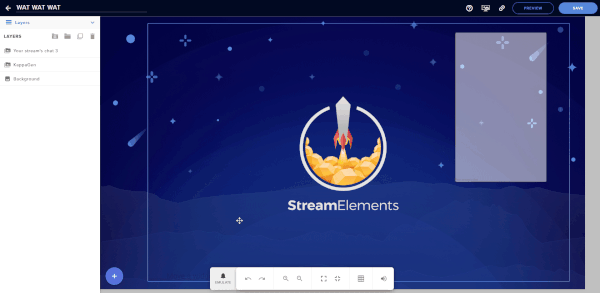 Custom Twitch Emotes
For custom emotes you can make them yourself. They can become an important part of your channel branding. 
You represent you emotes with a colon (-) followed by the emotes name and another colon. 
Who Can Make Custom Emotes?
Only affiliates and partners can upload their custom emotes. Twitch Affiliates start off with one emote and are able to get up to five emotes while Partners are able to upload six emotes and increase their slots up to 50.
To increase your emotes you have to increase your subscriber points. This can be calculated by considering the number of subscribers and what tier they have subscribed to.  
Once an emote slot is unlocked, it can't be locked again so streamers don't need to worry about losing emotes if viewers unsubscribe.
⚡️ Find all the gaming templates you need to customize your stream, from a Twitch logo to emotes!
How to Make Custom Emotes for Twitch with an Online Tool
For starters, you want to create custom emotes that represent you or your channel. Looking for cats, funny graphics, fantasy characters? Placeit has you covered! 
Get into our

Twitch emotes library

and choose a style template that fits your brand. You can choose a tag like anime, cartoonish, LGBT, and much more. Also on your left filter the results you want to take a look at and also on your top left corner and choose to view templates by "best selling", "newest" or "mixed". 

Once in the editing screen of a template, you will be able to make all customizations to your template. Change colors to match your brand's color pallet. 
💡​ Pro tip: all your emotes should keep a consistent style and designs to give them that branded feel. 
Change graphics elements and fonts, or even upload your own designs from your devices. You could even add your own images! 
Once you are completely satisfied with your design, is time to click on the download button. Important! Even though placeit downloads both files with and without background, Remember to use your transparent file for Twitch.
💡​ Making your own custom Twitch emotes, which gives you full commercial usage rights.
Ideas to Get Inspired
When creating a emote you need to think about your audience and what they like from your streams and your channel. You can ask them directly, make a poll on social media, share this o that stories, or anything to get insights on what style of emotes they would like to see on your channel. To understand better this topic, we suggest you these 8 Incredible Social Media Tips for Twitch Streamers
A few ideas are:
You can use images of yourself

A cartoon avatar of yourself

Phrases you use frequently when streaming

Make a meme of inside jokes
After creating your custom emotes, you will need to choose a unique code added after your emoticon prefix.
🔥​ Check out the best tools to grow your Twitch channel!
Popular Twitch Emotes
Take your time to check out which emotes are popular with the Twitch community! You can check out all Twitch emotes on Stream Elements.
Some of the best Twitch emotes gamers use regularly are:

The :forsenE: emote that began with the Swedish gamer Sebastion Fors –

Forsen

 

:R): which represents a pirate 

:TriHard: which features the face of the streamer

Trihex

. Twitchers use it when they want to hype up a situation.

Twitch's signature emote, :Kappa:, is based on former Justin.TV Josh DeSeno.
Emotes Requirements
PNG file

25 KB size

Thress sizes: 28px, 56px, 112px

Transparent background

Good quality  

Emotes cannot contain hateful, violent, or sexual imagery. Images that promote harassment of a group or individual are also not allowed. 
Click here to see the full list of parameters for emotes. Every Twitch emote you submit has to undergo manual approval, and the waiting period is between eight and 24 hours. However, the approval period is usually lower, with many people having their emotes approved within hours of submitting.
✨ Looking for extra inspo? Check out our awesome avatar maker. 
Set Up Your Emotes
You can manage your emotes on your own dashboard by clicking the Affiliate/Partners Settings tab. Then click on "emotes" and upload.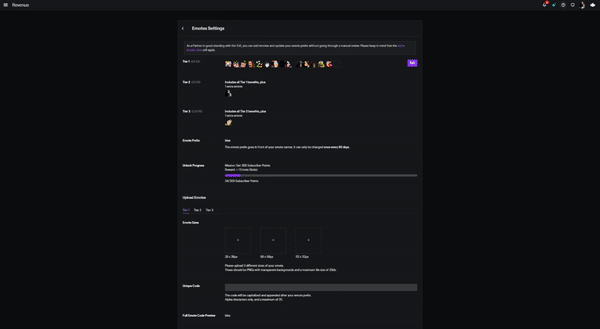 You can offer your twitch emotes as a reward for a subscription to your channel. Reward new subscribers so that they can show their support by using your emotes.
🔥​ Check out how to set up donation on your channel
More Designs
FAQ
Go Beyond Emotes
Twitch emotes are great to engage with your community, adding emotion to your streams, and communicating. Emotes are a basic part of every affiliate and partner branding. 

Branding is a whole thing, even when you are a streamer, your channel is a brand that needs the whole package to succeed! You can also create branded panels, banners, overlays, and more Twitch templates to show off your personal touch everywhere!
If you have enjoyed this post you might also read all about setting a just chatting stream, the best practices to make money with your Twitch channel, or simply how to start streaming! 
Have any thoughts? Let us know on a line below!
---
---