June is just around the corner, which means Pride Month is coming up fast! Even if you can't join a Pride parade or in-person celebration, you can still show your support by incorporating Pride designs into your Twitch stream.
You can create Pride-themed assets, like emotes and panels, but keep in mind that your support shouldn't end there. Keep reading to learn how to celebrate Pride and support the LGBTQ+ community on your stream all year.
What You'll Find:
What Is Pride Month All About?
If you're not sure what Pride Month is, we're here to help!
Every year, Pride Month is celebrated during the entire month of June in honor of the 1969 Stonewall Uprising, which was the tipping point for the Gay Liberation Movement.
Although this happened in New York, Pride is celebrated all around the world. Major cities host massive Pride parades, parties, and marches in person and online. All of this is meant to honor those who have fought for gay rights, give visibility and support to the LGBTQ+ community, celebrate diversity and inclusivity, and continue to demand rights for members of the LGBTQ+ community all across the world.
What does this have to do with streaming? Well, plenty of streamers are part of the LGBTQ+ community, so it makes sense to celebrate the diversity of the streaming community.
By including Pride motifs in your stream or Twitch profile, you not only show your support and commitment to lifting up the LGBTQ+ community. Doing so also tells your followers that your stream is a safe space for all and that you welcome and celebrate the diversity of the streaming community.
Stream loud and proud, but be sure your values and actions align with the message you're spreading through your stream's Pride look.
Create Custom Pride Designs for Your Twitch Stream
Transform the look of your stream for this year's Pride celebration! Go bold and get loud using Placeit's Pride-themed templates for Twitch.
Makeover your channel with everything from Pride emotes to Twitch panels that will make everyone feel included in the celebration!
1. How to Make Twitch Emotes for Pride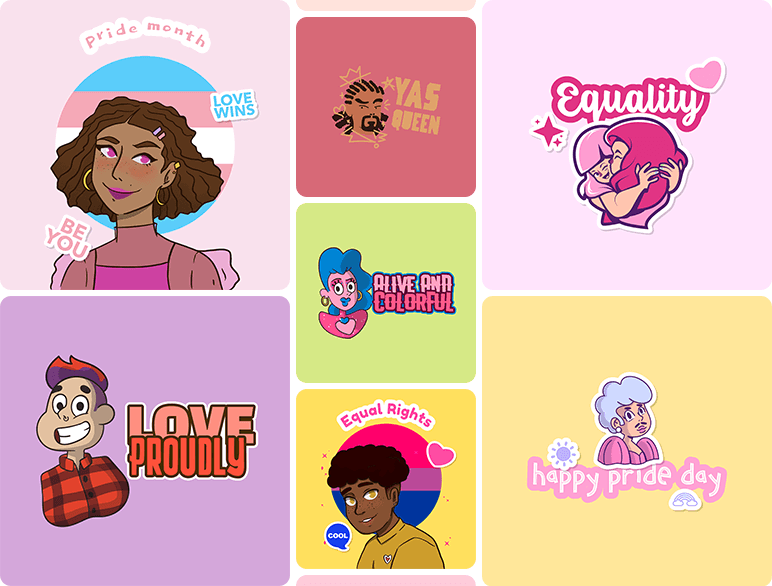 Include your viewers in the celebration by offering them custom Twitch emotes for Pride!
Emotes offer a fun way for your viewers to interact with you and others in the chat. Build your community with custom emotes that reference an epic moment from your streams, a catchphrase you like to use, or anything unique to your stream. Viewers love to feel like they're part of a community, and custom emotes help build this sense of community.
Emotes are also part of your brand and give your stream more personality. Your logo, bio, and other aspects of your Twitch profile let viewers know a bit about you, but don't stop there. Show off your personality and get people excited to participate in your chat with custom emotes.
🏳️‍🌈 Learn how to Create a Powerful LGBTQ Logo That Celebrates Diversity
If you're an Affiliate or Partner on Twitch, then you have the option of uploading custom emotes. You should have no trouble uploading your emotes as long as they fit the size requirements and guidelines set by Twitch.
Customize Placeit's Pride emote templates and add some color to your chat box!
2. Twitch Panels That Celebrate Pride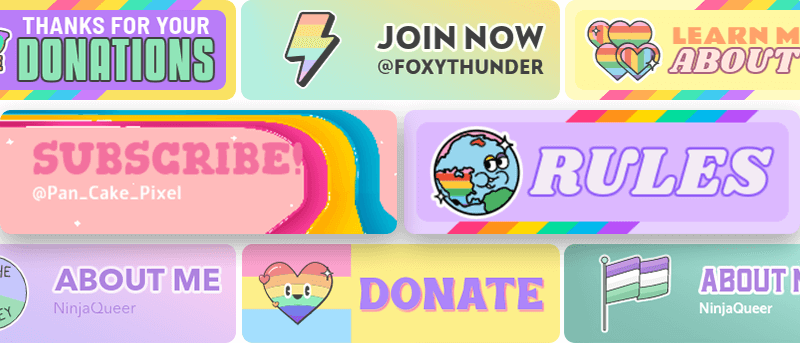 Twitch panels are a must for all streamers because they allow you to introduce yourself, answer frequently asked questions, link to your other pages, and include resources that might help or interest your audience. Using a custom Twitch panel design allows you to establish your brand and personality further.
Panels give you another opportunity to show your support for the LGBTQ+ community during Pride. It's a great idea to not only update your panel designs to show your support but to also use them to raise awareness and funds.
Streamers often have a panel that their audience can use to leave them donations or purchase merch. Consider using these panels to raise funds for charities and organizations dedicated to addressing the issues faced by many in the LGBTQ+ community. You can link to a number of organizations or even donate your merch sales to an organization of your choice.
Learn how to create Twitch panels and add them to your profile in this step-by-step guide!
💡 If you want to have a fundraiser, why not make Pride t-shirts to raise money for an org that aligns with your values?
3. Show Your Pride While Streaming with a Colorful Overlay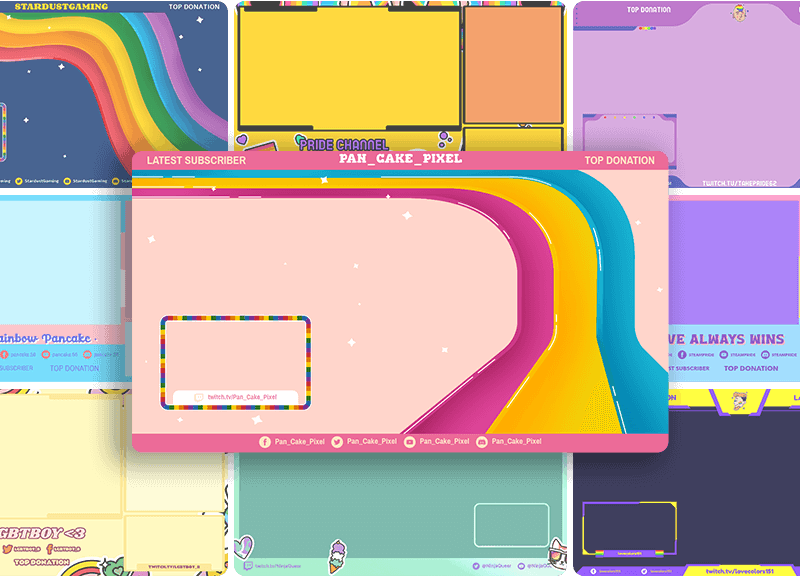 Lots of streamers love using a Twitch overlay because it sets their channel apart and shows off their personality.
Use a stream overlay template to create an awesome design that shows your personality and celebrates Pride all in one. Add your own message to your overlay to show that everyone is welcome and have fun with the design.
This may seem like a small change, but it really can go a long way in communicating your support to those who may feel marginalized. If you do plan to make these changes to your stream, be sure to follow through with action.
Show Your Pride All Year Round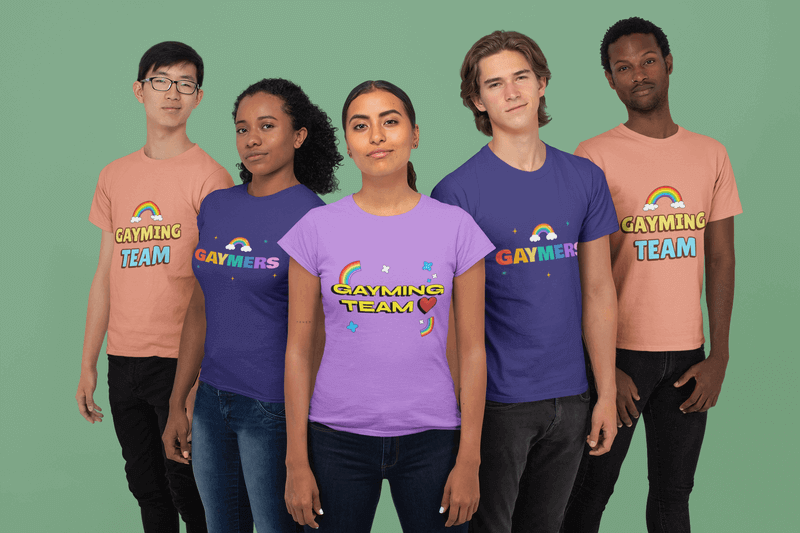 These aesthetic changes to your Twitch channel can be fun but don't forget that your support for the LGBTQ+ community shouldn't end there. It's not all rainbow designs and colorful panels.
It's important to speak out and be an ally all year and not just during the month of June. Below are some tips to keep the support going all year round and avoid rainbow washing.
1. Stay informed. Issues concerning the LGBTQ+ community are relevant all year, so do your best to keep up with news and legislation affecting the community. Speak up about issues relevant to your community and include resources in your panels to help your audience stay informed.
2. Support charities and organizations all year. While Pride month gives visibility to important charities and organizations, who do some of the heaviest work to support the LGBTQ+ community, keep your support going all year. Make a donation, ask your audience to donate, and highlight the work these orgs do even if it's not Pride month.
3. Support LGBTQ+ creators. Teaming up with LGBTQ+ creators and giving them the spotlight during Pride is great, but keep these collabs going after Pride. You can highlight diverse creators in your profile and collab with them any time of the year.
4. Be an ally. If you want to celebrate Pride, be sure your actions align with what you're celebrating. Set up inclusive rules for your channel that make it clear that you won't tolerate any form of hate speech. Be clear about your pronouns, and speak up when you see someone being disrespectful. Remember to report users who use hate speech so that Twitch is aware of their actions and can act accordingly.
💡 Before you start posting about Pride, be sure you know the do's and dont's for an effective Pride marketing campaign that isn't just performative.
FAQ
Final Thoughts
Pride is all about coming together to celebrate love and diversity as well as to commemorate how far the fight for LGBTQ+ rights has taken us. There's still more work to be done to ensure acceptance and equality for all, which is why highlighting these issues during Pride is important.
As a streamer, you can raise awareness in your community about these issues while also celebrating the work of the LGBTQ+ community.
You change up your Twitch assets to show your support, but be sure to follow through with actions. Make your stream a safe space for all, be inclusive, speak up about important issues, and continue to support the LGBTQ+ through the whole year and not just this one month.
How do you plan to celebrate Pride this year? Let us know in the comments ⤵️
---
---