Show Your Pride With LGBT T-Shirts!
What Is Pride and Why Does It Matter?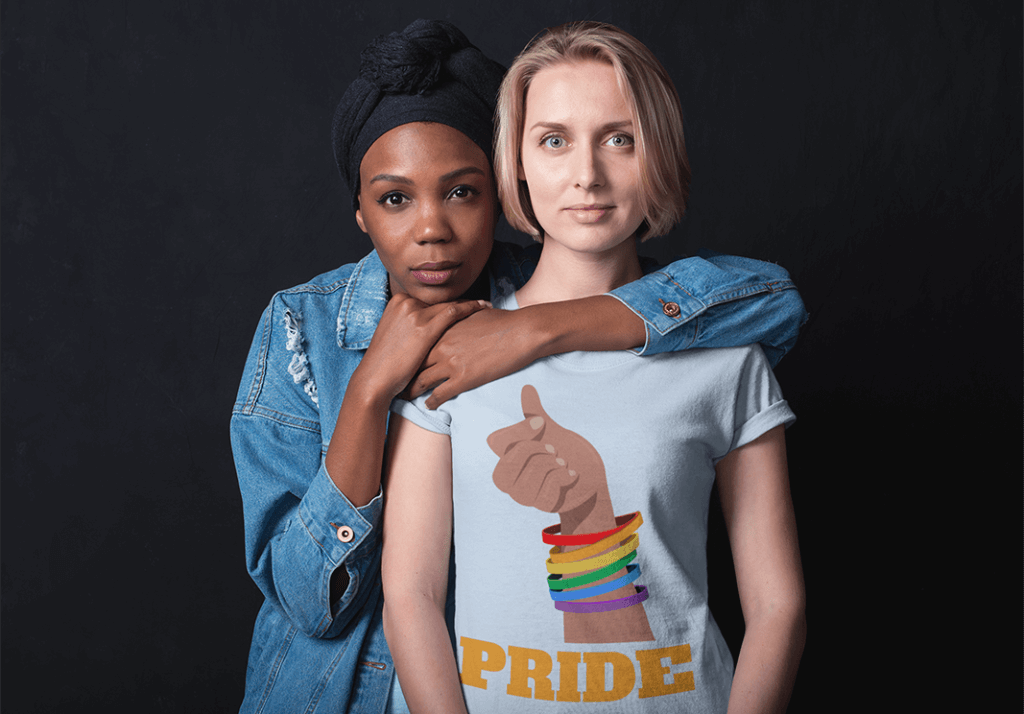 Since 1969, when the first LGBT demonstrators fought against police who raided the Stonewall Inn in New York City, LGBT groups have taken to organizing gay pride events towards the end of June as a way to remember these events, and also to celebrate the community that has grown throughout the years. Designing LGBT t-shirts is a great way to show your pride and share with others while attending these events! 
Gay pride month all around the world looks to visibilize the gay community, represent all colors in the rainbow and the common thread of diversity that brings everyone together, as well as to keep demanding progress of gay rights all across the world.
Many cities around the world have pride parades and festivals during the month of June to remember the Stonewall Riots and to celebrate diversity, visibility, and inclusion in their local communities. These are only a few of the pride celebrations around the world, but there are many more. Check them out, the one in your city might just be coming up!
Jan 2022
23 Jan – 23 FEB, Midsumma Pride Festival. Melbourne, Australia
23 Jan – 30, Whistler Pride. Whistler, Canada
24 Jan, Rangers Pride. New York, United States
Feb 2022
01 Feb – 27, Auckland Pride Festival. Auckland, New Zealand
11 Feb – 26, Cape Town Pride. Cape Town, South Africa
19 Feb – 27, Vancouver Pride. Vancouver, Canada
19 Feb – 05, Wellington Pride Festival. Wellington, New Zealand
Mar 2022
05 Mar – 06, Pride Cape Coral. Cape Coral, United States
11 Mar – 27, Christchurch Pride. Christchurch, New Zealand
26 Mar – 26, Tampa Pride. Tampa, United States
Apr 2022
01 Apr – 10, Jasper Pride Festival. Jasper, Canada
01 Apr – 10, Miami Beach Gay Pride. Miami, United States
22 Apr – 30, Tokyo Rainbow Pride. Tokyo, Japan
28 Apr – 02, Big Boy Pride. Orlando, United States
May 2022
05 May- 15, Maspalomas Gay Pride. Gran Canaria, Spain
20 May – 22, New Hope Celebrates PrideFest. New Hope, United States
21 May, Belgian Pride. Brussels, Belgium
21 May, Springfield PrideFest. Springfield, United States
23 May – 30, Vallarta Pride. Puerto Vallarta, Mexico
Jun 2022
01 Jun – 25, Columbus Pride. Columbus, United States
01 Jun – 05, Key West Pride. Key West, United States
01 Jun – 03, Pride Winnipeg. Winnipeg, Canada
03 Jun – 05, Guam Pride. Guam, Guam
03 Jun – 05, Provincetown Pride. Provincetown, United States
04 Jun, Ferndale Pride. Ferndale, United States
04 Jun, Guadalajara Pride. Guadalajara, Mexico
10 Jun – 12, LA Pride. Los Angeles, United States
11 Jun, Central Alabama Pride. Birmingham, United States
11 Jun – 12, Motor City Pride. Detroit, United States
17 Jun – 18, Zurich Pride Festival. Zurich, Switzerland
18 Jun – 28, Oslo Pride. Oslo, Norway
18 Jun, Rhode Island Pride. Providence, United States
19 Jun – 26, Lisbon Gay Pride. Lisbon, Portugal
24 Jun – 26, Pride Toronto. Toronto, Canada
25 Jun, Andalucia Pride 2022. Seville, Spain
25 Jun – 26, Denver Pride Fest. Denver, United States
25 Jun, Dublin LGBTQ Pride. Dublin, Ireland
25 Jun, Lexington Pride Festival. Lexington, United States
25 Jun – 26, Nashville Pride. Nashville, United States
25 Jun – 26, San Francisco Pride. San Francisco, United States
25 Jun, Winter Pride Dublin. Dublin, Ireland
26 Jun, Seattle Pride. Seattle, United States
27 Jun, Raleigh Pride. Raleigh, United States
Jul 2022
01 Jul – 10, Luxembourg Pride. Luxembourg, Luxembourg
02 Jul – 05, Cologne Gay Pride. Cologne, Germany
02 Jul – 17, Munich Gay Pride. Munich, Germany
08 Jul- 10,  Long Beach Pride. Long Beach, United States
09 Jul – 17, San Diego LGBT Pride. San Diego, United States
16 Jul, Isle Of Wight Pride. Isle Of Wight, Ryde
16 Jul, Manuel Antonio Pride. Manuel Antonio, Costa Rica
23 Jul, Berlin Christopher Street Day. Berlin, Germany
Aug 2022
02 Aug – 07, Reykjavík Pride. Reykjavík, Iceland
05 Aug – 07, Amsterdam Pride. Amsterdam, Netherlands
07 Aug Stockholm Pride. Stockholm, Sweden
08 Aug – 14, Prague Pride Parade. Prague, Czech Republic
15 Aug- 21, Copenhagen Pride. Copenhagen, Denmark
22 Aug – 28, Silicon Valley Pride. San Jose, United States
Sep 2022
02 Sep – 11, Malta Pride. Valletta, Malta
15 Oct, Honolulu Pride. Honolulu, United States
Follow this link to add any of these events to your Google calendar! Also, keep an eye on The National LGBTQ Task Force for online events on Global Pride Broadcast to stay home if you are not feeling like going out.
Wear Your Pride on LGBT T-Shirts
Wearing LGBT t-shirts is a great way to show your support for your community and to get other people involved in supporting a cause near to your heart. Pride is the perfect moment to scream loud and proud that the gay community isn't going anywhere. With many designs to choose from, these design templates were created with important symbols in mind (btw, are we missing any? Drop us a line and let us know!

people attended NYC Pride in 2019?
How To Design LGBT T-Shirts for this Year's Pride
Making an LGBT t-shirt design with Placeit is super easy! Choose from thousands of high­-quality graphics, you can use our LGBT t-shirt templates or any other that works to display your message! Customize fonts, colors, and graphics to get your dream design in just a few seconds. Watch the video above for a step-by-step guide on how to use design templates at their fullest. 
Make T-Shirt Mockups of Your Designs!​
Making t-shirt mockups is a practical way to display your designs in your store, on social media, or in promotional materials. Placeit's mockups are shot by pro photographers with diverse models in all types of settings, so you'll probably find what you're looking for! Using t-shirt mockups (ore even some tank top mockups, it's June after all!) is as easy as dropping a transparent PNG file on the mockup of your choice. No need to use Photoshop or any other design software.
Show Off Your Designs on
Social Media!​
Show off and promote you Pride designs in social media using dazzling social media posts templates like Facebook posts, Instagram posts, Instagram stories, Youtube thumbnails, Sticker and much more! 
Being a part of Pride is more than just being a part of the celebration, it's standing up for what you believe in and showing your support to your community and making a t-shirt is a small, but meaningful way to make your voice heard! If you own a brand, it's also important to do your best to avoid rainbow washing. We live in an era where more and more people feel that they can love who they love and be who they are without having to hide behind closets and age old norms, so this month, scream loud, remember those who fought for equality, and show them how proud you are of who you are!
"Making a shirt design with Placeit is really easy and there are tons of graphics to choose from!"
Tony Martinez
5/5
---
---
Hundreds of High-Res Freebies Just for You!