Designing LGBT t-shirts is a great way to show your pride and share with others while attending these events! 
What Is Pride and Why Does It Matter?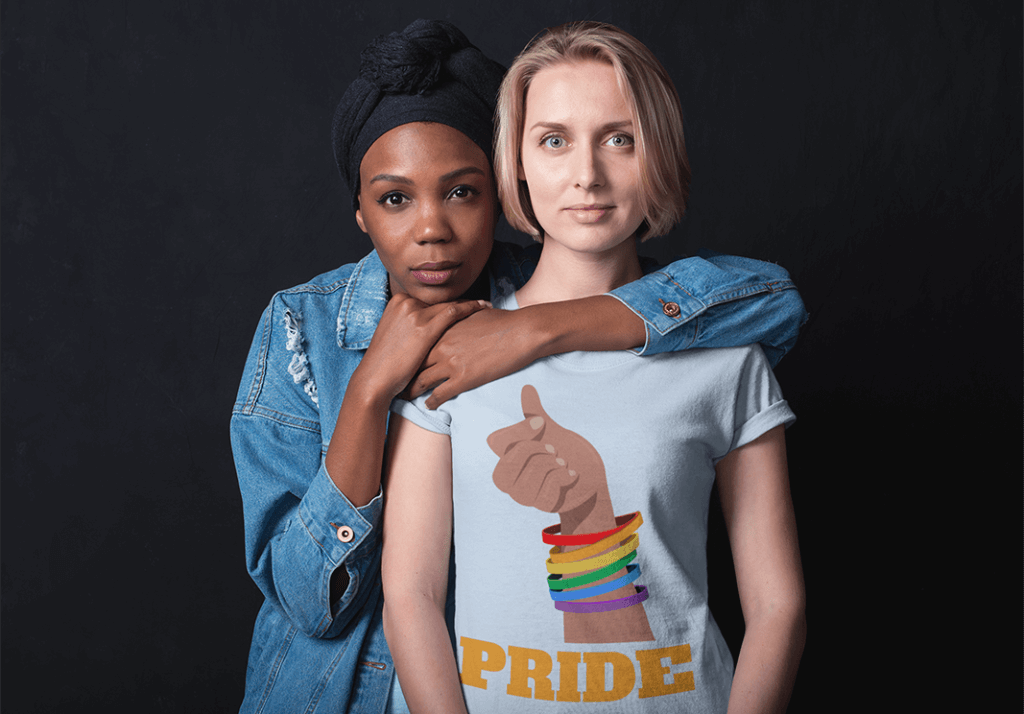 Since 1969, when the first LGBT demonstrators fought against police who raided the Stonewall Inn in New York City, LGBT groups have taken to organizing gay pride events towards the end of June as a way to remember these events and also to celebrate the community that has grown throughout the years. 
Gay pride month all around the world looks to visibilize the gay community, represent all colors in the rainbow and the common thread of diversity that brings everyone together, as well as to keep demanding progress of gay rights all across the world.
Many cities around the world have pride parades and festivals during the month of June to remember the Stonewall Riots and to celebrate diversity, visibility, and inclusion in their local communities. These are only a few of the pride celebrations around the world, but there are many more. Check them out, the one in your city might just be coming up!
JUNE 3, Middletown, United States. Middletown Pride
June 3, Cleveland, United States. Pride in the CLE
June 5 – 10, Albuquerque, New Mexico. Albuquerque PrideFest
June 6 – 11, Tallinn, Estonia. Baltic Pride
June 7 – 12, Curaçao, Curaçao. Curaçao Pride
June 7 – 11, Key West, United States. Key West Pride
June 8 – 10, 2023. Floatarama
June 2023
June 19 – 25, Baltimore. Baltimore Pride
June 22 – 24, Milan, Italy. Milan Pride
June 23 – July 2, Madrid, Spain. Madrid Pride
June 23 – July 1, Oslo, Norway. Oslo Pride
June 24, Seville, Spain. Andalucia Pride
June 24, Cincinnati. Cincinnati Pride
June 24 – July 9, Cologne, Germany. Cologne Gay Pride
June 24 – 25, Denver. Denver Pride Fest
June 24, Dublin, Ireland. Dublin LGBTQ Pride
June 24, New York City. Harlem Pride
June 24 – 25, Nashville. Nashville Pride
June 24, Downtown. OC Pride Parade & Festival
June 24, Santa Ana. Orange County LGBT Pride
June 24, Palermo, Italy. Palermo Pride
June 24, Dublin, Ireland. Winter Dublin
June 25, Paris, France. Marche des Fiertés
June 25, Seattle. Seattle Pride
June 26 – July 2, Helsinki, Finland. Helsinki Pride
AUG 2023
August 03 – 13, Quebec, Canada. Montreal LGBTQ Pride
Recurring daily until August 4 – 6, Amsterdam, Netherlands. Amsterdam Pride
Recurring daily until August 4 – 6, Long Beach, United States. Long Beach Pride
August 6, Leeds, United Kingdom. Leeds Pride
August 7 – 13, Prague, Czech Republic. Prague Pride Parade
August 8 – 13, Reykjavík, Iceland. Reykjavík Pride
August 9 – 13, Antwerp, Belgium. Antwerp Pride
August 12, Austin. Austin Pride
August 12, Eugene. Eugene Oregon US Pride
Recurring daily until August 17 – 20, Seattle. Pacific Northwest Black Pride
August 19 – 20, Charlotte. Charlotte Pride
August 19, Copenhagen, Demark. Copenhagen Pride
August 21 – 27, San Jose. Silicon Valley Pride
August 26 – 27, West Seattle. Alki Beach Pride
August 26, Bermuda, Bermuda. Bermuda Pride
August 26 – September 4, Calgary, Canada. Calgary Pride
Follow this link to add any of these events to your Google calendar! Also, keep an eye on The National LGBTQ Task Force for online events on Global Pride Broadcast to stay home if you are not feeling like going out.
Wear Your Pride on LGBT T-Shirts
Wearing LGBT t-shirts is a great way to show your support for your community and to get other people involved in supporting a cause near to your heart. Pride is the perfect moment to scream loud and proud that the gay community isn't going anywhere. With many designs to choose from, these design templates were created with important symbols in mind (btw, are we missing any? Drop us a line and let us know!

people attended NYC Pride in 2019?
How To Design LGBT T-Shirts for this Year's Pride
Making an LGBT t-shirt design with Placeit is super easy! Choose from thousands of high­-quality graphics, you can use our LGBT t-shirt templates or any other that works to display your message! Customize fonts, colors, and graphics to get your dream design in just a few seconds. Watch the video above for a step-by-step guide on how to use design templates at their fullest. 
Design Other Pride Merch!
Sure t-shirts are a great way to show your support but there are tons of other merch you can offer during this season to support a cause, promote an event, promote awareness, and much more. You can create any design you want and use all kinds of mockups to promote your merch on POD sites. 
✨  And much more! Promote all kinds of products for your shops using Placeit's mockups!
Make T-Shirt Mockups of Your Designs!​
Making t-shirt mockups is a practical way to display your designs in your store, on social media, or in promotional materials. Placeit's mockups are shot by pro photographers with diverse models in all types of settings, so you'll probably find what you're looking for! Using t-shirt mockups (ore even some tank top mockups, it's June after all!) is as easy as dropping a transparent PNG file on the mockup of your choice. No need to use Photoshop or any other design software.
Show Off Your Designs on
Social Media!​
Show off and promote you Pride designs in social media using dazzling social media posts templates like Facebook posts, Instagram posts, Instagram stories, Youtube thumbnails, Sticker and much more! 
Being a part of Pride is more than just being a part of the celebration, it's standing up for what you believe in and showing your support to your community and making a t-shirt is a small, but meaningful way to make your voice heard! If you own a brand, it's also important to do your best to avoid rainbow washing. We live in an era where more and more people feel that they can love who they love and be who they are without having to hide behind closets and age old norms, so this month, scream loud, remember those who fought for equality, and show them how proud you are of who you are!
LGBTIQA+ 'LGBTIQA+' is an evolving acronym that stands for lesbian, gay, bisexual, transgender, intersex, queer/questioning, asexual. 
The rainbow flag, also known as the gay pride flag is a symbol of the pride and LGBT social movements. The colors reflect the diversity of the LGBT community and the spectrum of human sexuality and gender.
Originally devised by artist Gilbert Baker, Lynn Segerblom, James McNamara and other activists.
"Making a shirt design with Placeit is really easy and there are tons of graphics to choose from!"
Tony Martinez
5/5
---
---