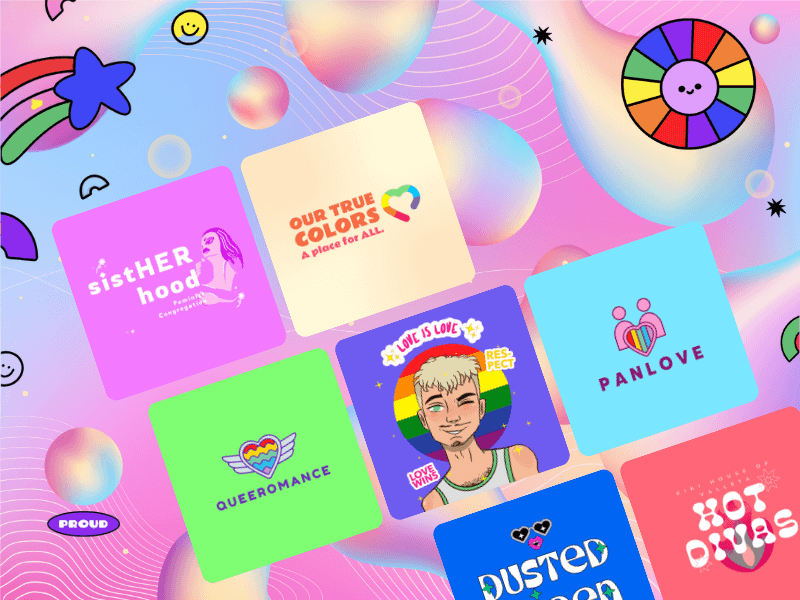 It's finally pride month! A great time to honor and celebrate diversity, love, and acceptance. But also to embrace the power, culture, pride, and strength that makes us who we are. Can you imagine how amazing it would be if you could design an LGBTQ logo that captured all these feelings? If this sounds exciting, we're thrilled to present you with a colorful and easy-to-follow guide to bring to life the most important branding asset: a logo that represents how amazing you and the Pride community are. 
So, if you're ready, let's add some color to this blog post!
The Importance of Creating an LGBTQ Logo That Reflects Who You Are
If you're proudly part of this incredible community, here are some great reasons to cheer you up to create a pride-themed logo for your business or brand.
🎉 Celebrate and Advocate for Diversity
As years pass by, we've seen more openness and inclusivity regarding the pride community, but still, we see a lack of brands and businesses embracing LGBTQ themes. This presents a golden opportunity for you to shine brightly and bravely, stand up, and encourage these incredible logo styles that genuinely represent the community. After all, a logo is one of our business's most important assets and representations. So imagine the beauty of having an everlasting symbol that embodies our beliefs and experiences. 
So it's time to break free from traditional patterns and embrace your true self to show the world who you are, what you stand for, and how proud you are of expressing yourself freely and without fear. 
🌈 Develop a Stronger Community Connection
When you create a logo that speaks to your true self, you also raise your voice on behalf of the entire LGBTQ community. By boldly representing who you are, you create a safe environment that welcomes others with the same values and feelings as you. In this way, it's easier to keep growing the community, celebrate achievements and movements, and foster a more profound sense of connection.
✨ Inspire and Educate Others
In a diverse world, being acknowledged as a reference or even a pioneer is a great way to advocate respect, openness, inclusivity, and acceptance. But it's also an opportunity to fight against discrimination and educate others about the challenges the LGBTQ community faces daily. By becoming a promoter and ally, you have the power to reach a broader community to raise awareness and create a safe space where love, respect, and acceptance flourish naturally. In this way, your business becomes a beacon of inspiration and sparks magic, love, and education worldwide.
As you see, creating an LGBTQ logo that reflects who you are, goes beyond design—It's a way of representing your beliefs, community, and unwavering commitment to celebrating diversity. So get ready to take action by creating an outstanding logo that genuinely symbolizes your authentic self, inspiring others to embrace their true identities, and fostering a more inclusive and accepting world.
5 Tips for Creating an LGBTQ Logo
Ready to create a beautiful, inspiring, and timeless LGBTQ logo? Then follow our best tips to create a masterpiece! Whether you're a content creator, an influencer, a leader, an ally, someone who wants to speak up, or even a brand. Now is the ideal moment to break traditions, take risks, show the world what drives you, and be proud to express your diversity.
Your logo isn't something you should take lightly; it's the heart of your brand, as it's the primary asset for what people will remain and identify you. Therefore, it's essential to take some time to think about what you want your logo to stand for. In the end, the most successful logo is the one that genuinely represents and aligns with your mission, aspirations, and core values. Hence, here are some questions that will help give you some clarity in building your LGBTQ logo:
What's your main purpose? 

What's your business about?

What are the adjectives that best describe your brand?

Who is your target audience? 

Are there any specific cultural or regional influences that should be considered in the design?
2. Define Your Type of Logo
In previous logo design blog posts, we've seen different types of logos. By now, you might be wondering why this is relevant. The answer is simple: build a logo you love and feel identified with. Getting involved from scratch is amazing in this creative process, including learning more about logo variations. So let's swiftly review your next style:
Wordmarks (Logotypes).Their main characteristic is that they are only composed of letters/words. 
Letterform. These logos are very brief, too, but the significant difference is that they only contain a single letter-for example, the E entertainment logo.
Lettermark (Monogram). Most of these logos consist of one to three letters, usually initials or acronyms, making them easy to read and remember.
Abstract. The graphics in these logos aren't natural/real objects but invented, hand-made, or metaphorical. 
Combination Mark. A logo like this consists of both text and images, as its name implies, and is one of the most popular styles of logos.
Dynamic. It is easy to recognize these types of logos because they are adaptable to any circumstance or context. Usually, what changes are the colors and symbols. 
Emblem. This logo style is well-known for having shields, insignias, plenty of details, and traditional typographies. 
Mascot. As an illustrated form representing an organization, these logos often show fictitious, mythological, or real characters, objects, or animals.
Pictorial Mark (Brandmark). Unlike image-based logos, these logos only have pictures and nothing else, but the main difference is that the graphics should be taken from real life.  
💡Not sure yet what is best for you? No worries, let us give you a hand! In this types of logos blog post, you can learn more about each type of logo and take a free quiz to know the best style for you according to your preferences. 
3. Think Deeply About Your Main Design Elements
Any logo has some essential elements that must be included: colors, imagery, and fonts. However, there's great science behind each of them. To help you, we'll make a quick stop on each of these elements to help you build a cohesive and harmonious logo by considering these design elements.
In the design field, colors play a significant role as they help us differentiate from our competitors, identify us as a brand and, make us memorable, evoke emotions, moods, and feelings. That's why you need to take some time to dive into this colorful world to understand this topic better and pick the right shades for your LGBTQ logo.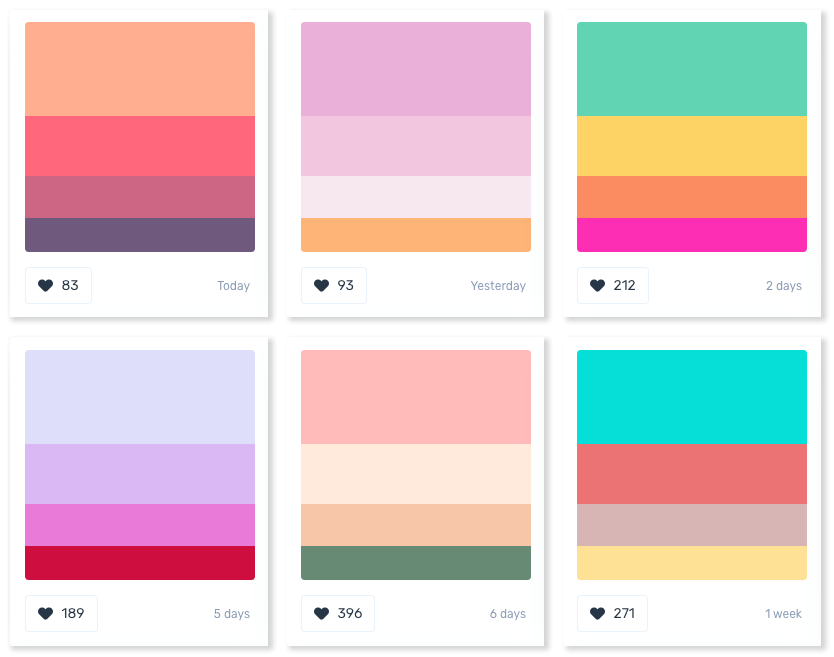 As you know, each color represents certain adjectives best, so we must come back to step one and think about what we want to convey with this logo. By doing this, picking our logo color palette will be way easier. 
💡 Pro tip: consider that some meanings might vary according to cultural and geographic backgrounds. So be careful before choosing your palette as these colors. Here's a Color Psychology Marketing guide to know the effects of each color. 
Needless to say, in our quest for real-life expression of diversity, the same principle applies to color combinations. While we previously picked our preferred tones that go in tune with what we want to convey, it's important to stay open to the different combinations that can be made. When crafting a logo, paying attention to contrast is essential to create a winning combination. For instance, let's say you select yellow and white as your primary colors; it might not result in the ideal combination, as the colors might appear indistinguishable or lack visual impact. However, this doesn't mean you can't use these colors; instead, bring your open mind to create better combinations that are balanced and harmonious, like a color palette that includes pink, yellow, black, and white.
✨ To enlighten you, we have this guide on logo color schemes explaining everything you need to know about colors, including design basics, meanings, and best combinations.
As we explore the vast array of logo styles, it becomes crucial to understand the weight of incorporating graphics into your logo.
Just like colors, images play a huge role in constructing a visually impactful and meaningful design. Therefore, you need to research the symbols and graphics you want to include. While there are some well-known graphic elements like rainbows, triangles, flags, and gender symbols that represent the LGBTQ community, remember you have total freedom to think out of the box to adventure yourself to add new elements. To further understand this, in the process of creating a logo, a beginner's mistake is to think that it's a must to include characteristic elements of the industry or theme. For example, owning an LGBTQ business doesn't necessarily require incorporating a flag into your design. Instead, you can bring the diversity that represents you in your everyday life and embrace diversity regarding your LGBTQ logo by incorporating new elements.
💡 Pro Tip: brainstorm all the elements you would like to include in your LGBTQ logo and dive into each component to ensure these imagery, shapes, or icons are great for the message you want to communicate.
Last but not least, we have fonts. It doesn't matter if you picked a name or image-based logo; fonts are another element that will give personality to your logo. Here, there are some key aspects to consider before making a choice. 
First, your choice of typography should be legible in all sizes and devices, easily readable, accessible-even to people with vision disabilities-and, of course, must reflect your style and personality. 
Ensure you don't skip this step, as fonts convey different meanings. For example, Times New Roman is well-known for being a serious typeface that is often associated with formal documents or newspapers. In contrast, Montserrat is an excellent choice for conveying a modern look due to its versatility.
💡 Pro Tip: Avoid using multiple fonts; use 1 to 2 fonts for your logo. If you want more heading and paragraph styles, opt for font families.
👉🏼 Keep in mind we're not yet building your LGBTQ logo on paper or digital; we're creating the basics and gathering the elements you'll need for later when the designing process arrives. In this way, you'll have a clear mind about what you want to design, stick to it, and take advantage of the available resources.
4. Find and Choose a Design Program
Currently, a vast array of design programs are available in the market. Your task is to find the program that best aligns with your design skills, budget, and urgency. 
For some experienced users with a design background, Photoshop or the Adobe suite will be a great choice. However, this might not even be an option for non-designers due to the monetary investment and the time requirement to learn and master the program. But the good news is that currently, there are incredible online alternatives that are way easier, such as logo makers that allow anyone to create a professional logo for a fraction of the cost and in a snap. So, the recommendation is to browse different tools, whether a logo maker or design software. 
Ultimately, remember that you can pick design software or an online editor based on your preferences and needs. The key is to take the time to research and try out different tools to ensure that you find the perfect fit for creating your desired logo. Consider factors such as niche specialties, available designs, elements, ease of use, the time required to create a logo, the downloaded formats, and pricing.
5. Get Ready to Design Your Dream Logo
For this blog post, we'll use Placeit Logo Maker to create an outstanding LGBTQ logo. 🏳‍🌈
Placeit by Envato is an online asset library with tons of beautiful, professional, well-designed mockups, designs, logos, and video templates. The best part is that we recently renovated our Logo Maker to make creating your desired logo easier and faster than ever!
First off, head over to our intuitive and easy-to-use

Placeit Logo Maker

.

Enter your company name, select the industry, and choose a graphic–you can even look for LGBTQ images to narrow down the results. 

Our Logo Maker will instantly show the templates matching your filters as you enter your information. 

Click on "Show more" to watch more variations of your in-process logo. When you click on a logo, on the right-hand side, you can see your logo in real-time on different mockups. 

Then click on "This Logo Is Perfect" (this will take you to the editor to fully customize the logo template) or "Next: Fonts". Our online editor will provide your template with different typefaces for you to pick one.

After, select the "Next: Colors" button to find a set of color variations for your logo. When you're done, click on "Finish". 

Now you can fully customize any detail of this template, from your company name, typeface, colors, graphic elements, backgrounds, and more! When you're happy with the results, hit the "Download" button to receive two logos in PNG format without a watermark and valid for commercial use. 
And that easy peasy was to create a logo with Placeit!
Get Inspired by These Stunning LGBTQ Logo Ideas
Alright, we've already learned how to design an inclusive and inspiring LGBTQ logo. Now it's time to explore some fabulous templates you can find and customize in our extensive gallery. These carefully curated designs are specifically tailored to the LGBTQ community to provide and serve as an inspiration and starting point. 
Let the World See Your Logo Shining
Now that you've created and downloaded your LGBTQ logo, it's time to do much more! When you acquire a subscription with Placeit, you have full access to all our resources, so use that benefit in your favor to create tons of beautiful pride designs. We highly recommend checking our Pride Bundles collection for a massive collection of invitations, greeting cards, stickers, and Instagram carousels. 
But if you're looking for way more resources, visit our beautifully curated Pride Templates that include everything you can imagine for branding and promoting your business. Whether you're creating a merch line, raising awareness on social media, or making educational and inspiring videos, we got you covered! 
Take a sneak peek at our trendiest assets and prepare to give them your style! 
---
---