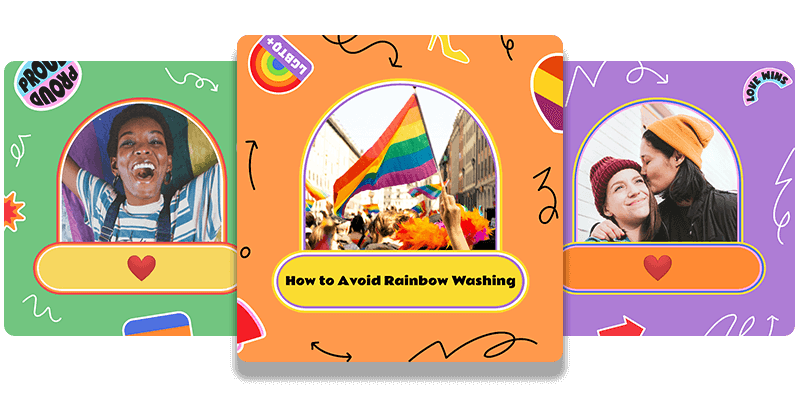 Pride month is almost here, which means your company probably has some plans to join the celebration. While it's great that more and more companies are publicly showing their support for Pride, it's important that you don't fall into the trap of rainbow washing.
We spoke to members of Out Mx, Placeit's LGBTQ+ committee, to get their insight. Read on to learn how brands can join the celebration the right way.
Learn All About Rainbow Washing & How to Avoid It:
What Is Rainbow Washing?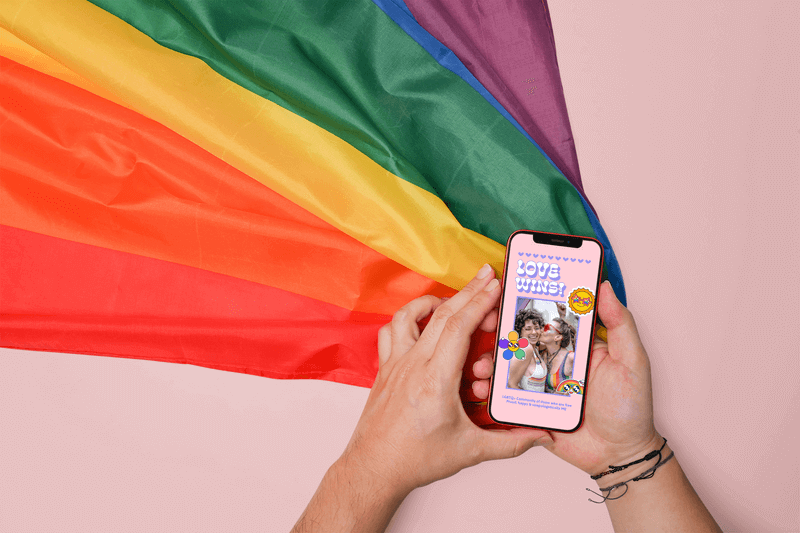 During the month of June, rainbow washing can be seen all around, but what is it exactly?
In basic terms, this refers to actions like adding a rainbow to the company logo to show support for the LGBTQ+ community but not following up with meaningful actions to actually help and empower the community. In many cases, brands see this as an opportunity to jump on a trend and profit from it.
I think it's nice that brands want to be a part of Pride Month and show their support. But I think there's something we need to ask ourselves when we see brands doing this. Are they really supporting the LGBTQ community or are they just jumping on the trend because it's June and they want to get some profit out of this? – Gonzalo Angulo, Envato Tuts+ Staff Writer
You may see rainbow logo variations for all sorts of brands this month along with the inclusion of rainbow colors and popular slang used by the LGBTQ+ community in apparel, ads, social media posts, and official statements.
Including these things in your Pride marketing isn't necessarily a bad thing. However, if this isn't backed by actions like donating to LGBTQ+ causes or creating safe spaces at work for members of the community, then it really doesn't mean much.
Consumers may think a rainbow in a logo means that a brand is inclusive, but that's not always the case. Unfortunately, some brands take this minimal step to get credibility but continue to discriminate against the LGBTQ+ community.
Even if it's done with the best intentions, remember that actions speak louder than a rainbow logo. However, if you're genuinely interested in making an incredible LGBTQ logo, keep reading: Create a Powerful LGBTQ Logo That Celebrates Diversity
🌈  Learn more about how to get your Pride marketing campaign right this year.
What Can Brands Do to Ensure They Aren't Rainbow Washing?
Before you decide to add rainbow motifs to your merch or your website, stop and ask yourself if you're doing something truly meaningful or if you're simply hopping into something you think is trendy.
Pride is not a trend that you can participate in for a month and then forget about. You need to develop a brand that reflects your values through and through, not just during this single month of the year.
Remember that actions are more important than your logo, so look for ways you can meaningfully contribute to the cause.
There are some questions that you can ask yourself. For example, is your brand actually supporting its LGBTQ staff internally? Are you donating your time or money to an LGBTQ organization? And finally, are you supporting the community during the whole year or only during June?- Gonzalo Angulo, Envato Tuts+ Staff Writer
Make sure that values like inclusion, diversity, and equity are part of your brand. Make an effort to implement these values as best as you can into your company culture all year long.
 I think that's the main thing. Not only saying that we as a brand support diversity and inclusion, but also creating those safe spaces and resources for people to actually get together and learn. – Fernando Balandrano, Author Support Officer
Another key is that your support for the LGBTQ+ community should extend beyond the month of June. While there is more visibility and support for the community during June, do your best to keep this going all year because LGBTQ+ struggles don't end after June.
View this post on Instagram

💡 Learn more about the Pride events happening this year and how you can make your own Pride designs!
How Can Brands Show Their Support Throughout the Whole Year and Not Just During Pride Month?
Most brands get hyped to celebrate Pride month but forget all about the LGBTQ+ community during the rest of the year. Instead of falling into this habit, prepare to support the community all year long. It's really easy to take the steps to ensure your LGBTQ+ staff feels seen, safe and celebrated all year.
For starters, organizations that help the LGBTQ+ community take donations all year round, so consider donating multiple times a year.
It's also important to include important dates for the LGBTQ+ community in your calendar. There are plenty of important dates that aren't celebrated in June, but that should still be commemorated and recognized.
When running ads, creating marketing campaigns, or posting to social media, be sure to include images of diverse families, collaborate with diverse influencers, and do your best to be inclusive in the images you share with your followers.
Avoid supporting the LGBT community only during Pride month and support the community all year long. This means that you will work with LGBT people or influencers not only for June, but maybe in December, November, and all of the other months… What you can do is hire models or use mockups to show different types of people in your ads, on your social media all year long, not only during Pride month. I think you can show diverse families during the holidays to show your support all year long. – Charles Díaz de León, Senior Design Researcher
One super important step you can take to avoid rainbow washing is to create a Pride committee for employees. This will create a safe space for employees to get together and share their experiences with others. This can be an enriching experience for allies and can help them do better at work and in their community.
View this post on Instagram
What Can You Do As a Brand to Make Sure Your Collaborators Feel Safe?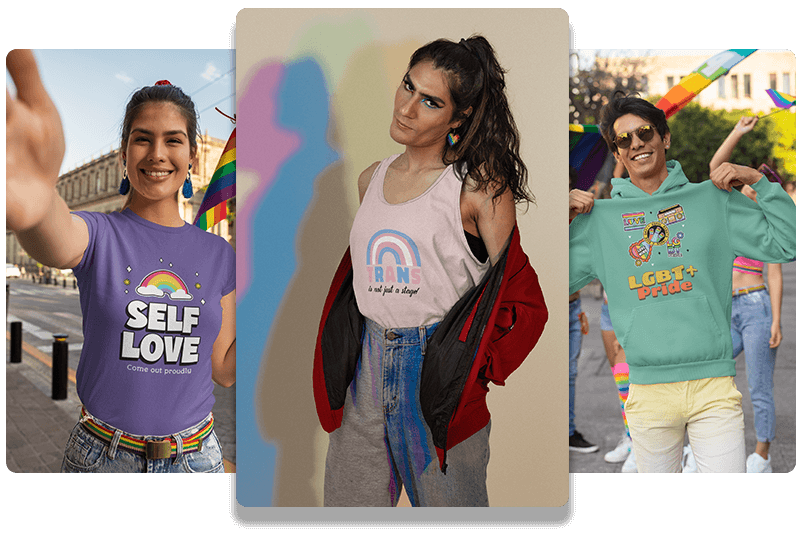 When it comes to showing support for Pride month, most brands look outward and ignore what's going on inside their own business. While it is important to do things to support the community outside of work, ignoring your employees' needs is a big misstep.
Your staff needs to feel safe, seen, and respected otherwise, your values are not aligning with your actions. Educate yourself and your employees so that you can be an ally and continue to create safe spaces for everyone at work.
I think that something important and useful that a brand can do to be inclusive and avoid rainbow washing is to create safe spaces for the community because besides Pride month, in many companies there are not many places where you can get together with people of the community and share experiences and also support other people who may be having some trouble. – Fernando Balandrano, Author Support Officer
When it comes to hiring practices, the focus should always be on skills and abilities and not on anything personal.
We try to focus on talent all the time and that's what we're looking for our company to be. There's no way that any gender or preference could affect their job and that's the main message we want to send as a company – we're oriented toward your talent and abilities and not to what you like and don't like. – Carolina Valdez, Senior Talent Acquisition Partner
Do everything possible to ensure everyone at work feels included and safe. Everyone should feel like they're there to contribute and grow without being in fear that their preferences will affect their work.
Pronouns are important and you want to be sure you give people the space to share their own. Encourage employees to include their pronouns through their Slack profile, or if you're not sure what someone's preferences are, ask respectfully.
View this post on Instagram
How Can Your Company Continue to Learn and Adapt to Changing Environments?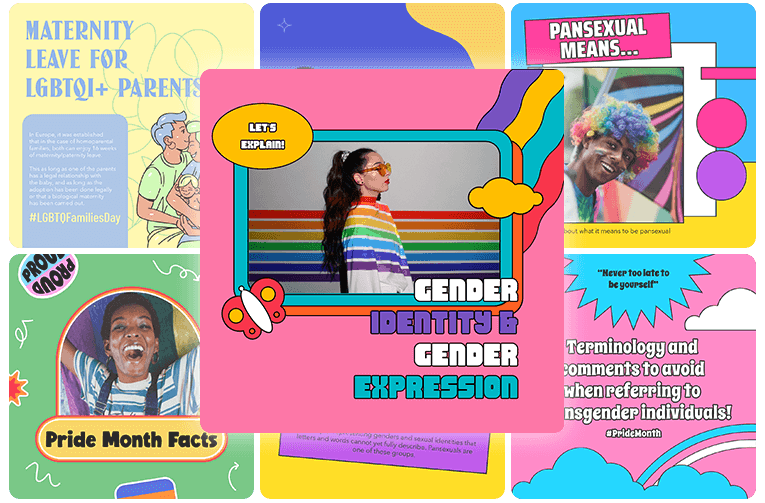 It's never too late to learn and adapt. In fact, it's crucial that you make the necessary efforts to continue learning and improving your understanding of those around you. This can increase empathy and really open your eyes to microaggressions you didn't even know existed.
Placeit is a company where everyone can feel safe because for starters we have trainings that teach us the correct ways to treat people. It's not only about treating them as you would like to be treated but to understand what other people's needs are and being empathetic. It's not only about me or what I think or what I feel, it's also about understanding what other people need from their perspective. – Carolina Valdez, Senior Talent Acquisition Partner
The same is true for your employees. Sensitivity training, courses, and workshops can help them stay educated and aware of the diversity that surrounds them.
[Out MX] is a very organized committee, they have planned six different events and the plan is to have them throughout the year… All the events that we planned are focused on people understanding what diversity means and how as a company we want to apply that to everyone. – Carolina Valdez, Senior Talent Acquisition Partner
It's important to continue to grow as a person at work and outside of work. Encourage your collaborators to be open to learning and growing in a professional sense but also just as human beings. Look for workshops and speakers who can go to your brand's offices to speak about important issues that can help your entire staff continue learning and evolving.
View this post on Instagram
FAQ
Final Thoughts
It's great to get into the spirit of Pride and show your support for the LGBTQ+ community this month. Remember to take meaningful action and follow through on your brand's values. This will ensure your Pride campaigns don't fall flat.
You can see more insights and interviews with tips to help you avoid rainbow-washing over on our Instagram. Check it out!
How is your brand planning to approach Pride this year? Let us know in the comments ⤵️
---
---