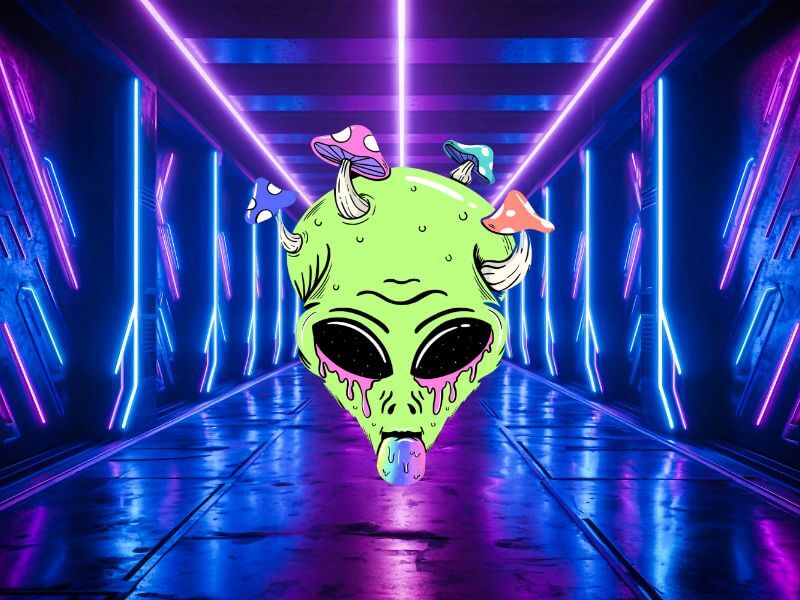 Looking for the most out-of-this-world UFO design compilation? Look no further! Placeit by Envato has everything to start gearing up for this World UFO Day! From logos that leave a lasting impression to Instagram stories that spread awareness to jaw-dropping t-shirt designs to wow everyone around you, we have everything you need right here!
Get ready to transport yourself to a cosmic universe, celebrate and raise awareness about the existence of unidentified flying objects with this dazzling UFO design collection:
👽 Find the UFO Design Templates You're After:
Get Your Own Intergalactic UFO Logo
A logo is the first thing your target audience will see about your brand, no matter whether you're a podcaster, content creator, gamer, POD seller, or passionate UFO advocate or researcher. Therefore, you must create a visually captivating and professional logo that captures your followers' attention and makes you stand out. 
To get the look and results you're looking for, we highly recommend using our recently enhanced Logo Maker. Placeit's by Envato boasts an impressive collection of UFO-inspired logos with different design styles to match your preferences. Find from cute, funny, and friendly graphics to mysterious, eerie UFO designs.
And if you want to go one step further, you can create an animated logo to add dynamism to your brand's image! Best of all, you can get that cosmic logo you're looking for in less than 5 minutes and without learning to handle complicated design software! Try out our Logo Maker on your favorite device or our app!
Create a Cool Outer Space UFO T-Shirt
Not to brag, but when it comes to t-shirt designs, our talented design team shines for its incredible work designing a ufo design gallery with plenty of options. Think of any design you have in mind and consider it done! With Placeit's t-shirt design templates, you can create all kinds of UFO designs your audience will identify with. 
Check out our collection of UFO t-shirt design templates, including retro, funny, mystic, cartoonish, kawaii, summery, Halloween, and sarcastic styles. We also have space, sci-fi, area 51, explanatory, conspiracy theories, pixel, and sticker graphics.  
With our ready-to-use t-shirt design templates, creating a custom UFO t-shirt has never been easier! All you have to do is head over to Placeit, browse our alien and UFO design collection, pick a template, customize it to your liking, and download your top-notch files. 
💡👽 Can't find exactly what you need? No worries! Unleash your passion for the UFO theme and start designing a unique collection of t-shirts, logos, and more! Check out how to do it from scratch with our new Blank Canvas tool. 
Make an Inspired Alien-Themed Merch Line With Our Mockups
Your UFO designs are conquering all over the universe; there's no doubt about it! But wouldn't it be great to take them to the next level and make them truly shine? Whether you run an online store or are part of a UFO club, there's a way to make your designs stand out: professionally shot mockups!
With your unlimited subscription to Placeit, you have full access to all our assets. It allows you to effortlessly create and place your desired designs in various mockups. For example, on models, mugs, pins, phone grips, tote bags, socks, hoodies, books or magazines, and countless other items that will help elevate your brand's visibility.
You can create some cool things on World UFO Day with a massive collection of mockups. Take a look:
Communicate and Promote Your Extraterrestrial Messages on Social Media
Undoubtedly, social media is one of the most incredible ways to capture attention, promote your brand, and boost sales. With that in mind, you need an ally that allows you to create a wide array of stunning posts, stories, Reels, TikTok Videos, Facebook covers, and more content formats to deliver your messages in a captivating way for the upcoming World UFO Day.
Here we share some social media ideas you want to want to use for inspiration for July: 
Create an explanatory/educational post, 

Share a UFO-themed recipe, 

Announce a new clothing collection inspired by outer space, 

Share a special promo, 

Spread the word about a webinar or conference, 

Encourage a photo contest, 

Host and invite your followers for alien-themed party, 

Share a curated playlist related to this topic. 
Consider these fantastic ideas as a great way to unleash your creativity and have dynamism on your channels. Feel free to use and customize these topics according to your goals and needs. 
👾 Pro Tip: Use these hashtags to get noticed and share your content and opinions: #WorldUFODay, #AlienEncounters, #UFOResearch, #UnidentifiedFlyingObject, #UFO, and #Ufology
Find The Best Cosmic Videos to Go Beyond Stars
These UFO videos will do the trick for a bunch of dynamism in your content! No matter if you're creating an Instagram Post, an animated Story, an animated logo, or even a Twitch starting screen. Our ever-growing collection of video templates will allow you to design the video you need without spending so much time in the process. 
Check out some examples you can make right away!
Use These Twitch Templates For a Galactic UFO Design
Attention gamers! Gear up to level up your streaming game with Placeit's mind-blowing UFO design collection. Now, you can bring to life your passion for the UFO world to your channel and, therefore, establish a mysterious and unique brand identity. Get the best Twitch panels, OBS stream overlays, and Twitch banners inspired by aliens and outer space mysteries.
With Placeit's gaming templates, you have the power to transform your Twitch channel into an intergalactic spectacle that truly captivates your audience.
To Conclude This UFO Design Journey, Let's Explore Some Color Palettes
All set to wrap up this interstellar UFO design collection, we want to provide some of the best color palettes that are great for customizing any of these templates. Whether it's a logo, a t-shirt, a video, or a Twitch set, you can still get the alien look without spoiling the foundation. So grab your pencil and take notes on these UFO color palettes to conquer any design: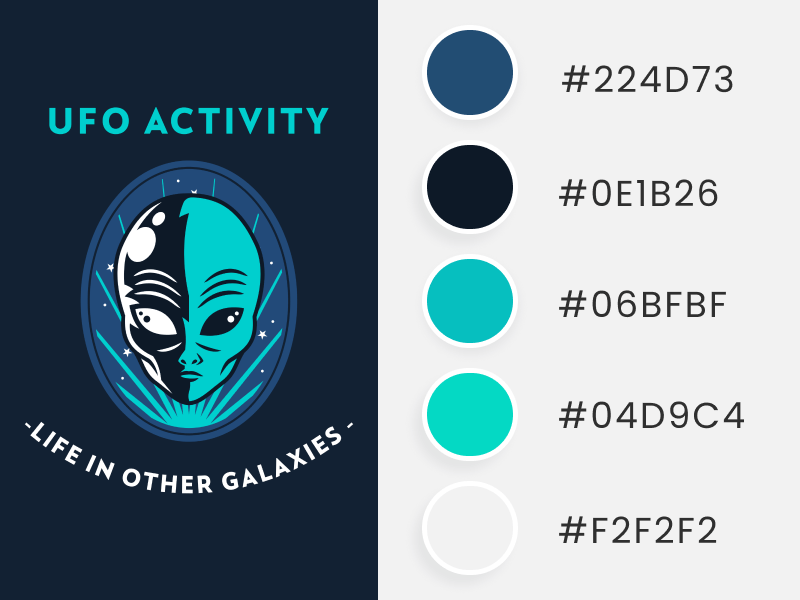 #224D73 | #0E1B26 | #06BFBF | #04D9C4 | #F2F2F2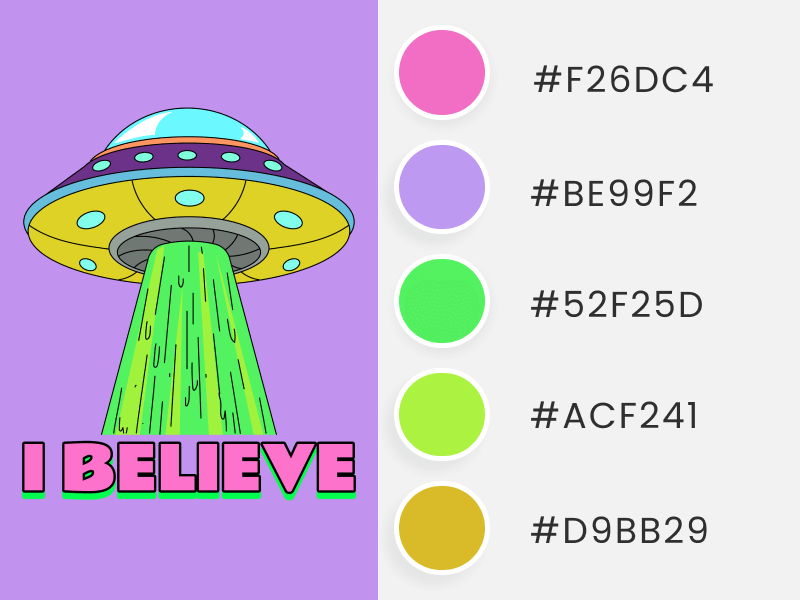 #F26DC4 | #BE99F2 | #52F25D | #ACF241 | #D9BB29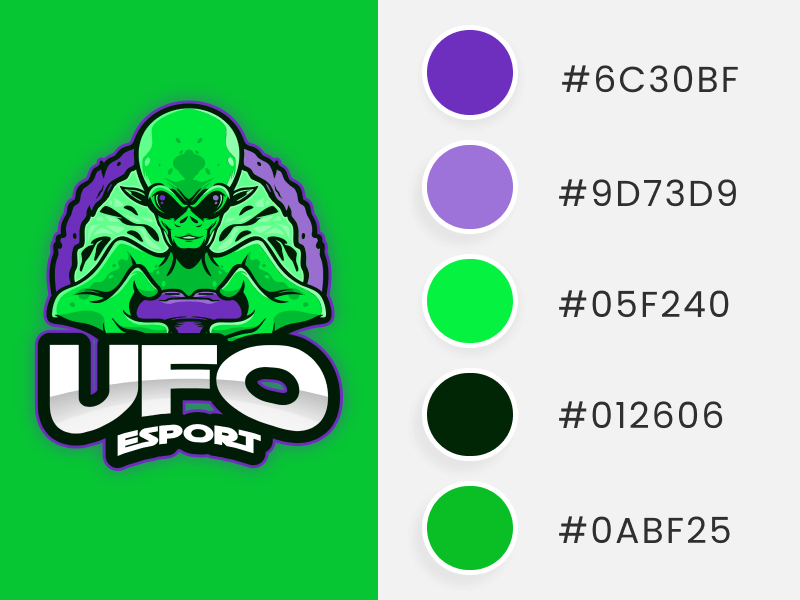 #6C30BF | #9D73D9 | #05F240 | #012606 | #0ABF25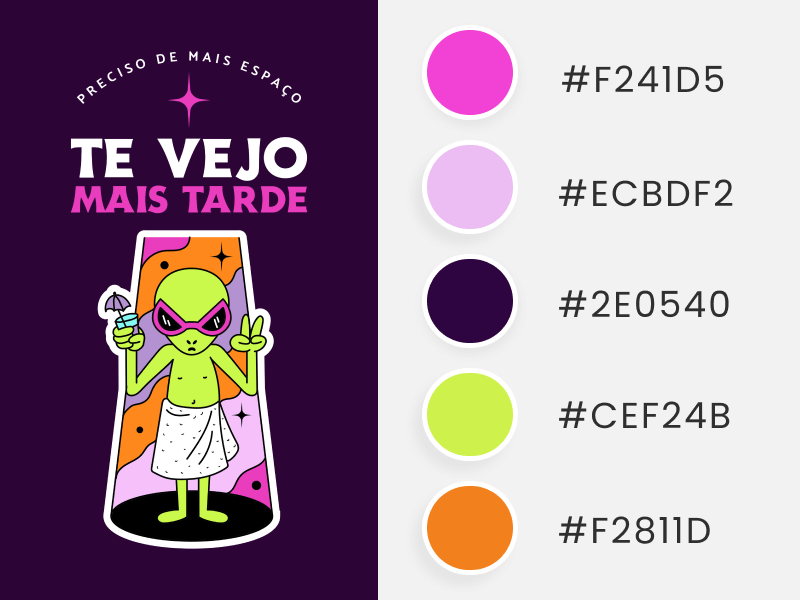 #F241D5 | #ECBDF2 | #2E0540 | #CEF24B | #F2811D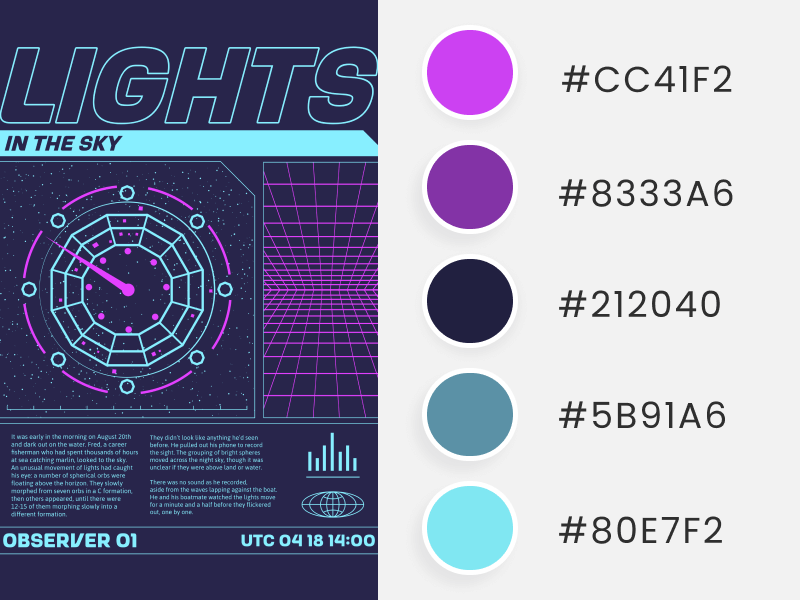 #CC41F2 | #8333A6 | #212040 | #5B91A6 | #80E7F2
#0477BF | #52A5D9 | #A2D4F2 | #F2B705 | #F22929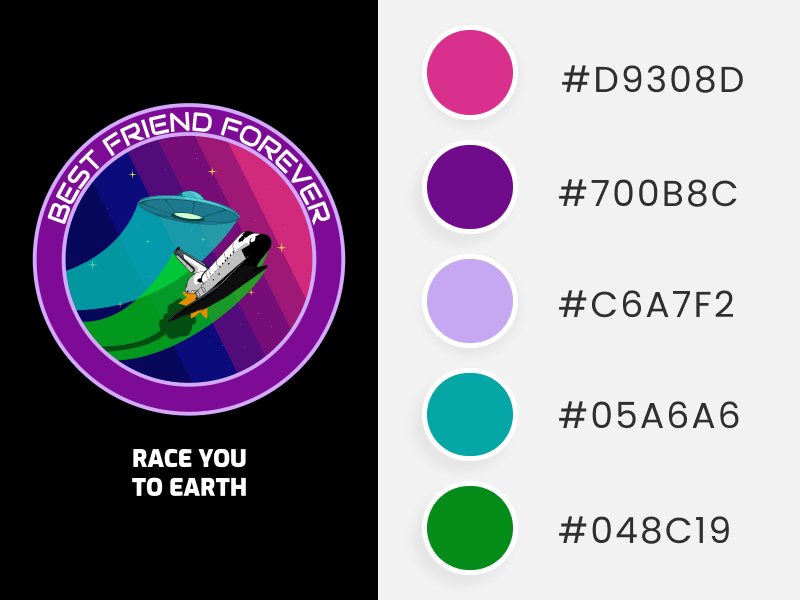 #D9308D | #700B8C | #C6A7F2 | #05A6A6 | #048C19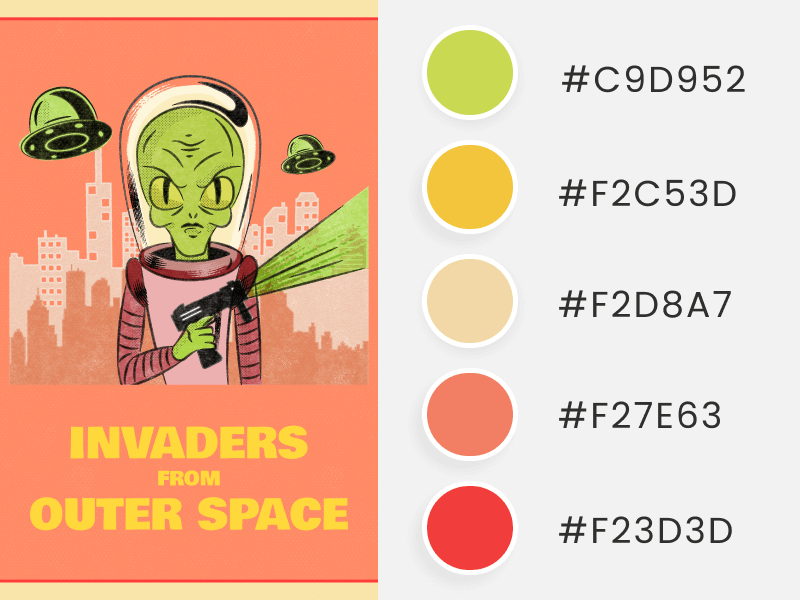 #C9D952 | #F2C53D | #F2D8A7 | #F27E63 | #F23D3D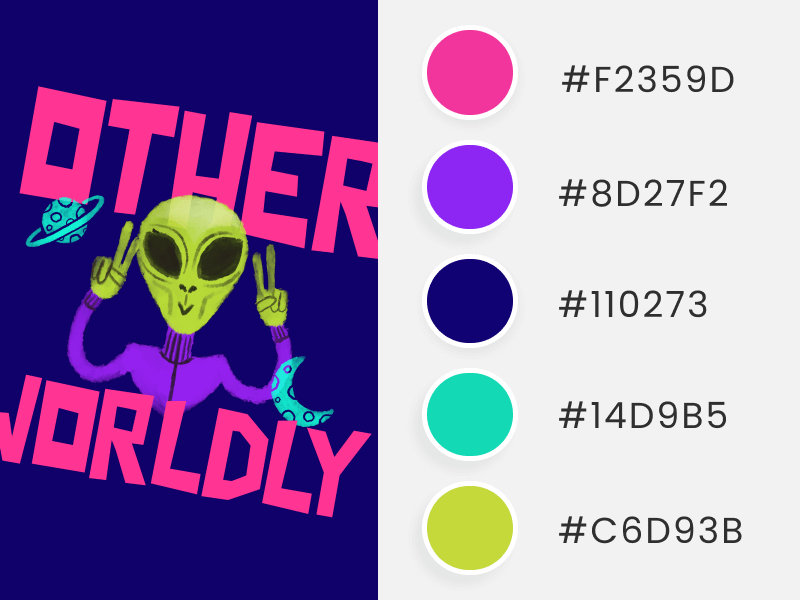 #F2359D | #8D27F2 | #110273 | #14D9B5 | #C6D93B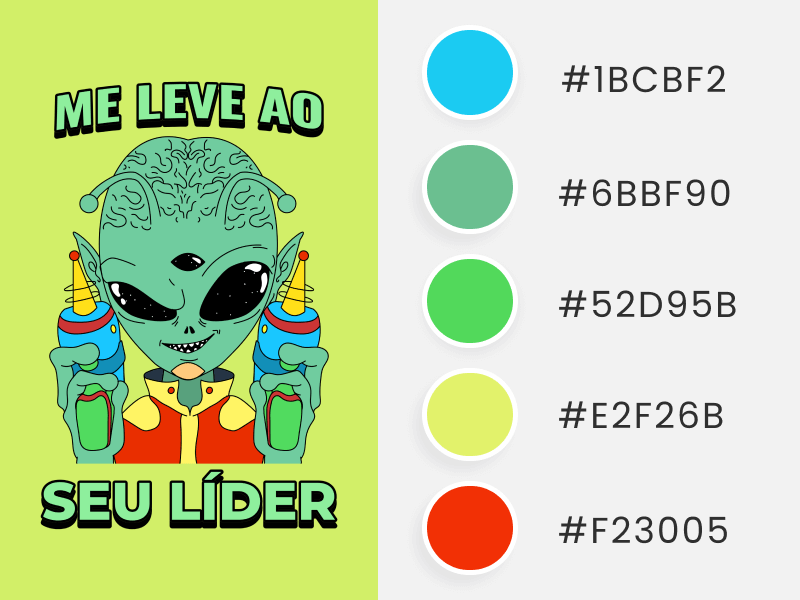 #1BCBF2 | #6BBF90 | #52D95B | #E2F26B | #F23005
---
---