Ready to Make Some Serious Black Friday Sales This Year?
For POD sellers, Black Friday presents the perfect opportunity to increase sales and attract new customers. To make this happen, check out this Black Friday guide for POD sellers.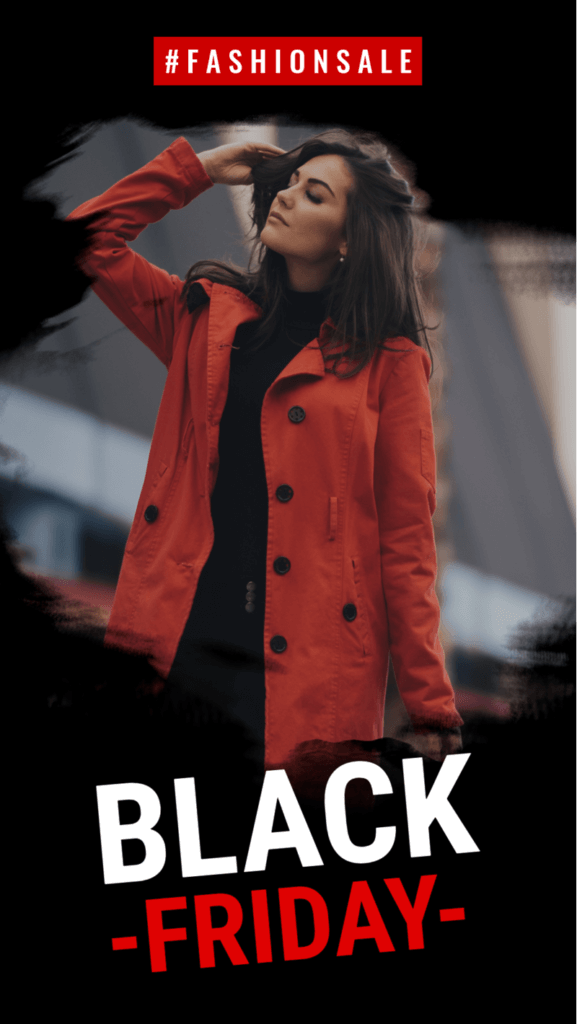 Table of Contents
You may already have a steady stream of sales throughout the year, but this is the biggest holiday shopping season of the year, so why not make the most of it? A great way to ensure get your share of the profits, join the masses, and have a sale. Couple that with the discounts and offers most POD platforms have and your customers won't be able to say no.
Why Black Friday Matters for Online Retailers
Black Friday and Cyber Monday make up the biggest shopping weekend of the year. In-store deals often lead to large crowds and chaos in brick-and-mortar stores, but the deals aren't limited to these spaces.
Online sales are huge and result in tons of revenue for large businesses as well as smaller retailers. With each passing year, more shoppers are choosing to forgo the chaos of in-store Black Friday deals and opting instead to make their purchases online.
Last year, online sales on Thanksgiving Day brought in $3.7 billion, and $6.2 billion on Black Friday.
Some industries are more popular than others, but as a POD seller you're in a great spot because the majority of customers are looking for discounts on clothing. Most print on demand platforms offer their own Black Friday deals, from free shipping to percent-off discounts. Check with your preferred print on demand site to see what their deals will include this year so that you can keep that in mind while you plan your own strategies.
Learn from Previous Years
If you've been selling your designs on print on demand platforms for a while now, then you may have done the Black Friday thing a few times. This is great because you can always learn from the previous year to ensure your sales are even better this time around.
To start, check out your stats from last year. Make a note of what strategies you used and which ones has the best results. This will allow you to implement these strategies again but with even more background knowledge so that they're that much more effective.
It's also important to note which products sold best during your Black Friday sale last year and what types of designs performed best. Maybe Christmas designs were more popular because the holiday is coming up and cold weather apparel sold best because winter is approaching.
Using what you learned from last year, replicate what worked, focus advertising on products you know sell well, and create new designs that fit with what buyers liked last year.
There's also plenty of information you can find on the internet to see what trends shoppers follow through the years in order to decide what campaigns will work best for your brand, what merch to focus these on, and what devices people are using to shop.
Get the Word Out On Your Sales
If no one knows about your promos, then how will make sales? Ensuring that your customers and potential customers find out about your deals is essential if you want to see your sales increase. The best way to get this done is by creating campaigns on a number of fronts that will get you noticed.
Email Campaigns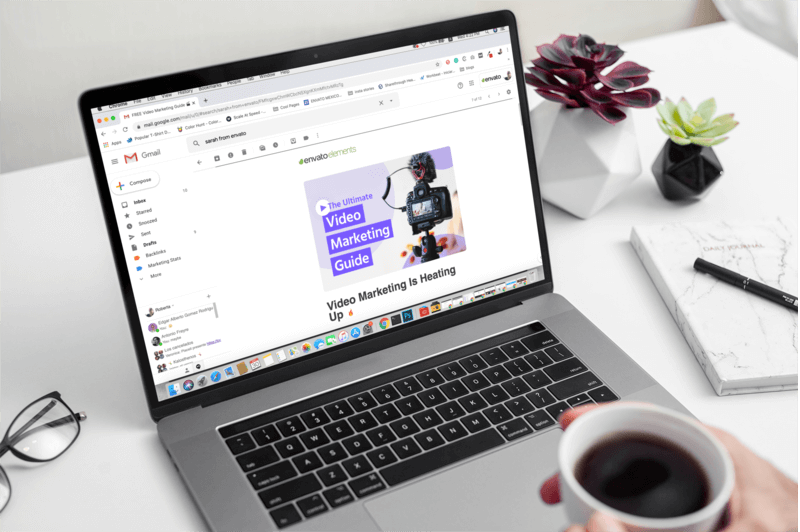 Email campaigns are perfect for reaching existing customers and keeping them in the loop. The trick here is to not fill up their inbox with tons of emails to the point where they will unsubscribe or ignore your emails.
For Black Friday, create a holiday campaign to show off your newest design and the deals and offers you will have going on. Since your emails will likely be going to existing customers, offer them a special discount for being loyal to your brand.
A couple of emails in the lead up to Black Friday will be enough, just make sure your copy is clear, your offers are easy to understand, and your images are sharp and enticing.
Social Media Ads
Social media is probably the most powerful tool you can use to reach your customers and expand your audience. Advertising on platforms like Facebook, Instagram, and any other social media platform you use can be highly effective.
You can choose to use paid ads which can increase your reach, your visits, and even your revenue. These are easy to set up on your own using their native ads manager. The same goes for Instagram since they both use the same ads manager. Set your own goals and budget so the results are perfect
If you have very active social media accounts, you can simply post your own ads to your feed. Make them fit the aesthetic of your brand and your already existing feed so that they fit your overall look, but also make sure they make it clear that you have Black Friday promos coming up. You can make these all on your own using Placeit's banner ad templates which are super easy to customize for your brand.
On Instagram and Facebook, don't ignore the Stories feature! This is the perfect spot to show off your deal in the most eye-catching way! The easiest way to create eye-catching Instagram Story posts or Instagram Story videos is with templates like the ones Placeit has available. You can customize these in no time for your own deals and stay on everyone's radar.
Offer Something Unique
You may be tempted to have a blanket sale that offers the same discount across your entire inventory. While this may make things easy, these basic promos aren't very exciting or enticing.
To really catch the attention of customers, offer unique sales like flash sales or special promos by the hour. This will give your customers a reason to check back in throughout the day and will keep them excited about your deals. Get creative with your Black Friday marketing to keep shoppers interested now and in the future.
Optimize for Mobile
We know that online shopping is becoming the norm for holiday shoppers, but it's worth noting that a great deal of transactions are completed on mobile devices. In fact, many online retailers are noting that most of their customers are making their purchases on mobile devices over desktop computers.
Shopify stores have seen more mobile purchases than desktop purchases on Black Friday and Cyber Monday deals for the second year in a row.
Because of this, thinking mobile first is a must. What does this mean? For starters, making sure your storefront is optimized for mobile.
If you're selling through a POD platform, there isn't much to worry about because they'll take care of this for you. However, some things you'll want to take care of include ensuring your assets look good on mobile.
This means colors palettes, text, and your logo should all look good on desktop as well as at a standard mobile size. You'll also want to be sure everything loads quickly or else you risk losing sales.
Extend Your Sale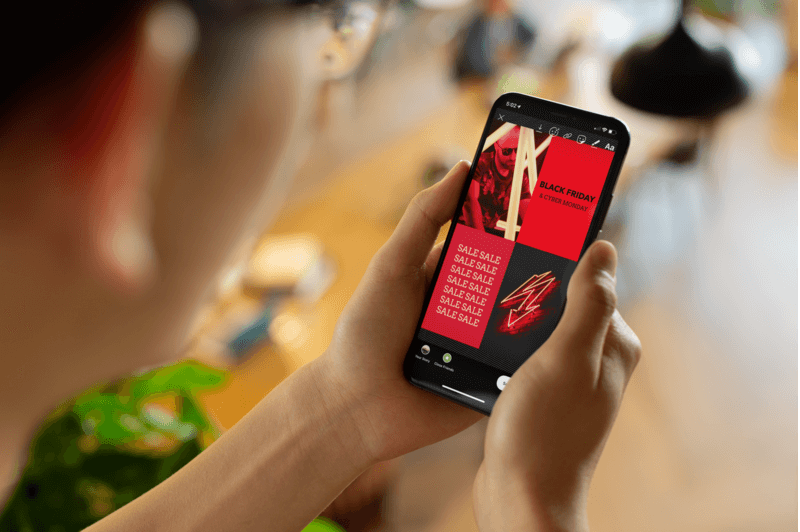 Your Black Friday deals don't have to be limited to just one day. While the name is given to sales that happen on the Friday after Thanksgiving, you can combine these offers with other promotions you're planning for Cyber Monday and make a whole weekend out of it.
To build up hype and increase your sales, you can even start your deals early. In fact, some retailers start offering Black Friday discounts on the days leading up to the big day. Small daily deals can keep shoppers interested in your page and have them coming back through Black Friday and Cyber Monday.
Keep Them Coming Back for More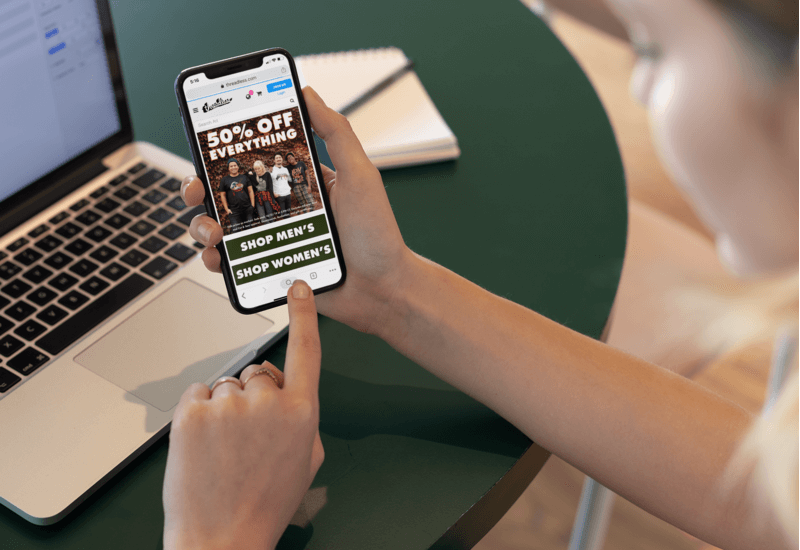 New customers are great, but do you know what's even better than that? Turning these new customers into loyal customers! Black Friday is just one day out of the year (or one weekend), but this one day can help you reach tons of new customers. Ideally, you'll stay on their radar long after this Black Friday and they'll keep coming back for more.
To achieve this, offer them a deal online after their Black Friday purchase. If you collect email addresses from your customers, you can send them promotions as they come up, discounts for referring friends, Black Friday coupons, holiday gifts, and more. All of this can help turn them into loyal customers, especially since Christmas is coming up and you can be sure they'll be doing more shopping online.
Stick to the Basics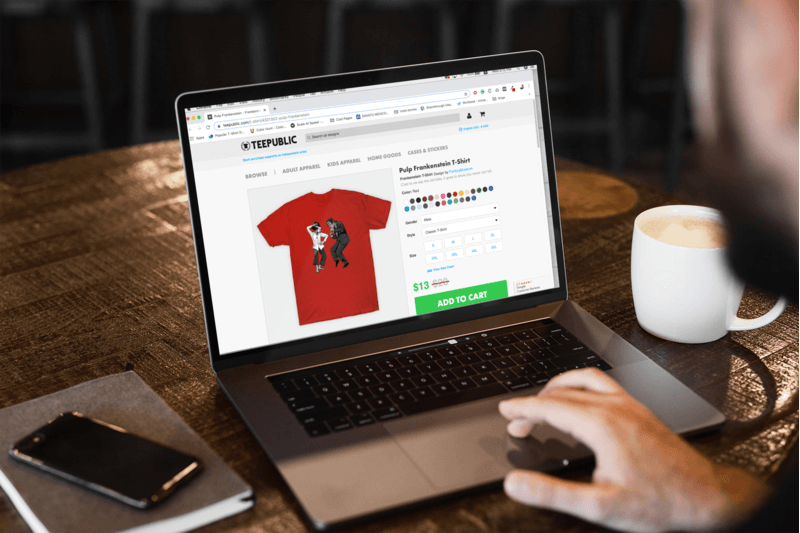 As a POD seller, you may think your designs will do all of the selling work for you. It is true that in order to make sales you have to have design work that is interesting for shoppers, but first you have to make sure they can find it. This is where you have to pay attention to the basics so that you're sure you have a strong foundation to hold you and your sales up.
To get down to the basics, start by making sure your shop follows certain SEO guidelines that will make it easier for shoppers to find. You'll need to use keywords in your titles, descriptions, and tags that are relevant to your merchandise and that people are searching for.
When creating listings, always use a title that is descriptive and that includes keywords. Never skip the description since this is where you have the biggest chance to use more keywords and make your products stand out.
Keep in mind that the images you upload should be the best quality possible because a blurry design or a pixelated image aren't going to impress anyone. Whether the design will be put on a t-shirt or a mug, it still needs to look great in all the sizes that it will be sold at.
As for your deal and promotions, make sure these are easy to understand and that your shop is easy to navigate. Confusing wording or a shop that makes it hard to find the checkout won't have much success because customers wants things that are easy and fast.
Watch Your Revenue Grow This Black Friday
With this Black Friday guide, you'll be well on your way to making more sales. Remember to keep track of your efforts so that you can replicate what worked and refine those tactics that weren't as effective as you hoped the next time around.
If you have enjoyed this guide you might also want to check out our It's Not Too Late to Advertise for Black Friday! post or our Black Friday Sales Banner Maker.
"I made my Black Friday ads using Placeit's design templates. I highly recommend them because they're so easy to use."
George Small 5/5

---
Get Ready for Black Friday with the Perfect Ads
Ready to make some serious Black Friday sales? Let us help you drive more traffic to your shop and increase your sales with all the design templates you need! From ad banners to Instagram post templates, advertise your specials and deals with the most attractive assets. The best part is that you can customize them all yourself in no time!
Create Black Friday Ads
---