4 Steps for Making a T-Shirt Mockup
What You'll Find:
Making a t-shirt mockup is the next step after giving the finishing touches to your clothing line's designs. If you are looking for clever ways to promote your designs and showcase them to your consumers, then you'll want them to picture how your t-shirt designs look like while being worn by real people in a real-life scenario.
T-shirt mockups allow you to present your designs in a professional manner that will create an impact on your audience while showcasing your product in context. There are tons of different mockup types you could use for your brand: garment-only mockups, studio models, real scenario mockups, and even video mockups!
Now you may be wondering how exactly is a t-shirt mockup done. Well, there are a few ways you can achieve these. Photoshop experts know how to integrate an external image into a photograph and how to make this look as real as possible. If you are no expert on Photoshop, you can take a different path a use an online mockup generator tool!
Making tons of t-shirt mockups is super easy if you use clothing mockup templates. Placeit has thousands of clothing mockups that provide the perfect setting in which your designs will steal the spotlight, and they are not all t-shirts! You can also choose hoodie mockups, tank tops, leggings, activewear, underwear, and much more.
🔥 Don't miss out on these Placeit Reviews. Check out what some influencers said about us!
The best thing about Placeit is that you don't need Photoshop to add your designs to these fantastic templates, you just drop your image and it will be automatically adjusted. So let's get started:
1. Visit Placeit Apparel and Choose a Mockup Template
Use filters and tags to find exactly what you need. You can filter your search (since our library is huge) according to our model's age, ethnicity, gender, etc. Tags are super helpful when you want to find an occasion, an environment, a season, a festivity, and much more. You can find these on the left column of our apparel mockup page. Also! Something great to notice is that you can order your mockups by "mixed", "newest" or our "best selling".


🔥​ Pro Tip: If you have used our mockups before and there is a specific model you like to use to showcase your designs, you can also lookup for our models with their tags and this is how: Once you are on the editing screen of any mockup with a model, on the top right corner of your screen you can see all the tags for that particular image. The first tag you will see is the model's tag. Click on it to see more mockups featuring that very same model!
🔥 You might like: Free Placeit Alternatives
2. Choose the Fabric Color
On the right side of your editing screen, you will find a window to select your t-shirt's color or even select a specific hex code color.

3. Add Your Image
You can either drag & drop your design into the "upload" box right from your desktop or you can simply pick upload your file. We encourage you to use .PNG files, but .JPEG will do too.

4. Download Your Image!
When you are satisfied with your design's arrangement and the size of the t-shirt mockup you chose, you can simply click the download button. You will receive a high-quality image ready to share anywhere and even for print!
So now you know, next time you are looking for creative ways to promote your designs and stand out from other clothing lines, go ahead and use t-shirt mockups from Placeit for a professional visual asset that will enhance your online marketing efforts.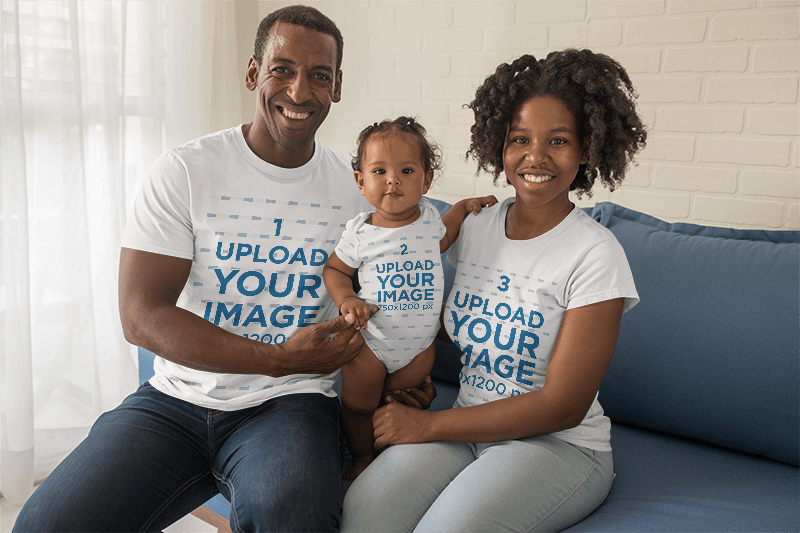 This All Seems Great But… Where Would I Use My Mockups?
As said before, mockups are a great way to showcase your designs. There are many places your mockups can brighten your products, let's name a few:
Online Shops or E-Commerce sites where you offer your products.
POD sites where you sell like Merch, Spreadshirt, T-Spring, and more.
Social media posts to update promos, show off new designs or simply give your customers information about your brand.
Your website, even if you don't sell there directly you should always show your products with the best quality images.
Product catalog, digital or printed!
Printed promotional material like banners, flyers, posters, and more!
etc.
This is how you can show your designs with high-quality images that really reflect your style without spending a fortune! No need to book expensive product shoots every time you create new designs. Also, a great thing about making your own mockups is that you get freshly new images every day from Placeit's ever-growing library and if you don't find what you need, you can always request new mockups.
Learn from This Video Tutorial
If these steps weren't clear enough you can always visit our channel on YouTube where you will find tons of tutorials on how any Placeit tool works. Here's a quick video tutorial on the process of making a t-shirt mockup that will take you step by step:
📎​ Puedes leer estas instrucciones en español aquí
Sell T-Shirts Online
Learn more on how t-shirt mockups can boost your sales and showcase your designs like a pro! Also, if you are selling on POD (Print on demand) sites, this checklist for making money on Spreadshirt and this 5 step guide to promote your Threadless artist shop might be super useful!
Also, check out our library t-shirt mockup videos and promote your designs with animated mockups! You have all kinds of mockup videos to use over a huge library that is continuously growing.

T-Shirt Video of a Man Posing in Front of a Food Truck
"My t-shirt designs look awesome on Placeit's mockups."
Monique Snyder 5/5
---
Use Placeit's Mockups to Promote Your Clothing Brand
Now that you know how to create a t-shirt mockup directly from your browser, Placeit offers much more to promote your clothing designs: hoodie mockups, hat mockups, tank top mockups, and even t-shirt ad templates for Facebook and other social media. Just head to Placeit and check it all!
Create your own mockup now!
---