Before you open an online store in a marketplace, you need to do some research on the marketplaces available. Luckily, we're here to help with exactly that! Get to know the top marketplaces around, from Etsy to Amazon and everything in between, and get all the info you need to make the best decision for your brand.
Thanks to the online shopping boom, marketplaces have been sprouting up for all sorts of niches and markets, leading to even more decision fatigue. While each marketplace has its benefits, it can be hard to compare and contrast these with the numerous marketplace and eCommerce options available. Because of this, we have compiled some of the top marketplaces around into one single list, making it easier to compare their pros and cons.
Now let's dive in and get down to the important stuff!
Explore This Post:
What Is a Marketplace?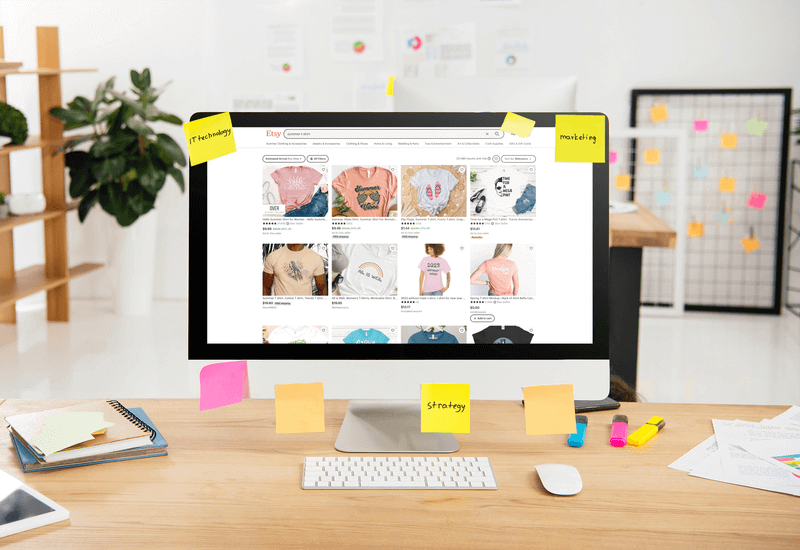 A marketplace is one of many options when it comes to online selling platforms, but what makes it different?
Well, if you've ever been to a farmer's market or something similar in real life, then you've already interacted with a marketplace. An online marketplace uses the same concept, just online.
In this example, a farmer's market is owned by a single entity (person or company) and hosts several different vendors. These vendors sell their products from their own booth within the marketplace and they set their own prices, put up banners with their logo and brand name to attract shoppers, and complete transactions at their booth. Thanks to the marketplace's publicity, reputation, and customer base, vendors can count on shoppers showing up and checking out their products.
This is basically what happens when you create a shop in an online marketplace, but with the added benefits of being online.
When you create your shop in an online marketplace, you will basically have your booth where you can list your products, designate your prices, and interact with customers. That said, you won't be limited to shoppers in your city because being online makes it easier for people from anywhere in the world to find you.
On top of this, users can use the search bar in the marketplace to look for specific products, meaning your products will show up in search results, making it even easier to find you. Transactions are also handled by the platform, making this much less stressful.
Keep in mind that some marketplaces are known to have every item under the sun for sale, while others are more targeted. These marketplaces may cater to a very specific niche or audience, limiting their offering to very specific products such as vintage items or tech items. This can either be a huge help or a hindrance depending on what you sell.
Benefits of Selling in an Online Marketplace
If you want to open an online shop, going the marketplace route is one of the easiest ways to do this. And since marketplaces have been growing in popularity in recent years, so have the benefits for sellers.
These are some of the most popular reasons why sellers choose to sell through a marketplace:
1. Low Start-Up Cost
Most online marketplaces won't charge you to sign up and open a shop with them. They may have small fees associated with listing items or transaction fees, but these are manageable if you're just starting out.
Since a large investment isn't required upfront, this is a great way to start your business and get the hang of things. Once you have an established audience and a stable income, then you may feel more comfortable investing more in your brand.
2. Easy Set Up
Setting up your shop is easy with an online marketplace. In general, all you have to do is create an account, set up payment details, and start listing your products. There's no coding involved or choosing a domain name since all these technical aspects are taken care of by the marketplace.
This streamlined process means launching your shop is fast and easy.
3. Built-in Audience
When you start a new business one of the hardest parts can be getting customers. Luckily, the best marketplaces already have a huge built-in audience. We can't emphasize huge enough.
This means that no matter how small or new your business is, you can count on shoppers viewing your products. As long as you set up your listings correctly, your items will show up in search results and be recommended to customers
4. Recognition and Trust
Another aspect that is tough for small businesses is gaining trust and recognition. If you're just starting out, it can be harder to get people to buy your products because they don't know what to expect.
This is where selling in a marketplace can help. Your shop will be trusted by shoppers who are familiar with the marketplace's good reputation. They know that if anything goes wrong, the marketplace will take care of them, leaving little to risk.
5. Wider Reach
Marketplaces make it easy to expand your reach to international customers. By opening up the possibility of international shipping, you can expand your audience drastically. This can mean even more sales with less hassle.
6. No Maintenance Required
When you open your own eCommerce website, you have to stay on top of things like renewing your domain, ensuring your SSL certificate is up to date, and updating plugins to ensure everything is running smoothly. This is not the case with a marketplace.
The marketplace owner will take care of all these technical aspects while you just focus on selling your products and interacting with customers.
7. Less Risk
Because startup fees are so low when it comes to marketplaces, there is a lot less risk involved. You don't have to worry about losing a ton of money on a new business, giving you more freedom to actually go for it.
Similarly, if you already have an established business, a marketplace allows you to test out new products, prices, or anything else without it being a massive commitment. Experiment away without the risk.
Best Marketplace Websites for Every Type of Seller
As a seller, you may be overwhelmed when trying to choose a marketplace for your brand. While it's true that there are tons of options to choose from, not all of them will meet your need.
You can start by removing options from your list that clearly don't cater to your target audience. Trust us, this is easier to do once you know what each marketplace specializes in.
To narrow down your choices, check out this list of online marketplaces to find the one that makes sense for your brand.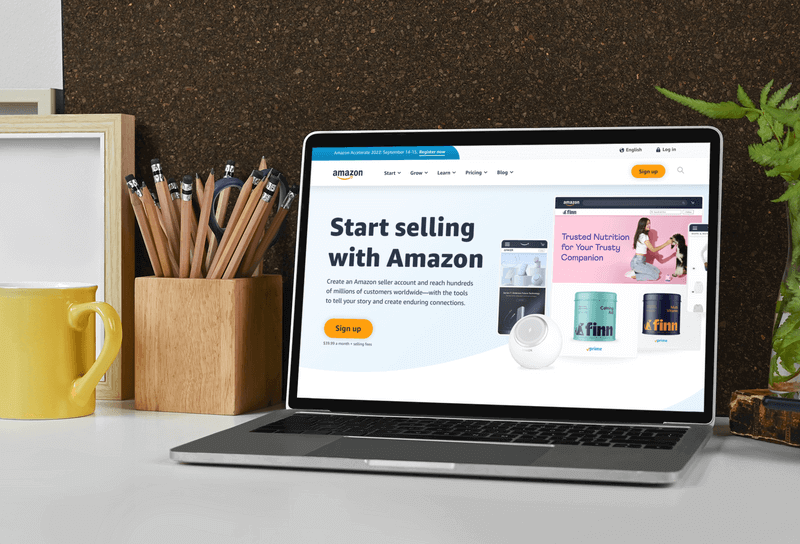 Best for: Everyone
About: Amazon isn't only the largest marketplace in the world, it's actually the largest online retailer in the world. Amazon operates marketplaces in 20 countries in North America, South America, Europe, Asia, and Oceania. They boast 1.9 million active sellers worldwide, but many more than that overall.
Not only are they a worldwide platform, but they also offer just about any product imaginable in their marketplaces.
Pros:
Easy sign-up
Great reputation
Access to a huge customer base
Available in many markets
All listings look the same, making competition more standard
Cons:
Saturated marketplace with many similar products
Lots of competition
Competing against Amazon's products
Entry fee
Hard for smaller, new sellers to stand out
Top Selling Items on Amazon: Amazon gift cards, electronics (speakers, tablets, smart appliances, etc), cameras, video games, books, clothing, beauty products
Pricing: Choose from two different plans: the Individual plan which charges you 99 cents for every item sold, or the professional plan which consists of a $39.99 flat monthly price. There are also additional selling fees to consider on top of this, but those prices can vary by product category.
Honorable Mentions: Walmart Marketplace, eBay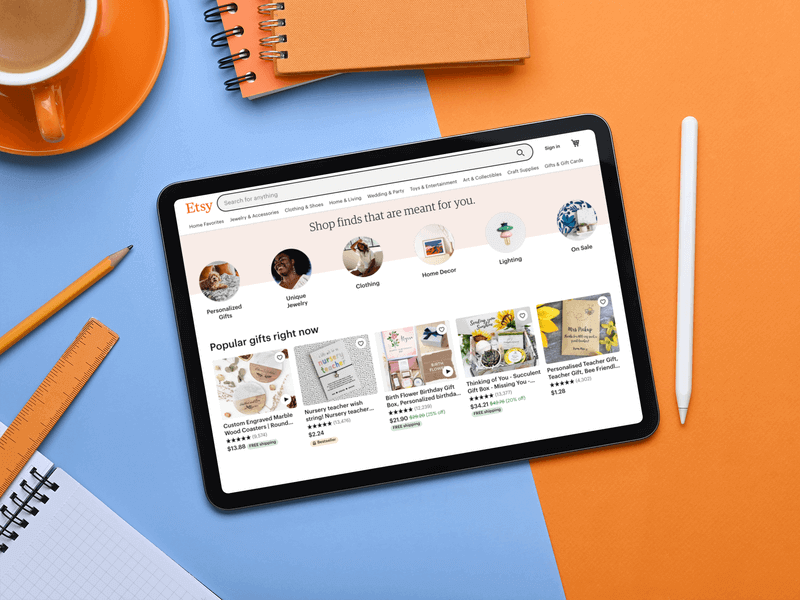 Best for: Sellers who specialize in vintage, handmade, or custom-made items.
About: Etsy is a globally recognized marketplace that specializes in unique and custom goods. They boast 1.9 million active sellers and 31.7 million active buyers globally, which is pretty impressive. Etsy likes to focus on having a human touch in a world dominated by automation, making it a warmer and welcoming community. They also stand by principles of sustainability and responsibility, which are also expected of sellers.
Pros:
Great reputation in the handmade, vintage world
Recognized globally
Huge built-in and returning audience
Human touch
Low entry fees
Great support and seller protection
A supportive community of sellers
Cons:
Fees can add up
More and more non-handmade items/sellers entering the market
Lots of competition makes it hard to stand out
Hard to develop brand loyalty
Best Selling Items on Etsy: Stickers, notebooks, jewelry, home decor, digital downloads, posters, toys, vintage items, organic makeup, sewing/crochet patterns
Pricing: It's free to open an Etsy shop, but you will have to pay additional fees including $0.20 USD for each item you list and a 6.5% transaction fee for each item sold. Etsy sellers in good standing can also sign up for Etsy Plus for $10 USD a month, which gives them access to additional tools.
Honorable Mentions: Amazon Handmade, Aftcra, Folksy
💡 Explore this Etsy page to find all the templates you need for taking your Etsy shop from drab to fab in no time!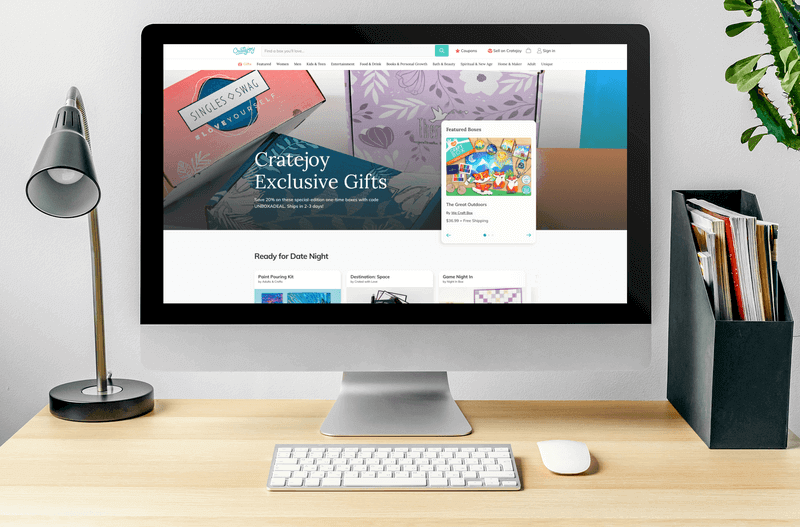 Best for: Subscription boxes
About: Cratejoy is unique in that it only sells subscription boxes. This is a great opportunity for sellers who want to try out this selling method without going all in on a pricey website. They boast 40,000+ sales a month and 4 million monthly views, which can be enough to get anyone excited about selling subscription boxes. Cratejoy is available in 47 countries, specifically countries that support payments through Stripe.
Best Selling Items: Selfcare boxes, cocktail boxes, craft boxes, grilling boxes, plant boxes, snack boxes
Pros:
Monthly subscription model
Bundle and sell products together
Highly targeted categories make it easier to find you
A large number of site visits and purchases
Advanced analytics tools to help with marketing
Cons:
Riskier purchase for shoppers
Pricey because of the selling fees
Customer support is hard to get ahold of
Cookie-cutter website builder without enough customization options
Pricing: There are two plans to choose from:
Marketplace Plan: List your subscription box on the marketplace for free.
All-in-One Plan: List your subscription box on the marketplace, create a custom website, and enjoy additional features to help scale your business for $39 USD a month.
On top of these fees, all sellers also have to pay a 10% listing fee as well as 1.25% + $0.10 transaction fee on each and every sale that they make.
Make a splash into our curated collection of box mockups!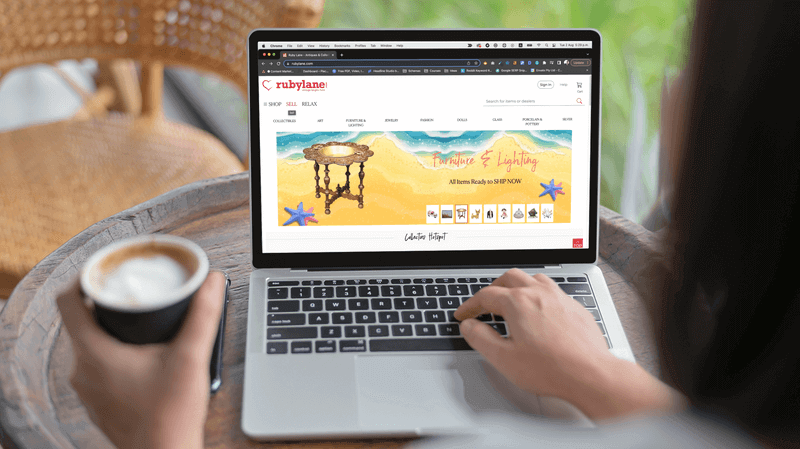 Best for: Vintage and antique items
About: Ruby Lane was established in 1998 and specializes in vintage and antique goods. They have about 2,000 active sellers, making them smaller than other marketplaces. Sellers in this marketplace are well-versed in vintage items and there are strict policies as to what can be posted for sale. Customers interested in vintage items trust Ruby Lane and feel safe purchasing from their site.
Pros:
The most trusted vintage marketplace
Highly targeted audience
Vetted sellers and quality products
Low entry fees
Easy set-up and educational content to help sellers
Cons:
Not as well-known as other marketplaces
Lacks traffic compared to other marketplaces
Shoppers don't want to pay antique or vintage prices
Harder to get in touch with customer service
Best Selling Items: Antiques, vintage collectibles, dolls, fine art, furniture, jewelry, silver, vintage fashion
Pricing: Signing up and setting up your shop is free on Ruby Lane, but once you start making sales you'll be charged a 9.9% service fee with a cap of $250 USD. There is a $25 USD monthly maintenance fee, but if you have 15 or more listings, you'll get a $25 rebate to offset this.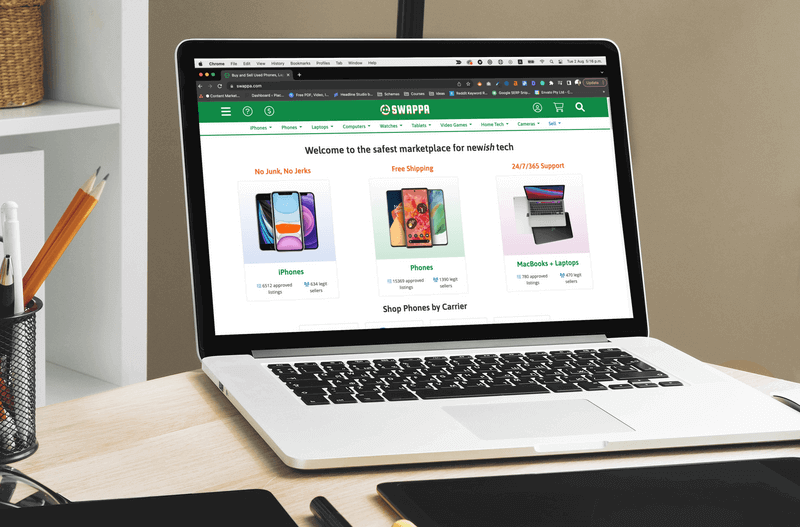 Best for: Gently used tech and electronics
About: Swappa empowers users to sell their lightly used tech to other users. There is no middleman and no listing fees, meaning sellers can make real earnings selling items they no longer need. Transactions are safe and made through Paypal and real people have to approve listings in order to weed out items that don't work or are not up to standard.
Best Selling Items: Phones, laptops, tablets, smartwatches, video games and consoles
Pros:
No listing fees
A thorough approval process to weed out "junk"
Safe transactions through Paypal
Awesome support for buyers and sellers
Swappa Local for local sales and delivery
Ship items only after receiving payment
Cons:
Swappa is strictly US based
Listings expire quickly, so you have to re-list items constantly if they haven't sold
It can take a while for listings to go up because they are checked by humans
You can only get paid through Paypal
Pricing: Listing an item is completely free, but when an item is purchased the seller is charged a 3% sales fee, and the buyer is charged a 3% buyer fee.
Honorable Mentions: Jet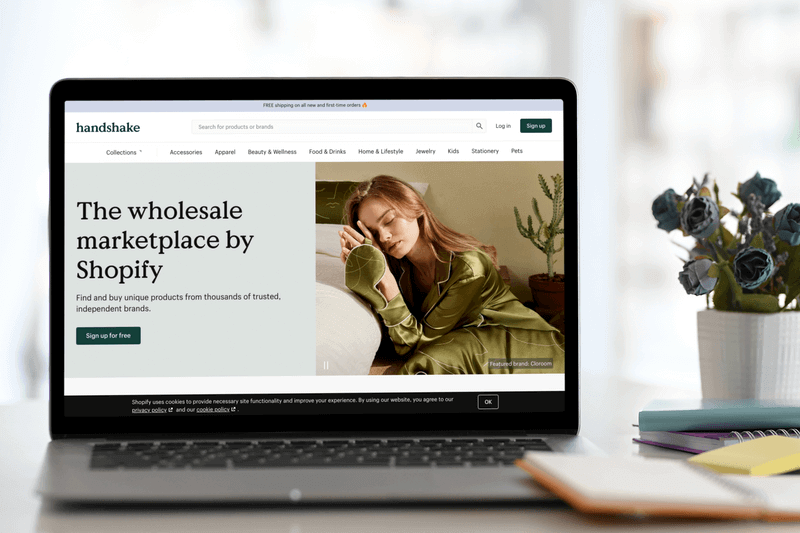 Best for: Wholesale sellers
About: Handshake is a wholesale marketplace run by Shopify. This means it has a great reputation and is well connected. In fact, Handshake claims they can connect your brand to 65,000+ retailers interested in making wholesale purchases. Handshake can be added to your already existing Shopify shop, making the learning curve much easier.
Best Selling Items: Clothing, skincare, home decor, baby items, jewelry, health and wellbeing
Pros:
Easy set-up and easy to use, especially if you already use Shopify
Great brand reputation
Connect your brand with tons of retailers
Fully branded shop with tons of customization options and reports
Set minimum orders
Cons:
Only available for retailers located in the US
You have to have an active Shopify store that has made sales
You have to apply and wait to hear back from Shopify before starting
It's technically free, but since you have to have Shopify account then you're already paying Shopify
Not for resellers
Pricing: As mentioned above, Handshake is technically free. You don't have to pay any additional fees or commission on sales to Shopify, but you do have to have an already existing Shopify shop. This means you're already paying for Shopify's platform and just adding this one to your account.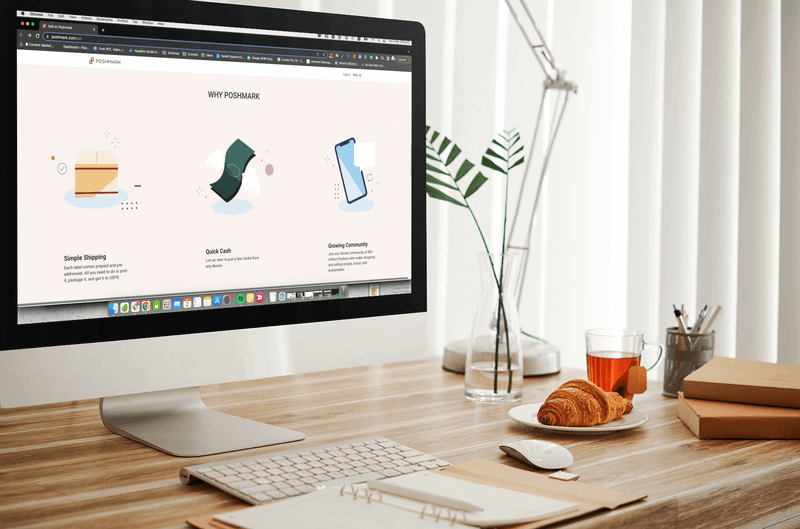 Best for: Clothing sellers and resellers
About: Poshmark is a social marketplace where you can sell new or secondhand items. They claim to have 80 million registered users and 200+ million items for sale as well as a sale every second in the US. It's a great option for those looking to make extra money while decluttering their closet or home.
Best Selling Items: Clothing and accessories are by far the best-selling items on Poshmark. With that said, the brand of the items you sell is what matters most. Some of the most popular brands include Lululemon, LoveShackFancy, Nike, Free People, Good American, Coach, Patagonia, and Anthropologie.
Pros:
Easy set-up and listings
No listing fees
Safe transactions
Shipping made easy with prepaid shipping labels
A huge customer base
Cons:
Only available in the US, Canada, and Australia
Highly saturated market
Flatrate shipping costs are high and can deter shoppers from finalizing purchases
Transaction fees are high
Sellers have to stay active on the social side of the marketplace to get noticed
Pricing: There are no listing fees, but transaction fees can get quite high. For sales that are under $15 USD, they charge sellers $2.95 USD. For sales that are equal $15 USD or more, they charge sellers 20% of the listing price. These fees are meant to cover credit card processing fees, the prepaid shipping label, and any customer service needs buyers and sellers may have.
Honorable Mentions: Depop, Mercari
How to Find the Right Marketplace for Your Brand

Choosing a marketplace to sell your products in isn't as easy as picking the first one that comes to your mind. There are several things you have to take into consideration about the marketplace and about your own products.
Consider the following items to help you narrow down your choices:
What Do You Sell?
This simple question will narrow down your choices quite a bit, especially if you have a very niche product. For example, if you sell vintage clothes, you can sell this anywhere. The key is to think about what marketplaces have an audience that is looking for vintage clothing.
It helps to research the top-selling products for the marketplaces you're interested in to see if you fit in there.
Who Is Your Target Market?
This goes along with the previous question, but it also has to do with geography. If you're able to ship your products internationally without a problem, then this might not be an issue. However, if you're limited to domestic shipping, then you'll need to figure out what marketplaces are popular with this audience.
Where Do You Have a Better Chance of Standing Out?
Some of the biggest and most well-known marketplaces are also some of the most saturated with sellers. This means that if you sell a very generic product, then you may be one of many sellers trying to reach the same buyer. This can make it much harder to make a single sale. Take a look around at the products being sold on the marketplaces you're interested in to see if you have a chance of standing out or if you'll simply get lost in the crowd.
How Well-Known Is the Marketplace?
Reputation matters, so it can help to start your shop in a marketplace that is established and well-known. Stay away from marketplace websites that feel sketchy or unreliable because chances are they also seem sketchy to shoppers.
What Are the Startup Costs Associated with the Marketplace?
Everyone has a budget, so it's important that you do the math before committing to a marketplace. Figure out what your initial investment will end up being so that you have a clear idea of how long it will take for you to make a profit. Look into transaction fees and any other added fees that will take money from your sales so that you know exactly what to expect.
What Type of Support Do They Offer?
Finally, you can encounter some hiccups as a seller, so be sure you can count on the marketplace to have your back. Look into what kind of assistance they offer sellers, how long they take to resolve disputes, and how they treat customers.
Sell Your Products on Multiple Marketplaces
Before you pick a single marketplace, keep in mind that you don't have to limit yourself to just one. You can sell on multiple marketplaces at once. In fact, there are some benefits associated with opening a shop on multiple marketplace platforms.
The primary benefit is that more shoppers will come across your brand or products. Of course, the more exposure you have, the more likely you are to make sales.
This can mean your initial investment will be larger since you will be paying listing fees to multiple platforms, but it's worth exploring the option.
In fact, this is a great way to dive in and experiment with different platforms. Doing this can help you pinpoint where you get the most traffic, sales, and interaction. You can also discover where you make the most profit from a sale and what platforms have the tools you need to grow your shop.
As you do this, remember that you don't have to commit to any platform and you can simply remove your shop if things aren't working out. There are also no legal issues to worry about when listing your unique items in multiple marketplaces since you own the rights to your items. As long as you're following the regulations set by the marketplace, you're free to sell anywhere.
Make the Most of Your Shop
After deciding where you want to start your shop, there's still a bit more work to be done. After all, you need your shop to stand out and get noticed if you want to make some serious sales. Before you get stressed, we're here to help you navigate through this.
Do Product Research
When you're developing a brand, you need to have a clear understanding of your audience. You need to know exactly who you're targeting and what needs you're covering for them.
Having this information will be a huge help when it comes to doing product research. It's easy enough to put out new products, but if they don't align with your audiences' needs, then you likely won't have any luck making sales.
Do your best to stay on top of trends, know what your target audience needs, and cater to their wants. By doing this, you'll have a much easier time making sales and turning a profit.
👩‍💻 Check out the best tools for merch research to ensure you're selling the right products for your audience!
Focus on SEO
Search engine optimization is key if you want to drive traffic to your shop. This is true whether or not your shop is located in a marketplace, so don't even think about skipping this.
Start by giving your shop a name that is descriptive and accurate. You want to drive high-intent traffic to your shop, so a shop name that shows what you're all about will be more effective.
Next, look up keywords that fit your products and that have a good search volume. Scatter these throughout your listings in the titles, descriptions, and tags. Do your best to use a number of different keywords so that you aren't repeating the same keyword everywhere.
Be sure to also include keywords in image names and alt-text. It's also important that you always give your images friendly names and add alt-text to them.
Fill out every part of a product listing because the more complete it is, the better.
Doing all of this will give you a better chance of showing up in Google searches as well as in search results pages within the same marketplace.
Take Great Product Photos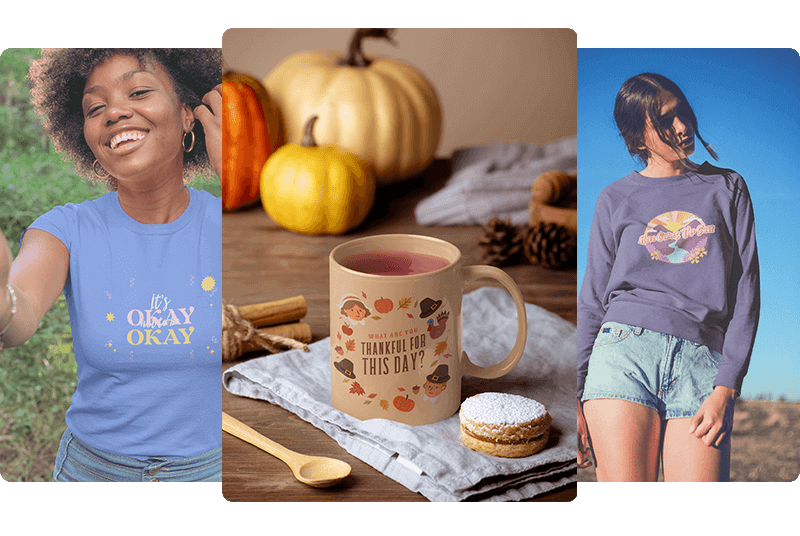 Shoppers won't be able to pick up your products and try them out like in real life, so it's super important that your shop showcases your products in the best way possible.
This means you'll need beautiful product images that are appealing to your customers. This can mean paying a professional photographer, learning to take photos yourself, or even using photo-realistic mockups.
No matter what option you choose, be sure your images are clear, have good lighting, present your product from different angles, and are useful to shoppers.
💡 Placeit by Envato offers a huge library of mockups you can use to promote your products. Find everything from t-shirt mockups to packaging mockups and everything in between!
Set Smart Prices
When you sell in a marketplace, the competition can be fierce. At the same time, this also makes it easier to figure out a fair and competitive price for your products.
Take a look at other sellers who sell products similar to yours. Take note of the similarities and the differences as well as their price point. With this information and your own knowledge of materials, labor, and tools, set your prices.
You want to make a profit, but you also don't want to overcharge your customers. Doing so can lead to you losing customers and low sales.
Connect with Your Audience
In order to create brand recognition and loyalty, it's important to connect with your audience outside of your shop. This has been made much easier thanks to social media.
There's no rule that says you have to create a business profile on every social media platform under the sun, but it is a good idea to create profiles for your brand where it makes sense. This is to say, create profiles on social media platforms frequented by your target audience.
This will provide you with a great space to connect with prospective shoppers who have questions, loyal customers who want to send you nice messages, or even customers who have useful feedback.
You can also grow your audience by hosting giveaways or by promoting your new products with eye-catching images and videos.
Don't forget to also share customer reviews, user-generated content, and anything else your followers might find interesting.
👉 Check out these tips on how to market your eCommerce store on Instagram!
Experiment with Ads
Finally, running paid ads can do a lot to boost your shop. With that said, keep in mind that ads can add up over time so it's best to start small.
If you've never experimented with ads before, take it slow and don't put too much money into them right away. You first want to get the feel for them and see what works for your brand. Once you're more comfortable and have some insight, then you may want to consider growing this strategy.
You're Ready to Launch Your Shop
With all this information under your belt, you're finally ready to get your shop up and running! As you can tell, it can take some time to get everything settled and running smoothly, but that's to be expected.
Avoid rushing through the process and instead, take your time and learn as you go. Don't forget to make time to experiment with different shop functions or with your own brand and products.
Of course, you can always bookmark this post and come back to it at any step of the process!
Let us know what marketplace you've decided to opt for and why in the comments below ⤵️
FAQ – Top Marketplaces for Online Sellers
---
---