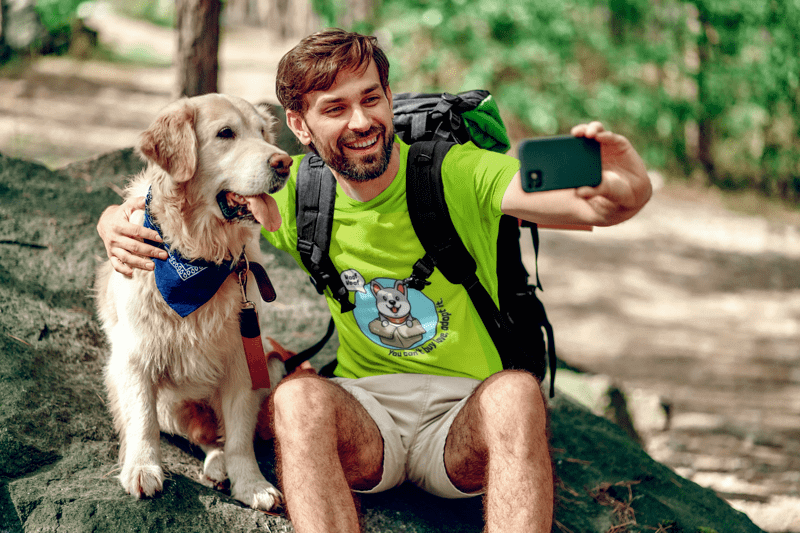 International dog day (August 26th) isn't only a special day to celebrate all doggies around the world. But it's also a golden opportunity to create a beautiful collection of dog t-shirts for the canines and the owners themselves! And even for designing more personalized items for this niche which has been growing exponentially in the online world over the last few years. So, get ready to design all you need for this wonderful day and keep paw-sitive to boost your sales! Let's start!
🐶 This Is What You'll Find:
---
Ready to Design the Coolest Dog T-Shirts?
Undoubtedly, the canine universe has been expanding rapidly and noticeably over the years. Nowadays and more than ever, dog owners are willing to invest in their pets and items that remind them of their little four-legged friends. Therefore, we have brought some ideas you can incorporate into your online store or marketplace to celebrate doggies worldwide. 
⭐ You might like: Top Marketplaces for Online Sellers: Where to Open a Shop
Find some inspiration by taking a look at these dog t-shirts that are sure to be a hit among your audience. You'll discover that there are themed t-shirts with different concepts, from very loving ones to funny ones, for everyday situations and even for holidays. Do you already have something in mind to design?
🔥 Calculate your selling prices and profits with this free calculator by Placeit
---
How to Design a T-Shirt With Placeit
Check out how to design amazing dog t-shirts with our tool in a few quick steps. 
Head over to Placeit, select "Designs," and in the search bar, enter "dog tshirt design" to find more accurate results. 

Then, you will see all the available models, which are ready to use and customize. 

You can filter your results according to the filters to get the most recent results, best sellers, or both. 

You'll also notice that in the left column. There are different categories, such as "Christmas" or "Quotes" to narrow your search according to the result you want to achieve. 

Once you have selected the template of your choice, it's time for you to change the texts and colors and choose the graphic you like best.

#ProTip: Did you know you can use a photo of your pet when creating your shirts with Placeit? 🐶
Is it already the way you imagined it? Perfect, now click on the "Download" button, and you're all set!
🔥 Don't forget that these t-shirt designs work perfectly for printing them on hoodies, tank tops, and sweatshirts. 
---
Cute Designs for Doggies' Items
While t-shirts for us are a must, don't forget that you can create different clothes and item designs -such as t-shirts, collars, collar bows, bandanas, tags, bowls and even wanted posters for the little furry ones in the house. Here, you can pick a doggy theme or simply take advantage of our vast collection to add a cute touch to each canvas. From your favorite cartoons – inspired by Pokemon – to sports team numbers, patterns, quotes, and much more! 
---
Promote Your Dog T-Shirts With the Best Mockups!
Well, now you know that you can design and create anything for dog enthusiasts and canines. But you'll need some models, right? No worries, Placeit has you covered! From now on, you can capture your design in any of our different mockups. 
Whether you're looking for a cute picture of an owner with their furry best friend, or a canine posing with their new dog bandana, Placeit has all you need to make this task easier! 
---
Level Up and Keep Designing for Your Pet Business
Our extensive library has thousands of dog design templates. You'll notice there are specialized tags such as dog t-shirts, logos, mugs, and even social media templates. However, thanks to the versatility of Placeit's design maker, you'll be able to use it to create fantastic artwork and Place it on any object you want. Such as dog collars, bows, notebooks, flyers, phone cases, stickers, pillows, bottles, hats, and anything else you can think of! 
Let's take a look at some quick examples: 
Mugs
One of the best gifts for dog lovers is undoubtedly a personalized mug! Indeed, on the internet, you can find many cups with doggy designs that might be kinda generic, but with Placeit by Envato, you can create it how you like and in a matter of seconds. Check out some examples to inspire yours. 
Social Media Graphics
Whether to further promote your new designs or to create awareness about everything involved in the adoption of a canine, social networks will undoubtedly be your best allies to promote any doggy message in a beautiful and professional way. Find templates featuring everything from quotes and important messages to tips and tricks, how-tos, adoption posts, commercial messages, and more to share on your favorite social channels such as Facebook, Instagram, Pinterest, or even YouTube. 
Logos
How about creating a dog-inspired logo? This design element will be essential for those in the dog business who want to present professional branding. A dog logo is handy for clothing stores specialized in this niche, veterinaries, and pet accessories stores. However, the puppy universe encompasses more than that, and Placeit is ready to cover it. You'll also find perfect logos for hotels, schools, training, walks, and care supplies related to these beautiful animals. 
Even for those who aren't in any of these industries but are dog lovers, there are possibilities too! From gamers, music, and technology businesses to even restaurants! 
Emotes
As it's now very trendy to be a streamer on platforms like Twitch, why don't you try designing some doggie emotes for you and your viewers to best describe your emotions and feelings?
🔥 Don't miss out on: How to Make Twitch Emotes & Set Them Up
---
All Set to Celebrate Our Furry Buddies!
The dog niche will always be an excellent opportunity to sell different items, mainly on a special day such as International Dog Day, although each month is great too for creating and selling.
✨ We definitely recommend reading our T-shirt design ideas calendar for 2022
The best thing is that with Placeit, you can easily make different types of designs to create a lovely and friendly collection. There's no need to learn how to use a sophisticated design program or hire a graphic designer because you have all you need to create dog graphics in a few clicks and within minutes. 
However, while sales and marketing are important, it's crucial not to lose focus and be aware of what this day represents: commemorate our pets, celebrate all kinds of doggies, and most importantly, encourage adoption instead of buying. For instance, you could make a stunning design to promote more profound thoughts like this one. Or go back to the basics but always promote them with love and respect. Up to you! 
And that's a wrap! Let us know in the comments what kind of dog t-shirts you're planning to launch. We'd love to see your creations online, so tag us on our Instagram or Twitter and use the hashtag #madewithplaceit. 💜
FAQ – Dog T-shirts
---
---
---