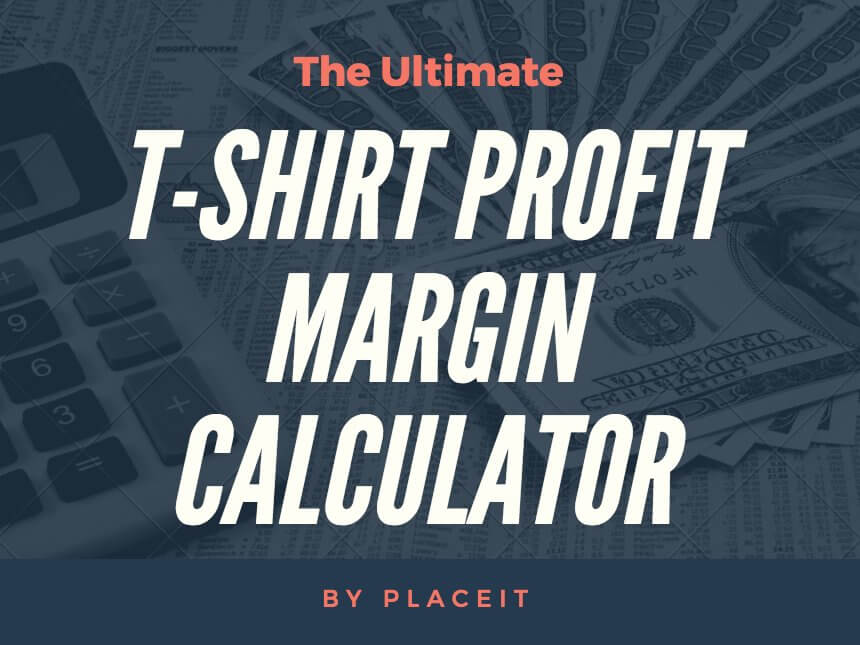 Before we start selling a product, we must see if our investment will bring us a profit. Sometimes, we tend to be more creative and ignore the numbers, but for that reason, we have created this Profit Margin Calculator tool so that you just enter your data and, in the blink of an eye, you will know at what price to sell your product to achieve your desired profit margins. Let's dive in! 
This Is What You'll Find:
Why Do You Need a Profit Margin Calculator?
If you want to start selling t-shirts online on a print-on-demand website like Merch by Amazon, Society6, Redbubble, Threadless, or Spreadshirt, then you need a profit margin calculator. Why? Easy! To calculate how much money you can make by selling t-shirts online on a print-on-demand website. This way, you will be able to know if it is profitable to venture down this path, but also discover and compare which is the best alternative that will generate the highest profits for you. 
🔥 Find out through this quiz the best POD sites for you to start selling your products
How to Use Our Free Tool?
Enter your email address in the box below to access the tool. *You will need to have a Google account to view the document.

Choose a t-shirt style, then type in the desired profit margin per t-shirt sold—for example, $30. 

Next, fill in the cells containing the number of t-shirts you plan to use and your marketing investment to calculate the final profit. 

And voilá, the t-shirt margin calculator will tell you how much money you will earn after selling X number of t-shirts.
Feel free to share this online t-shirt Business profit calculator made by Placeit by Envato, with your friends. 
💡 Pro Tip: It is recommended to set the final t-shirt price to end with .99 and start selling in a single POD shop.
To Sum Up
To start growing your t-shirt business, you need the best tools to succeed! Like our profit margin calculator will be extra helpful in discovering how profitable this niche is. Moreover, we have a few other tools and resources under the sleeve that you might want to check out before you go! 
Try our 15 Ways to Increase Website Traffic to Your T-Shirt Shop post and our How to Start Dropshipping from Scratch post as well!
Have any comments? Don't forget to drop us a line below!
FAQ Profit Margin Calculator
---
---
---
Hundreds of High-Res Freebies Just for You!