Are you nearly to launch your own brand? If that's the case, one of the most essential steps in branding is defining your logo color scheme because everything else revolves around it based on it.
Your logo will be how you present yourself to others, and therefore, you must choose the right colors to transmit the message you want. So by now, you probably already have some colors in mind, but before creating a wild combination, you have to take baby steps. So, in this mini-guide, you'll learn how to create a logo color scheme that you really like and, of course, that's in tune with your purpose. Shall we get started? 
But before choosing the best color combinations for your logo, let's learn more about the principles of color. 
💡 Psssst, do you want to know what types of logos work best for your business? Then, find it out by taking this quick quiz!
Why Are Brand Colors Important?
Color is one of the main ingredients when it comes to logo design. These elements help us reflect and highlight the essence and strengths of our brand, differentiate us from our competitors, and establish meaningful relationships with our customers. In other words, each of them provokes certain emotions, perceptions, and even behaviors. That's why it's so essential to choose the right ones. 
101: The Color Wheel Is Your Ally
In case you didn't know, there's great science behind this well-known color wheel. The combinations aren't made randomly; they follow specific guidelines to please the human eye and make this process easy peasy. 
But What's the Color Wheel?
It's a pie chart that shows the relationships between colors, which are integrated into 3 different categories, making possible a circular fan of different shades, including warm (red, yellow, orange) and cool (blue, green, and purple) colors.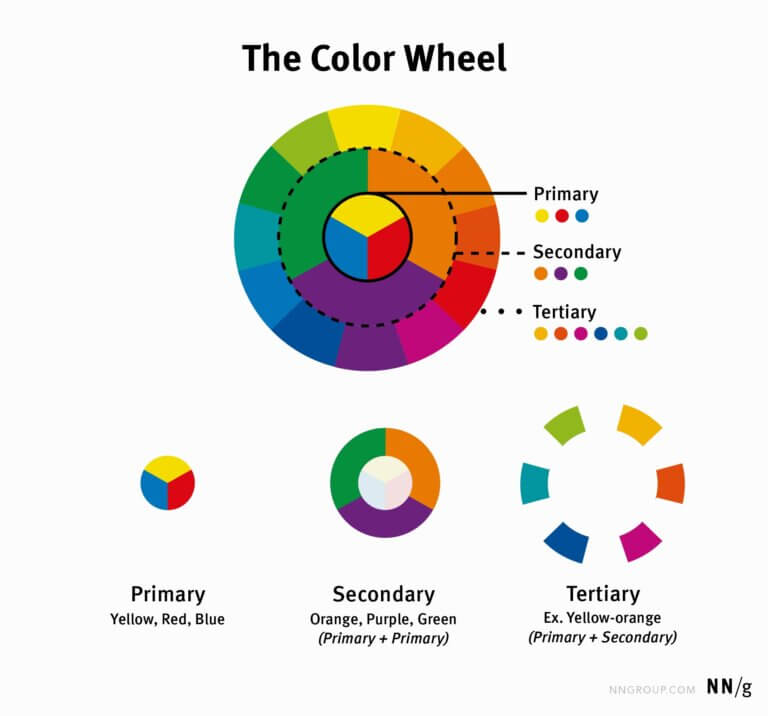 🔴 First Category: Primary Colors
Red, blue, and yellow are the basis of everything. These colors can't be created by mixing other colors, but they're the ones in charge of giving life to new shades.
🟠 Second Category: Secondary Colors
By mixing the primary colors, we obtain the secondary colors: orange (red + yellow), green (blue + yellow), and violet (red + blue). 
🟣 Third Category: Tertiary Colors
These color combinations exist because the primary colors are mixed with the secondary colors but adjacent. That is, green with blue gives a green-blue tone. 
⭐ Once we understand how colors are made, we can jump into the different combinations to create our brand's perfect logo color scheme.  Learn how to use color combinations in your designs!
Now that you know how the color wheel is integrated, it's time to start thinking about the main color for your logo to check which colors go best with it, so you can soon have your ideal logo color scheme.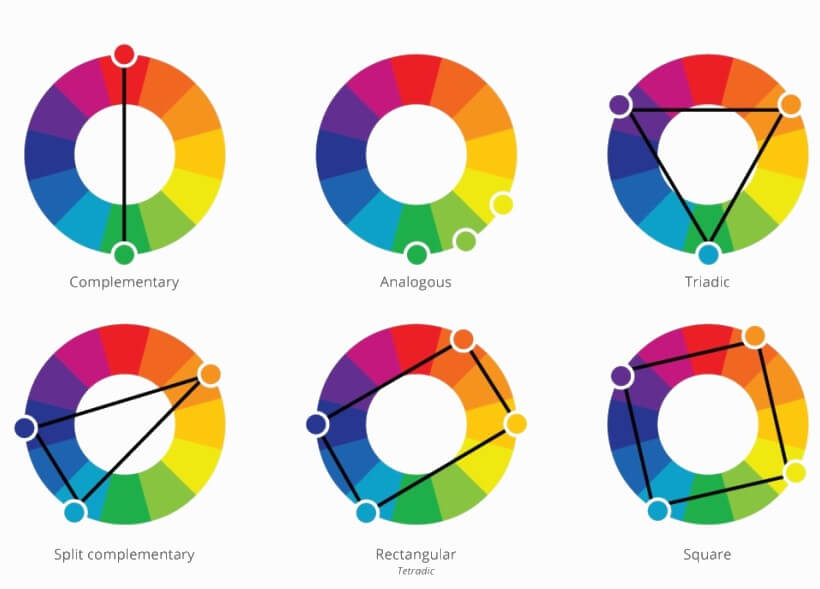 Is a palette with only one color possible? Indeed it is. That's why there are monochromatic combinations, in which a color is selected and accompanied by white, black, and gray to build that color, making it lighter or darker. This style is most suitable for brands that want to keep a simple logo color scheme. 
People say that opposites attract, and yes, it's true! Such is the case with this combination, which only requires two colors that are on opposite sides of the color wheel. They're perfect for creating a high contrast in any logo.
Choose the analogous palette to create a logo color scheme with 2 or 3 colors that go well together. The selected colors are always placed next to each other on the color wheel. This means that the colors are closely related, although there isn't much contrast since they're consecutive colors. However, it's perfect for those logos that want a more subtle and in-tune look. 
Follow this style if you've always wanted your next logo to contain 3 colors. It's perfect for those logos that want to be colorful and varied. You have to take your color wheel and visualize a triangle inside it; this way, you'll create a perfect harmony, usually characterized by vibrant and high contrast colors.
Color lovers, this is the best combination for you. We're talking about the Tetradic style, which generates a perfect harmony with 4 colors, which is represented in the form of a rectangle in the chromatic wheel. They're usually distinguished by two sets of complementary colors.
We have already understood the basics of how the famous color wheel and its combinations are formed. Now it's time to delve into the meaning of colors and how each one of them impacts our logo. 
"Colors" That Aren't Colors
To clarify, both black and white aren't considered colors. Since white represents the excess of light, while black, means the absence. 
It's the color of health, cleanliness, innocence, purity, goodness, safety, peace, trust, simplicity, openness, light, freshness, and minimalism.

Yet for some it also has negative meanings such as elitism, unfriendliness, and solitude.
Represents authority, elegance, reliability, intelligence, modernism, maturity, functionality, formality, luxury, mystery, power, prestige, timelessness, value, sophistication, seriousness, and seduction.

Also is associated with fear, evilness, istress, coldness, and heaviness.
🔥 Note: some meanings might vary according to the geographic and cultural context.
How to Choose the Right Colors for Your Logo Scheme?
Identify your brand personality.

Before choosing colors, think about how you want others to identify and associate your brand. Generally and unconsciously, as consumers, we're attracted to those brands who share the same values as us, so reflect on the personality you want to convey and choose the colors that go best with these adjectives. 

Choose your main color.

Now it's time to choose your dominant color, which will be the one by which many people recognize your brand.

Select complementary colors to create your logo color scheme.

Once you've chosen your primary color, it's time to decide how many colors you want your brand to have. Generally, it's from 2 to 3. However, there aren't written rules when it comes to creativity, as there are single-color logos to those with a broader palette, such as more than 4. 
✨ So, once you already have something in mind, it's time to review the color schemes so they can serve as a guide and help you find your next logo color scheme.
Winning Logo Color Schemes
🔥 To empower your brand, you'll need to choose the right colors to connect with your audience. Below, you'll find some examples of color schemes logos to inspire your next masterpiece.
You can also look to some of world's most famous logos to get more inspo when it comes time to choose a color scheme for your logo!
For brands that want to stand out and not be one of the crowd, red is the color of choice, as this vibrant color is usually a great conductor of energy, passion, and dynamism. So many big brands worldwide, usually in the entertainment and food industries, have chosen red as their selected color. 
Orange Logo Color Schemes
A warm color that has a similar effect to red, yet isn't used as often, is orange. This beautiful and cheerful shade expresses fun, joy, creativity, and vitality. So it's no surprise that some beverages use this whimsical color. Of course, the message takes on a whole new meaning with the right color combination, like Mastercard, which wanted to express passion, energy, and progressiveness by adding yellow to the logo.
One of the rainbow colors that will undoubtedly make your brand shine, as it's associated with light, sun, positivity, kindness, and youth. Although on the other hand, it also denotes affordability and mass consumption, so if you want your brand to be exclusive or convey that message, this is definitely not the color.
We usually think of life, health, freshness, and even care for the environment when we think of this color. However, this striking color goes beyond that, thanks to its versatility. For example, it represents money, wealth, security, harmony, and newness. But also peace of mind and relaxation. 
So to sum up, if you want this color to be in your logo color scheme, try to combine it with white, yellow, and even red. 
This popular primary color is a favorite of many brands because it's usually associated with confidence, security, maturity, stability, and intelligence. So it's not surprising that the logo color schemes of many technology and financial companies carry this shade as their dominant color. 
Purple Logo Color Schemes
This color used to be one that only wealthy people used, and perhaps that's why it's associated with luxury to this day. The exciting thing about this rainbow color is that it also represents fun, creativity, and extravagance. So it's a good match for a brand that wants to project these characteristics into a logo color scheme.
It's a color associated with a feminine, emotional and dreamy side. Moreover, its different shades make it very commercial for feminine products, childhood, and even now, to link it with the fight against breast cancer. Undoubtedly it's a color that some brands have decided to bet on because it conveys sensuality, love, sweetness, calm, and sophistication. 
The so-called earth color is a great choice to integrate into the logo color scheme of brands in contact with nature and the outdoors, chocolate and coffee, autumn. As well as the brands that wish to convey with warmth, stability, and solidity. 
It's the opposite color of black but combines incredibly well with it – and almost all other colors! It tends to be ideal for brands that want to represent purity, confidence, minimalism, and even perfection. 
Theoretically, black isn't considered a color, but in everyday life, it is. And in fact, it has positioned itself as a favorite and revolutionary color that evokes elegance, mystery, and exclusivity. 
And although it has negative aspects that are often culturally related to death, that hasn't been an impediment for great luxury, fashion, and technology brands to succeed thanks to this powerful color. 
Rainbow Logo Color Schemes
Here, we'll quickly look at some combinations of logos used by famous brands. We have called them rainbow, not necessarily because they have all 7 colors, but because they occupy 4 or more colors! Maybe it can serve as inspiration for your next logo color scheme. After all, the limit is your creativity!
What Logo Color Schemes Will You Choose?
So far, we've learned from the basics of colors to the palettes you can take as inspiration for your logo. But keep in mind that colors, more than a visual appeal, are a business decision that shouldn't be taken lightly, as they can affect everything, from perception to sales. Also, don't forget to check out How to Choose the Best Fonts Logos for Your Design. 
We hope this mini-guide has helped you, and remember that you can start designing your own logo here. Once you have it ready, you can apply your logo color schemes to different branding materials. For example, on business cards, flyers, t-shirts, stationery, social media, and anywhere you can imagine. Last but not least, check out how to design a logo with the logo maker, and please avoid the 10 Distinctive Characteristics of a Bad Logo Design. 😉
---
---