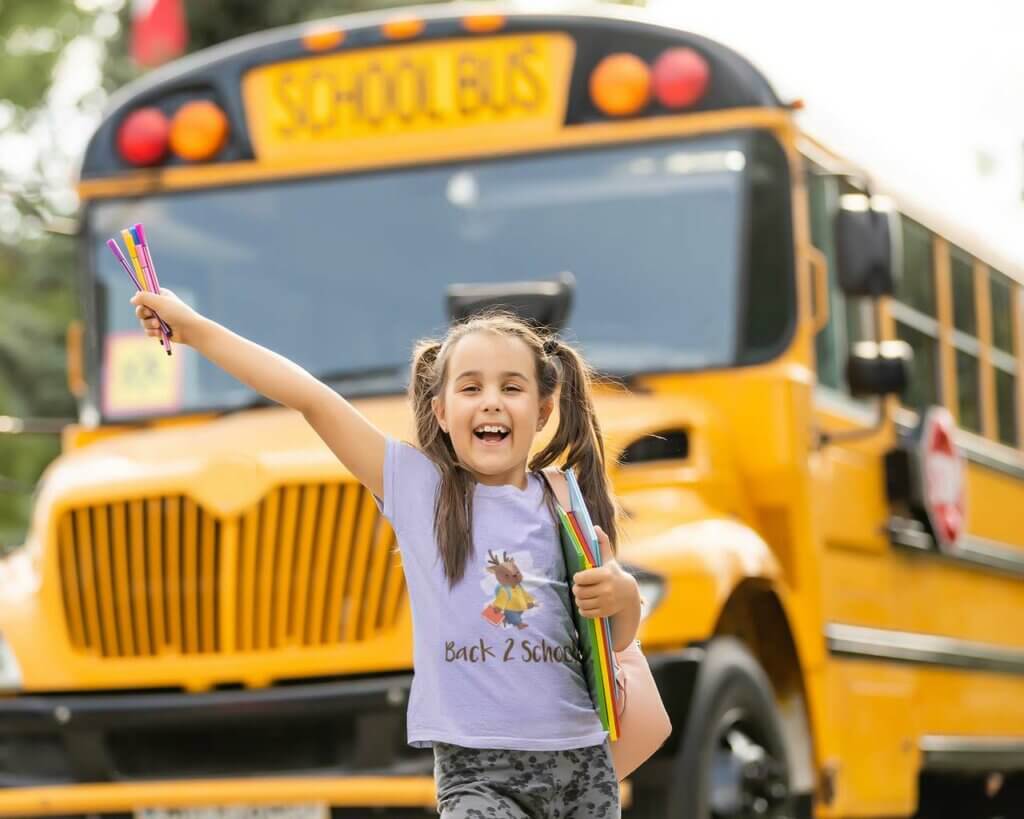 It's back-to-school season, and what an excellent opportunity to make awesome themed designs! With Placeit by Envato, it's super easy to make tons of designs for your merch in just a few clicks! From first-day-of-school hoodies, back-to-school 2022 mugs, back-to-school teacher shirts, and any kind of back-to-school templates! So, get ready to update your shop with new designs, products, and images!
✨  Check out these cute daycare logos for your business! 
Ready for Another Great Year?
Design Amazing Back-to-School T-Shirts
For this academic season, you can start creating fantastic t-shirt designs for any situation, from first-day school shirts to trendy t-shirts this year.
🔥  Check out these 9 back-to-school marketing ideas to start your campaign!
On Placeit, you'll find cute character designs for toddlers to bitter high-school jokes for teenagers. If you still want more, Placeit is equipped with tons of graphics, elements, fonts, and colors to create unique and extraordinary back-to-school t-shirts in minutes! 
🐝 Pro Tip: Use mockups to promote your newest designs with beautiful images using models or different academic scenarios to show your merch easily! Also, you can place your back-to-school t-shirt designs on hoodies, sweatshirts, and even backpacks! 
Keep Creating Everything for This Season
As we anticipated, with Placeit on your side, you can keep creating lots of designs for this joyful season. It's not limited to only t-shirts; take a look at what you can design online: 
Cute Mugs Inspired by School
We know that sometimes a single square -as an image- it's not the best way to showcase a mug; that's why we now offer a beautiful collection of mug designs that will fit perfectly with this popular item. 
👨🏻‍🎓 Don't miss out: How to Make a Creative School Logo?
Stunning Social Media Graphics
Social networks are a powerful ally in promoting our designs and products and sharing valuable content related to the back-to-school theme. Whatever your goal is, Placeit has thousands of gorgeous and ready-to-use templates that are focused on different social networks and content types.
For this back-to-school season, a great way of grabbing your follower's attention is by creating useful, valuable, and entertaining content oriented to this theme. If this is one of your goals, we suggest sharing some tips, hacks, and advice for all those who are preparing for these upcoming months. For example, here are some back-to-school content ideas that you can implement for your online posts: 
⭐ School supplies checklist, tips for organizing a backpack, creative, tasty, and healthy lunch ideas, DIY for school, productivity and organization tips, inspirational and motivational quotes, back-to-school interesting facts, a showcase of new products, top items every student needs, fun quizzes, printable back-to-school freebies, and of course, some back-to-school memes.
We recommend using catchy and eye-grabbing attention visuals and words for any ad. In this last case, words like "giveaway, free shipping, 2 x 1, % discount, promo code, or contest" work like a charm when it comes to incentivizing your sales.
Once you decide what to post and have your social media calendar, it's time to make magic and turn those ideas into gorgeous visuals. For example, you can start designing beautiful Facebook posts and covers. 
Also, if you're a big fan of Instagram, you'll find a massive collection of posts and stories -including videos- to grab your followers' attention. Additionally, if you want to go one step further, try creating some entertaining Youtube videos, from tutorials to promotions! For that, we have fabulous end cards, thumbnails, and pretty much everything you need to give a fun but academic feel to your videos. We have a HUGE library of templates that you can visit anytime!
Get the Word Out With Back-to-School Flyers
If you're more traditional or want your community to see your offering on the streets, you can also promote with flyers. Fortunately, you can use Placeit's easy flyer maker to create your designs. Making a flyer is just as easy as making your product's designs. You can customize your flyer using pre-made templates in just a few clicks. 
Plus, you can use flyer mockups to post your flyer online! This way, you got it all covered. 🙌🏻
Use Placeit's Back-to-School Designs to Make All Kinds of Merch
Got some inspiration yet? Use Placeit's t-shirt designer to make all kinds of merch too! It's not all about the t-shirts. Let's spice up those back-to-school supply lists and get an incredible custom design. You can make backpack designs, water bottles, mugs, notebooks, phone cases, laptop sleeves, pens, stickers, tote bags, wall art, and much more! Your designs can be Placeit anywhere. 😉
Stay Organized With These Templates
We know that planning a new seasonal collection can be exhausting. Especially if you're the jack of all trades in your business, so to avoid missing any important tasks and achieving your goals during the back-to-school season, you just need to plan and organize your day. And to make this process a little more fun and easier, our team has designed a couple of beautiful planners for you to customize and print and therefore, to accomplish all your daily activities. Check them out! 
⭐ Friendly Reminder: late June and early July is the perfect time to start planning your new collection because many countries in the Northern Hemisphere begin classes in late July to mid-September. The dates change for countries in the Southern Hemisphere, like Brazil, Argentina, New Zealand, and Australia; they usually start in January to April.
Back-to-school season is one of the most significant commercial opportunities throughout the year, whether your focus is on a kindergarten or higher education level or simply on a back-to-school theme. So, to make the most of it, you need to be one step ahead of your competitors, and what better way than with awesome designs and a good presentation? Nowadays, you have to make a good impression -even at first sight- so visuals matter a lot. But with Placeit, we're sure any design you create will get an A+ in your sales! Just put your creativity, and you're all set; the rest is a piece of cake! 
Let us know what will be the first thing you'll design for this season. We read you in the comments! 💜
"I love making designs using Placeit's design templates!"
Aleah Neale 5/5
---
It's Time to Get Back to School with a
Great T-Shirt!
Make awesome back to school t-shirt designs using Placeit's design templates! You can also use these very same designs to make other merch like hoodies, mugs, backpacks, and so much more!
Make Back to School Designs
---