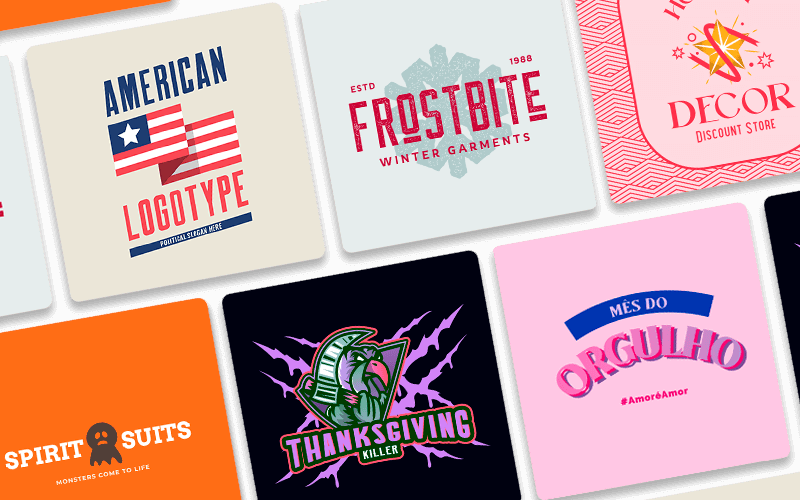 Seasonal branding is a great way to take advantage of every season, holiday, and special events throughout the year. Your brand gets the chance to transform itself into a more festive mood and use these seasons to change the game! Making a seasonal logo has tons of cool uses for your brand's strategy. Let's get into it!
What You'll Find:
Shoppers' interest in the upcoming seasons like Easter, Fall, Thanksgiving, Winter, Christmas, Pride month, summer vibes, and so much more, can give your brand the opportunity to turn up the excitement of the season!
What Is a Seasonal Logo?
A seasonal logo is a variation of your logo design in which with a few tweaks here and there you give it a special look for temporal time. 
This does not involve a rebrand, if you are rebranding you are doing it wrong! It is just your original logo with a little seasonal twist! Make your brand look fun and connect emotionally with your customers.
🔥 For this summertime, we recommend: 30 Gorgeous Summer Color Palettes to Inspire Your Next Design
Benefits of Creating a Seasonal Logo
Differentiation
 This is a great way to set your business apart from your competitors and get your brand noticed.
Show Off Your Brands Personality
You can make your brand seem more human and connect with your customers. Remember that seasonality is all about emotions.
Revamping your logo for the season makes your brand look more fun and flexible than other businesses. 
Seasonal Campaigns
Holidays are important retail events too! You can divide your whole retail calendar into seasonal peaks because we know this is when people are most likely to buy presents, take advantage of a sale, buy something for themselves, etc.  
Winter holidays alone make up for up to 30% of the annual sales. This is why holiday marketing and branding should definitely be considered in your business plan.
Set the Tone for the Season
You can divide your yearly brand looks starting with your seasonal logo. A seasonal logo always suggests that you will be offering specials of the season. It's a seasonal promise for your customers!
Ways to Customize Your Logo for a Seasonal Look
1. Incorporate Seasonal Color Schemes
You can add the classic season colors. You can use a tool like color hunt to choose a color combination according to the upcoming season, like the 4th of July, Pride, Halloween, Fall, Christmas and New Year's Eve. 
💡​ Remember to always keep the essence of your logo, do not change anything that is fundamental.
💡​ If you need a refresh on choosing the color of your logo please check out this logo color scheme guide first.
2. Use Seasonal Icons
Depending on what your business is about you can use seasonal icons that relate to both your business and the season. Consider ways you can overlap your logo with some classic holiday shapes. 
Sometimes making your logo interact with other elements is better than altering it, so try this first. 
3. Use a Background or a Pattern
Themed backgrounds can decorate your logo work as a frame. If your logo is completely flat, using a seasonal pattern can give it texture for the season!
How to Customize Your Seasonal Variation Logo
If your logo is saved on Placeit's library, simply click on your account's name drop-down and choose "favorites".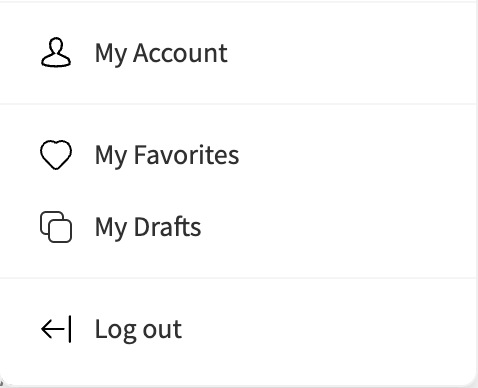 2. Once you are on your logo template, you will simply make a copy of it you can customize the duplicate and note the original file.

3. Now you are ready to customize your duplicate logo template to give it a seasonal mood! You can chase colors, add graphics, add a pattern, and more!
4. Download your file once it is ready to share away!
Using this tool you can design all kinds of seasonal logos: autumn logos, fall, logos, Christmas logos, and well anything really. Keep in mind all the things to make a great logo and avoid common mistakes: 
It represents well your brand and makes you stand out from the crowd. This means you've chosen a unique and distinctive design.

It is also memorable and recognizable by your target audience!

It works in any size, whether it's a tiny profile image on social media or a big print logo on a street banner. Simply ask yourself how easy it is to read what your logo is at first sight.

And at last, it is a timeless logo. Remembered along the way you will be able to make minor redesigns to your logo but overall its essence should be relevant. This is why we don't recommend you make a logo basing your creative decision too much on current trends.
Tips for Your Seasonal Branding
There are a few things to keep in mind when designing a seasonal branding plan.
1. Have Fun with It
Aim to create a seasonal logo that is fun and inviting into holiday spirits. You can showcase it on websites, gift cards, social media banners, product packaging, store signs, and more. 
2. Plan Early
Just like when planning a sale, your seasonal branding should be prepared with time.  Keep your holiday calendar on hand. Anticipating the seasonal spirits is important so you can catch your customers at a perfect buying time. 
Remember customers make most buying decisions after a few moments of interest when seeing your products and most probably not at first glance. Returning buyers as just as important to consider as first-timers. 
3. Keep It Minimal
Resist the urge to sprinkle items all-around your branding and keep it simple. Just a touch of the season and it will make your logo look amazing and yet recognizable. If needed, go now and check the 12 design graphic principles to have a clearer idea! 
Popular Seasonal Logos from Big Brands
Top companies usually apply seasonal logo variation because their brands are so well established there is no way you would confuse them! This is why we advise if your brand is still a work in progress that your use very subtitles changes on your logo.
Complete the look! Add seasonal assets to your email campaigns as well. Share your new logo on social media and give it a holiday look too! Also, we highly recommend checking out this blog post in which we talk about all types of logos. Plus, you will find a quick, fun quiz to discover what's your logo style! 
FAQ
Last Words
Get your brand ahead of the season by planning beforehand all your seasonal marketing including a seasonal logo design! No matter what is your business choosing to display a seasonal logo is always a great surprise for your customers and an announcement that you will have seasonal surprises for them like special sales, limited products, and much more. Keep these tips in mind when creating your seasonal logo so that you get into the spirit without completely changing your brand (rookie mistake).
Have any comments? Let us know on a line below!
---
---