Create Your Own Jersey With Placeit's Jersey Maker
When deciding on how to customize jersey and uniform designs, one must take into account all the little details and features that make a jersey stand out. Each sport has a different set of options you'll need to consider when making your own jerseys. Through this interactive graphic you'll be able to learn what each element of the uniform should go over.
Just select your sport to find information on all the customization options there are for the uniform design.
Click on the Options Below to Reveal More Information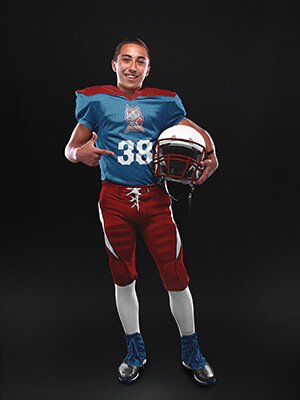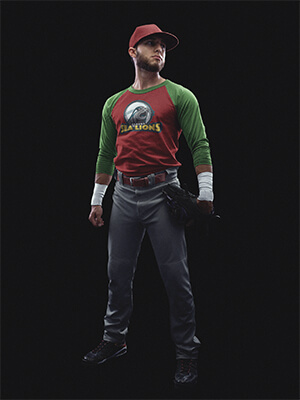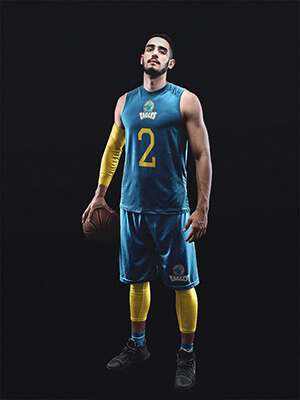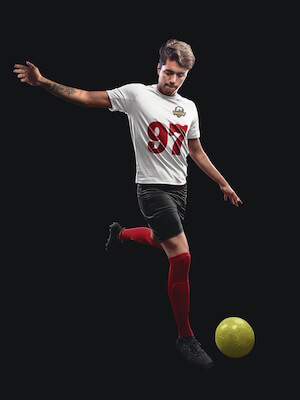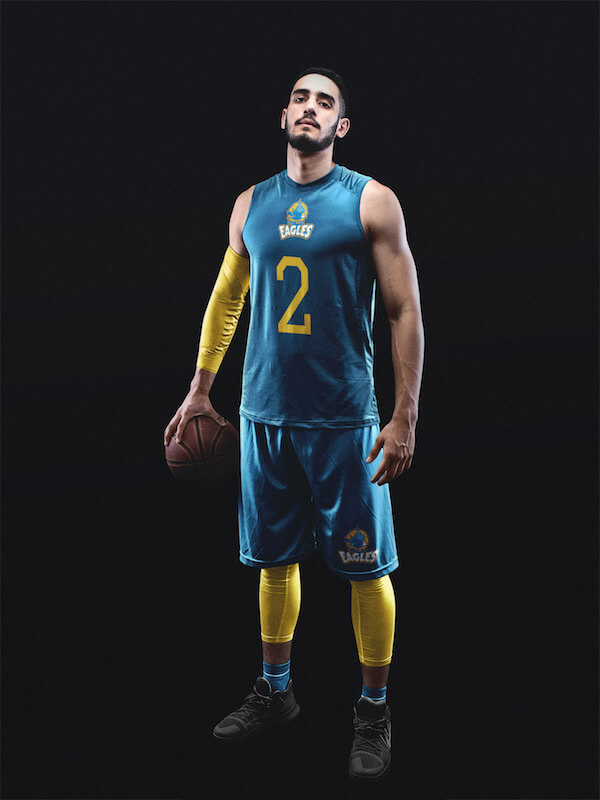 Shorts
Name & Number
Jersey
Sleeves
Side Inserts
Logo
Accessories
Shoes & Socks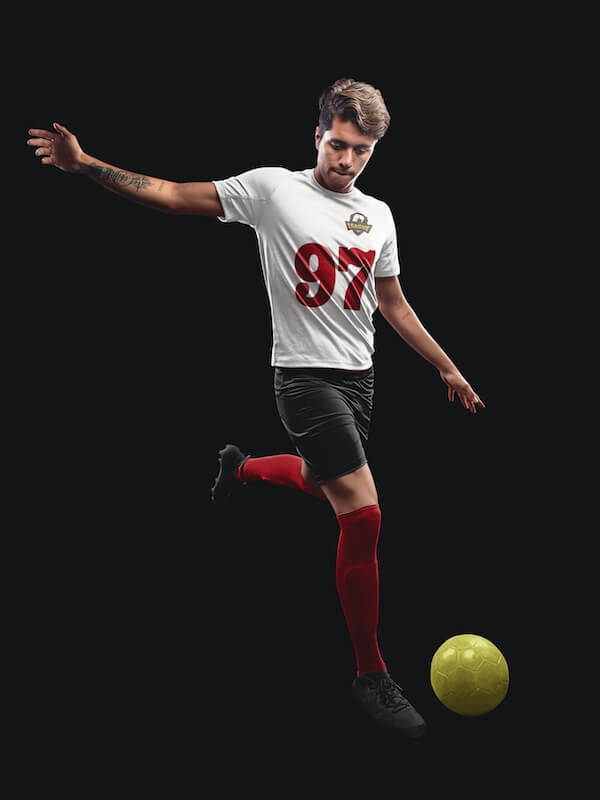 Shorts
Name & Number
Jersey
Sponsors
Logo
Footwear
Socks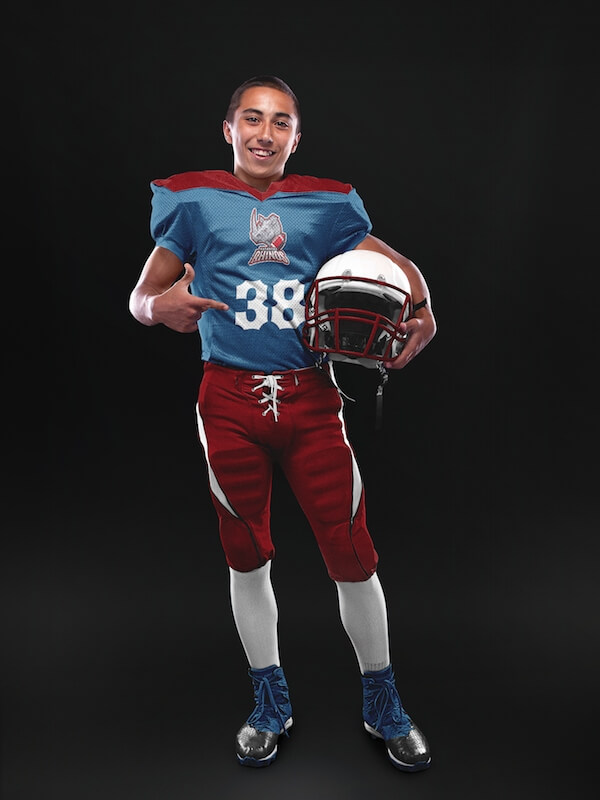 Shorts
Name & Number
Jersey
Sleeves
Logo
Helmet
Footwear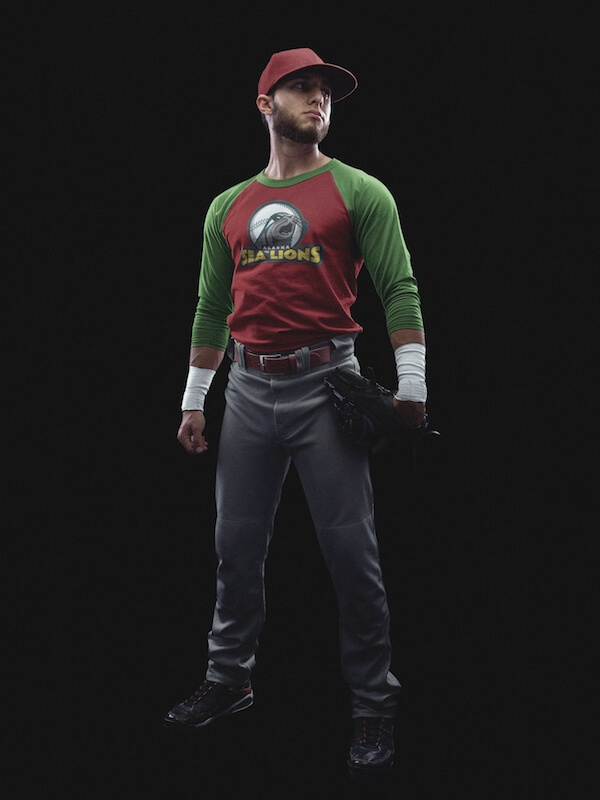 Pants
Name & Number
Jersey
Collar
Logo
Cap
Footwear
Customize Basketball Uniform Shorts


Shorts are made of the same fabric as the custom jersey. They usually take the same color, but can also be found in contrasting color depending on the team style. If there are side inserts in the jersey, these normally continue into the shorts. Sometimes only the shorts have side inserts. Waist is elastic and the jersey is tucked in. The shorts length may vary but it's usually no longer than an inch under the knees.
Can I Place my Team Logo in the Shorts?
Yes, the team logo can also be featured in the shorts, in the lower left cuff, or in the side insert if it's wide enough.
Customize Jersey Names and Numbers


Text and numbers can be found in a variety of layouts and font styles. They always come in contrasting colors for readability, and can be either printed directly onto the jersey; printed, cut and sewn; embroidered or sewn layered (tackle twill).
To see different fonts and color combinations for text and numbers, check our custom basketball jersey templates.
Customize Basketball Jersey Options



Modern basketball jerseys are usually made of polyester, frequently with cotton, nylon or spandex mixtures, woven in a mesh to provide transpiration and help with body temperature control by evaporating sweat or providing insulation against environmental changes. The mesh structure makes the fabric flexible to allow for wide movements.
The material selection depends mostly on budget. In general, the lighter the material, and the more durable (stretching, mesh pattern), the better, along with transpiration/heat transfer considerations.
You can try various color combinations in one of our custom basketball jersey templates.
Customize Basketball Jersey Sleeves



Through most of basketball history, jersey designs have been either tank style or sleeveless to allow for wide arm movement and heat dissipation. Advancements in fabric materials allowed for flexible cap-sleeved jerseys, which are nowadays found through new uniform designs. More recently, some teams started to adopt short sleeved jerseys, which make the sleeved undershirt redundant or invisible (and are also easier to market).
It's usual for sleeves to include trims of various kinds (simple, double, multi-color), and more creative designs can be found on some uniform sleeves above the neckline.
Can I Place my Team Logo in the Sleeves?
Well, since basketball jerseys were sleeveless until very recently, there are few rules about this. If you're using short sleeves in your jerseys, check with your league regulators.
Customize Basketball Jersey Side Inserts


Not all basketball jerseys have side inserts, and these are usually made of the same contrasting colors as neck and sleeve trims. Side inserts allow for a wide variety of patterns, from simple lines to complex figures and patterns. These side inserts are usually continued in the shorts, and some times in the sleeves.
Trim colors are used, and sometimes the side insert is lined with a colored pipe to separate it from the jersey front and back. Digital printing has allowed very wild patterns for some side inserts.
Customize Your Basketball Team Logo



Team logo is not always shown on jersey, but when it appears it's usually in the front chest, either on left side over the heart, centered over the numbers/letters or right behind the numbers in wide fashion. It can also be found sometimes in the shorts near the left cuff, or even in accessories like headbands or wristbands. Wider logos are usually printed straight on the jersey, but smaller ones can be found printed, sewn or embroidered.
The most common logos feature animals or human characters, and sometimes more abstract or particular figures can be found. Logos featuring basketball equipment (ball, basket, etc) are also commonplace.
You can try any variation of figures and font styles and colors with our Sports Logo Maker.
Customize Basketball Uniform Accessories



Accessories are not compulsory but started getting popular in the seventies, with headbands coming first, then wristbands and then other pieces like shooting sleeves and knee pads. Their main purpose is to wipe off sweat, but sometimes they're just worn for style showoff and further customize jersey designs.
While these can come in any color, it's common for them to share the jersey color, or come in white/black/grey, to avoid confusion with other team uniforms. Sometimes accessories can feature patterns too.
Can I Put my Logo Here?
Yes, it's very common on the headbands.
Basketball Shoe and Socks Customization



Basketball socks and shoes have no official guidelines. Players are usually allowed to wear whatever suits their needs, as long as the coach approves. While basketball shoes are highly recommended, some players prefer runner or workout shoes. A good pair of shoes should be durable, provide ankle support and cushioning, be made of breathable materials and, of course, have a nice aesthetic style.
Any socks are allowed as long as the coach approves.
Can I Place my Logo in the Socks?
Team logo rarely shows on socks, but league logo can, on the sides.
Customize Soccer Short Pants



Soccer shorts are made of the same materials as jerseys. These usually include side inserts in the form of lines, but can also be flat or with more complex patterns when these are shared with jerseys.
Soccer short color is always flat and usually contrasting with Jersey color, following the rule of no more than four colors for the kit. The player number must be featured in one of the cuffs, and sometimes sponsor or uniform designer logo can be seen.
Can I Place my Team Logo in the Shorts?
Not common, but it can, usually on the side. Sponsor or uniform designer logos are a more a common sight.
Customize Soccer Jersey Names and Numbers



The only compulsory piece of text is the player number in the back of the jersey. Custom soccer jerseys can also have the player name in the back, on top of the number, and the number in the front for easy identification, while usually smaller than the back one. It's also possible for the short lower right cuff to feature the player number.
Numbers and text are usually printed or sewed, and the only rule is that these contrast with the main jersey color and are easily distinguishable.
Try different fonts and color combinations in one of our customizable soccer jersey templates.
Customize Soccer Jersey Options



Soccer Jerseys, much like other sports jerseys, are made of polyester mixtures that allow for transpiration and provide temperature control. They're the main part of football kits and the most varied and customized.
Commonly soccer jerseys are flat or stripped, but there are other traditional designs based on squares, horizontal or diagonal stripes and, with digital printing, more complex patterns. Each part of the football kit can have a maximum of four colors, including the numbers and letters, and one of the colors has to be predominant.
Play around with colors and setting with our customizable soccer jersey templates.
Customize Soccer Sponsor Logos



Sponsor's logo can usually be found at the front of the jersey, sometimes instead of the number, and/or at right side chest, opposite to team logo. It can also be featured in the lower right cuff in the shorts, the sleeves or even the socks.
Different leagues have different rules for sponsor logos, and have their own logos that sometimes are compulsory, and appear on jersey sleeves or other places where a sponsor logo could be.
Customize Your Soccer Team Logo



The logo always features on the chest, over the heart, normally embroided but also sewed or even printed. It can also be placed on shorts, near the bottom left cuff. They can also show in socks.
Soccer logos can be of any color without respecting the uniform scheme, and can include the team name. Older soccer logos usually consist of a shield, in the fashion of noble houses, with colors similar to the uniform scheme. Newer and custom soccer logos can be anything, and usually feature shields, balls, and other references to the sport.
Want to create a logo for your team? Try thousands of variations with Placeit's Sports Logo Maker.
Soccer Footwear Customization



Since soccer shoes get a lot of bruising from contact with the ball, this is one of the most important parts of the uniform. The outsole features studs to improve traction on packed earth, that might be short and spread for playing on harder surfaces like concrete or indoors. The upper is the part that comes in contact with the ball and and can be made out of leather or synthetic materials.
There are plenty of aesthetic options for soccer shoes. While traditionally these have been brown or black, nowadays is common to see bright colored shoes that contrast with the rest of the uniform. Since they aren't part of the color scheme, it's common to see varied kinds of shoes and colors throughout a soccer team.
Soccer Socks Customization



Soccer socks are usually long to hide the shin guards. Short socks are rarely used, since they usually hold the shin guard in place, but some shin guards come with their own compression socks, straps or sleeve, and some players prefer shorter socks for mobility.
Socks take the kit colors, usually contrasting with the shorts. They can be flat or feature all kinds of stripes and patterns, and are a great place for sponsor logos.
And What About My Team Logo? Can It Appear in the Socks?
Indeed, some big teams do this, yours can too.
Customize Football Uniform Short Pants



Football pants are tight, fitted to the legs, and made of durable but elastic materials to allow for movement. The pants are tied with laces, and have pockets at the knees and thighs where protection pads are inserted.
Many times their colors contrast with the jerseys, but that's uncommon for visiting team white and clear uniforms. Side inserts in the form of a flat line are very common. Uniform manufacturer logo can be sometimes shown in the top of the pant, on the right side.
Can My Team Logo Be Featured in the Pants?
Yes, team logo can sometimes be found on the upper part of the pant, usually on the left side.
Customize Football Jersey Name and Numbers



Football jerseys must have the player number clearly displayed both in the front and back, in a contrasting color with the rest of the uniform, or with a wide contrasting border.
It's very common for the numbers to also be featured over the shoulder or the sleeves. The player name can be shown in the back, and sometimes the city or team name is visible at the front, over the player number.
Numbers and text can be printed or sewn, and layered fabric with tackle twill is a very common sight.
You can try different name and number styles with our custom football jersey templates.
Customize Football Jersey Options



Made out of durable polyester knit mesh, modern football jerseys are designed in vivid colors, and sparsely decorated aside from names and numbers. They're tucked in or fall no further than the waistline, and cover shoulder pads completely.
Football uniform design colors are typically flat, clear or white colors for visiting teams and darker or more saturated colors for home teams. These can be changed with the consent of the referee. Side inserts can be sometimes added.
You can customize jersey and uniform designs with different colors using our football jersey templates.
Customize Football Jersey Sleeves



Football jersey sleeves can be customized with complex patterns or lines, feature the player number, team logo, or plain nothing. The base color is shared with the Jersey, and any design is allowed as long as the sleeves aren't cut or torn.
Can I Have My Logo on the Uniform Sleeves?
It can, but it's more common to see a team monogram on the sleeves. The logo of the uniform designer can be there too.
Customize Football Team Logo



Football team logos are printed on the helmet, and sometimes also printed or sewed on the chest over the heart, or even in the pants near the waistline.
Animals are the most common figure on professional football team logos, along with letter monograms, and some human characters and other graphics. Colors are dragged from the uniform (or the other way around), and logo customization is completely open. Most leagues allow sponsor logos in the same places team logos can be (except the helmet), but with limitations. Uniform manufacturer logos are widespread but in discrete forms.
If you want to see more figures, colors and fonts, try them in our Sports Logo Maker.
Customize Football Helmet



Football helmets are made of hard plastic on the outside, and padded on the inside with impact protective materials. They are fixed with a chinstrap, have a metallic frontal mask and sometimes a transparent visor.
Helmets must be uniform for the team, and share color scheme with the rest of the clothing. The mask is usually painted in contrasting color with the rest of the helmet.
Is the Helmet a Good Place for My Team Logo?
Yes, Almost all teams feature their logo on the helmet sides.
Football Footwear Customization



Football shoes have studs to improve traction on dirt and grass fields. There are no specific rules on what kind of shoes must be worn, but footwear style and colors should be uniform for the whole team, with white or black as base color, and no more than three uniform constitutional colors.
Depending on the league the rules on style might change, and recently custom football shoes are being allowed on some major leagues.
Can I put any logos on the socks?
No american football team socks feature logos or figures.
Customize Baseball Uniform Pants



Baseball pants are made for toughness, with double knitted polyester and polyester mixtures. Pants have been long and short through history. In the early days, after dropping the long pants for heating issues, short pants called knickers allowed for colored socks to show, the only differentiating feature for team uniforms back then. Improvements in materials allowed for long pants all the way to the shoes. Nowadays both styles can be found, knicker's end fitted right under the knee.
Pant color and features can be the same as the jersey, or it can contrast in one of the scheme colors. Sometimes pants feature a side pipeline similar to that of the buttoned collars. The belt is elastic and the jersey is tucked in.
Can I Place My Team Logo on the Uniform Pants?
Rarely, team monogram can be seen on the side of long pants.
Customize Baseball Jersey Name and Numbers



Player number must be displayed in the back of the jersey, and name can also be displayed on the back. Team name can be shown at the front, and a small number sometimes too.
Numbers are typically layered fabrics with tackle twill, up to three colors. Team and player name can be printed or sewn, and all text or number features share colors.
If you want to try different font styles and colors, check Placeit's baseball jersey maker.
Customize Baseball Jersey Options



Like most sports jerseys, baseball jerseys are made of double knitted polyester or polyester mixes. Traditionally they are flat colored, and can feature stripes or colored sleeves, usually in one contrasting color. More modern baseball jerseys can have complex designs, but more than three colors are rarely used. Undershirts are part of the uniform,share color scheme with the jersey and must be equal for all team players.
Home and away baseball uniforms may change depending on the league. It's usual for home team to wear white or clear colors.
You can customize your jersey using our baseball uniform builder.
Customize Baseball Jersey Collar



Baseball jerseys were classically button-down, but they evolved into two button jersey collars and, lately, crewneck or v-neck collars. Collars featuring buttons can be accompanied by piping along the sides, that can also be featured in the sleeves.
Baseball Cap Customization



Baseball caps were designed to provide protection from the sun. They're usually made of six sections with a button on the top, and a reinforced brim pointing forwards. Usually there is an elastic trip or velcro in the back to adjust for different wearers. Caps are typically made in one or two colors, with the brim and top button contrasting with the rest.
Where in the Cap Does My Logo Go?
Front side, almost always present.
Baseball Custom Team Logo



Baseball logo can be featured in the cap, the left side of the chest or the sleeves. Common baseball logos are monograms or feature a distinctive figure or baseball related items, along with the team name. It is usually prohibited to wear figures similar to the baseball, but logos can feature it as long as it's obscured or small enough not to be confused with the real one.
Colors vary a lot but typically they're grabbed from the rest of the uniform (or the other way around). Sponsor logos are rarely permitted, but manufacturer logos are allowed in discrete spots of the uniform.
You can use Placeit's Sports Logo Maker to see different color and figure possibilities.
Baseball Socks and Footwear Customization



Baseball shoes feature cleats to help grip the ground on the field. These can be metallic or plastic, depending on weather conditions and field surface. In general, metal are only recommended on dirt/grass fields.
Shoes can be uniform throughout the team but this is not always compulsory. In this case, the colors will be taken from the baseball uniform design.
Socks, when shown, are part of the uniform and take a contrasting color with the pants, many times similar to that of the undershirt. They're always long and can be white with a colored stripe/top to remind of old baseball sock styles.
---
You Can Also Customize Jersey Templates from Our Collection
We have hundreds of jersey mockups and videos available for you in Placeit's library. You can customize jerseys for football, baseball, basketball, soccer, and all kind of sports. Just take a peek at them: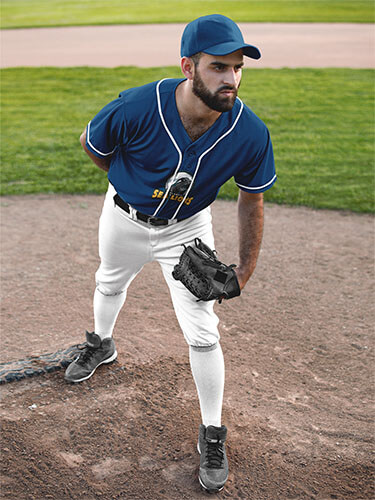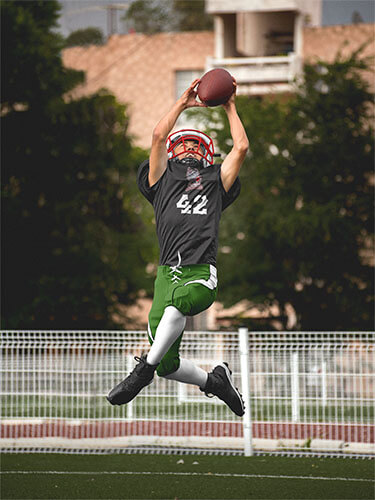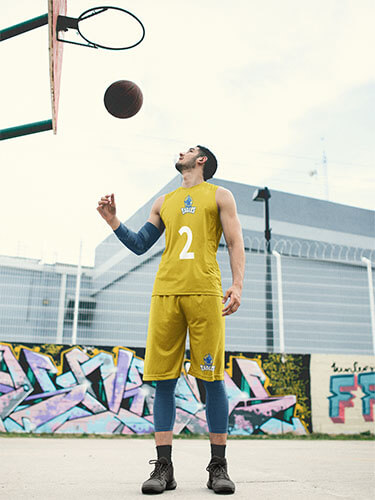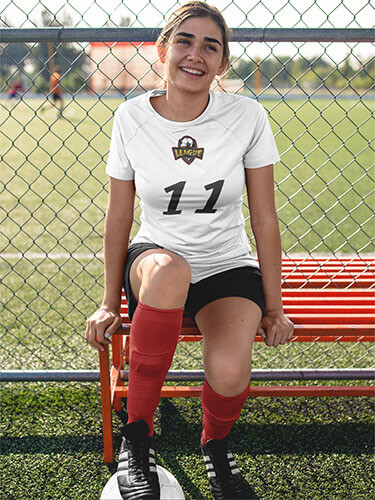 And that's not all, now you can create your team logo with Placeit's
Sports Logo Maker
, and see how it will look in one of our
custom uniform templates
. We have logos for all sports, and also featuring aggressive or cartoonish animals, human characters and letter badges: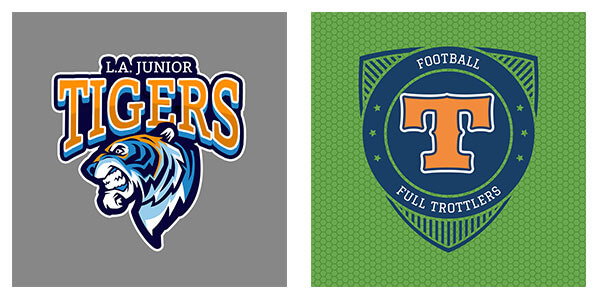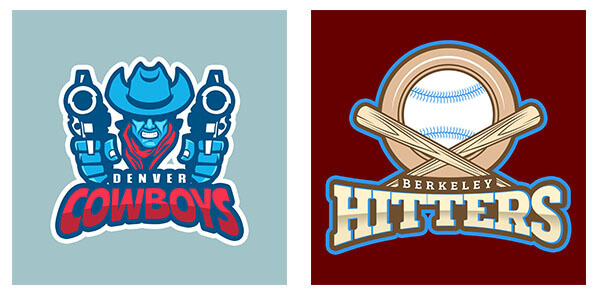 ---
Make Your Custom Jersey a Reality
Want to print your uniform design? Find the right custom jersey site for your needs to get it done for you! We have a directory of online suppliers (US based) with all the info that you need to order your team's custom jerseys online.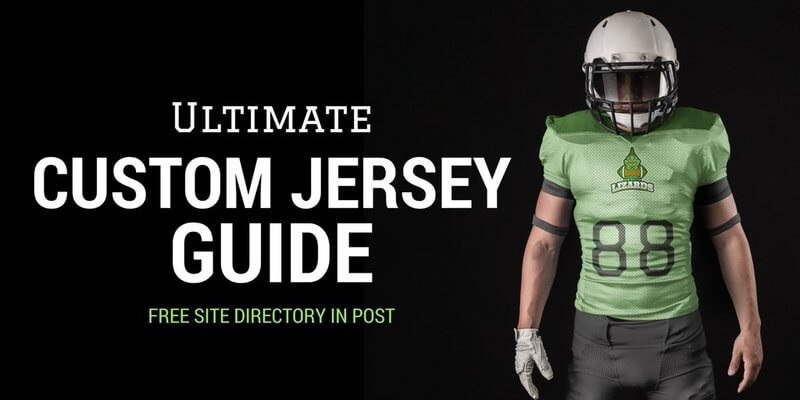 ---
Design your own sports uniforms and visualize them with Placeit's jersey templates!
You can also make all kinds of sports logos with Placeit, try our brand new biking logos,
our golf logos, or any kind of sport and build your brand in just a few clicks!
"Placeit allowed me to professionally display my team uniform!"
Avidan Messner
5/5
---
How Placeit Can Help You Customize Your Jersey Designs
In this post we showed you the different customization options for football, baseball, basketball and soccer uniforms. Placeit has jersey templates for these and many more sports, allowing you to visualize your own custom design and showcase it to other people. You won't need a designer to show anyone how does your uniform look.
Make a Jersey Mockup Now
---
Hundreds of Free High-Res Freebies Just for You!