Sell Your Halloween Merch this Season with Trendy Designs!
Spooky season is just around the corner, and everyone wants to get their groove on! Many people most likely get an awesome Halloween costume or even create one for themselves for upcoming parties, family reunions, or even Zoom sessions with their friends. But, for everyone looking for a more casual look, I mean the everyday Halloween outfit, then you should check out these stunning Halloween t-shirt designs to create amazing merch for this season!
🎃  Check out the best Halloween Fonts to use on your designs!
Disclaimer: the following Halloween design trends are listed as we found hundreds of searches for these kind of items!
What You'll Find in This Post
Halloween T-Shirt Designs
With hundreds of stunning Halloween and Day of the Dead designs, you can create all kinds of merch for this season! Now, t-shirts are the most popular product; however, you can use these Halloween templates to create tote bags, hoodies, phone cases, pop sockets, art prints, and basically anything your customers are eager to see on your store this season! Let's take a look at some of the most popular templates and best-selling t-shirt designs to create this Halloween: 
🔥​ Find the most popular design on your favorite POD shops!
1. Halloween Pumpkin Designs
Creating cool pumpkin designs is as easy as choosing a template you like, customizing it, and hitting the download button! Your designs are print-ready and will look amazing in your store. We always recommend you use proper mockups to show off your most recent creations. It just makes your store look way more professional, and let's be honest, they just look hotter this way. Make pumpkin designs easy with this online tool.
🔥​ Halloween Color Palettes to Add Spookiness to Your Placeit Designs
2. Halloween Long-Sleeve Shirt
Long sleeves, hoodies, and pullovers are just great for a chilly Halloween night! Try making awesome designs for these products, too!
3. Skeleton T-Shirt
Skeleton t-shirts are a classic! Don't forget to add a few of these to your store! In fact, Men's skeleton shirts are quite a popular search this time of year (Google's search results show 1,300 monthly searches in the U.S. for these items).
4. Vintage Halloween Shirts
Talking about classics, let's get nostalgic and make a few vintage Halloween shirts, shall we? People love timeless terrors; let's make some stunning designs. 
5. Spooky Shirts
An actual terrifying t-shirt is always a hit, choose one spooky t-shirt template and make as much merch as you want.
6. Funny Halloween T-Shirts
Some people would rather go for the funny and innocent Halloween design, so make a few of these too! You should have designs for everyone.
7. Future Mommies are in It Too!
Halloween pregnancy shirt designs for pregnant mommies are quite a trend every year! They don't want to miss all the fun as well. You can create pregnancy skeleton shirts,  pumpkin maternity shirts, and so on.
8. Family Halloween Shirts
Matching a Halloween t-shirt for the whole family is always a fun way to celebrate this holiday. Join your family in an amazing evening with the most terrific look!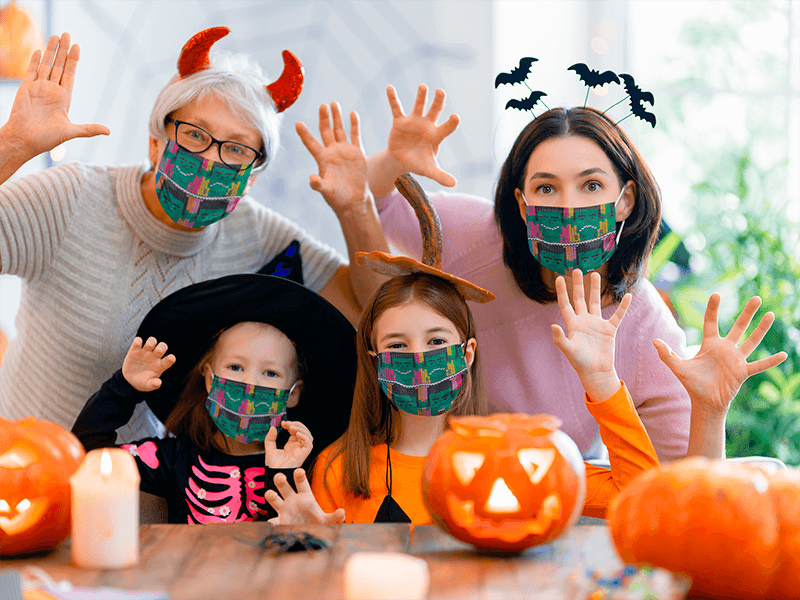 9. Couples' Halloween Shirts
Who says Halloween is not a romantic holiday too! Share an amazing Halloween t-shirt with your partner this night where everything can happen!
Use Terrific Social Media Posts to Promote!
Ok, so by now, you have gathered your favorite templates, and your Halloween merch is almost ready! Don't forget to promote with equally astonishing templates for your social media posts and ads! Get your newest creations to your potential buyers with stunning banner designs.
Last Words
Halloween is a great opportunity to market your merch and create spooky designs for the season. Get creative and use smart tools to let you create awesome artwork in just a few minutes. The possibilities are infinite with endless customizations. 
Find out what else you can sell besides t-shirts on our 6 Halloween templates you must use post! 
Enjoyed this post? You might also want to take a look at our 31 Christmas templates for POD sellers or our St. Patrick t-shirts for sellers' post.
---
---