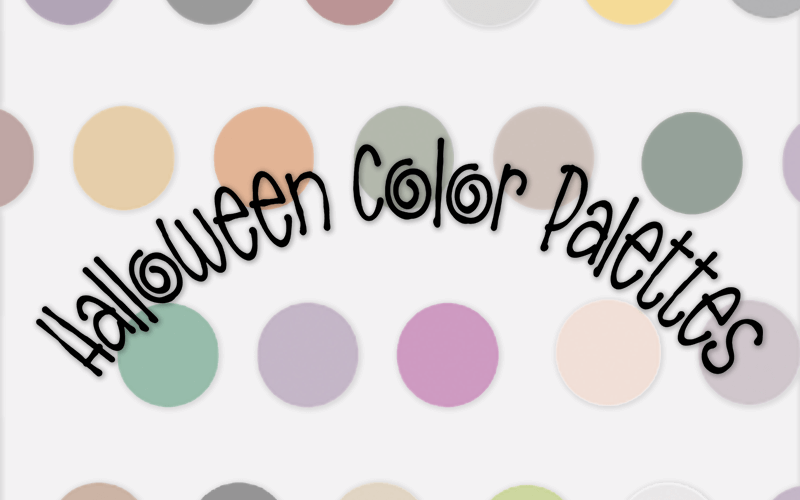 As the Autumn breeze sweeps the streets and leaves begin to fall with their vibrant hues, Halloween enthusiasts eagerly anticipate the arrival of their favorite holiday. Halloween, with its playful spookiness and creative expressions, provides an excellent opportunity for designers and content creators to experiment with unique Halloween color palettes. 
We will be sharing with you Halloween palette ideas that capture the essence of this bewitching holiday. Additionally, we'll explore how you can infuse your Placeit designs with a spooky ambiance, making your visuals stand out in the Halloween season.
The importante of the color you choose when making a design for your merch, your brand, or even your social media posts, matters quite a lot. This is why taking the time to choose the perfect color palette will make your brand goals way easier! Read more on our color psychology post. 
7 Halloween Color Schemes for You
1. Spice Pumpkin Color Palette
As the name suggests, this palette is synonymous with the warm and cozy vibes of pumpkin-spiced treats. The vibrant orange and brown hues reflect the pumpkin patches and fallen leaves of the season. Paired with gold and black accents, this palette brings out a comforting yet slightly haunting feel, ideal for designs that embrace autumnal traditions.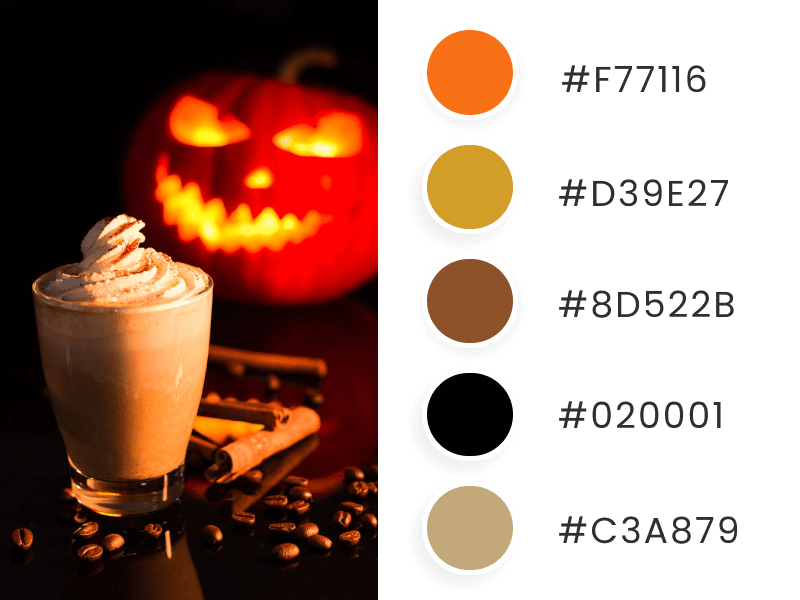 This zombie color palette captures the eerie and unsettling aesthetic associated with the undead. Each color in this palette contributes to the overall portrayal of decay, morbidity, and the supernatural. Let's take a closer look at each color.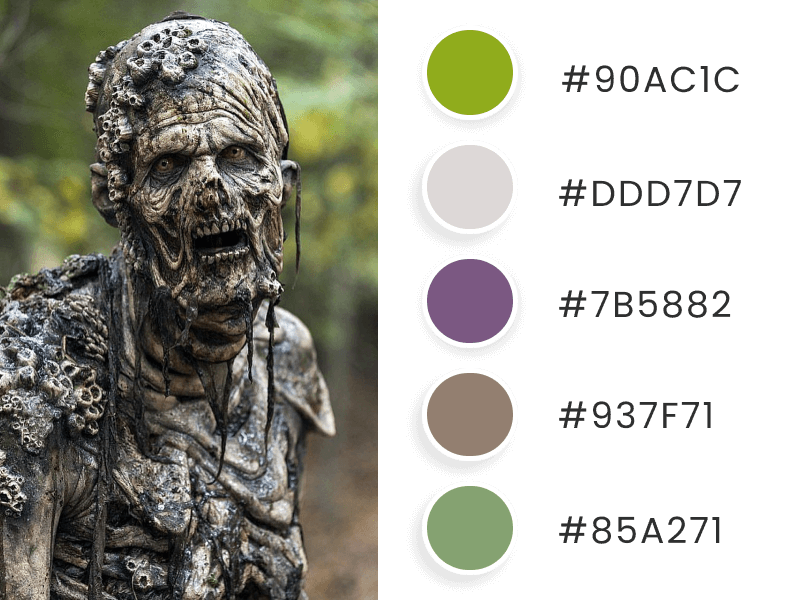 3. Beetlejuice Color Scheme
The Beetlejuice color palette draws inspiration from the iconic movie "Beetlejuice," directed by Tim Burton. This color scheme is characterized by a mix of monochrome stripes, bold black-and-white contrasts, and a selection of eerie yet captivating hues. It captures the whimsical, quirky, and slightly spooky aesthetic that is a hallmark of Tim Burton's style. Let's explore each color in this palette: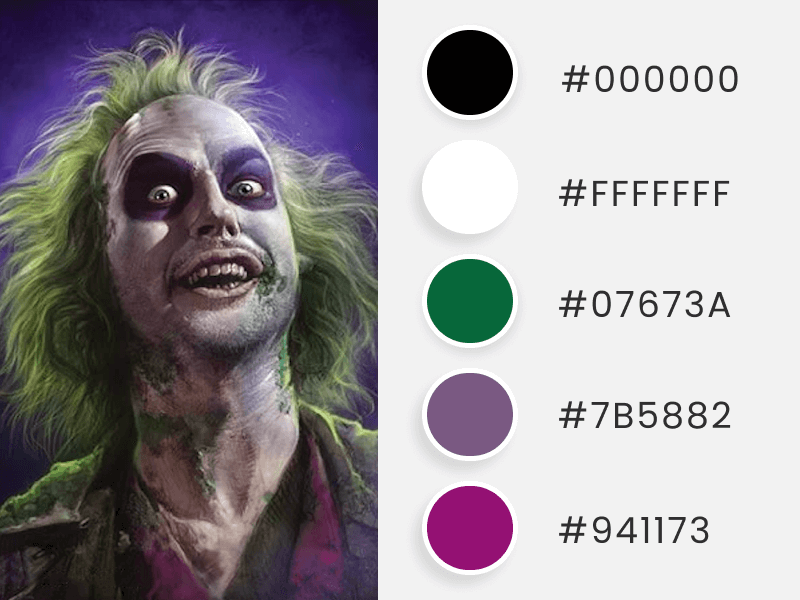 4. Autumn Halloween Aesthetic Color Palette
The Autumn Halloween Aesthetic Color Palette captures the warm and cozy atmosphere of fall while incorporating a touch of Halloween's spooky charm. This color scheme is reminiscent of the changing leaves, pumpkin patches, and rustic decor that define the autumn season. Let's explore each color in this palette: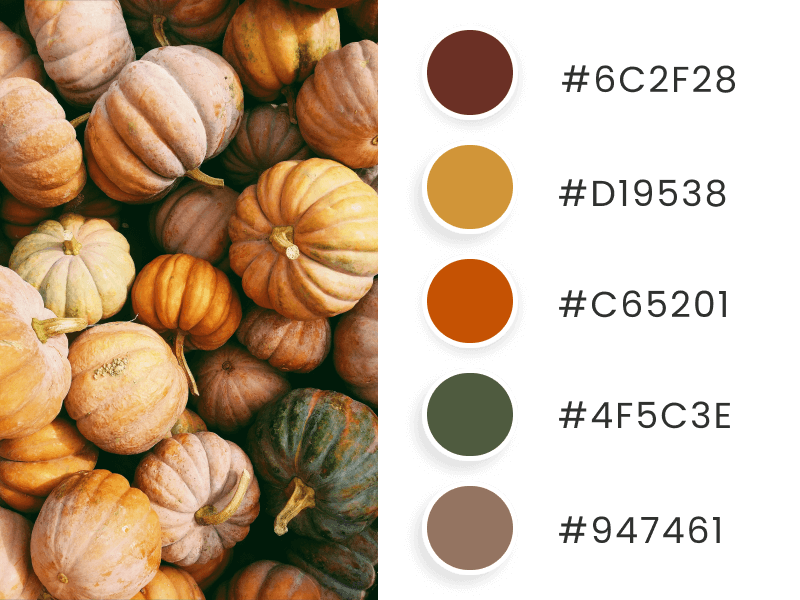 5. Pastel Halloween Color Palette
The Pastel Halloween Color Palette offers a unique and contemporary twist on the traditional Halloween color scheme. By incorporating soft and muted pastel shades, this palette creates a more subtle and whimsical atmosphere while maintaining the essence of Halloween. Let's explore each color in this palette: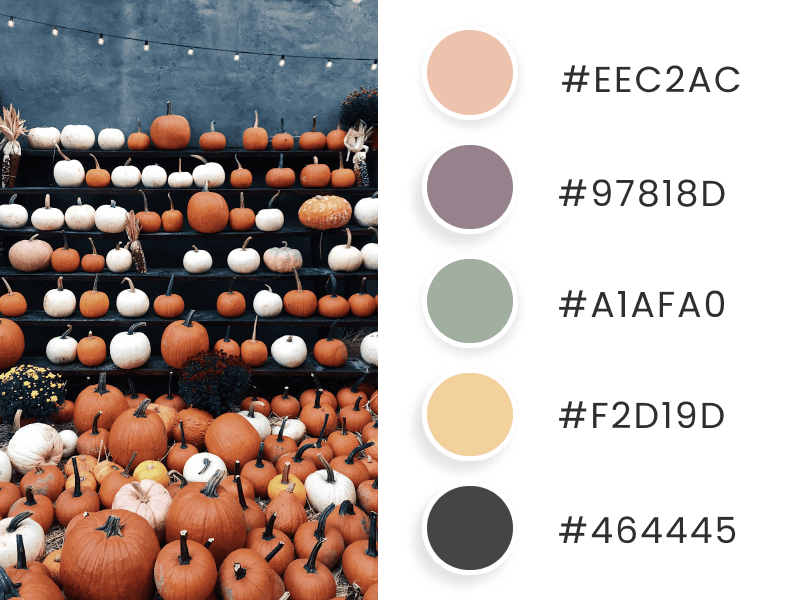 6. Enchanted Forest Palette
The Enchanted Forest Palette captures the magical and mysterious atmosphere of a mythical forest. This color scheme is inspired by the depths of nature, folklore, and the allure of the unknown. The deep greens evoke a sense of mystery, while the purples and grays add an air of enchantment. Black and amber accents give a touch of eerie warmth, making it perfect for designs that encompass a blend of mystery and magic.Let's delve into each color in this palette: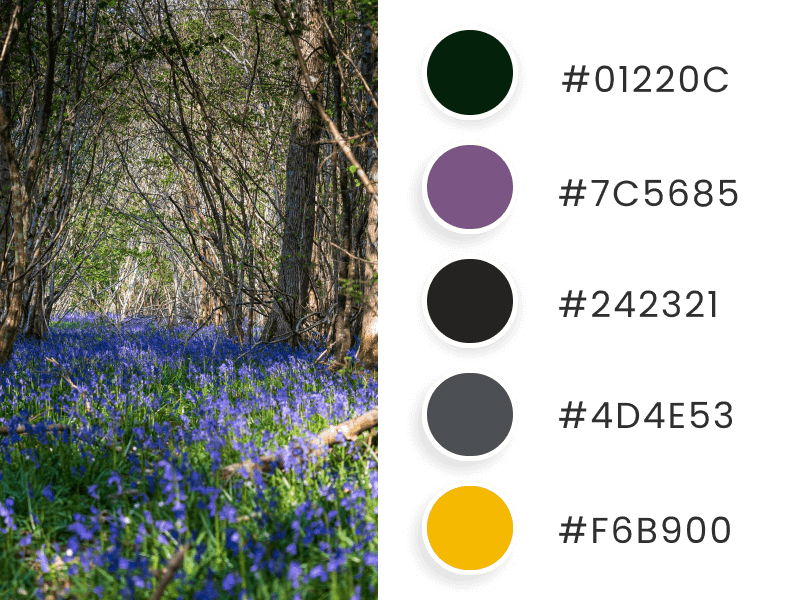 Embrace the darker side of Halloween with this elegant yet eerie palette. Deep plum and black form the foundation, while blood red and silver moonlight infuse a sense of drama. The royal gold accent adds a touch of opulence, making it an excellent choice for designs that seek to capture the essence of gothic mystery.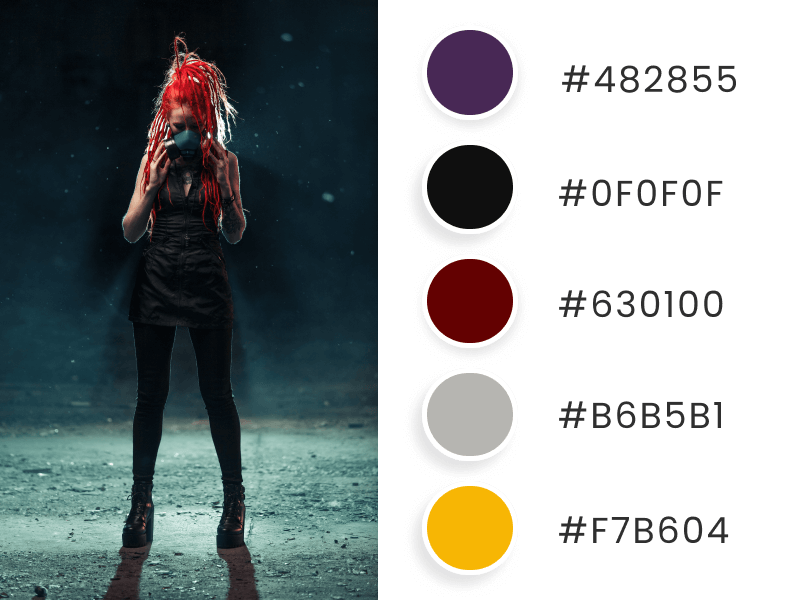 Feel free to use these spooky color palettes to create festive designs for Halloween!
🎃 How to Give Your Placeit Designs a Spooky Look
Transform the backdrop of your designs to set the Halloween mood. Use dark, textured backgrounds that align with the chosen scary color palette. Whether it's a haunted mansion, a misty graveyard, or a moonlit forest, the background can significantly influence the overall ambiance of your design.
Embrace Haunting Typography
Choose fonts that exude an eerie charm. Gothic fonts, handwritten scripts with a sinister twist, or bold lettering with a vintage feel can all add a spooky dimension to your text. Adjust the font color to complement your chosen horror color palette, enhancing the overall cohesiveness of the design.
Use Iconic Halloween Elements
Incorporate classic Halloween symbols like bats, pumpkins, witches' hats, and skulls into your designs. These elements instantly evoke the holiday spirit and add a touch of familiarity to your visuals. By stylizing these icons to match your color palette, you'll create a seamless integration.
Add Subtle Gradients & Textures
Apply subtle gradients or textures to your design elements. This technique adds depth and complexity to your visuals, making them more engaging. Consider using gradient overlays with your chosen palette to give your designs a unique and intriguing appearance.
Utilize the contrasting elements of your color palette to make certain design elements pop. For instance, use a bright accent color against a dark background to draw attention to specific areas. This contrast enhances the visual impact and guides the viewer's focus.
Incorporate Ambient Lighting
Simulate the play of light and shadows in your designs to create a haunting atmosphere. Position light sources strategically to cast mysterious shadows, adding depth and intrigue to your visuals. This technique works exceptionally well in designs that feature haunted scenes or eerie landscapes.
How to Add These Halloween Color Palettes Into Your Designs
You will find a color in HEX format in each design, where you can input a specific color shade using de codes we shared previously.
Learn more about color schemes on this guide!
Go to

Placeit

Select the category you want to edit. 

Find a template you like and click on it.

Choose if you want to customize the text, the background, or any element with a HEX code.

Whatever the case, click on the colored box and choose "Custom."

There, select the current HEX code and change it to one of your choices; you just need to paste it. 
And that's it! Just like that, you can incorporate any of these HEX codes from our Halloween color palettes into your designs using Placeit by Envato. 
As the Halloween season approaches, the creative possibilities for designers to embrace spooky aesthetics are limitless. With carefully curated Halloween color palettes and thoughtful design strategies, you can infuse your creations with the seasonal spirit!
Whether you're conjuring the mystical atmosphere of an enchanted forest or channeling the mystique of gothic elegance, the key lies in harmonizing colors, incorporating iconic elements, and playing with design techniques that capture the essence of this holiday. So, go ahead and embark on your design journey to give your creations a spooky look that's sure to leave a lasting impression.
❄️​ Get more inspiration with our Winter Color Palette! 🌞​Or check out the Summer Color Palette for a more hot season!
---
---