Celebrate with Awesome St. Patrick's Day T-Shirts!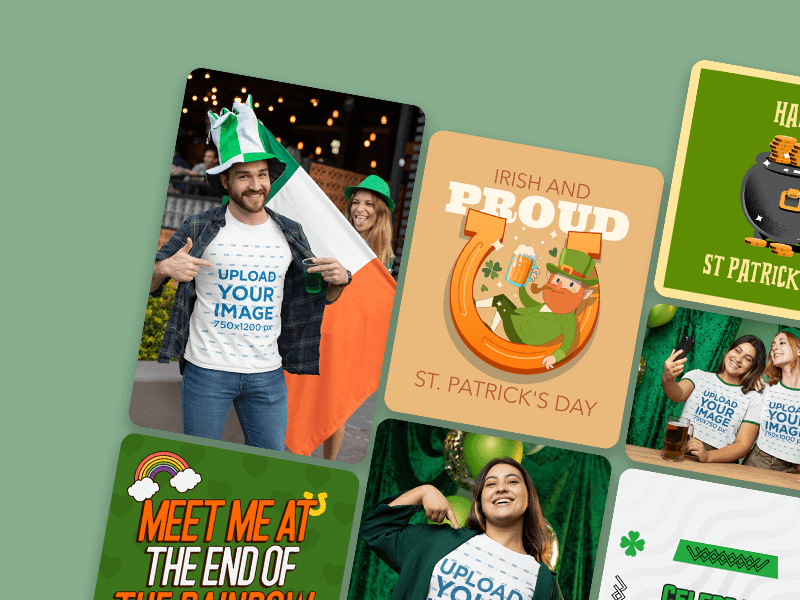 St. Patrick's Day is just around the corner, which means now's the time to create and promote St. Patrick's Day t-shirts!
For all of you in this business, oh, do we have some great t-shirt design templates, social media templates, and t-shirt mockups you can use to design and promote on-theme apparel.
Enjoy creating St. Paddy's Day designs for your shop and have them ready to sell in no time! With Placeit, you don't need any design skills or special software, since you can make all sorts of designs straight from your browser and download them right away. To get your creativity flowing, check out some great designs and templates you can use for this holiday!
Find What You Need 🍀
Everything You Need for Your St. Patrick's Day T-Shirts
So it's that time of the year again when everything turns green and you have the perfect excuse to share some laughs and drinks with friends. What's even better than that is that if you're in the t-shirt business, you can create the perfect apparel for this highly anticipated holiday. Design amazing St. Patrick's day t-shirts and much more with Placeit's huge library of templates!
Check out our collection of t-shirt design templates made especially for this day. You will find designs featuring fun Leprechauns, pots of gold, horseshoes, shamrocks, green beer, and other popular St. Patrick's Day symbols.
You can customize any t-shirt design you like with your own text, and colors, and even change the graphics until you get the design you're after. Don't be afraid to get creative, because, with an unlimited subscription from Placeit by Envato, you can make as many designs as you want for one low price.
It's really that easy to create holiday t-shirts your customers will love! Check out some popular t-shirt designs:
Share St. Patrick's Day Designs on Social
Making St. Patrick's day posts and videos to share your best deals this holiday is just a few clicks away.
Browse Placeit's library of St. Patrick's Day social media templates and narrow down your search by the type of template you want. Choose from templates for Instagram Stories, Instagram posts, Pinterest Pin, Facebook posts, and more. You can also choose between image posts and video posts to get exactly what you want.
When you find what you need, customize the template by adding in your own text, choosing colors, and picking the graphics. If you're creating a video, you can also pick music from our library of royalty-free tracks!
Get as creative as you want, and, when your design is ready, hit the download button to get it. Just like that, you have some fresh social media content that is ready to share!
Check out some popular St. Patrick's Day social media templates to get inspired:
Promote Your St. Patrick's Day T-Shirts with Mockups

Mockups are the easiest way to promote your designs because you don't have to have the actual garment available to get great images of it. In fact, you don't have to worry about finding the perfect model, photographer, or even spots around the city to take the perfect promo photos. We've already done all that work for you!
Head over to our collection of St. Patrick's Day mockups to find the perfect apparel mockups for your designs. You can put your designs on t-shirts, tank tops, hats, and much more.
Check out these mockups to inspire your creativity:
Use Your St. Patrick's Day Designs in Tons of Creative Ways
With these St. Patrick's Day templates, you can make more than just t-shirts. Have you thought of expanding your product line to include mugs, tote bags, or phone cases? Go crazy! Create your own St. Patrick's Day universe around your favorite designs and place them on different mockups.
Some of your buyers might love to wear your designs on a t-shirt, but others may prefer to have a mug with the same design. So, why not give them multiple options?
You can even turn your favorite mockups into promotional images for your shop or your social media profiles. Get creative for a more successful St. Patrick's Day celebration.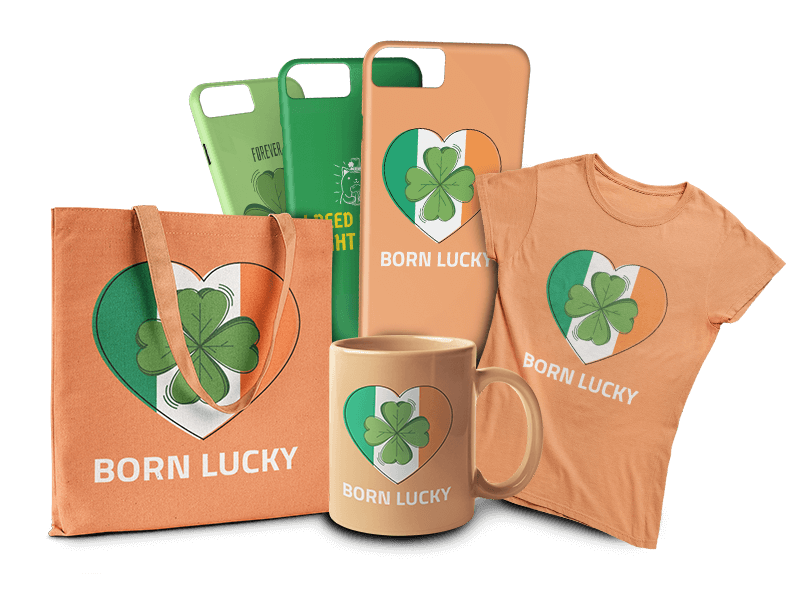 Free St.Patricks Day Designs!
If some of these templates caught your eye, but you're not sure if they're right for you, we've got some great news! Placeit has a collection of free designs that includes t-shirt designs, mockups, social media templates, and even logos that you can try out completely free of charge! Head on over to try them out and download your favorite ones.
Just keep in mind that these templates change every month. So, if you see something you like, get it before it's gone!
Final Words
So now that you have your St. Patrick's day t-shirts and merch ready for the big day, maybe you should start planning for upcoming holidays like Halloween, Christmas, or Valentine's.
We have great design templates and mockups for each of those holidays that are ready to use all year long. Get a leg up on the competition and start creating eye-catching designs that are impossible to miss.
Enjoyed this post? Check out similar posts, like this one on our top 5 holiday products to sell during the season or this one featuring 12+ awesome easter t-shirt designs! Also, remember that you can find holiday designs for any holiday on Placeit by Envato.
FAQ – Sell St. Patrick's Day T-Shirts!
---
Create Amazing Products for Special Holidays
With Placeit, you'll be able to make incredible designs and place them on our mockups. But it doesn't stop there! You can also create great images for your business strategy since we have logos and videos templates. Get everything you need with an unlimited subscription!
Subscribe Now!
---