Create Eye-Catching Videos with a Slideshow Video Maker
Nowadays all animated messages are a great way to communicate a specific message. In a world that moves so fast, people try to spend less time trying to guess what publicity is trying to say. So by creating beautiful animations and using fewer words, going directly to the point will help your business get noticed. It's all about high-quality animations, interesting interactions between images or videos, and an awesome music track. You'll have a winner video using a dynamic slideshow video maker.

It's All About the Perfect Picture and Video for Your Slideshow
The most practical way to get your message out there is to be direct and short. If you make long messages, people could get bored or not have enough time to read it before the slide changes. The trick here is to support the text by using images that could wrap up the final message.
You can find images on stock websites. Make sure to pick those your audience will feel empathy with, and if you can add good pictures from your library, it will be fantastic. Why? Because this is the proof your audience may need to feel convinced that you are speaking the truth.
But on the other hand, if you have a low-quality picture or video, avoid using it. Even if it has accurate information, bad quality will always subtract professionalism from your hard work.

How to Make a Succesful Slideshow Video
Don't worry about hiring a professional studio to make a successful slideshow video. Nowadays there are plenty of online tools to create them. The most important thing is using effective storytelling that will make your audience feel what you're sharing with them to the point of inspiration with great potential for taking action after seeing it.
Also, there is another crucial element you must take into consideration: the perfect time for your slideshow video. Here are some recommendations:
For advertisement purposes, 2 minutes or less is fine.
For presentations, 5 minutes is enough time for all the necessary information.
For project pitches like elevator pitches,  20 to 30 seconds or max 3 minutes.
If you're wondering how to improve your storytelling skills, the best advice out there for an effective presentation is from Garr Reynolds. Learn how to do this with this cheat sheet.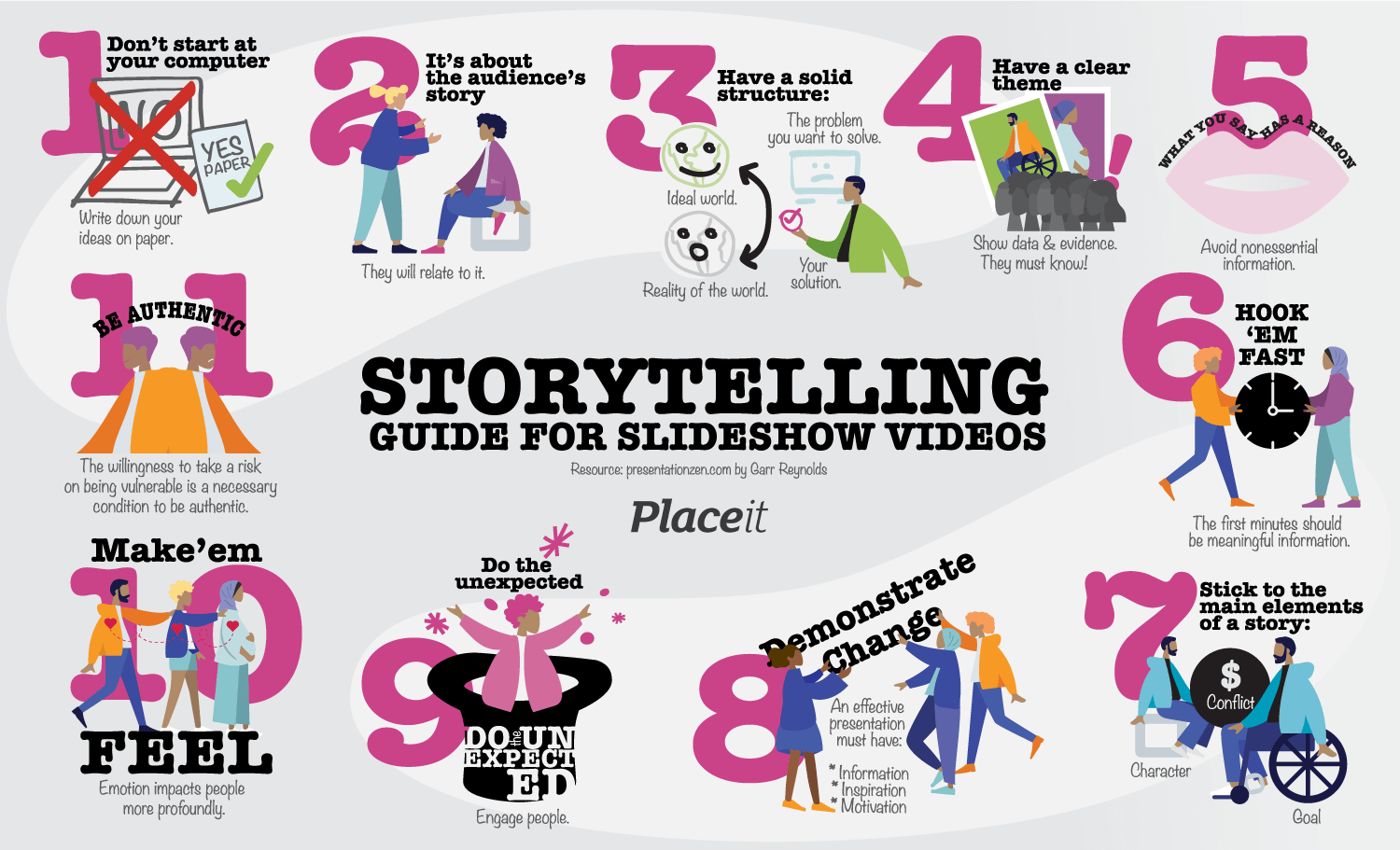 Marvelous Slideshows for Any Business
A well-made slideshow video is a perfect tool for any industry. It can be handy for different types of businesses according to their goals. For example, you can make different types, from real estate videos for marketing, product videos for eCommerce, T-shirt videos to an iPhone slideshow, and many other products. You can even create pitch presentations. Slideshows Videos can have different approaches that any business can create during the year. For example:
Simple messages with text animation
For outlet season, offers & sales
Product or service overviews
Content teaser when launching something new
Step by step tutorial
Client testimonials
Where Can I Use My Slideshow Video?
There are many uses for your slideshow videos, not only talks and presentations. Once you have your file, there are many opportunities for you to apply it. Upload it as a welcome video to your website's homepage, add it to your monthly newsletter, or even uploading it your social media networks is a great idea. Facebook, Instagram, and even Twitter can be interesting channels to inform and reach other customers. So make sure you make it exciting and most of all fill it with useful information.
There are so many boring slideshows out there, and sometimes people forget that this communication tool has three things in common with a talk: you need to inspire, inform and motivate your audience to take action. So making them outstanding is a must for a successful overcome.
Make Slideshow Videos with Placeit's Subscription
Placeit is an incredible online design tool you can use to create professional slideshow videos and amazing images for your business. Your brand will look amazing and you will create professional assets in minutes ready for desktop and mobile. Access to this incredible tool for a monthly fee and get access to all the design templates, videos, and mockups. If you loved our cheat sheet, find more infographics here.
"It took me a few minutes to upload my information and select the best videos with Placeit's Slideshow Video Maker."
Sandra Johnson 5/5
---
Make Amazing Slideshow Videos with Placeit
Create eye-catching slideshow videos for any presentation or another important event related to your business. With Placeit's Slideshow Video Maker you can create amazing videos in minutes or refresh your brand with our logo maker, design templates and mockups.
Create your own Slideshow Video!
---