to Understand Your Merchandise Buyers
Market research strategies are crucial for any business, but creating them is often complicated and time-consuming. This is why we've unfolded 10 creative strategies you can try on your own business! 
What You'll Find:
Researching what product your customers are looking to get from you is an essential marketing strategy. The way customers decide what questions to ask Google is similar to how they decide what to buy next. Buyers have specific requirements and ways of engaging, so make sure you speak their language with these ten creative market research strategies. 
1. Who is Buying Your Products (Every Stage of the Funnel)
Before you can expand your audience or introduce new products, it's critical to know as much as possible about your merchandise buyers, their preferences, and buying behaviors. Most eCommerce tools and platforms offer a fair amount of insights into this type of demographic data.
In most cases, creating buyer personas will really help you have a clear idea of your buyers. This is a profile of your ideal customer type and the characteristics that make them a part of your target audience.
These personas act as a guide to understanding the person behind the transaction—their preferences, online buying behaviors, and purchase motivations.
Creating buyer personas is not a one-time task; they must be refined and tested over time as your business evolves. Even companies with a modest ad budget can develop split-testing programs to define further and build buyer personas. 
Conducting small test ads in specific zip codes, for instance, or customizing copywriting for a particular gender or age group can help you better understand which audience is most receptive to your message and most likely to make a future purchase. 
This type of analytical data is often included right inside your online store. 
When you monitor and measure the interest people show in your products, where are clicking on your page, and when they finally make the purchase, you can begin to replicate the experience to encourage even more conversions. 
2. Create a Landing Page That's Perfect for Your Customer
A stand-alone landing page is one of the best marketing tools available to gain insights into what direction your customers want you to take. 
Typically designed with a single call to action, landing pages force users to pick a lane—this or that, if you will.
For instance, a local gym might use a landing page with two buttons—find gym hours and take a class online. 
By measuring the number of clicks on each option, the data will reveal the percentage of website visitors interested in taking an in-person class versus an online class.
Not all landing pages are this binary, of course. 
That's why many eCommerce companies have multiple landing pages, each designed for a different audience or purpose. The resulting market research helps business owners make informed, data-driven decisions by having various pages and testing those pages for conversion rates. 
3. Test Different Designs
Just as your messaging evolves and requires refinement, your website design elements and landing pages need continuous measurement and improvement. 
However, with the ease of today's design software, marketers can design without experience. The ability to create a variety of eCommerce assets and landing pages in a variety of different styles is now easier than ever. 
🔥​ Figure out the meaning behind the colors you're using to evoke the emotions you're after before finalizing all the designs. 

https://www.youtube.com/watch?v=ughr_uB7oww
4. Look at Your Competition
Your competitors are limited only by your imagination. 
Non-traditional adversaries are popping up in the most unexpected places, and they may out-innovate you before you even realize it. In this new era, it's crucial to know who your competition is and what they offer. 
Before analyzing competitor behavior, you'll need to define who exactly your competitors are. Competitors may be businesses that sell the same or similar products as you, or they may be companies that your customers choose to support instead of you. 
To accurately assess your competition, you'll need to think beyond only those companies in your direct line of sight. 
Competitor's Behavior
Once you've zeroed in on your competition, gather information about how they do business so that you can identify gaps in the market and begin to address those gaps with your own merchandising. 
While you'll want to understand what products your competitors offer, competitive research extends far beyond the products themselves. Other areas to explore (ethically, of course) include:
Their brand values

Staffing and future expansion goals

Products offered in other markets

How and where does your competitor's market

Who they consider their target market to be

Which keywords their website ranks for
You can typically find this information in collateral materials, websites, online social listening, and talking to the community around the business' location.
Additionally, keyword research tools like Ahrefs or the free Google Chrome plugin, Keywords Everywhere, make it relatively easy to understand which search terms the companies are targeting and garner the best results.
5. Identify the Buying Habits of Your Customer
Once you have established buyer personas, continuing to enhance those personas with information on buying habits allows you to adapt your marketing strategies accordingly. 
Tools like Ahrefs can help you understand your competitors' online performance and provide insights into what adjustments you can make on your website. 
While every company should make decisions that are right for their audience and not necessarily attempt to replicate a competitor's strategy, it's helpful to consider what's working in other places. 
Categories like "best-sellers" and even sold-out categories help owners understand what volume of merchandise others are moving and how customers respond. By evaluating this type of data on other websites, you can extract valuable data on which to perform your own testing.
6. Find Out What Makes Them Click
Understanding why merchandise buyers click on an item or pass is critical for increasing conversions (actual purchases) and designing future digital marketing campaigns. 
While standard analytic reports measure how many clicks an item receives and, ultimately, which items convert, a heat map tool is more likely to give you more valuable data.
Review other websites of similar companies and take note of the specific design elements they use. Then, using the data available to you from SEO tools, make some educated assumptions about the correlation between their design choices and their sales.
Are there design features you can emulate in an authentic way that is true to your brand? Can you reorganize how your merchandise is displayed online to increase conversions? 
Finding out what makes customers click is challenging, but through research, testing, and consistency, it's a creative market research strategy with high returns. 
7. Measure Which Customers Are Most Likely to Purchase
Like most people never get to page two of the Google search results, some online customers never scroll more than a page or two of merchandise. 
This behavior means it's essential to display your merchandise strategically and be intentional about leading visitors to click through and convert, not just browse. 
The goal is to increase conversion rates (meaning the buyer completes the online purchase) and not simply increase website traffic. Yet, those conversions typically come after a customer has gone through a relatively predictable process:
A customer searches for a keyword associated with their desired purchase.

Your website appears in the search results and the potential customer clicks

(website traffic)

A portion of the website visitors scrolls through your online inventory and click on separate product choices

(click-through rate)

One of every ten website visitors makes a purchase (conversion)
It's tempting to set your sights on growing website traffic since, at each stage, the percentage of engagement declines. It's logical to assume that increasing your starting traffic numbers by 25% can also increase your conversion rate by the same percentage. However, that's not often the case. 
High-traffic product pages do not always convert. 
The difference is the buyer's intention. If you have specific pages that draw many visitors but no buyers, that audience segment is likely at the top of your buying funnel—interested but not ready to purchase. 
However, you may also have pages that draw significantly less traffic but convert at a higher rate—those customers are near the bottom of your funnel. They had likely already done their research and intended to visit your website to make a purchase. 
The type of traffic you attract is often influenced by your other marketing strategies—content marketing, SEO, social media, and more. 
It's also dependent on your particular niche. If you're selling to a small, niche audience, those customers are likely to do extensive research before purchasing and, therefore, land on your website when they are near the bottom of the funnel.
On the other hand, if your merchandise is geared more toward a mainstream audience, those marketing efforts are likely to draw "online window shoppers" who have less brand loyalty and make decisions based on price or convenience rather than quality. 
These are all factors to consider as you launch future merchandise. Deciding how specialized your brand should be and which audience makes the most sense are business decisions that impact your bottom line. 
8. Use Tools to Make Merchandise Marketing Easy
SEO tools, heat maps, social media metrics, buyer personas, content marketing plans—using multiple tools to understand your merchandise buyers is necessary and yet sometimes overwhelming. 
MarTech stacks can help make merchandise marketing more manageable, more vertically integrated, and collect valuable data at every stage. These software technology groups simplify your marketing and help with:
Landing page development

Split testing

KPI measurement
HubSpot Marketing Hub incorporates content marketing tools, SEO research, ad management, landing pages, and live chat into one integrated solution. 
Outfunnel is another tool that connects your marketing efforts with your sales data, ensuring continuity between your actions and performance metrics. In addition, it offers integrations with other applications, from email marketing to lead generation and customer follow-up.
9. Determine the Best Time of Day to Post
Sharing your brand and product's benefits, problem-solving solutions, and unique value proposition on social media is a must for today's digital marketers.
But, knowing what content to share and when to post is one of the most frequently asked questions from marketing teams. 
While there is no one-right time to post on social media platforms, there are best practices and many ways to test your theories.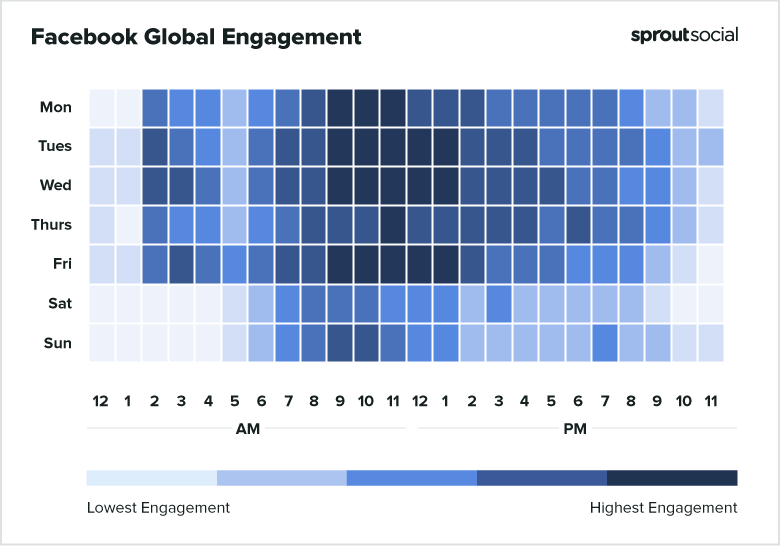 Direct conversion rates from social media posts are often low, but the real value is the collection of valuable engagement signals from your audience.
Tracking how they respond to different advertising campaigns, designs, and messages allows you to continuously research your audience and provide a direct line to give you feedback. 
Luckily, several social media tools are available to help you glean the necessary data and use it to improve your online marketing strategies continuously. 
Sprout Social gives you a high-level overview of all your social media platforms in one glance, perfect for ensuring you have a cohesive and comprehensive campaign. BuzzSumo is another social media tool that makes it easy to track the key metrics around competitor activity.
Final Thoughts
Choose one, a few, or all of the strategies we've discussed as an entry point and measure their effectiveness. Many of these creative ideas can be layered, as well. 
Incorporate your buyer personas and design testing into a few landing pages. Devote resources to keyword and competitor research, and then test some of the similar strategies as you launch your next product. 
Ultimately, success will come when you treat your customers well, listen to your audience, and are willing to pivot when necessary.
If you have enjoyed this post you might also want to read our How to Align Your Content & UX Marketing Strategy or our Email Marketing For eCommerce Business: 4 Best Practices to Expand Your Business! post.
Author's Bio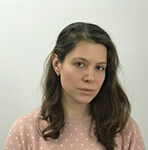 Darya Jandossova Troncoso is a photographer, artist, and writer working on her first novel and managing a digital marketing blog – MarketSplash. In her spare time, she enjoys spending time with her family, cooking, creating art, and learning everything there is to know about digital marketing.
---
---