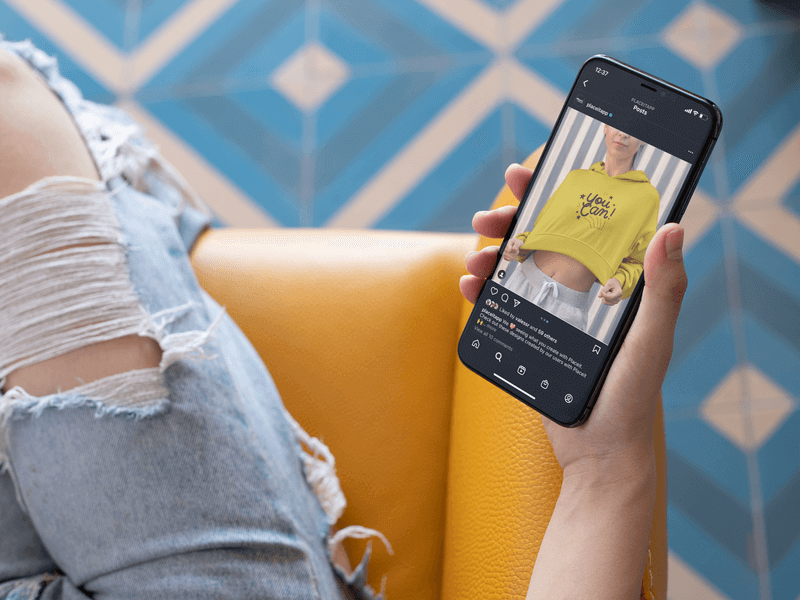 Instagram isn't just a fun app where you can share images anymore. It's a great marketing tool and even a marketplace where you can sell goods. For t-shirt sellers, it presents a great opportunity to generate more traffic for their shop and even increase sales. Check out this list of useful Instagram tools you can use to promote your brand.
1. Create Scroll-Stopping Graphics With Placeit
Since Instagram is an image and video-sharing platform, having eye-catching graphics is a must. You want your posts to be aesthetically appealing and make people scrolling stop in their tracks.
If you're not a graphic designer, this can sound like a huge challenge and expensive. Luckily, you can use Placeit to create custom graphics that match your brand and that will be appealing to your target audience. With Placeit, you don't need any design skills or special software to create the images you want. Check out the ready-made Instagram post and Stories templates and customize them right from your browser. You can choose from tons of fonts, colors, images, icons, and even music tracks to make the perfect graphics.
Price: Placeit offers two subscriptions: a monthly unlimited subscription for $14.95 a month or an annual subscription for $89.69 for an entire year.
👉 If you sell t-shirts online, Placeit also has a huge library of apparel mockups you can use to promote your designs. Save time and money by skipping the photoshoot and use professionally shot mockups instead!
2. Find Popular Hashtags With Flick
Instagram is one of the best social media marketing tools for promoting your eCommerce store. Not only will the Discover page show users images and videos related to their likes, but using hashtags in your posts can help you show up in their feed even if they don't follow you.
The key is to use hashtags in every post and to use a variety of relevant hashtags. You can use broad ones related to your type of business, niche hashtags related to the product, and even hashtags related to communities in your industry.
But how do you find popular hashtags that people actually follow or browse? Flick is a great tool that allows you to search for hashtags and gives you insights and metrics related to them. You can use this information to choose hashtags that are relevant to your posts and that will also increase your impressions and profile visits. Save your hashtags for easier posting, view the top-performing content for hashtags you're considering, and avoid using banned or flagged tags.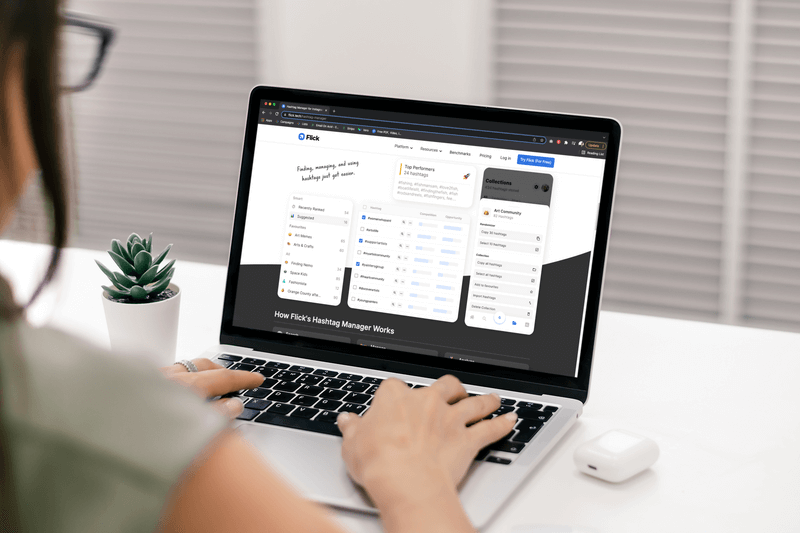 Price: Flick offers a 7-day free trial, and if you decide you like it, they have a solo plan that starts at £7 a month.
3. Schedule Your Posts Ahead of Time With Later
Running an online shop and managing your social media accounts can be tough, especially if you're a one-person team. Keeping an active Instagram account is a must for all businesses because it lets people know you're there and ready for their business, but how do you save time while staying active?
Rather than logging in every day to post new content, write a caption, add in some hashtags, tag your products, and everything else, why not schedule your posts? Later allows you to schedule posts ahead of time, whether they're images, videos, carousels, or even Instagram Stories. You can visualize what your grid will look like and get insights, like when the best time to post is based on your past engagement. This will let you stay ahead of the game, so you can focus your time on running your business. As far as Instagram tools go, this one's a life-changer.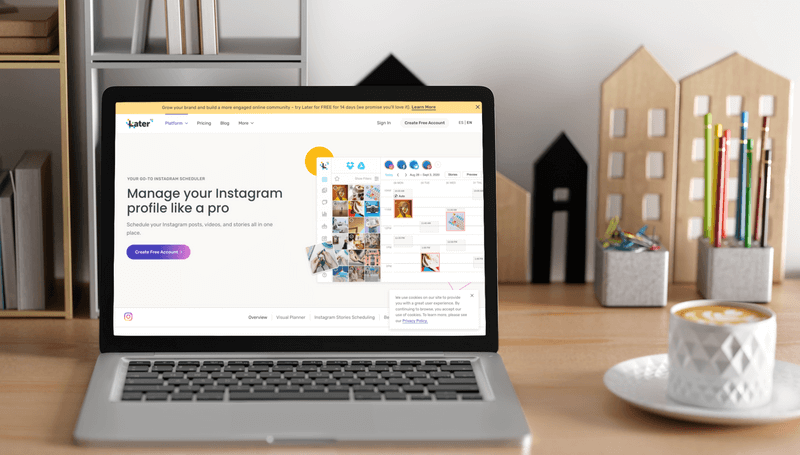 Price: Later offers a 14-day free trial, and if you decide you want to continue using it, you can opt for their free, basic plan or their starter plan, which will cost you $15 a month. They have additional plans for larger operations which start at $25 a month.
4. Create Shoppable Posts Through Instagram
Wouldn't it be great if a user stumbled across an image of one of your products on Instagram and was able to buy it right there on the spot? Well, you're in luck because that's definitely a possibility. If you don't know how to sell products on Instagram, there's not much to it.
This may not be considered a different tool, but it is a feature that you should leverage as a small business owner. Online shopping has grown drastically in the past few years, and younger audiences are leading the way when it comes to making purchases through social media. If you want to keep up with shopping trends, then Instagram Shopping is a must. You will need to have an Instagram Business account in order to put this feature to use. You can choose from three different checkout options, post product tags in posts and Stories, create collections, and create product description pages.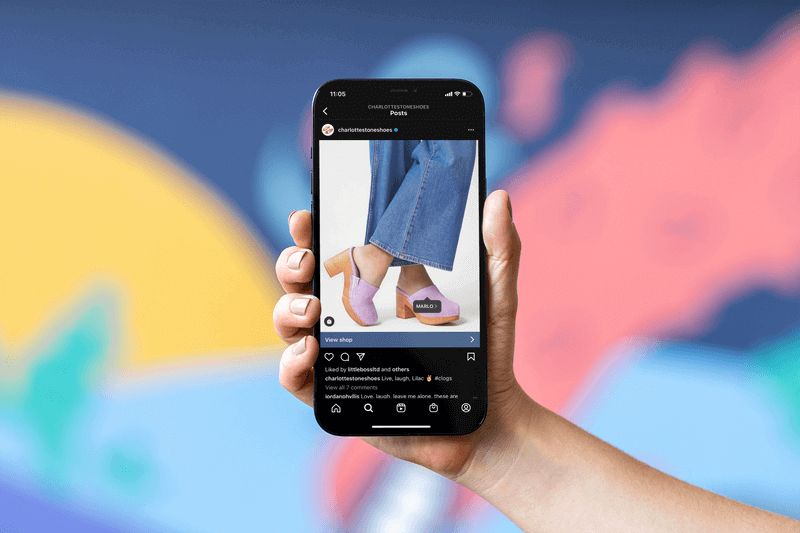 Price: Instagram is free and the shoppable posts are a free feature for business accounts. If you choose the checkout option through Instagram (Facebook), then there will be fees associated with each transaction.
👉 Learn more about setting up Instagram shoppable posts and using them to grow your income.
5. Send Traffic to Your Shop With Milkshake
Sending traffic to your shop may be a bit of a challenge on Instagram since you can't add links to your posts and you only get one link in your bio. This is where a link in bio Instagram tool comes in handy. Link in bio Instagram tools allow you to build a mini-website where you can feature relevant links to products, categories, your blog, or anywhere else you want to send traffic to. This opens up the possibilities and helps you direct traffic to exactly where they want to go.
If you're looking for a free Linktree alternative to build your link in bio website with, Milkshake is the best option. With Milkshake, you can create a beautiful link in bio website that matches your brand's aesthetic perfectly. You don't need design skills, special software, or even a desktop. Build it all from your phone and have your on-brand website ready to post in no time.
Price: Milkshake is a free app available for iOs and Android.
6. Host a Giveaway With Easypromos
Contests and giveaways should be included in your Instagram marketing strategies because they are easy ways to attract new followers. If you decide to host a giveaway, announcing a winner and shipping their prize right away are essential since you don't want to ruin your brand's reputation.
Some of the most common giveaway rules include liking the post, commenting on the post, and following the account, but how do you check who has actually done all of it?
You don't have to read through all the comments yourself and check your list of subscribers if you use a tool like Easypromos. This tool will do all the work for you while you sit back and wait for the giveaway results. Easypromos will go through the comments for you, pick a random winner and alternates, create a winners page, and will even allow you to broadcast the drawing live for transparency.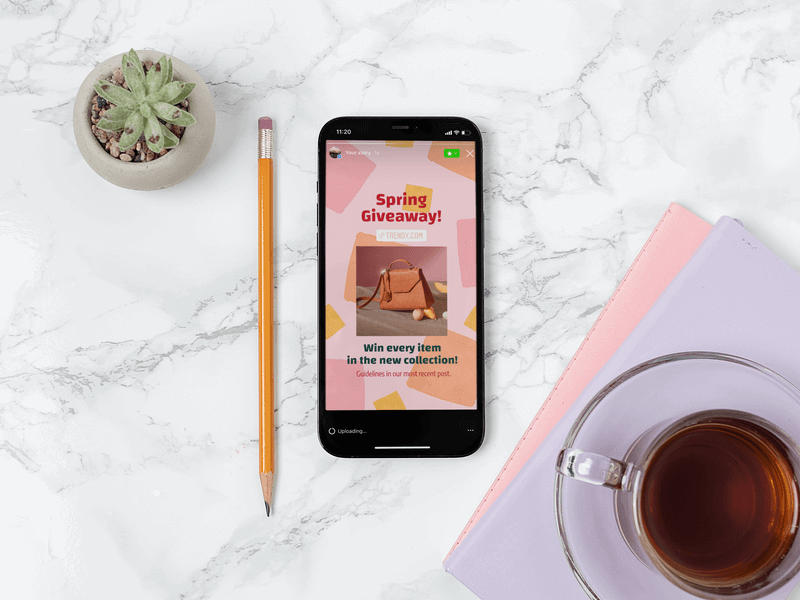 Price: Your first giveaway is free with Easypromos. After that, you can opt for their Basic Plan for $29 a month or their Basic Pro Plan for $49 a month. Both include an unlimited number of giveaways per month, but the pro plan offers additional features.
Final Thoughts
Instagram is a great tool for apparel sellers, so if you don't already have a business profile for your brand, jump on it! You may not feel the most comfortable using it to promote your products right away, but don't give up. The learning curve for Instagram isn't steep and the rewards can be impressive, so it's definitely worth the effort. Try out new tools, do more research, and note your own growth on the platform to keep yourself motivated. When you're ready to start using other social media platforms to promote your brand, check out these social media strategies to boost your brand in 2022.
Let us know what your favorite Instagram tools are in the comments below!
💡 Still deciding what social platforms to use? Check out these 6 social media platforms your brand should be using!
---
---