The Shopify T-Shirt Business Set-Up Guide You Didn't Know You Needed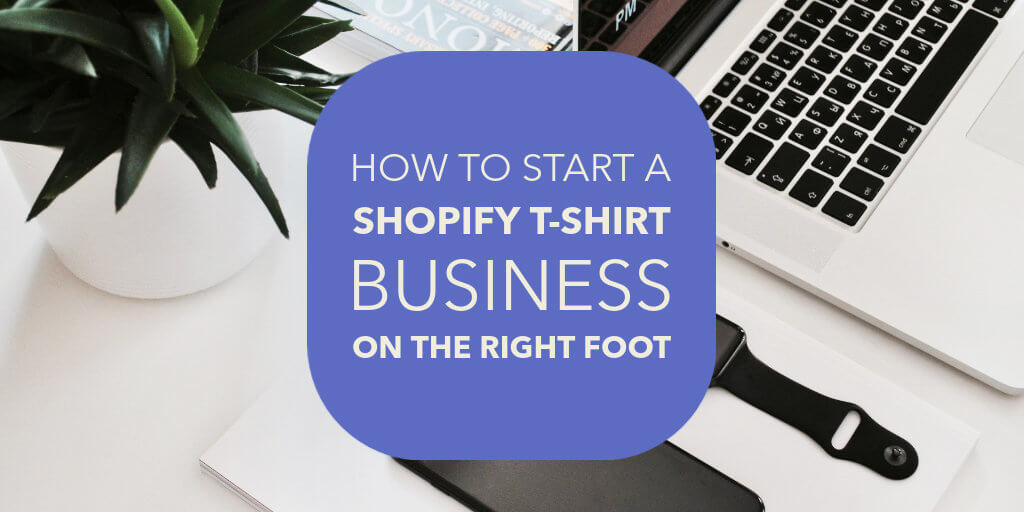 Alright, this Shopify t-shirt business guide is meant to help you get your e-commerce-enabled t-shirt shop online in as little time and with the least trouble possible. Ready? Let's do it.
What You'll Find: 
While Shopify is intuitive, it still has a learning curve, which is why they offer a 14-day free trial. In my experience, I found that 14 days is not enough to completely set up your shop, so I found you an extended 31 days Shopify trial + 15% off on your first year's bill (link at the end of the post). You are very welcome.
But hold your horses, don't sign-up just yet if you really want to make the trial period worth it. You must really be really ready to sell online, and my gut tells me you are not as ready as you think you are. Worry not; I prepared the ultimate "getting ready for Shopify" checklist.
You will want to bookmark this post for later access since there's a lot of stuff to do. Press CMD+D on your Mac or Cntrl+D on Windows to save this blog post to your bookmarks.
Remember, having the following ready before you start your Shopify trial will save you money, will give you more time to really put the platform to work for you, and will allow you to have sales even during the trial period.
Let's do this!
---
Know the Legal Requirements of Selling on Shopify
While the internet is an amazing place, there are people looking for easy money who may have the intention of hijacking your business. Having proper legal documentation on your site that can protect you against rip-offs, scams, false claims, data theft, etc.
Find ahead some basic legal advice that should protect you and your Shopify t-shirt business from day one:
1. Refund Policy:
Ever returned a product or purchased a product online because you knew in advance that you could easily return it and get your money back? Well, your customers want to have this information at hand too, so here's a free refund policy template you can use to get this done asap.
2. Terms of Service Policy:
Meant to protect your website, company, and customers. Create yours using this free terms of service policy template.
3. Privacy Policy:
Can help make sure your Shopify t-shirt business complies with the law and encourages customer trust. Here's a free privacy policy generator (updated to include the requirements of the General Data Protection Regulation – GDPR).
4. Ugh, Taxes:
You know what they say, nothing is certain but death and taxes. Paying your taxes isn't what a t-shirtpreneur dream of when starting a business, but, I'm sorry to break it down to you, you might need to. Here's Shopify's taxes guide, make sure you give it a good read before starting.
👉 Check out this post comparing marketplaces and eCommerce platforms to ensure you're ready to decide where to start your online store.
---
Setting Up, Organizing & Getting Your Products Ready for the First Sale
Staying organized is the best way to be effective on a day-to-day basis. The following tips and tricks should allow you to run an organized online business and be ready to ship the t-shirts you sell as soon as you sell them.
Inventory Management
Make sure you know the number of t-shirts you have, which sizes you carry, what colors you offer, etc. You won't want to sell a t-shirt design you no longer have available and get a bad review, which can affect your online reputation which is already very hard to earn and even harder to recover. While you do your inventory you will want to add the necessary metadata to it so that when you open your shop your items get to show up via online searches.
Here's how Shopify's product page looks and all the metadata you need to have ready: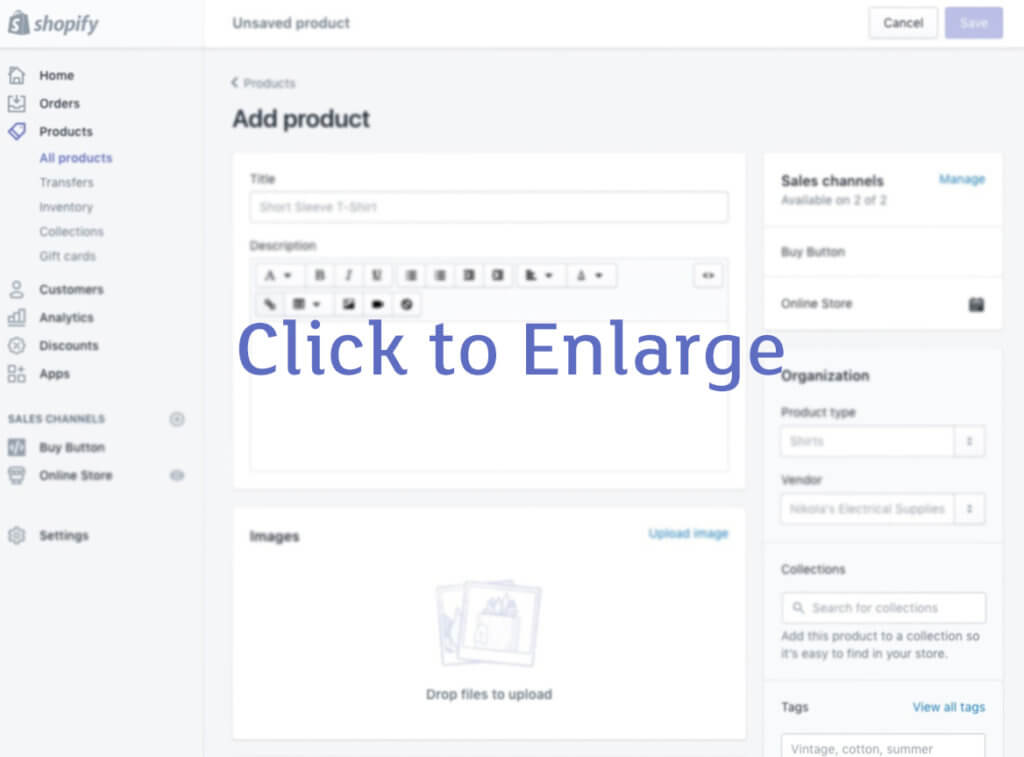 Yes, you need to fill in all these slots, this is a product's metadata. If you have around 10 products to display then you might want to do it manually. If you have 10+ products, then it's a good idea to use Shopify's bulk product upload feature. Believe me, it will save you a lot of time!
Shipping T-Shirts to Your Customers
You got your first sale, congrats! But now, how will you send your t-shirt across the country? You might need to do some market research and learn which shipping company offers the best solution for your small business and include those costs in your pricing strategy.
Here's a link to Shopify's shipping apps. These apps can get integrated with your online shop so that in the checkout process the customer can directly type in their desired shipping address and as soon as your customer finishes buying you will get a printable sheet you can print and paste on your package. Read the apps' reviews, check how many stars the apps have received, and even give them a call, they will be glad to help you.
A good app will allow you to adjust the shipping rates for a customer depending on the number of items purchased, the weight of the package, and the zone where the purchased products must be sent to. Keep in mind that the modern consumer loves to get online purchased products in no more than 3 or 4 days, more than that they will probably look another way. You can find more useful Shopify apps here.
Product Packaging
Maybe you haven't thought about the container that will keep your t-shirts in shape while they travel across the country to reach their new owner. Will it be inside a box? Inside an envelope/mailer? Give it a good thought, you will want your product to get to the customer in top condition. Check what Uline or, if it is easier for you, visit the packaging business in your area and find the most affordable one.
Payment Gateway Service Providers
A payment gateway allows you to take credit card payments on your site. Shopify has Paypal as the default payment gateway but there are many other payment gateway service providers you might want to check. Do your research and check which company is reliable and charges the lowest commissions. Here's information on Paypal Merchant and Stripe just so that you can get your toes wet.
---
Designing & Branding Your Website & Giving It a Solid Architecture
If you want your customers to purchase, you must deliver a good experience to them as soon as they land on your site. Some of the basics to keep in mind are: fast loading times, intuitive design (both mobile and desktop), social proof and security signs, and optimizing for the fewest possible clicks. Keep in mind that your shop should fall in line with your brand, so try to stick to similar elements (color palettes, typographies, etc.) when building your shop.
Branding Your T-Shirt Store
You should make it as easy as possible for your customer to return to your shop. Purchasing a domain will make your brand unique and will put your Shopify t-shirt business on top of the competition. While you can go without a unique domain name, it will end up looking like this: "https://yourbrandname.myshopify.com" which is a bit long and shouts generic.
The Look & Feel of Your Shop
Shopify features customizable themes you can use to jumpstart your creative process. Some are free, and some cost green dollars. From my experience, free themes are somewhat limited. There are "elements" that paid themes have that the free ones don't, and you may want those extra features for your t-shirt shop. You can check out these featured Shopify T-Shirt themes for some ideas and inspiration. Some of the features that the paid themes have been:
Social proof: Instagram feed and testimonial area.
E-commerce Hacks: Quick product view.
Design: Full-width layout and fonts.
Only you know your business needs and how you want your site to look. If you encounter problems while personalizing your shop, you might want to search on Shopify's forums or try asking Google. Chances are your question has been asked before.
There are Shopify themes being sold not only on Shopify's t-shirt business website but also all over the internet. If you download or purchase a theme outside of the Shopify Themes site, make sure they offer support in case you can't customize your website the way you want it and end up needing a hand.
Giving Structure to Your Site
This is now a good time to think about what pages and what information you will want your website to have. In other words, think about how you would like your shop to look and how the user will navigate through it. You might want to go the old way and first sketch it on paper or find another e-commerce shop you like and get inspired.
A basic website should at least have the following elements/pages:
Home page
Categories Page
Product Page
About Page
Contact Page
A Frequently Asked Questions Page:
Social Media Shortcuts
A Footer
Speeding Up Your T-Shirt Shop
You will want to have your product images ready and optimized for the web before you sign up to Shopify. How fast your website loads is of huge importance. Heavy images are the usual suspects of slow websites, make sure the images you upload weigh about 300 kilobytes, no more. JPEG files are usually lighter than PNG files, try to use PNG only if you need your images to have a transparent background otherwise, go with JPEG. Shopify provides enough space for you to upload your images and videos for free, simply go to Shopify>Settings>Files to upload all your media.
How to crunch/optimize your images:
Use a free image resizer service like TinyJPG.
Use Photoshop's "Save for web" feature.
Look for a Shopify App that is able to optimize all your website's images.
Where to get images for your shop:
T-shirt mockups are your best shot here. With t-shirt mockups you can forget about hiring models, getting all the necessary equipment for a photoshoot, finding a location, etc. Here's how Placeit's t-shirt mockups work:

You first choose a t-shirt template that features a model that will resonate with your ideal customer and select the t-shirt's color.
You then upload your t-shirt design or make one with this t-shirt design maker tool if you don't already have one.
That's it. Best of all, it only costs $29 a month to make as many mockups as you want!

Mockup Process Explanation

Placeit's T-shirt Templates

You can also always opt to take product photos yourself. There are a ton of guides out there that will help you take professional t-shirt photos at home.
Your mockups and photos are the perfect material for social media posts! A good Instagram profile is especially beneficial for brands, as it plays a significant role in the discovery of new products without being too invasive. That's why we prepared a full guide of dos and don'ts for marketing your t-shirt business on Instagram.
Bonus: Becoming a Digital Marketing Professional
While this tip is for advanced users, it will help your Shopify t-shirt business a lot if you implement Google Analytics to your site to track visitors' activity while on your site. This is one of the main advantages of having your own website because if you sell t-shirts through a print-on-demand website, you will never know what your customers do on your site or why they leave. Google's Digital Garage is an excellent place to get started learning digital marketing for free. Take some time and invest in yourself and your business, believe me, it will pay off!
Setting up your GA code should be enough for now. You will start gathering data that you will be able to use later on when you get more experience with Digital Marketing. Subscribe to Placeit's Blog Newsletter at the bottom of this post to learn when our T-Shirt Marketing Guide for Shopify gets published.
---
NOW You Are Ready to Start Your Shopify T-Shirt Business Trial!
Here's the extended trial link I talked to you about at the beginning of this blog post. Hopefully, it should now take you just a couple of days to have a fully working online t-shirt shop!
The fun really begins once your shop goes online. You will start nailing some sales, sending t-shirts, and receiving (positive) reviews. You may or may not encounter obstacles and challenges along the road, and overcoming those obstacles will teach you invaluable lessons about the retail business.
A few tricks to boost your t-shirt shop from Day 1:
That's a wrap. I hope you find this guide useful and that you succeed in selling t-shirts online. If you have questions, please leave them in the comments section, and I will gladly do my best to dig you out of the hole. Stay tuned for more on t-shirt business marketing and how t-shirt mockups can help you boost your Shopify t-shirt business revenue.
Are you selling on Merch yet? You might want to try this Complete Guide to Merch by Amazon. Special seasons like Valentine's Day are very successful; look at these ideas for your products.
"My t-shirt designs look great on Placeit's t-shirt mockups"
Chris Fitzgerald 5/5
---
Start Your Shopify T-Shirt Business on the Right Foot
No one before had talked to you about Shopify's Step Zero where you actually get to organize yourself and prepare your Shopify t-shirt business for success. Thanks to this guide you will be able to nail the sale while on the trial period and get the ball rolling for the months ahead. Let Placeit take some load off your shoulders and make your transition to the digital environment as smooth as possible!
Create Your First T-shirt Mockup
---