Sell More T-Shirts Using Interracial Mockups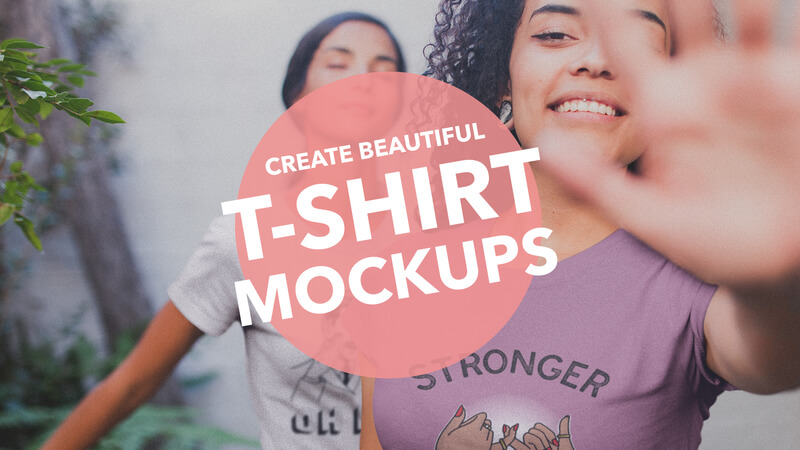 If you're a t-shirt seller hoping to increase your sales, we've got the perfect tool for the job! Using t-shirt mockups that target your audience is a sure way to attract attention to your products. Placeit has tons of t-shirt mockups you can choose from that feature all sorts of models and interracial mockups! Since we know that representation matters, and it matters a lot, we have plenty of t-shirt mockups that celebrate diversity and equality. Check them out for yourself and start customizing them with your favorite designs!
⭐👯‍♀ You might like reading:10 Bond-Tastic Best Friend Shirt Ideas for True Friends
Woman with Friends Wearing T-Shirts in Interracial Mockup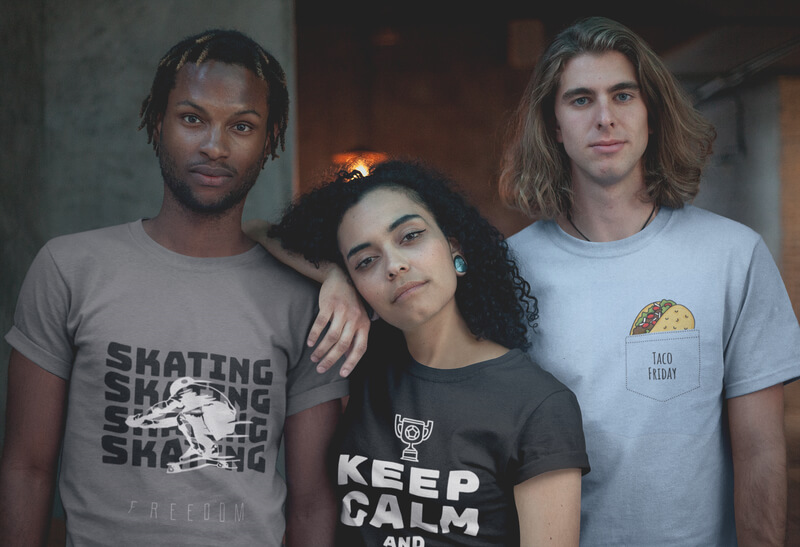 What's better than a great t-shirt mockup? One that allows you to show off multiple t-shirt designs in a single image! This mockup features three models, giving you the opportunity to show off up to three different designs!
Posing Couple Wearing T-Shirts on Interracial Mockups Against a Gray Wall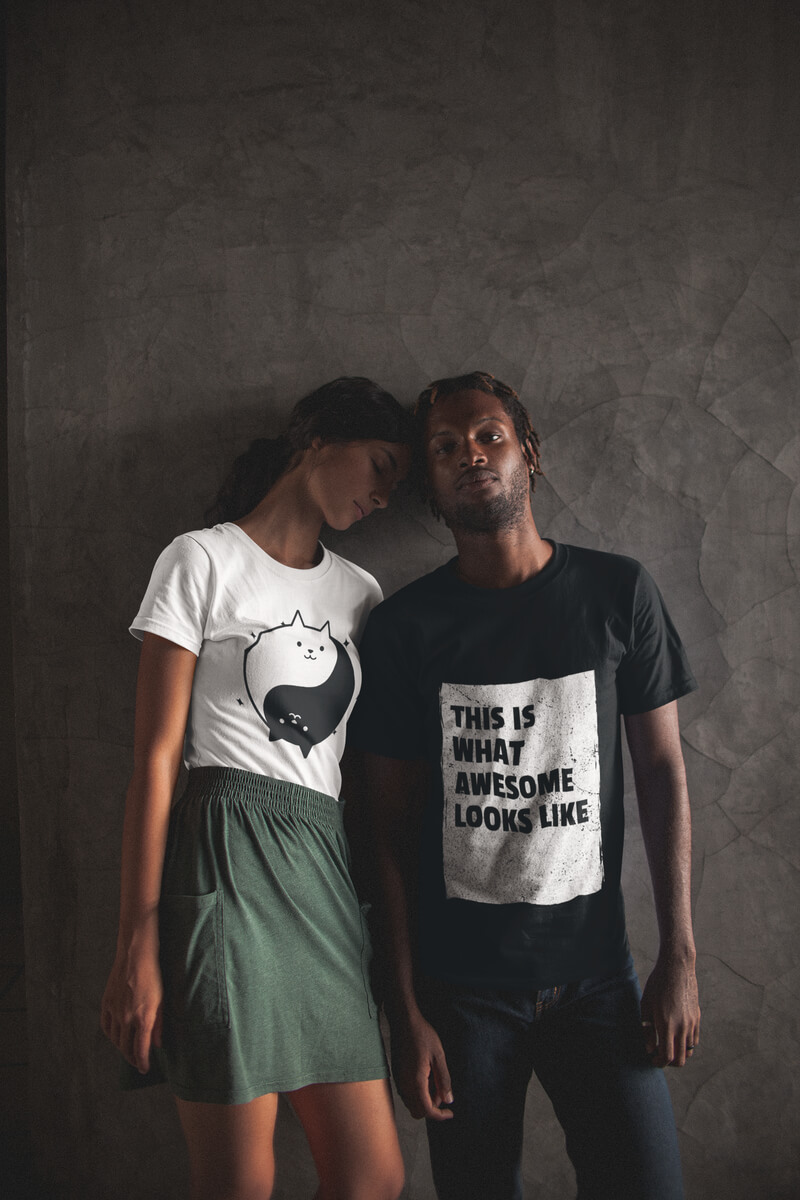 Instead of using a flat t-shirt mockup that doesn't do much to attract attention from buyers, why not use one featuring diverse models in a real-life setting? A mockup like this is sure to wow online shoppers and may even help increase your sales.
Group of Friends Wearing Interracial Shirts Mockup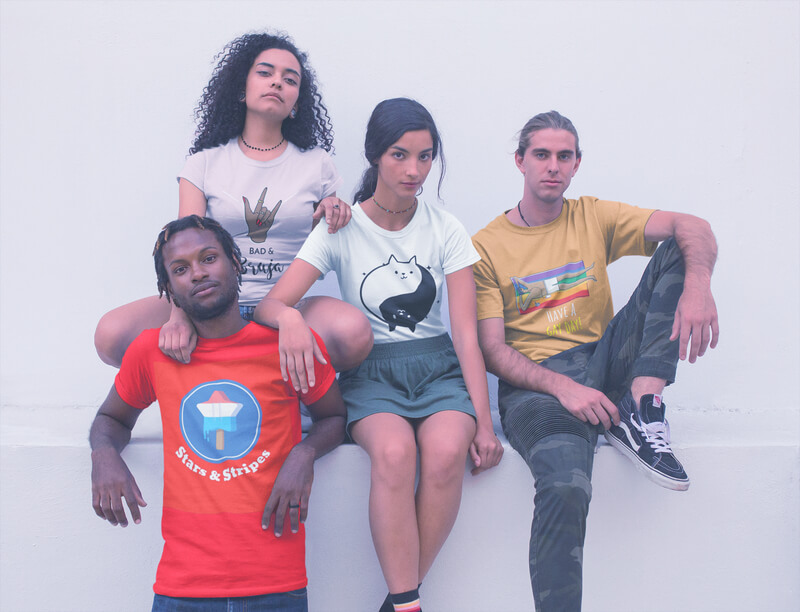 Matching friend shirts or even couples t-shirts will look much better when displayed on high-quality mockups featuring real people. The best part is you don't even have to take the photos yourself!
Black Dude with Short Dreadlocks & White Guy Wearing Interracial Shirts Mockup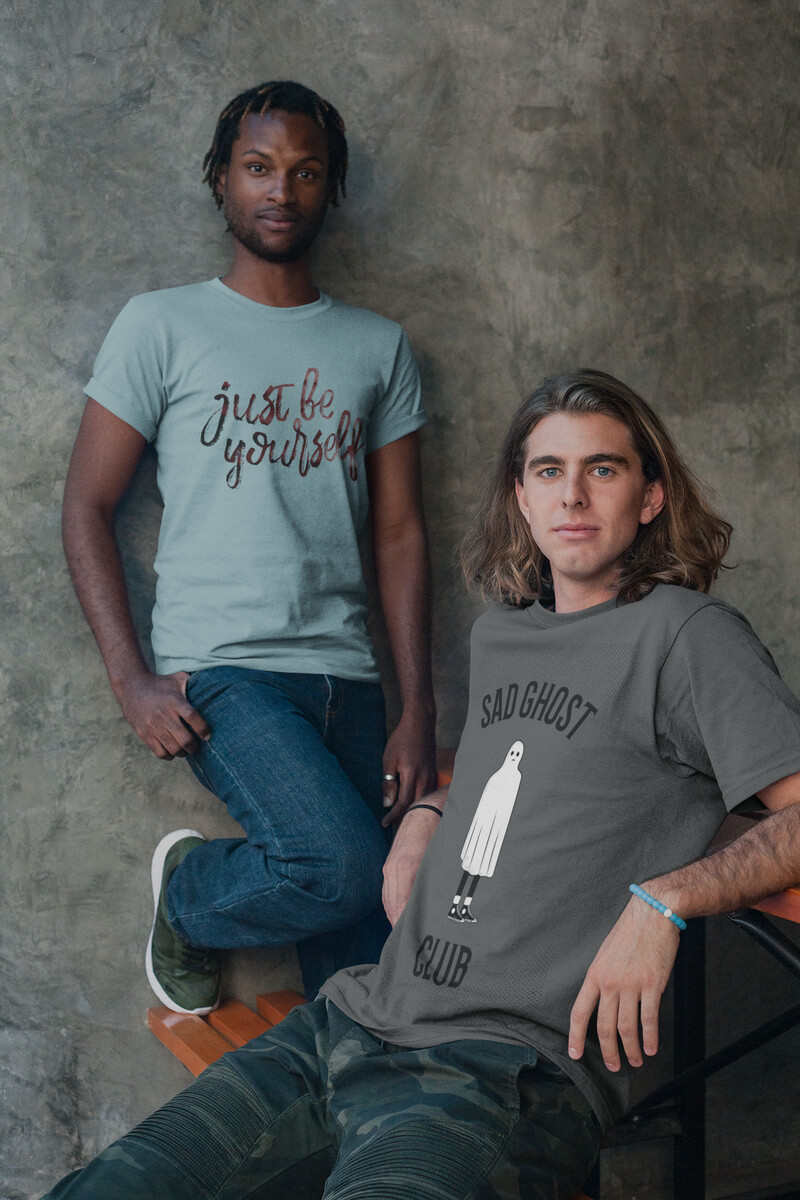 If you have a diverse audience, reach everyone you sell to with t-shirt mockups that feature diverse models. Use this mockup to make your designs and shop look that much more professional.
Two Girlfriends Wearing Interracial Shirts Mockup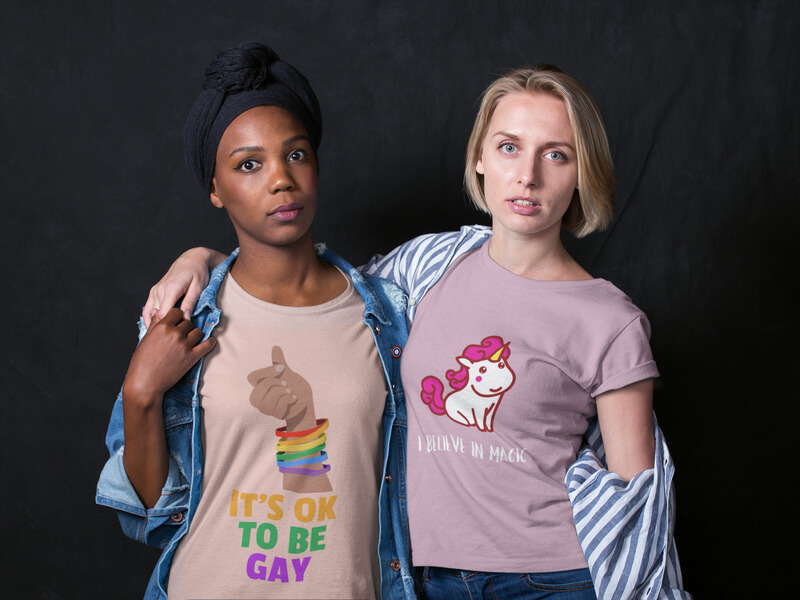 Show your customers that representation matters by using mockups that represent everyone. From interracial couples to LGBT t-shirts, find the t-shirt mockups you want for your shop.
Blonde Guy Wearing T-Shirt Mockup Being Hugged by an Asian Girl with Flowers on their Heads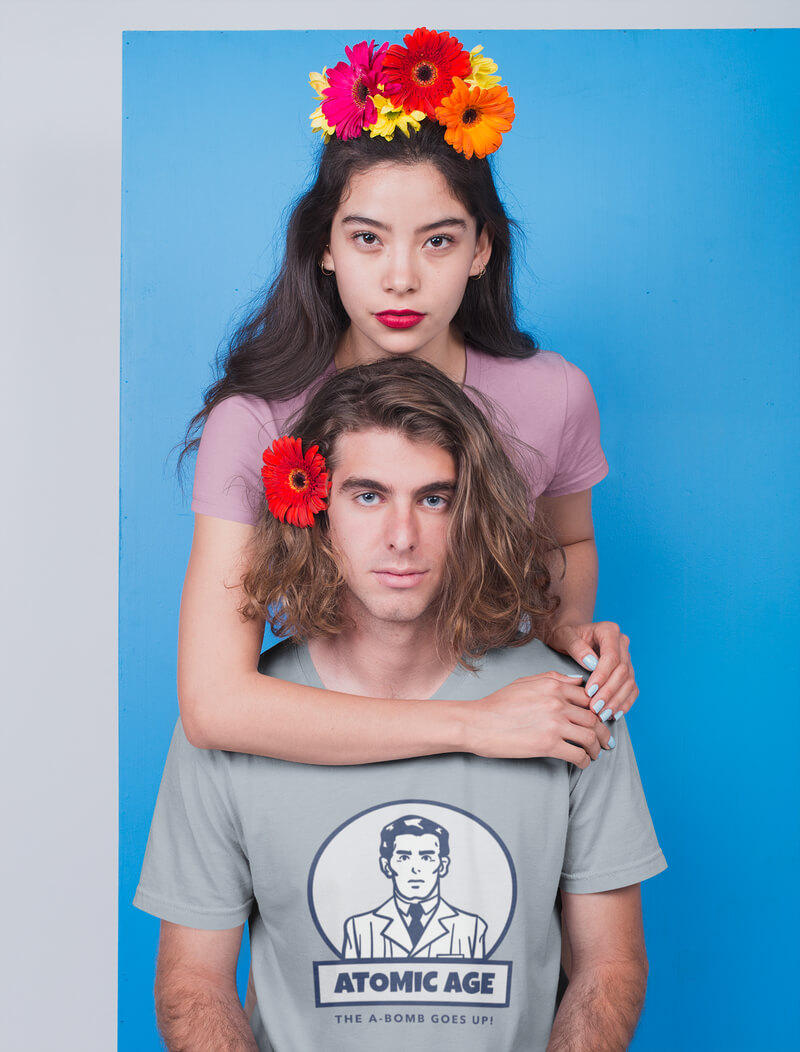 To really make t-shirt sales you're going to need the best t-shirt mockups around. Look for those that are high quality, professionally shot, and that feature great models, like this mockup.
Interracial Shirts Mockup of Two Friends Posing at a Photo Studio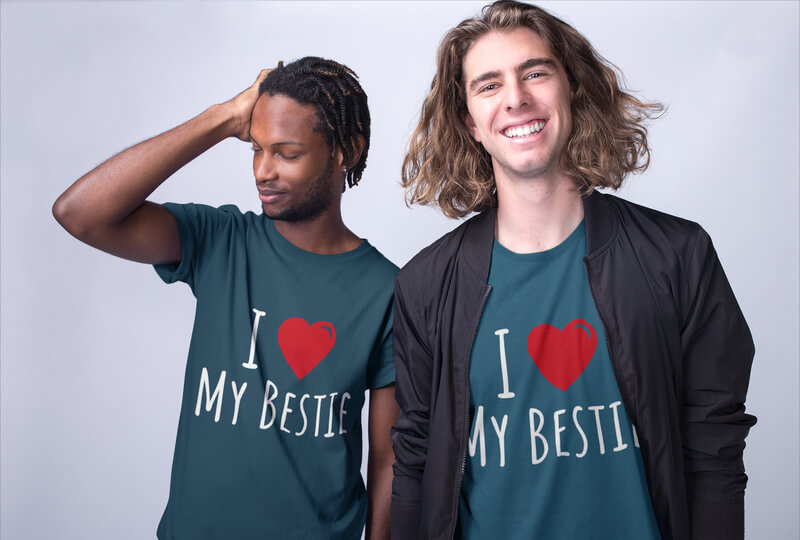 After all the hard work that went into designing unique best friend t-shirts, why not promote your designs using the best t-shirt mockups? You can feature your design on this mockup or choose one of the many other designs available at Placeit.
Four Teens Wearing Interracial T-Shirts Mockup Against a Concrete Wall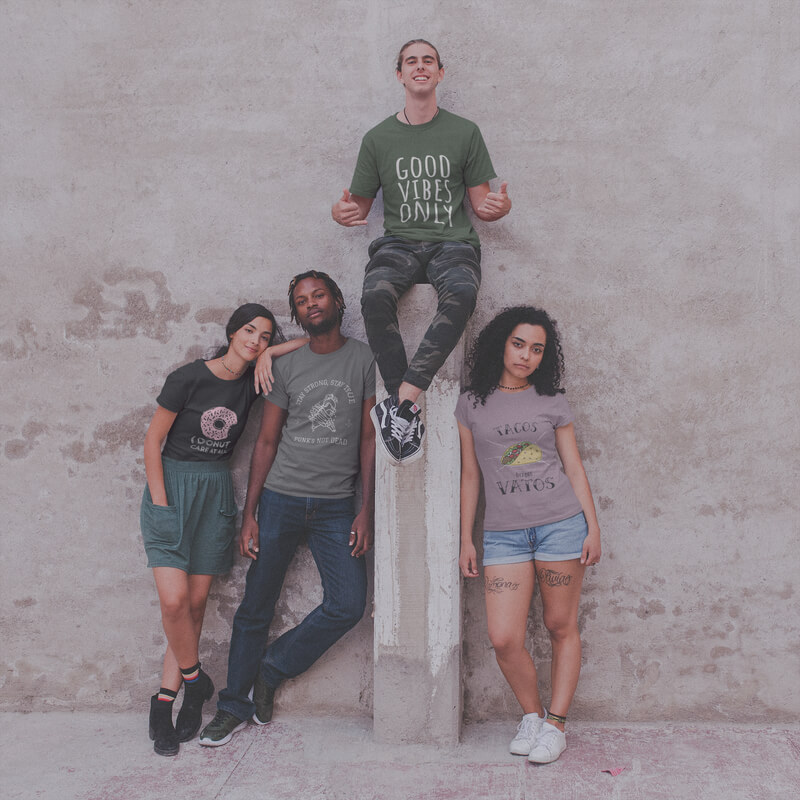 Increase the quality of your shop's images with the help of easy-to-use t-shirt mockups. To customize this mockup with your designs all you have to do is upload your images and watch them appear on the models' t-shirts. It's really that easy.
Selfie of Friends Wearing Interracial T-Shirts Mockup Against a White Background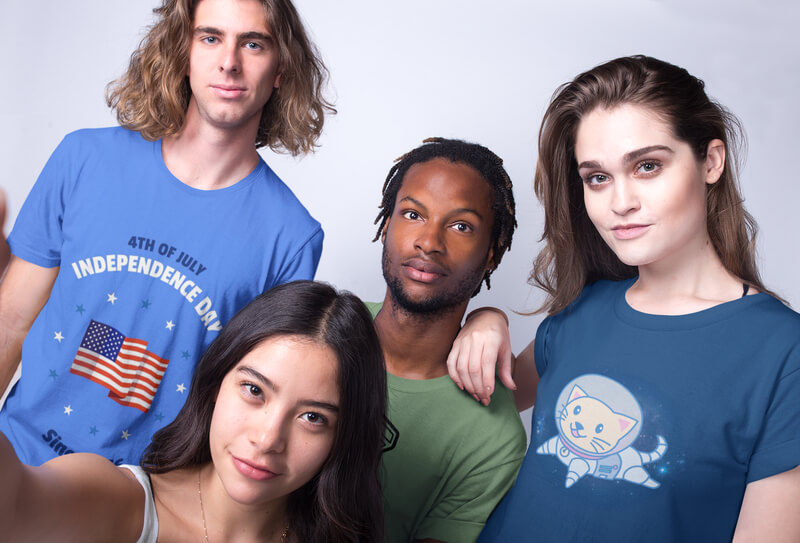 This selfie mockup isn't only great because it features multiple models, it can also help you motivate your customers to start creating user-generated content. Encourage your users to send in selfies of themselves wearing your products for a more personal touch.
Four Friends Wearing Interracial Shirts Mockup Under Plants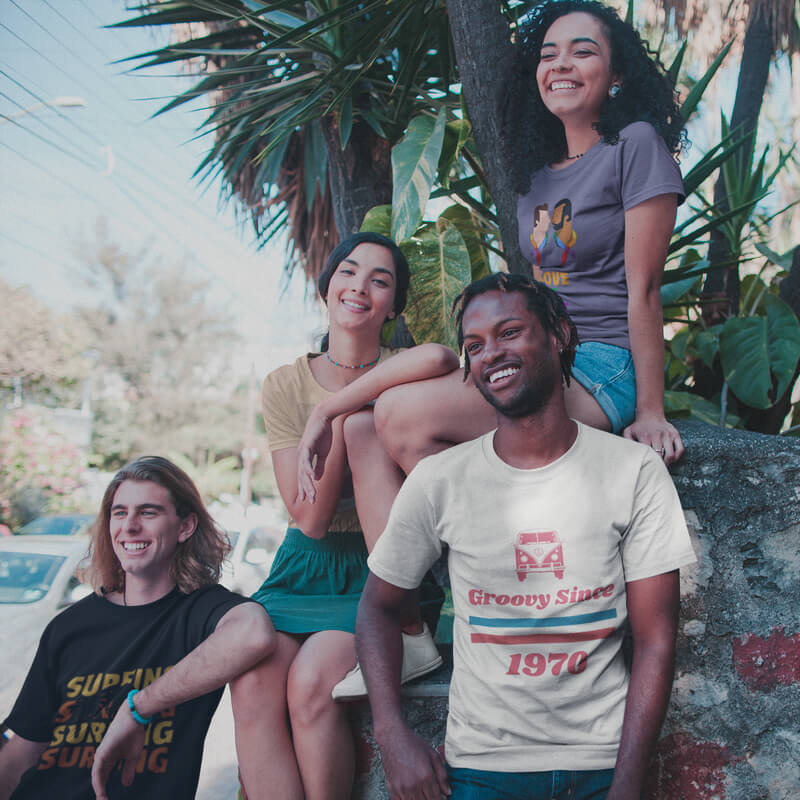 Show off your t-shirt designs in a real-life setting using a t-shirt mockup template like this one. Images like this one which is more dynamic and natural can spark more interest than flat images of your designs. What's even better is that they're super easy to edit.
Use Placeit's Diverse T-Shirt Mockups to Show off Your T-Shirt Designs
This is only a sample of the t-shirt mockups you can find at Placeit. There are plenty more featuring models of all ages, backgrounds, and genders, so you're sure to find what you're looking for. What's even better is that you don't have to limit your designs to just t-shirt mockups because Placeit offers all sorts of apparel mockups! Check them out for yourself and start promoting your designs with great high-quality images!
"Placeit's t-shirt mockups always make my designs look great!"
April Harris 5/5
---
Promote Your T-Shirt Designs on the Best Mockups
Increase your t-shirt sales with the help of Placeit's t-shirt mockups! If you don't have design software or don't have the time to hold a photoshoot, using t-shirt mockups is the best alternative. Head over to Placeit and see just how easy it really is!
Create T-Shirt Mockups!
---