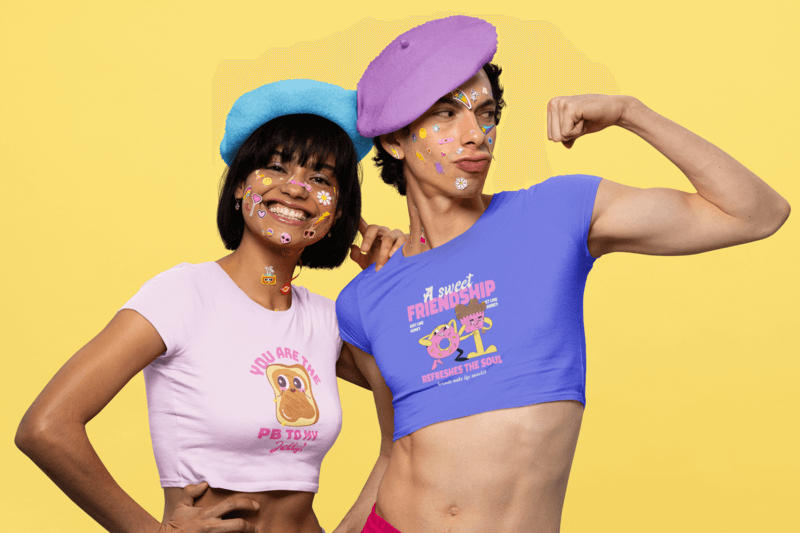 Friendship Day (August 6th) is just around the corner, and to celebrate this day, why not design a unique gift for faithful friends in an easy and quick way? Whether you're a shop looking to add a new seasonal apparel line or you want to surprise your squad with customized best friend shirts, Placeit by Envato has you covered! Get inspired by these incredible best friend shirt ideas and have them ready in no time! There's no need to have any design skills or use complicated and tedious software. 
Get Inspired by These 10 Best Friend Shirt Ideas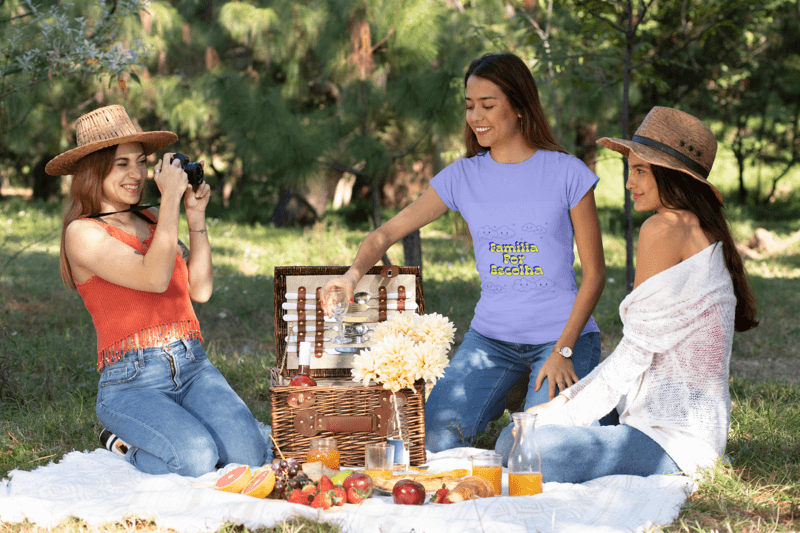 Undoubtedly, our dearest friends hold an irreplaceable place in our lives. They have been there through the highs and lows, supporting us in sad and challenging times and accompanying us in the most exciting, beautiful, and funny moments. Therefore, to show our love and appreciation, we're taking the upcoming Friendship Day as the perfect excuse to create a truly unforgettable and customized gift. Instead of opting for typical mass-produced items, let's surprise our friends with something unique —a custom best friend shirt that captures the essence of our friendship relationships.
🌈 Check out Placeit's sticker templates!
If you don't know where to start, let us give you a hand with 10 best friend shirt ideas to say bye-bye to the conventional design ideas and create something that truly represents your friendship.
But hey, if you're a business owner or print-on-demand seller, you can still take this Friendship Day as an opportunity to boost your sales and create a friendship apparel line. Tap into the friendship spirit and offer customized designs, including, for example, the name of your client and their friend. With your Placeit subscription, you won't have to worry about paying for each t-shirt design, as your subscription allows you to create as many designs as you want.
#1 Discover Inspired Movies and Series T-Shirt Designs
Our entertainment culture revolves around movies, series, and tv shows, and most often, these films or shows feature beautiful characters with wonderful stories with whom we may feel identified – especially when it comes to friendship. So to evoke these warm and nostalgic feelings, we've taken these great audiovisual productions to inspire us and create incredible t-shirt designs without infringing copyright. Plus, these t-shirt designs are okay for commercial and non-commercial purposes, so feel safe to use them even for selling.
#2 Spice Up a T-Shirt with This Yummy Collection
If you have a bestie who loves food just as much as you do, this might put a smile on their face! These best friend shirt ideas gathered a tasty collection of funny, cute, and witty illustrations accompanied by quotes in a diverse range of typefaces. And here's the cherry on top—most of these designs come in a fun combo, so you can pick a mouthwatering t-shirt design that accurately represents your friendship. 
#3 Step Into a T-Shirt Time Machine to Transport You to the Retro Era
In addition to our delectable food-inspired collection, we've got a treat in store for those seeking to relive the good old days or die-hard fans of the nostalgic 70s and 80s era. These best friend shirt ideas focused on a retro style, will teleport you both back in time, where the vibes were groovy, the music was legendary, and the memories were forever etched in neon colors. For this collection, you can discover unconventional and bold typefaces, characters with cute faces, big eyes and smiles, and bright and vivid colors. So get ready to infuse your t-shirts with a groovy look that never goes out of style!
#4 Surprise Your Best Buddies With These Koala-Ty T-Shirt Designs
Calling all animal-loving best friends! We've crafted an adorable and heartwarming collection that celebrates the purest beings on earth, with a special focus on friendship. If you and your best friend share an immense love for furry friends, this collection is tailor-made for you! Whether you want to put in the spotlight your favorite animal, spirit animal, or even your pet, this cute collection includes absolutely everything you need to get the look you're after.
#5 Give a Twist to Your T-Shirts With an Otherworldly Friendship Design
Looking for best friend shirt ideas that go beyond the ordinary? You got it! These otherworldly and cosmic designs have all kinds of creatures, like funny aliens, magic unicorns, and even imaginary friends. You now have the opportunity to put your most treasured friendship memories or internal jokes into these t-shirt designs that will help you remember how the universe brought you all together!
#6 Keep It Simple but Effective With a Quote
For those looking for a more minimalistic style, we have some aesthetic best friend shirt ideas containing different quote styles. Embrace the beauty of simplicity while still expressing your true feelings. Whether it's a quote, a special memory, or anything you have in mind, we've got a wide array of typefaces to make any message look extraordinary. Plus, we've incorporated curated color palettes on each template to get a combined look easily. 
⭐ Dive more into our Placeit features, including our new Brand Kit, to get the most out of your Placeit subscription. 
#7 Empower Your Bestie With an Inspiring Message
Embrace the spirit of female empowerment and the unbreakable bond of friendship with these empowering best friend shirt ideas. This collection of designs represents the strength of friendships that stand with each other to support gender equality, encouraging and uplifting one another and celebrating and honoring women's fierce resilience and determination. Break barriers and empower your girl with a one-of-a-kind design that you both can wear with pride.
#8 Convey Your Feelings in a Fun and Short Way
If you're struggling to find the right words to express your gratitude to your best friend, we have an inventive solution that adds a dash of scientific charm inspired by the periodic table of elements. Create a strong chemical reaction between you and your best friend by spelling out beautiful messages, inside jokes, or cool nicknames.
#9 Spread Joy in Your Friendship with Our Best Friends Shirts: Holiday Edition
Are you and your best friend fans of a specific holiday? Well, now it's possible to create a thematic and beautiful design! Skip a couple of celebrations and travel in time with these holiday-themed best friend shirt ideas. Whether you love the spooky Halloween season, the joyful Christmas time, or any other event on the calendar. Start designing and customizing a t-shirt for your BFF and for these special occasions right now!
#10 Amaze Your Tribe With the Coolest Ai-Generated T-Shirt Designs
To keep updated, our talented team presents an outstanding collection of AI-generated t-shirt designs, perfect for Friendship Day. Discover a wide array of art-tech designs that can be easily customized to your preferences. Take a look at our favorite best friend shirt ideas: 
👾 You might like: Placeit's Favorite AI Tools and How You Can Benefit from AI
How to Customize Best Friend Shirt Designs
Head over to Placeit to find the friend shirt designs you need. Once inside our page, you'll see a search bar, which is preset with the "All categories" filter in the drop-down menu. Click on it to pick "Design". After setting up this filter, you can start incorporating some keywords like "friends", "bff", "best friends", "friendship" to get all the friend designs we have. 

Now, you can browse our fantastic library to find a template you'd like to customize. To narrow your search, we highly recommend using our filters on the left side of your screen. You can either sort by "Popular", "Newest" or "Best Selling" to check out our latest and most popular designs. 

Then, pick a best friend's shirt design to customize it. Once inside the template's editor, replace the preset text and change the typeface as well as the color. After, include a beautiful graphic that represents true friendship – you can upload your own files, or use our free stock library to include tons of professional graphics to achieve the look you're after. Finally, select a nice background color or image to get the final touch. 

Once your best friend's shirt is looking incredible, all you have to do is hit the download button to receive your 100% customizable t-shirt. And that's it! Now you're ready to send your t-shirt to your favorite printing office or update your shop with this design. 
If you're more visual, take a look at this quick video that explains how to customize Placeit's t-shirt designs:
Apply These Best Friend Shirt Ideas in Tons of Creative Ways
Did you know that with these best friend shirt ideas, you can go beyond and create more than just t-shirts? This is thanks to the versatility and flexibility of our design templates. Now, it's possible to use these designs on various apparel items like hoodies, heather mockups, tank tops, and hats. Plus, you can expand your line with mugs, bags, phone cases, prints, and more!
So get ready to offer your buyers a wide array of friendship designs according to what they're looking for.
No Models? Showcase and Appreciate Your BFF Shirts With These Friend's Mockups
If you own an online shop, you know visuals play a significant role in promoting and selling your t-shirt line. That's why we've gathered some best friend shirt mockups to promote your new best friend shirts with style and professionalism. So, no garment, models, or photographer are needed—we've done that for you!
Check out our favorite best friend mockups for this upcoming celebration:
Last Words
Give a revamp to your business by including a beautiful friendship line collection that is easy to create and customize. And as friendship is a constant in our lives, this collection could be a potential best-selling monthly. However, if you want to keep fresh and up-to-date, prepare in advance for the upcoming special days, events, and holidays.
✨ Check what's next on our Ecommerce Holiday Calendar and our specialized T-shirt calendar to don't miss out on any significant occasion.
FAQ – Best Friend Shirt Ideas
---
---
---