Create the Perfect T-Shirt Label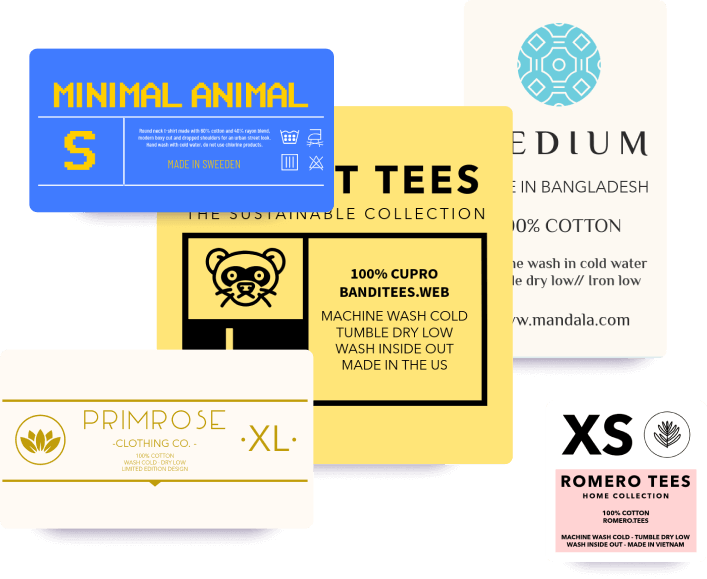 Labeling is an essential part of your product. Labels help to promote your business and make your product stand out. When deciding on the type of label you should use, details such as material, type, size, color, fold, design, and position should be taken into consideration for your t-shirt label design.
So, how to make sure you have the best label?
What You'll Find: 
Tip 1 – Comply with Legal Labeling Requirements
Labeling your clothes is not just adding your logo or company name. Each country has a set of rules you should follow. In the US, textile products should meet general requirements for textile, apparel, footwear, and travel goods, which include:
   Manufacturer, dealer identity
   Country of origin
   The fiber content of the clothing, and
   Care instructions
Following these legal requirements is essential not only to comply with the law but also to inform consumers about what they are buying. Some people might have allergies to specific components, they might prefer buying from determined countries, or they might want to be away from previous bad experiences with one manufacturer in particular. Not following the law might even cause some penalties to your company, so check your country's requirements before designing your labels.
Tip 2 – Types of Labels & Texture
Woven, printed, and heat press labels are the most common ones for clothing. The right choice for you depends on what type of t-shirt you are working with. Remember that t-shirts will have direct contact with the skin, so you should opt for soft and comfortable textures.
Tip 3 – Positioning
You can decide the best place to position your label, but it should comply with your brand's guide. Being a luxurious brand or an affordable one will determine which label and location are the best to use.
Labels can be placed in the front of the clothing, sleeves, neck, or on the inner side seam. The most commonly chosen places for t-shirts are the neck and on the side seam. Usually, the label with the brand's name is placed on the neck, where it has better visibility when displayed on the store's shelf. Product material, care instruction, and size can be frequently found on the inner side seam.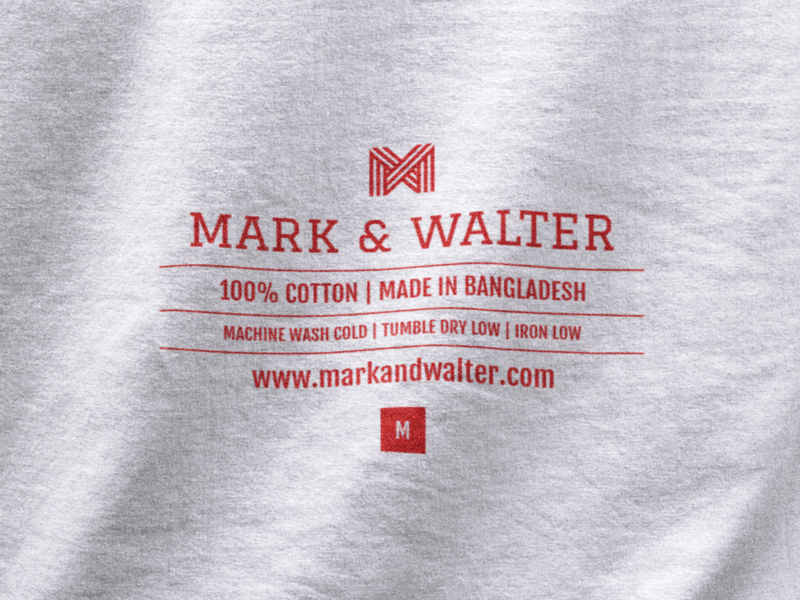 Tip 4 – Your Logo & Text
Labels have a size limit, so be careful with logos and text. Avoid texts smaller than 8pt. Try to apply fonts with at least 10pt to be realistically read. If your logo and writing might not fit properly on the label printable surface, choose only one to go. You can also add an extra label on the bottom of your t-shirt, but bear in mind each label will have a cost to produce and sew into your garment. At Wunderlabel, you can create and design online woven labels and printed labels using text and a symbol or upload your own logo or artwork.
Tip 5 – Color
Although most labels can be highly customizable, some restrictions may apply in terms of colors and size. Avoid choosing similar color tones for the logo and background, such as a light gray on dark gray or white on bright yellow. Take advantage of contrasting colors, like white and black or white and red. If the colors are too close, chances are your logo will not be visible enough. Also, ask your manufacturer what the color limit they offer is. Remember to request some samples to check their quality.
Tip 6 – Respect the Label's Size
Don't clutter your label with too much information. It will be hard and confusing to read. Your label should highlight your brand (logo or name) and make it stand out in the crowd. Minimalism is the best option in this situation.
Also, It is hard to sell a garment if people can't tell what its size of it is. You can add a separate label with the size or add his information to the label in a clear way.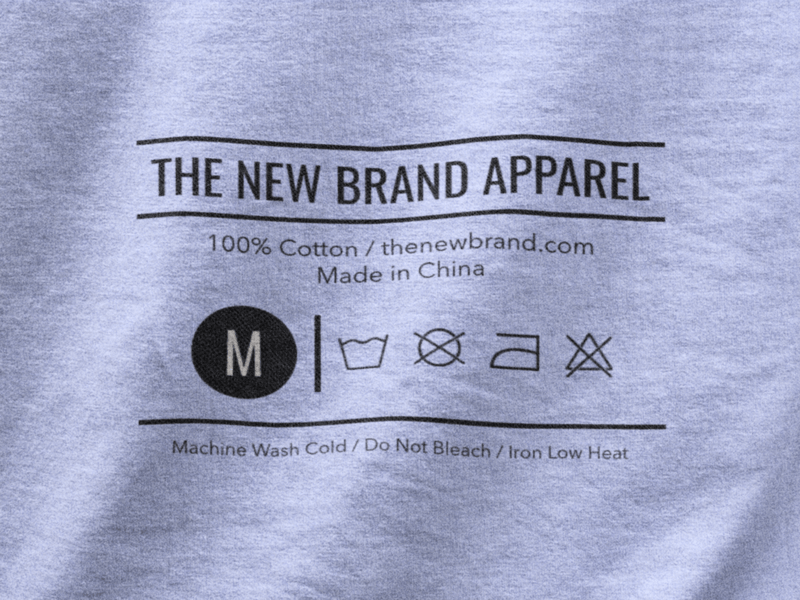 Tip 7 – Care Label
Depending on the country, a few legal requirements might apply regarding displaying material percentages and textile fibers used in the garments. But you should at least include care and washing instructions. It is crucial to add wash temperature, bleaching options, drying options, ironing temperature, and dry cleaning. As these labels are usually the ones that will be closer to the skin, it is recommended to opt for satin labels. Satin will provide some comfort for the user while wearing it.
Tip 8 – Types of Fold
The type of fold depends on where you will position your label. Inside or outside will require a particular type of fold. Depending on the location, such as the neck or sleeves, will also have its unique demands.
Flat: This type of label will lie flat on your product, sewn around the four edges. It is the best place in hard-wearing garments, such as denim and jackets.
Loop or Centerfold: As the name suggests, this label is folded across the center with a seam allowance. This is a popular choice since it has a wider usable surface area. You can add information on both sides of the label. Mostly commonly placed on the neck
End fold: It has a similar effect to flat labels, but it has an extra 7mm seam allowance on both sides. It has a better finish than the flat label, but the seam will still be seen on the other side of the garment. It is a cheaper version since it doesn't require the removal of the seam to sew it on. Best placed on the outside of the garment.
Book or Manhattan fold: Similar to centerfold, but it should have its seam allowance folded inward. Not so much used nowadays since it takes more time to produce. Its three folds need to be folded manually, as machines can't do it.
Mitre – A long and rectangular label. Its ends are turned over and up at a 90˚ angle. It is sewn on the garment via the folded tabs. This is the best option for soft clothes, such as for kids.
Tip 9 – Don't Forget to Add Tags
Convey quality and communicate your brand value through hang tags or swing tickets. You can also add social media calls to action or even promotional offers on your website or other touch points. Most prominent fashion brands take advantage of this type of labeling since it goes beyond the traditional sewn ones.  Use your creativity and communicate in a useful way with your customer.
Final Thoughts
Launching a new product requires the ability to handle several tasks all at the same time, but attention to detail is essential. Choosing the right type of label is crucial to your brand and product's design. As part of your marketing strategy, the correct label highlights your product, communicates your brand's message, complements your customer's lifestyle, and helps to encourage new purchases.
Also, remember to study your country's rules for commercializing textiles. Check for instructions and apply them to your product. The last thing you'd need as a starting business is to receive a fine or be stuck with products you can't sell.
"I made super cool designs for my shop using Placeit's t-shirt designer!"
Murray S. 5/5

---
Everything for Your T-Shirt Business
Placeit is your one-stop shop for your t-shirt business needs. It doesn't matter if your a brand new t-shirt seller, or if you're a seasoned entrepreneur, Placeit will be with you every step of the way with amazing t-shirt designs, stunning mockups, social media images, and even videos to promote your designs.
Start With a T-Shirt Design
---