Product Branding for Your Clothing Line Made Easy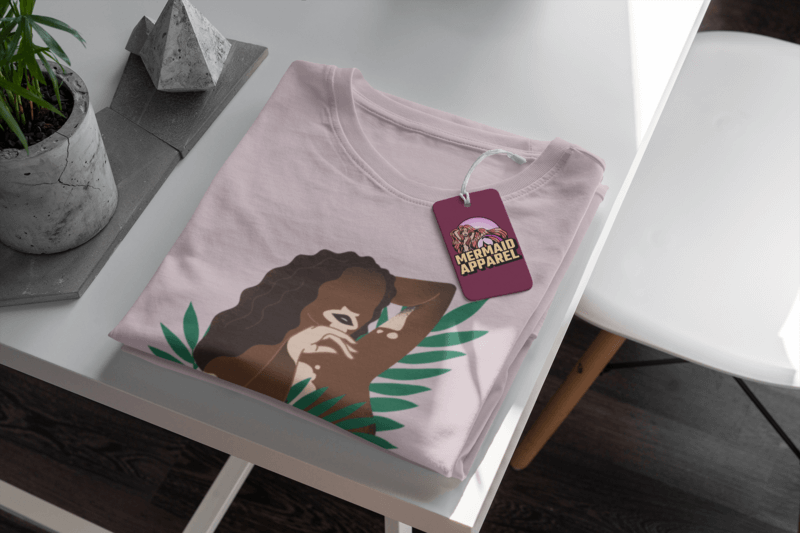 Before we jump into apparel branding, it's important to note that this article is for people looking to start or grow their own clothing line.  The approach to apparel branding included below isn't for someone that wants to print a couple shirts quickly, it's for people that want to create the highest quality apparel for their brand.  If you are looking to start a clothing line, you are in luck, read on to discover what is possible with regards to clothing branding for your clothing line.
Here's Why There Has Never Been a Better Time to Be in Apparel
There has never been a better time to turn your creative energies into a fun passion project or even a profitable business.  There isn't just one macro trend making online apparel businesses so attractive, there are many. Below are some examples of these trends:
Apparel is the largest eCommerce category segment (this is recent news because it was previously tech).
Brick and mortar apparel stores are struggling at the same time that clothing sales online are flourishing.
There are online tools (like Placeit) that make it easy for you to reach, activate and convert consumers.
There are new manufacturing arrangements (dropshipping) that dramatically reduce the overhead to get started.
When you mix all of the macro trends together, you can quickly see that starting an online business selling apparel is a great option. But it's not all sunshine and roses, there are challenges as well.
The Biggest Challenges with the Clothing Biz and How To Overcome Them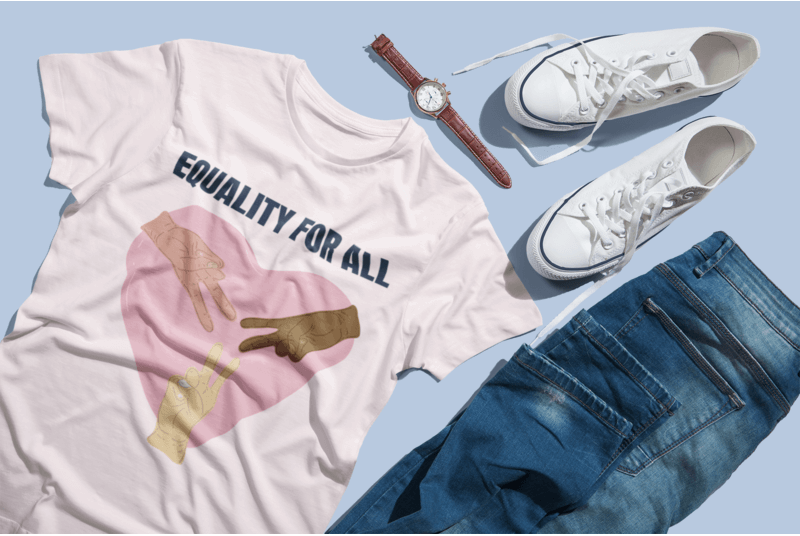 Historically, the biggest challenge to break into the apparel segment has been funding. In order to sell clothing, you first need to get it made. Makes sense, right?
The problem is that the majority of reliable quality manufacturers want huge minimums (think thousands of units per style and per color). That translates to huge costs before you can even start selling. Heaven forbid there is a problem with your products, or they don't sell as well as you thought. This would mean you would be stuck with 6,000 pink donkey knit sweaters and no way to sell them. This problem has led to an ingenious solution which is print on demand, aka POD.
Print on demand is an approach to creating apparel where you only make the items you need when you need them. In other words, items will only be printed once someone has made a purchase. This allows you to only pay for the products you need and not waste money on products, sizes, or styles that won't sell well. It can save you months of planning and manufacturing your products as well as thousands in unsellable styles. Sounds absolutely perfect, right?  Well, unfortunately, print on demand has historically had some big drawbacks that made it a challenge for up and coming fashion brands.
Running an Apparel Brand Is More Than Printing T-Shirts
As the name indicates, print on demand is mostly just printing t-shirts. Now, don't get me wrong, you can do a TON with just a print on a t-shirt and t-shirts are insanely popular as well as a great product to start your brand.
With that said, it's hard for customers to take your brand seriously when you are just printing on a shirt and shipping it out with a Gildan tag on the neck. Why, you ask? Because a brand is more than a product.  It's the way you make customers feel, it's what you stand for, and brands have deeper meanings than just the product they offer. In order for customers to truly connect with your brand, they need to believe in your brand.
Paying attention to the details of how your products are branded is a great way to show how much you care about your branding and how much you care for your products. This is something that's needed to attract customers and will help with retaining customers. After all, if you don't care about your products, surely your customers won't either.
The great news here is that recent advancements in the print on demand industry have made it possible to create products with high-quality branding.  But first, let's take a quick second to explain the fundamentals of apparel branding.
The Two Primary Types of Labels for Apparel Products and How to Choose the Right One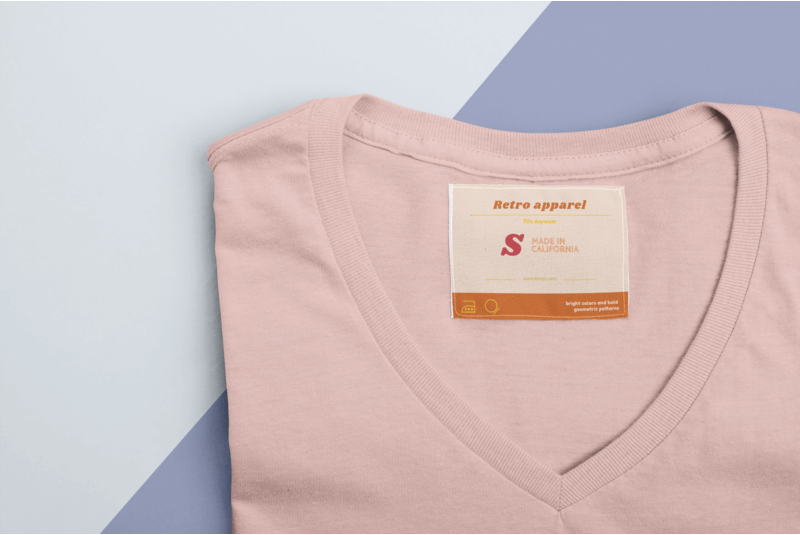 Woven labels are the foundation of all apparel branding. Let me say that again, the FOUNDATION. They can be found on garments from runways, to couture, to streetwear boutiques, to $1,000+ kicks, to handbags.
What is a woven label, you ask?
It's a small woven (made on a loom) piece of material that typically carries the brand name or the brand icon of the product.  They are sewn into products in visible places, like the hem (bottom) or the sleeve cuff of a shirt. They are by far the most common method used to professionally brand apparel products.  But why you ask? Great question.
These labels are highly versatile (woven labels can be sewn onto anything in almost any place), cost-effective, and professional-grade quality. They can be made at a great price and sewn onto garments in seconds. Most importantly, they denote a sign of quality and make apparel products "real" in the eyes of consumers.
While woven labels traditionally have only been available when you are mass producing apparel, they have recently entered the world of print on demand!
Now you can purchase a relatively small quantity of labels, which are held in stock by a manufacturing partner, which are then sewn onto your orders on demand. This new approach allows you to create professionally branded products in small batches or on-demand, which has never been possible before.
Now that you know about woven labels, you may be scratching your head about the other type of labels. The other type of label is a printed tag.
These labels exist to fulfill federal legislation that mandates certain information must be included with apparel products. For example, within the United States, products must contain information like the country of origin, the material contents, and wash and care instructions. While most blank products already contain this information, they typically also contain the name of the manufacturer. So if you want to leave the informational tag in the products, you are also shipping the Bella+Canvas tag or the Gildan tag along with it.
So what can you do about this?  Well, the good news is that it is pretty simple to remove the manufacturer's tags since most manufacturers use tear-away labels.  The even better news is that you can now also have your own tags printed (with your brand of course) and sewn directly into your apparel products. These private labeling services for apparel are available for bulk purchasing and print on demand.
If you are still a bit confused about the differences between printed tags and woven labels, you can check out this quick resource as well.
So which set of tags should you use? Great question.
The answer is simple, you don't have to use one or the other, it's completely acceptable, even expected, to use both printed tags and woven tags together to achieve a completely branded apparel product for your fashion brand.
What Are Your Next Steps?
If you already have a successful fashion line but are struggling with putting together collections, manufacturing, holding stock, and shipping orders, it may be worthwhile to consider using a print on demand service to try out styles before committing to large bulk orders.
If you are just getting started, we recommend that you start slow. Create a few products, order samples, and check out the quality to make sure you like the direction your products are heading in before jumping into producing larger runs. Use dropshipping and print on demand providers to see if you can build sales and marketing momentum for your brand.
One thing is for certain, you have a much greater chance of being successful when you are putting care and attention into creating professional quality apparel.
"With Placeit's t-shirt design templates, I can create cool designs in no time!"
Angel Lan
5/5
---
Start a T-Shirt Business of a Budget
If you want to start an online business that's profitable, why not sell t-shirts? Using a print on demand platform will make it much easier since you don't have to worry about much beyond coming up with great t-shirt designs. With Placeit's t-shirt design templates, this is easy to conquer as well, so why not give it a shot?
Create Awesome T-Shirt Designs!
---