Together with the release of Placeit Video 2.0, we have added the possibility to upload directly to Youtube. This, coupled with Youtube's video editing capabilities, creates a streamlined workflow for your app demo video. In this tutorial, we'll show you how to upload and edit your video for Youtube.
For this tutorial, it is necessary to have created a Placeit Video 2.0 recording. After your recording is ready and processed, check the preview and get ready to upload to Youtube by clicking the following button: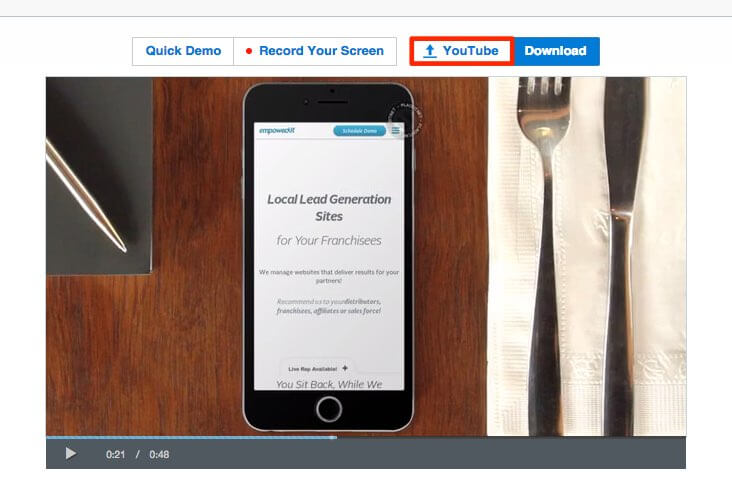 Uploading to Youtube
After clicking on the Youtube button for the first time, you will be prompted to link your Youtube account to your Placeit account. This allows us to upload your video for you (we'll keep it unpublished until you decide to make it public).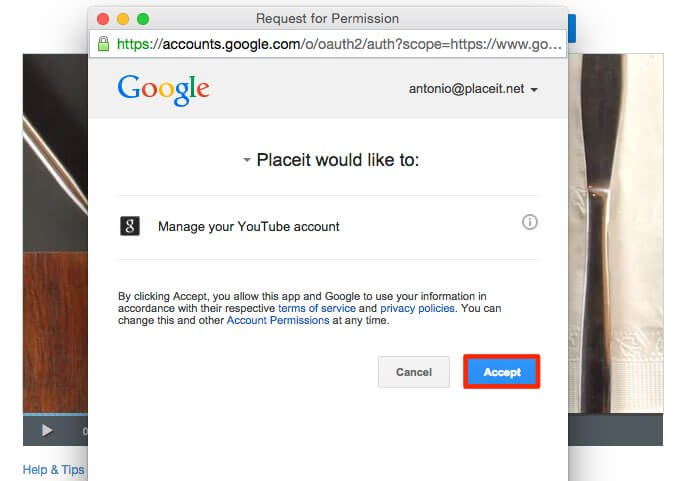 You will also need to purchase the video or download the free version. If you have a video subscription, you can use one of your video credits for this.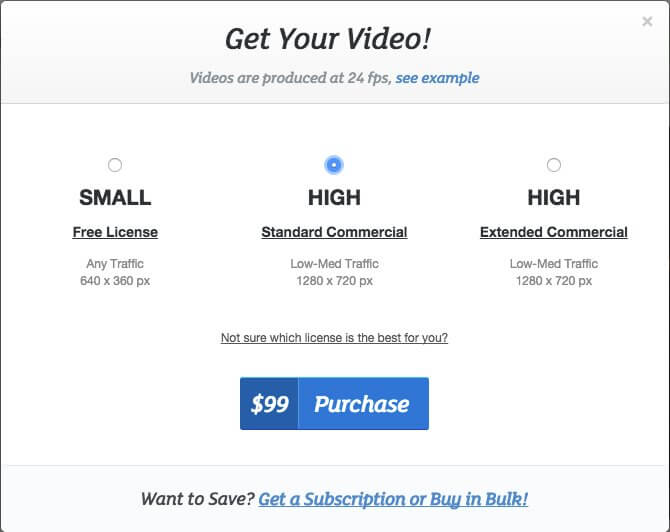 Your video will be processed on our side and then uploaded to Youtube. You will receive an e-mail when this step is ready. Please note that you can still download the video file at this moment or later, if needed. You can do this by accessing "My Drive" on the top right.

If you want to publish the video like this, skip to the last step of this tutorial (Publishing).
Once you get our e-mail, it will have a link that will send you directly to the editing screen.  If you need to access it and lost the e-mail, you can find it by going here and clicking "Edit" under your chosen video.
Edit on youtube
Before you start editing, remember that you should save any edits before changing to a different page. Otherwise, your changes will be lost. You can also save your edits as a new video, and leave your original upload intact.
Enhancements
The enhancements page will let you modify the video's length and look. This will allow you to fine-tune your app demo video or even add titles/information. It is important to note that the previews shown on that page are low resolution, but your final video will retain its high resolution.
The first item you will encounter is "Fill Light". This setting will let you adjust the brightness of your image. Be careful not to add too much, otherwise your video will lose its details.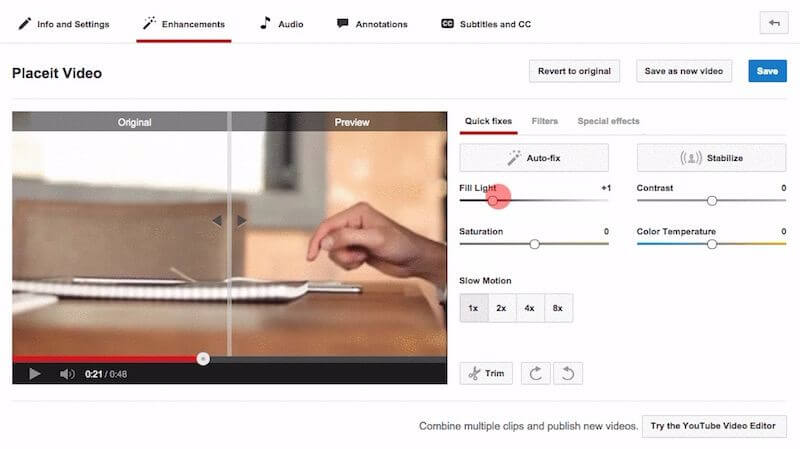 Next, you should play with the "Contrast" setting. This modifies the relationship between highlights and shadows. This means, if you add more contrast, shadows will be darker and highlights will be whiter. This setting should also be used with care, as too much movement to either side could ruin your video.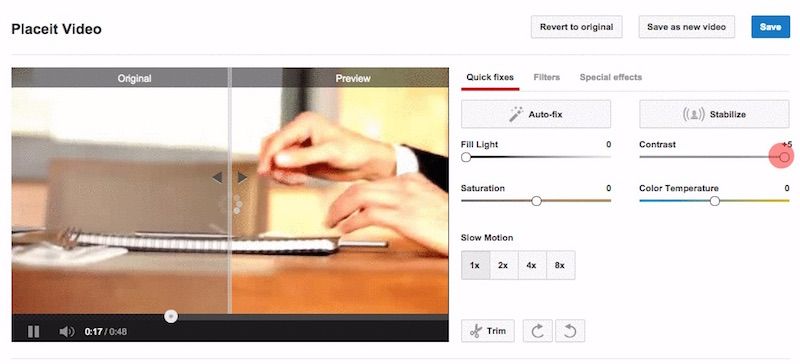 If you are looking to change your image's colors, you should try the "Saturation" setting. This will change how much color your image has. This means that, if you turn it all the way down, you'll have a black and white image.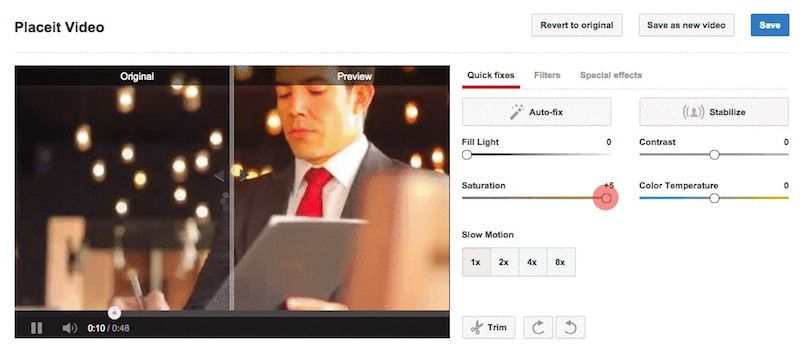 Finally, you can use the "Color Temperature" setting to make your image colder (blue) or warmer (orange), This adds a filter if you are looking for a more cinematic look.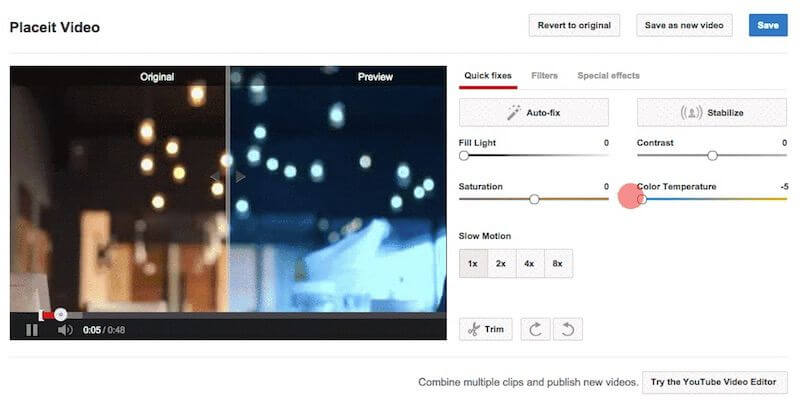 You can also try the "Filters" for preset looks.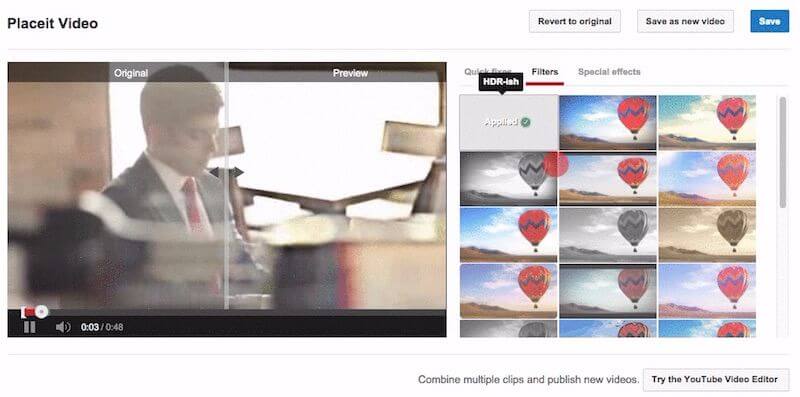 Trimming
On the same page, you'll find the "Trimming" option. This will load a timeline editor under your video in which you can shorten your video. You just need to click and drag the edges of the video to the desire length. In this example, I removed a couple of shots from the beginning and the end. Remember that if you save a trimmed version but later want to download the full version, you can go to "My Drive" on Placeit. If you are looking to merge several videos to create a longer one, you can do so with the Youtube Editor.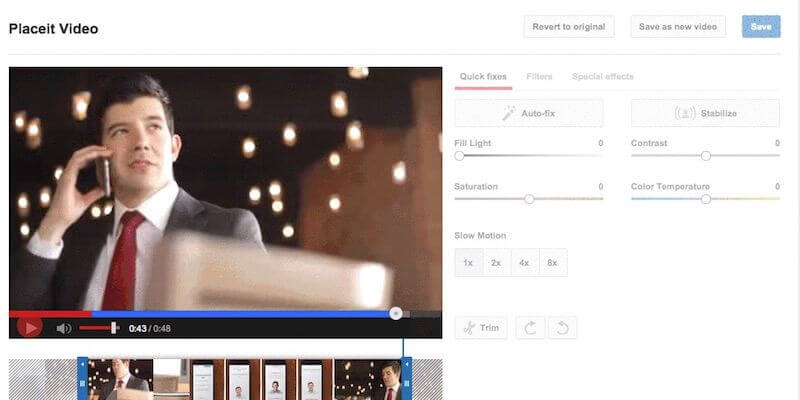 Audio
Youtube allows you to select one of their 150,000+ free songs to add to your video. They also let you trim and place the audio in your video, so it matches perfectly with what happens on screen.
To do this, go to the audio tab at the top. Then, select a song or search one from their catalogue.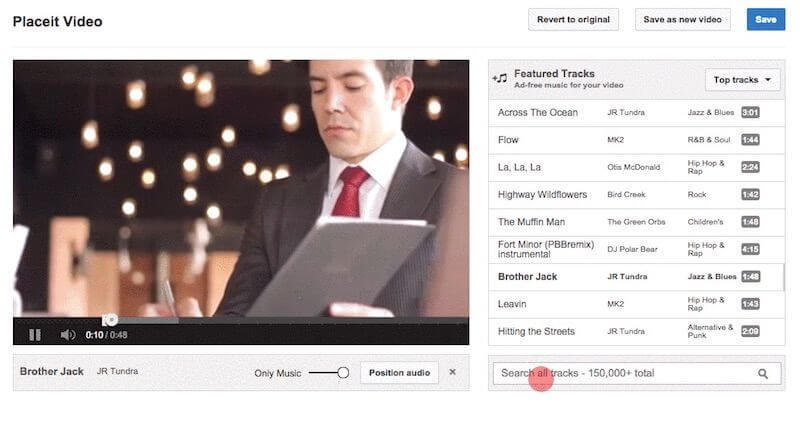 After you find the song that you believe best fits your video, choose it and a timeline editor will be loaded under your video. Here, you can trim the audio and move it to best fit your video. This is done by dragging the edges (to trim) or dragging the middle (to move).
Annotations
Finally, you can add titles or text with the Annotations tab. These are simple. You just choose the type of annotation, select where it starts/ends and modify the text: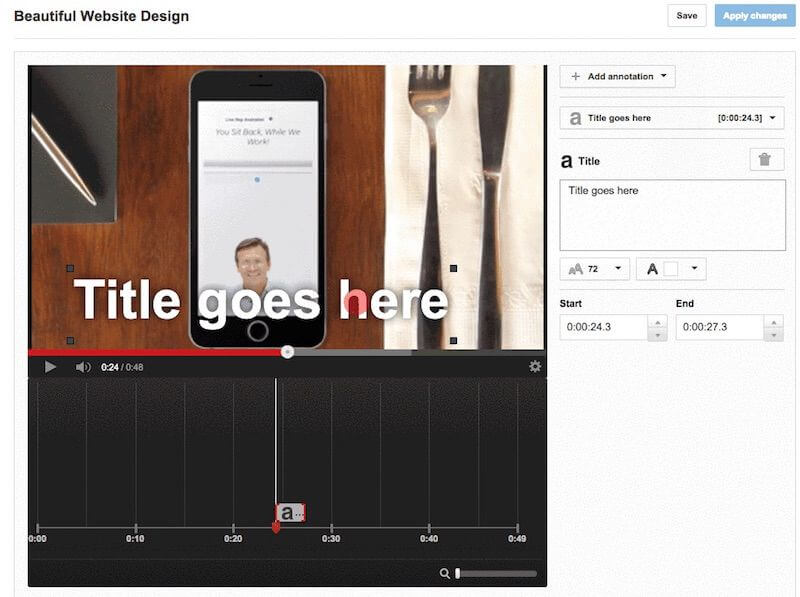 To delete an annotation, just select it and choose the trash can: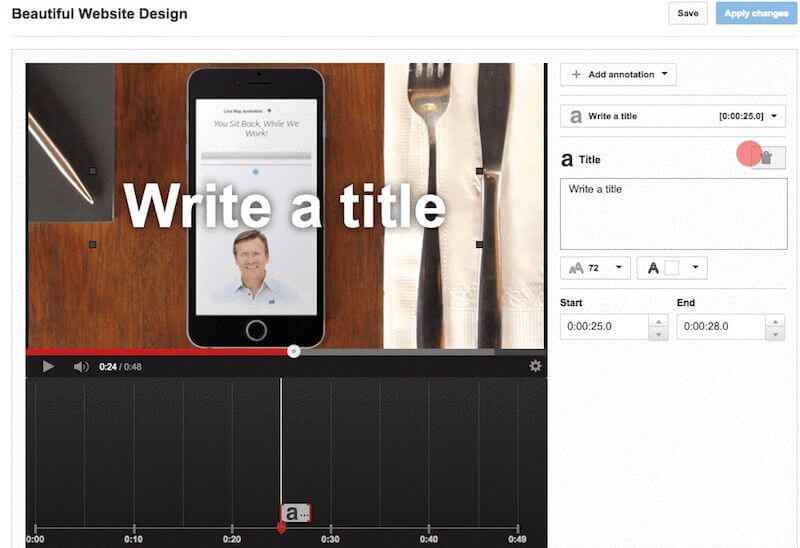 Publishing
When you are ready, save your changes and go to the Info & Settings tab to change your video from Private to Public.
---