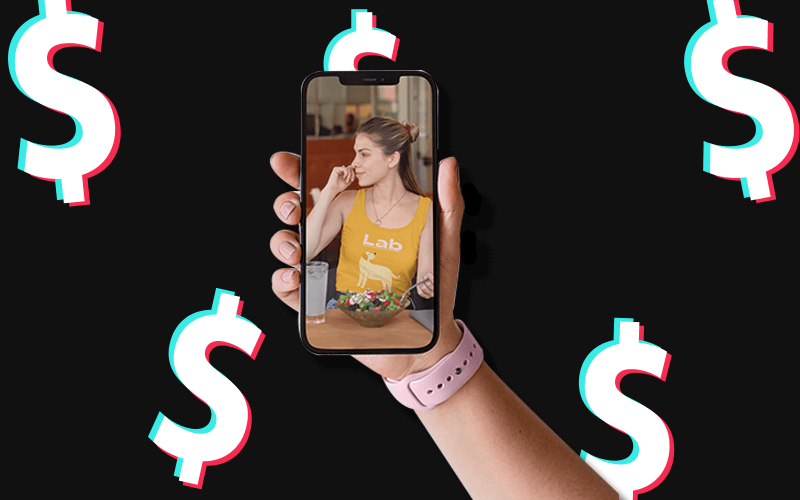 TikTok went from an app apparently conquered by a younger generation to a social media platform that is great for business for everyone! That's right, you can make a very profitable career based on your authenticity and charisma! So get ready to read for the best-proven ways to make money on TikTok and get your numbers to the top! We remember this happening on Instagram, don't we?
What You'll Find:
There may be many reasons why you want to make money off your TikTok account. You may be a content creator, a specialist on something looking to send new customers to their business, or a brand that sells products; either way, you can find a way to make your TikTok profitable, whatever you are selling! So let's get right into it:
✨ Create awesome TikToks using Placeit's templates
1. Link Your Shop
Whether you have a website, a portfolio, or a media kit, you should add a direct link to it on your profile. Using TikTok to drive traffic into your main platform can be a great way to get new clients. 
Remember to mention your store to your audience and don't be shy!
🔥​ Check out the Social Media Trends to rule this year.
2. TikTok Shopping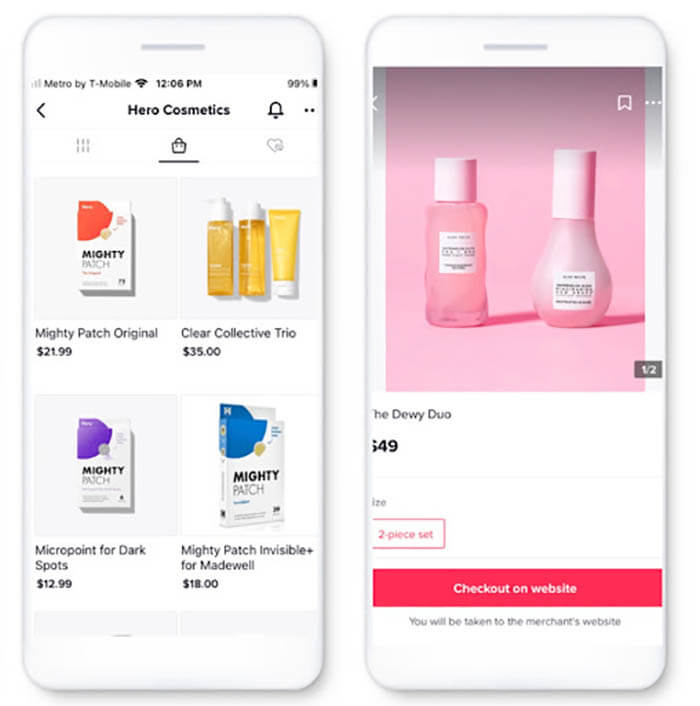 You can sell your products directly on TikTok Shopping from your Shopify catalogs. TikTok adds a shopping tab to your TikTok profile.
✨ There are plenty of social media platforms you can use to sell your products. Check out this post on social shopping to learn more!
Requirements
You must have your TikTok for Business account activated. 

You can set Your TikTok Shopping if you are in the US, Canada, or the UK.
🔥 Want to learn all about the commercial side of TikTok? Then read this TikTok for Business 101: A Guide to Growing Your Brand
3. Promote Your Products
Make videos about your products! This one is easy, right? A great example is when content creators have their own beauty brands they show how they use them, what they look like being worn, etc.
4. Make Great Videos to Land a Partnership (Branded Content)
Influencer marketing works on TikTok very similar to Instagram. Brands look for authentic popular profiles that share the audience they look for. 
As a creator, you should only partner up with brands that make sense for you. Mostly keep your TikTok content ORGANIC; this is something essential to be an attractive profile for brands. 
Set Up Branded Content
To activate Branded content, select "More Options" on your post screen, then select "Branded content." Then turn the toggle to "On." If you're a TikTok Marketplace creator you can just click on "Branded Content" on the Post screen.
Make Unsponsored Videos of Your Favorite Brands
This is a great way to make a few brands turn their heads to your profile. If you are creative, they might contact you! If you start bringing customers to them organically, they will notice you.
🚀 Want to skyrocket your visibility and engagement on TikTok? Then check out our new TikTok SEO guide!
5. Affiliate Programs
This is basically a form of partnering up with a brand only that you would be adding an affiliate link to your account. Affiliate marketing has proven to be very effective for popular creators! You will basically make a commission every time your code is used. 
Becoming a brand ambassador works in the same way. However, this deal may include more benefits for you as a creator.
6. Audio Sponsorships
This is when emerging artists, instead of brands, partner up with you to use their tracks! 
7. Show Off Your Expertise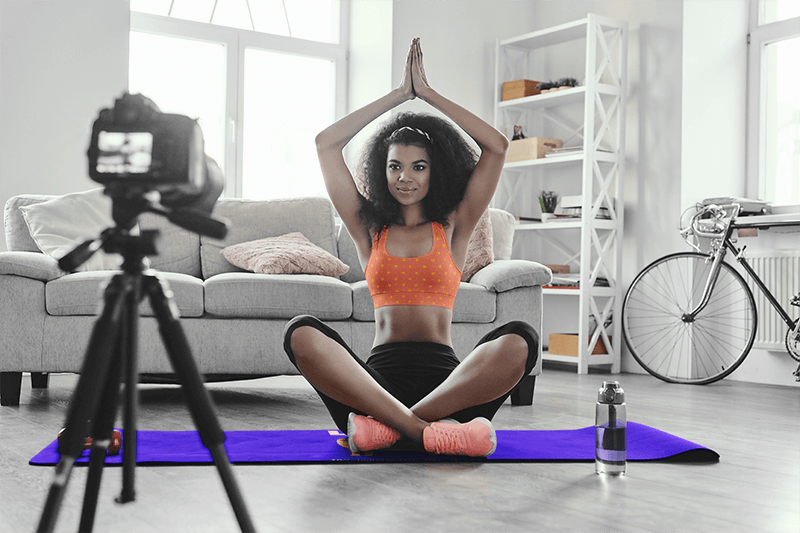 Are you in the service business? TikTok is a great place to make videos about what you know and show off what you know! Coaches, doctors, teachers, and everyone can show off their talents and get new customers via this platform. A great strategy is sharing insights or tips with your audience.
8. Sell Merch to Your Fans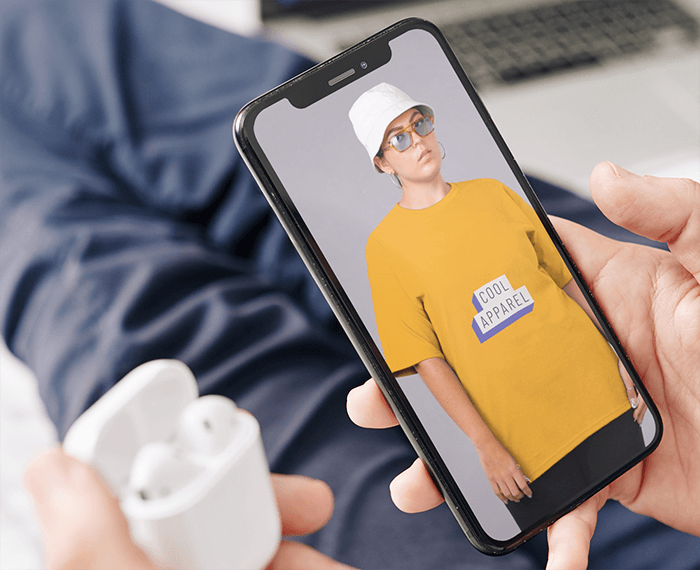 Have you already become popular? You can sell custom merch to your followers. With print on demand sites you can offer a huge variety of products. Take your time to do your market research to offer the best products for your target.
🔥 Pro Tip: Using Placeit by Envato you can create your merch designs in just a few clicks even when you are not a designer!
9. Crowdfund for Your Project
Get your followers to fund your project! You can use a third-party crowdfunding site and share the link on your posts and profile. Needless to say, you explain your project and really sell it to your followers for them to want to support you. 
Crowdfunding Sites
Kickstarter

: most popular. 

Indiegogo

: It lets you receive funds after your deadline.

Fundable

: You can offer equity in exchange for funding; this will make it really attractive to investors. Only available in the US. 
There are other sites you can check out like Crowdcube, and Mighty Cause, among others.
10. Collect Tips
The same strategy as crowdfunding, but by collecting tips, you basically rely on your audience to want to pitch in for you! You can use a third-party site as well to collect tips from your audience. 
Tips Sites
11. Use Patreon
Patreon is a subscribed-based site where you can upload more of your content that you can tease on your TikTok account. Kind of like a subscription to your exclusive content. You can entice your fans with rewards. 
You will need a pricing strategy to set your subs price right. You can offer content like Behind-the-scenes, SWAG, Live chats, and more!
🤑🔥 If you're interested in mastering this platform, then don't miss out on How to Use Patreon: Provide Exclusive Content and Earn Money
12. How to Get Paid from TikTok
That's right! You can also get paid directly from TikTok and there are actually many ways to achieve this.
🌟 Want to level up your account? Check out our brand-new guide on How to Get Verified on TikTok!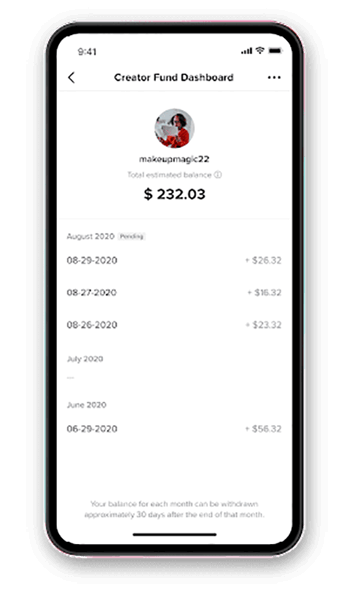 If you are a creator, you will receive funds based on many different factors, including authentic views, engagement, and following the community guidelines and terms of service. There is no actual max or minimum amount a creator can earn from the Creator Fund. 
Requirements
Be at least 18 years old.

Be a TikTok Pro user.

Be based in the US, UK, Germany, Spain, France, or Italy.

Have a minimum of 10,000 followers on TikTok

Have a minimum of 100,000 unique video views in the 30 days before applying.

Comply with the TikTok community guidelines and terms of service.
How to Apply
Open your account settings, click "Creator tools," and then "TikTok Creator Fund."
Video Ads
Step 1: Enter Ad Name.

Up to

512 characters. Only video ads are supported. 

Step 2: Enter Ad Details and Video. ​Add from Computer, from Assets, or Create a Video.

Step3: Choose a Thumbnail

Step 4: Add your text, call to action, and link
Available Call-to-Actions: Download, Learn More, Visit Store, Book Now, Shop Now, Contact Us, Apply Now, Play Game, Watch Now, View Now, Get Quote, Interested, Install Now, Get Showtimes, Experience Now, Pre-Order Now, Subscribe, Get Tickets Now, Listen Now, Read More, Order Now, Sign Up
Step 5: Add tracking links or pixels to follow your performance data. Learn about TikTok Pixel, or Supported Third-Party Measurement
Video Gifts
Video Gifts allows your audience to send virtual gifts or "Diamonds" in the comments section of a video. TikTok awards the Diamonds you receive! 
Requirements
Creators must be 18 years of age or older, have at least 100,000 followers, have an account that is over 30 days old, have published a public video in the last 30 days, and have no violations of the Community Guidelines. 
Business Accounts are not eligible to participate. Some are also not eligible for Gifts, including Duets, Stitch videos, ads, sponsored content, promoted posts, or videos that violate Community Guidelines.
How to Turn Video Gifts On
Go to your Settings and privacy page. From there, select "Creator tools" and then select "Video Gifts." Finally, choose "Turn on Video Gifts."
To redeem your Diamonds for money, simply choose "Withdraw," on your TikTok connected account and tap "Confirm and proceed." Diamonds do not have a monetary value unless and until they're redeemed.
Creator Marketplace
It's a platform for brands and creators to meet. When you join you can create advertising videos for brands. Brands will have the ability to see your profile, audience demographics, engagement metrics, and more.
How to Activate Your Creator Marketplace
Go to your settings, and locate "TikTok Creator Marketplace" to manage your creator profile. There are two ways to collaborate with brands:
Direct Invite – Brands will find you on TTCM and invite you to work with them.

Open Application Campaigns – you can search for relevant "open campaigns" created by brands and submit your application to work with them.
  🔥​ Check out how to go viral on TikTok in 2024!
How Much Do Tiktokers Make?
These are of course, all estimations there is no way to know exactly how much they make. 
Content creators who have about 100,000 followers or more can get paid between $200 to $1,000 a month. Creators who have 1 million or more followers can get paid $1,000 to $5,000+ a month. But those who are under 1 million followers are usually not making money yet.
💡 Check out our post about TikTok vs. YouTube Shorts! 
Last Words
So there it is; there are many ways you can make money on TikTok. Making money on any social media, for that matter, is no easy job. It takes work and consistency, kind of like a full-time job!
So know that if you want real results, you will have to put in real effort! But before you go crazy on these tips, please keep in mind the following: 
Don't try to take too much too fast. Pick a strategy or two and work around them until you feel comfortable enough to make more efforts to grow your income on TikTok. 

Pick the right time to post your content, you want to do this when most of your audience is online. 

Do NOT forget about using TikToks most popular hashtags. 

Keep posting your regular content so you don't get your audience tired of your sponsored posts. 
🔥​ Pro Tip: Posting while you are on live is a great strategy since TikTok will set your video on TikTok users' feeds with a link to your live stream.
FAQ
---
---