Making App Store Screenshots Has Never Been Easier
As you probably already know, since Apple's update to iOS 8, adding screenshots to your app listing on the App Store has become a must for effective promotion. Users don't really pay attention to the description, reviews or ratings, in fact just 2% of the users read the full app description. This is why showcasing your app's features with compelling screenshots is the best way to get downloads.
Creating professional imagery to promote your app means spending some time on it. The other way to go would be to hire a designer, but this means spending money on that. So, if you want compelling iPhone X visuals to submit your app to the App Store, be prepared to grab the wallet or cancel that movie date… right? Well luckily for you, Placeit has just released a brand new iOS Screenshot Generator that takes care of your app store screenshots instantly and without breaking the bank. Read more about how to increase your app's conversion rate with effective iOS screenshots. We'll go over how this app screenshot tool works and what it has to offer.
What Do I Need to Use the iOS Screenshot Generator?
A screenshot, that's it. Yes, really. Just take a manual screenshot of your app, that's the only asset you need to create a beautiful iOS screenshot to promote your new iOS app in the App Store. No photoshop or other type of editing software needed, just drag and drop your image into this iOS screenshot generator and Placeit will take care of it to deliver a compelling template.
What Are My Options With This iOS Screenshot Generator?
Highlight your app's UI and top features with our variety of layouts. Let's say your main feature is on the bottom of the screen, then it only makes sense to display it with an iOS screenshot that gives priority to that specific part of the phone. You can use our different angles and positions to present your app's different features in close-up shots or full images. Apple recommends uploading between 3-5 iOS screenshots to your app on iTunes Connect, make the most out of these with a couple of different screenshots that will captivate potential users.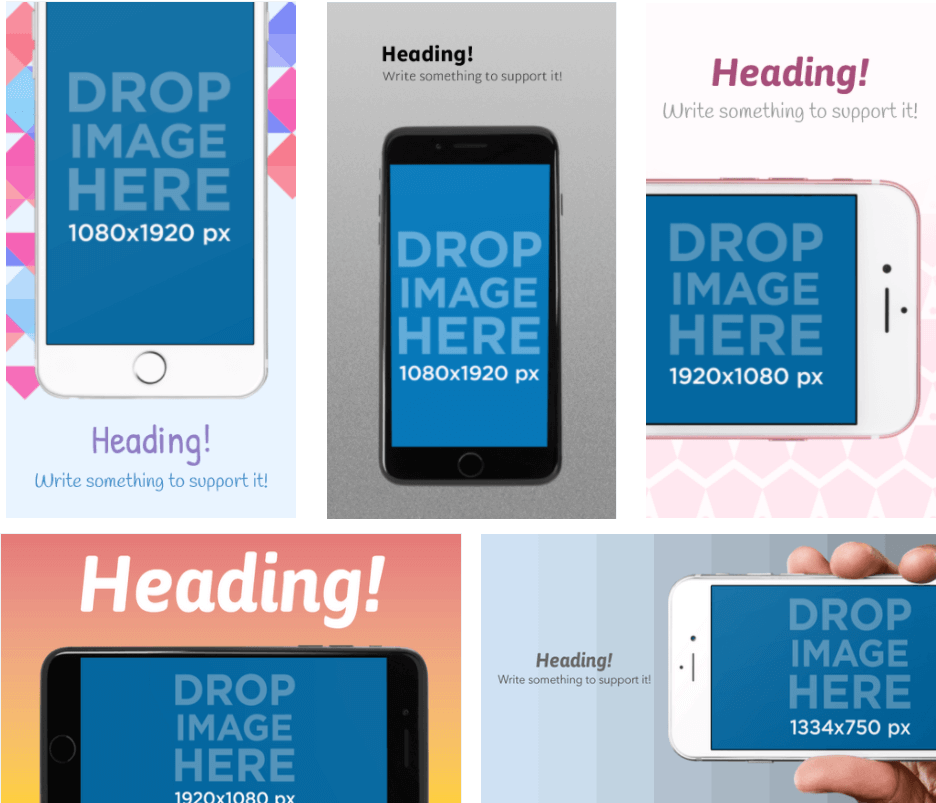 Whether you want to use a solid color background on your template or opt for a funky, professional or smooth texture, Placeit will have what you are looking for. Once you upload your image to the iOS screenshot, you will be given dozens of different options on the right side, browse through them all to find one that fits your app best.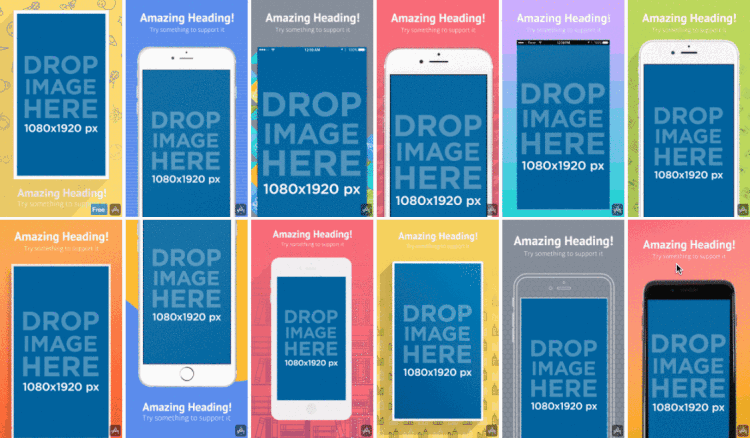 Tip: Choose a background pattern or texture and then select a solid background color that complements it, you can choose our color picker or even type your own HEX code.
Not just that, this iOS screenshot generator has a full type tool included. After choosing your template and background, simply go ahead and type your copy, you have two text fields: one for heading and one for body – you can also opt to keep just one, whatever works best for your app.
Changing the font, alignment and color are also an option, and of course, it's super simple to do! Have a look at this quick .gif of the process: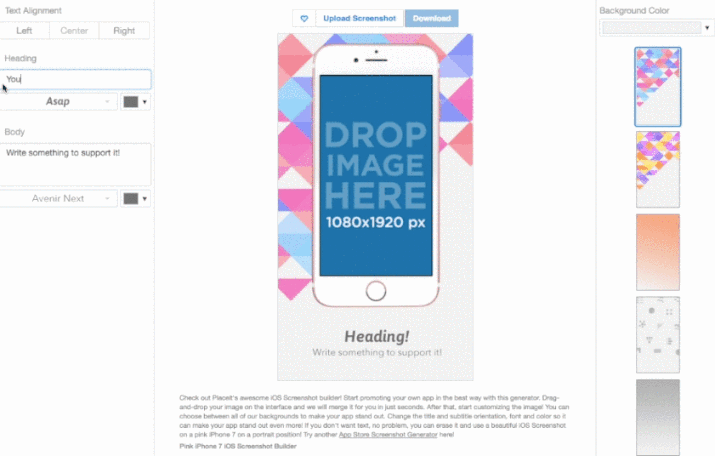 Still Unsure?
The best thing about this iOS screenshot maker is how easy it is to make these beautiful templates, and how it will only take a few seconds! Have a look at this tutorial video that goes over the whole process and judge for yourself!
Ready to Get More Downloads With Great Screenshots?

---
---