Best Teams Wear Top Quality Football Uniforms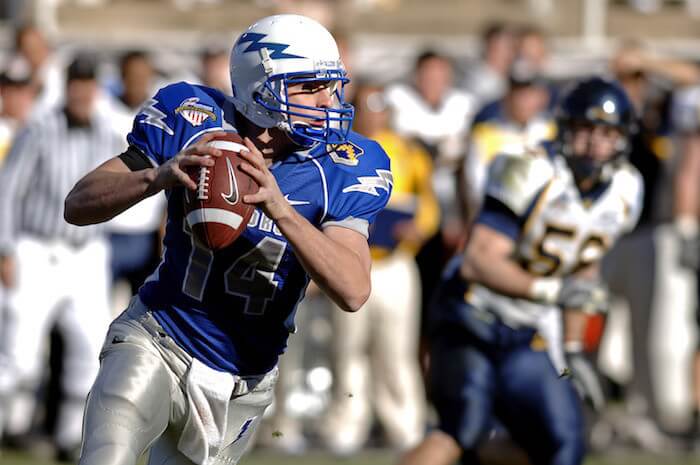 New season, new uniforms! As a player, few things feel as good as opening a uniform box filled with new jerseys and desperately looking for the one with your name and trying it on for the first time. Woah, what a feeling!
Uniforms convert a bunch of individuals into a team capable of amazing things. Stop thinking about uniforms as a league requirement but more as a team bonding and team strengthening tactic.
Since we previously provided guidance on how to create a football team logo and how to create football jersey mockups, we might as well help you figure out which websites have the best online football uniform builders, which will make the ordering process way easier.
We took a deep dive into the plethora of football uniform builders out there so that you don't have to. We discarded the outdated and difficult-to-use tools and created this shortlist with only the good stuff.
Tip: Most websites ask you to first register and create an account before starting the customization process, which I strongly recommend. This way, you can save your mockups or uniform previews for later. As a guest, you will lose your progress once you close your browser.
Ready? Let's do this!
Best Custom Football Jerseys Manufacturers List
---
Need to See Your Uniform Idea on a Real Person?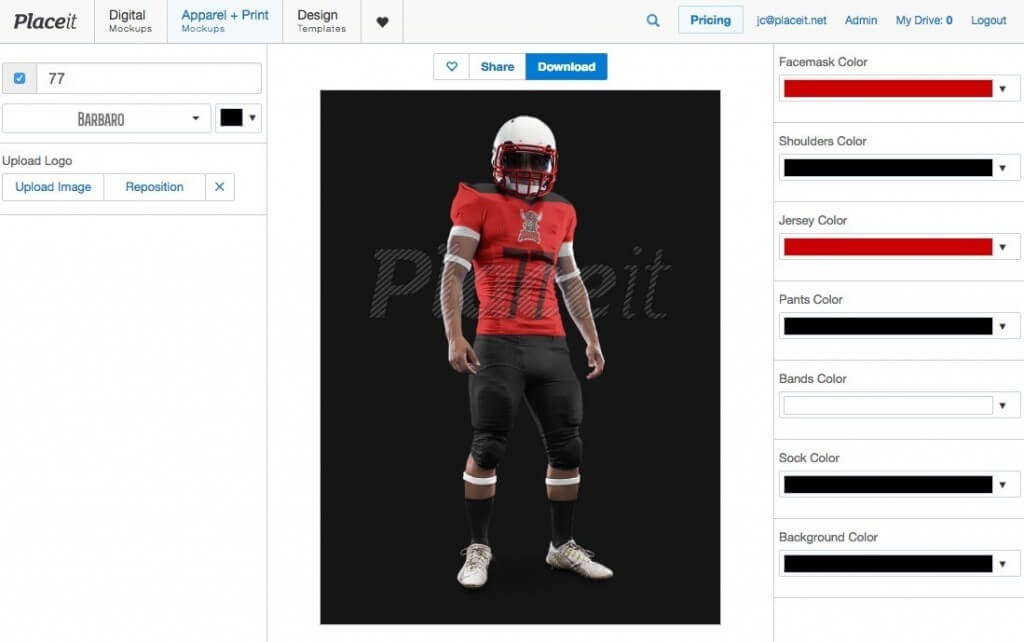 While you can't order custom Football uniforms from Placeit by Envato, you can still create photo-realistic football uniform mockups that can help you make up your mind on how you and your team want the new uniforms to look. Every part of this full-body football mockup is editable. From the facemask color all the way to the color of the socks. Placeit's interface is amazing. Every applied change is immediately shown on the screen so that you get to try as many color combinations as needed until you get the uniform design you long for. Once you download your custom football design, you can send your file to any sports uniform supplier and let them know you want a uniform that assimilates your mockup file.
Tip: In case you don't already have a logo, you can create a team logo with Placeit and add your logo design to your football mockup image too. Also, here's a blog post with some amazing custom football logos created on the website.
Cost:
Mockup: $8
---
Look Good, Feel Good, Play Good
Don't sweat it; having an awesome-looking uniform nowadays is easier than ever before. Simply visit any of the previously mentioned sites, create your uniform, fulfill your order, and wait a few weeks for your brand-new custom football uniforms to arrive. The smiles on your team's players' faces when first wearing their brand-new uniforms will make all the effort worth it.
Don't forget to visit Placeit's Sports and Apparel section to create football mockups that will help you promote your team's merch and earn some extra money to purchase new gear for your team. Actually, have you considered creating Super Bowl merch? Click here to learn more We have a full guide on how to promote your sports team using your uniform as the key element.
---
---