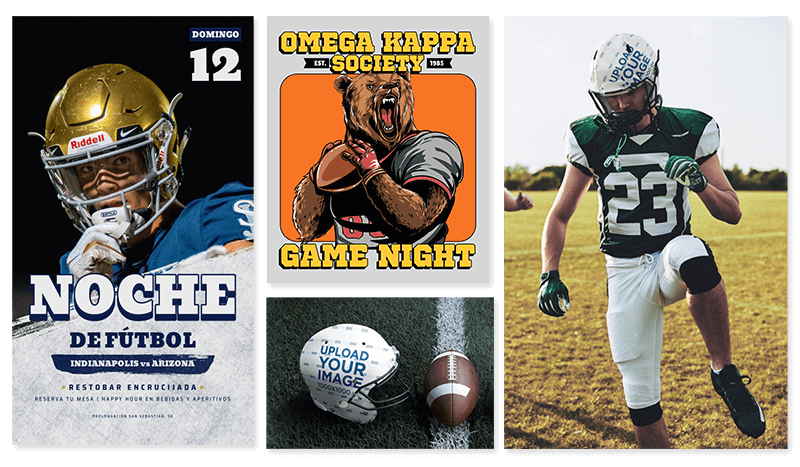 In the world of sports branding, visuals hold immense significance. A compelling logo, vibrant colors, and captivating videos all contribute to establishing a strong and memorable presence for any football team. With Placeit's football templates, creating exceptional football images, logos, and videos has never been easier. In this blog post, we'll delve into how you can craft winning designs that resonate with fans, captivate audiences, and leave a lasting impression!
What You'll Find:
Football Templates: The Backbone of Your Brand
Placeit by Envato offers an extensive collection of football templates designed for every aspect of a team's branding journey. Whether you're aiming to enhance your social media game, create promotional materials, or design striking merchandise, Placeit's templates have got you covered.
🏈  Is the Super Bowl season coming soon? Make some cool merch to share the spirit!
Social Media Posts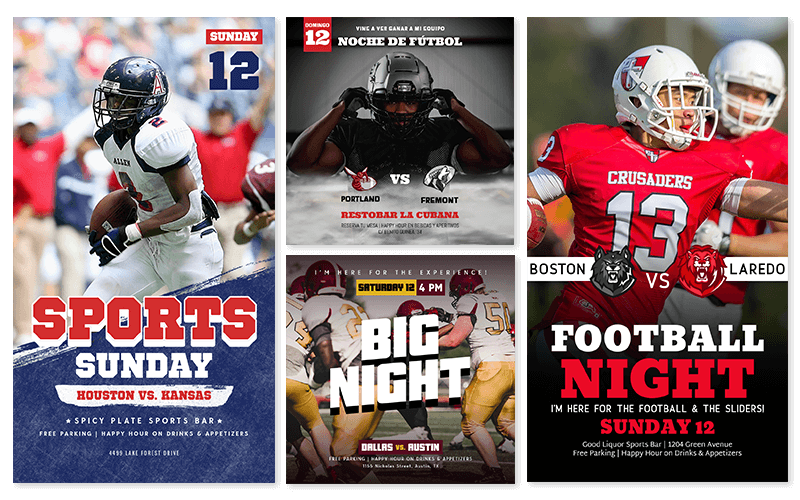 Engaging fans on platforms like Instagram, Facebook, and Twitter is essential. Placeit's football templates come with eye-catching graphics, customizable text, and the option to add images of your team's latest victories. Easily create posts that share the excitement and energy of the game day experience.
Championship Banner Template &  Football Flyer
Whether it's promoting upcoming matches with football game flyers, fundraisers, or fan events with football invitation templates, Placeit's templates allow you to craft impactful banners and flyers that grab attention. Customize colors, fonts, and images to align with your team's visual identity.
Football Jersey Template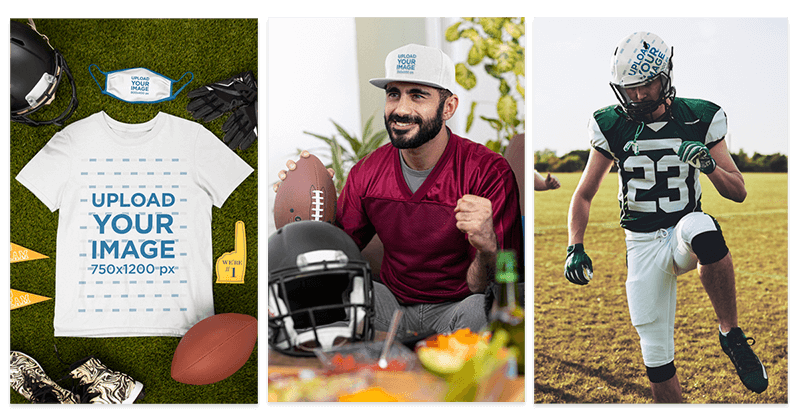 Uniforms play a pivotal role in team recognition. With Placeit, you can mockup your team's jerseys on realistic models, experimenting with different color combinations and designs before making the final decision. Try our football uniform templates!
👕  Looking for the best online uniform suppliers?
Other Designs
You can find a few other designs for your team, like football scoreboard templates or football schedule templates, to share the minute-by-minute of your games and let your followers know all about it!
Craft a Memorable Logo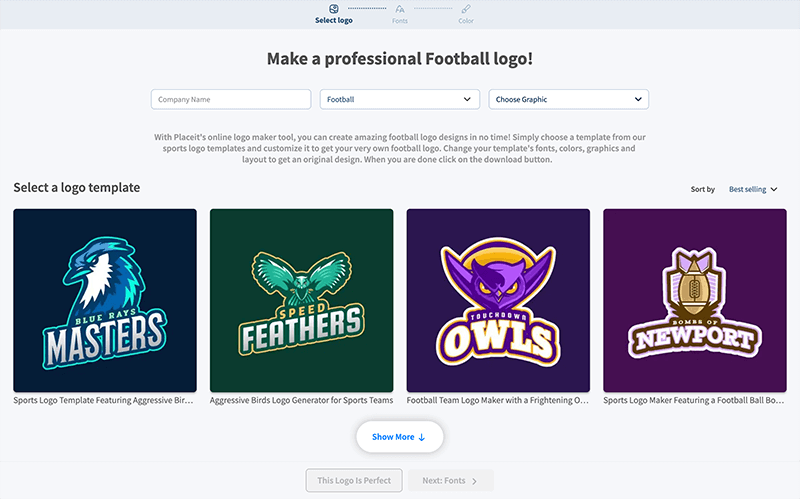 A well-designed logo serves as the cornerstone of a football team's identity. Placeit's football logo maker empowers teams to create logos that embody their values, spirit, and passion. Whether it's an actual team or a fantasy football league logo. 
Diverse Graphics. Placeit's logo maker offers an extensive library of football-related icons, ranging from balls and helmets to goalposts and player silhouettes. Tailor your logo to showcase your team's unique characteristics.
Customizable Colors & Fonts. Design a logo that aligns with your team's color palette and typography preferences. Adjusting colors and fonts help you maintain a consistent brand image across all touchpoints.
Team Name Integration. Seamlessly incorporate your team's name into the logo. Placeit's user-friendly interface enables you to experiment with different placements and arrangements until you achieve the perfect composition.
Versatility Across Media. Your logo will find its place on jerseys, banners, social media profiles, merchandise, and more. Placeit ensures that your logo looks impeccable across various mediums, maintaining its visual impact.
Check out this video on how to create your team's logo with Placeit:
Share Immersive Team Highlights & Promotions with Dynamic Videos
Videos have the power to captivate and inspire. Placeit's football video maker enables teams to create professional-looking clips that showcase the excitement of the game and engage fans on a deeper level.
Game Highlights. Relive the most exhilarating moments of the match with engaging highlight videos. Combine action-packed clips, slow-motion shots, and uplifting music to encapsulate the essence of the game-day experience.
Promotional Teasers. Build anticipation for upcoming matches or events with teaser videos that build suspense and excitement. Use Placeit's video maker to create short clips that leave fans eager for what's to come.
Football Templates Free
That's right! FREE! So our designers curate a collection of free templates you can use for your project completely charge-free. However, you must know that these templates are temporary because we are continuously changing them. So whenever you see something that you want to try out, go ahead and download it right away; you never know. You can find football templates to use for free in this collection!
Last Words
In the competitive world of football, a strong visual identity sets teams apart and fosters a deep connection with fans. Placeit's football templates, mockups, logos, and videos offer a comprehensive toolkit to create captivating designs that resonate with audiences and leave a lasting impression.
✨  By the way, if you are looking for easier ways to create your brand on Placeit, check out how you can use our new Brand Kit feature!
Whether you're looking to revamp your team's branding or enhance engagement, Placeit empowers football teams to craft winning identities that stand the test of time. Elevate your game with Placeit's user-friendly and versatile design tools, and watch as your team's visual identity takes center stage.
---
---