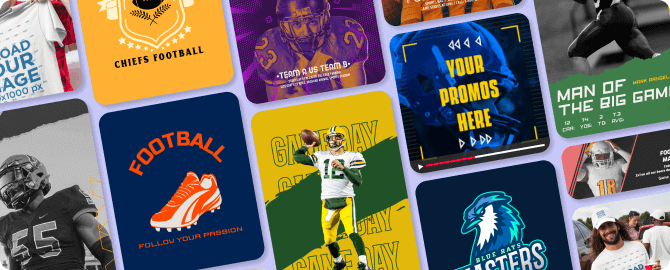 Fantasy football is a very competitive hobby and a pastime that many football lovers like you enjoy. If you've never participated in fantasy football but want to start playing, we are here to tell you everything you need to know, including how to make a professional logo for your league using a fantasy football logo maker! 
🏈  Find awesome football templates and brand your team like the pros!
Fantasy football is a super popular recreational activity; you can play with your family and friends or even very experienced strangers! Using real-life statistics, you build your team and can join different fantasy football leagues. There is the NFL Fantasy Football League, the Yahoo Fantasy Football League, CBS Fantasy Football League, Fleaflicker, ESPN Fantasy Football, Fox Sports Fantasy Football League, and more My Fantasy League.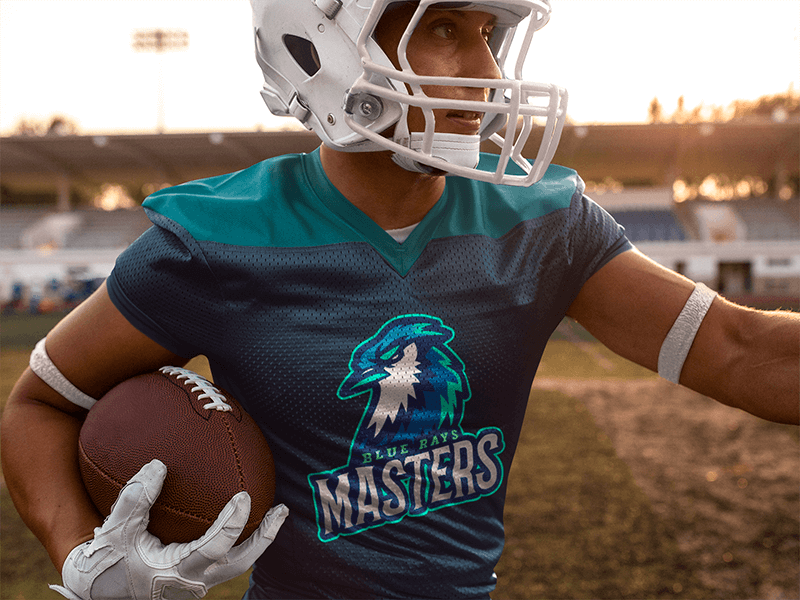 But before you even pick your team in a draft, you need a sweet custom logo to stay with you all season! Let's go on and create a great fantasy football league logo together. This fantasy football season, create your own fantasy logo with the best tips!
What You'll Find:
Fantasy Football League Logos to Get Inspired
Brand your very own team with an awesome football logo template that you can customize on your own in just a few clicks! Placeit basically does all the work for you, and you just have to add your personal touch! Get a high-quality logo and even an animated logo in only a few seconds and post it right away. Let's take a look at a few fantasy football logo ideas for you!
You can design animal logos, modern fantasy football logos, funny logos, mythical characters logos, and much more! Love them? Look at these sweet animated logos too! You can have your fantasy football logo animated in seconds. This can give your football team logo a really fresh look compared to other teams!
By using Placeit's fantasy football logo maker, you can have a flashy logo easily, and you can concentrate on winning! But let's dig a little more into it:
Why Placeit by Envato?
No need to be an expert on anything at all, seriously. 

No complicated software is needed. We promise using Placeit is as easy as breathing. 

Don't spend a fortune on designers, design platforms, and so on.

The biggest library of logo templates to build your own design with endless customizations.

Make your logo design without ever leaving your browser.

Every single one of our templates is created by experts.
How to Create a Football Logo with Placeit
To create a logo with Placeit, simply fill in the blanks! Choose a football logo design that matches your team's spirit. Logos are the ultimate representation of your team's characteristics and vibe, so choose wisely.  
First, choose between all football graphics, your favorite mascot, a football player, and more to make your football logo live! Choose your colors and name your team. Once you are done with your design, simply download your logo and share it away!
To take a closer look, you can visit this fantasy football logo creator tutorial or watch this video below:
What Does a Great Fantasy Football Logo Have?
1. Your Team's Name, Of Course!
You've probably spent some time thinking about a great name for your team, do not forget to add it to your new logo design. ESPN limits team names to 32 characters.
2. Brand Consistency
You should go beyond a name to keep brand consistency in your log yes, but also all through whatever design you create after, like merch, for example! This is why it's important that you keep the same colors on your logo design and on all your branded assets.
3. Be Different
There are thousands of football logos out there, do your research, so you come up with something that is unique and original. Don't worry about using a logo maker; this tool allows you to make endless customization to ensure you get something original!
Fantasy Football Tips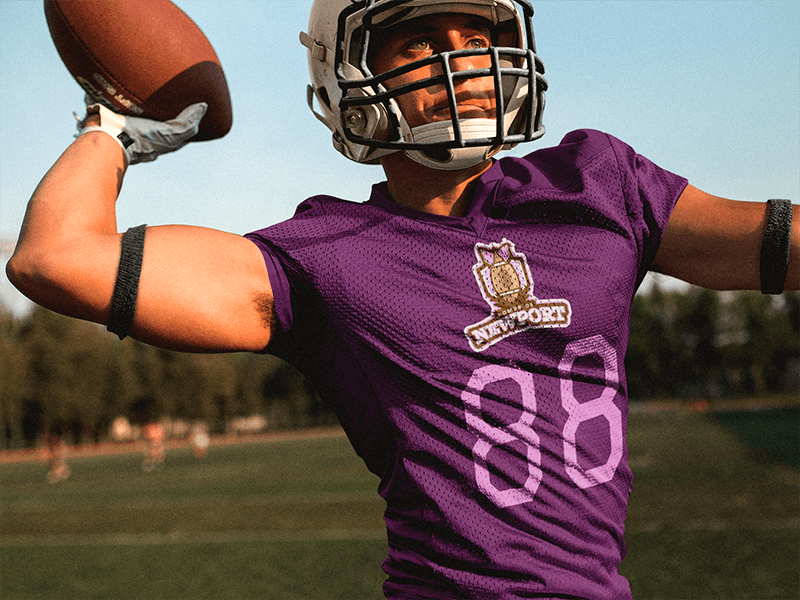 Although you may want to check for tips specifically applying to the league you are playing in, there are a few general ideas you should keep in mind to play better!
Keep a calendar of all important dates so you don't miss a thing: 
League Name

Draft Day

Draft Time

Draft Location

Draft Pick

Draft Type

Total Team Roster Slots

Bench Players

League Provider

Weekly Waiver Deadline

Trade Deadline

Regular Season Ends

Playoff Weeks

Playoff Slots

Championship
Draft a team roster to make your team of 15 to 18 players, and base your decision on each player's stats. Each week you choose a lineup made of one quarterback, two running backs, two wide receivers, one flex, one tight end, one kicker, and one defense. 
Keep track of your team's stats to stay in the know. You can try an app like ESPN.
Make Merch from Your Logo!
You can explore other applications for your logo. You can make merch like t-shirts, hoodies, jerseys, hats, custom uniforms, coffee mugs, and more to support your team! This is just as easy as making your fantasy football logo. It will look amazing printed on anything too! 
🔥​Check out where you can order custom football uniforms online!
Plus, you can always use mockups to promote your merch easily. Simply add your logo to any kind of mockup you are looking to make. That's it! You get awesome-looking images to promote your team in just a few clicks! 
Free Fantasy Football Logos to Try Out!

Great news! You can try out Placeit's awesome free fantasy football logo maker! Completely free!
Disclaimer: you should know our free logos are constantly changing, so whenever you see something you might try out, do it right away! You might not find it the next day!
🔥​ You can also create cool Super Bowl gear for all football fans!
Last Words
So there it is! You can have your own fantasy football logo in seconds by using Placeit's fantasy football logo maker. Choose from a wide variety of templates and simply customize them to fit your own team's spirit. 
Make merch to support your team, and even make a few bucks from it! Your fantasy logo also looks great on real teams and merchandise you can actually print out! Use mockups to promote your merch without spending a fortune! 
Crush your fantasy league with an incredible logo and a few tips to get your team rolling. Also, a small tip, Placeit continuously offers free templates to create your own brand and merch. You can try your luck finding a fantasy football logo for free or other football assets, and if you do, download it right away!
FAQ – Fantasy Football Logo Maker
---
---
Fantasy Football Logo Maker
Use Placeit's fantasy football logo maker to create an awesomely designed logo for your league! You basically only make a few tweaks, add your very own style, and voila you get a professional logo in seconds to post right away!
Make a Fantasy Football Logo
---