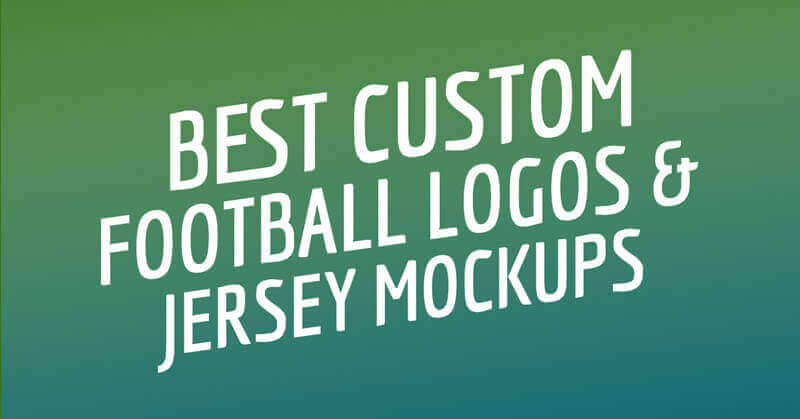 Best Football Jersey Mockups for Football Logos
Kick-off and the ball is in the air! Show off your new football team logo on one of the football mockups available at Placeit. Create a football jersey mockup to show your sponsors how your new team uniform will look with their logos on it. Another obvious use case is to show to your teammates how the uniform will end up looking and get them motivated!
In this blog post, I will show you how to create your own football team logo and how you can use football mockups to place a football logo on a uniform the easiest and best way possible.
Placeit's sports logo generator is the #1 logo making tool on the internet. We've developed an easy to use web tool with an interface that will allow you to make your own football team logo without necessarily having any graphic design skills. Don't forget that a team that doesn't have their own custom professional team logo is not a team yet. With only a few clicks and keystrokes, the football logo tool will create a professional logo like the one below, amazing right? You will then be able to use that logo on a football jersey mockup.
[noAMP]

[/noAMP]

There was a time when coaches had to hire a graphic designer to create a logo for their your football team. Not anymore. Now coaches use Placeit's football logo creator to get inspired and to create amazing team logos for their teams. Have a look at the sports logo design below and see how awesome it looks on a football jersey.
[noAMP]

[/noAMP]
A logo is not meant to be featured only on a team's football jersey. When you have a great logo you can feature it on t-shirts, hoodies, mugs, pillows, etc. This is the reason why you need to take matters into your own hands and design your team logo yourself. Even with all the communication methods now available, effectively communicating with a a graphic designer is almost impossible and unfortunately, most of the times something will come up that won't allow them to deliver in time. Save yourself some time and energy and get started creating a custom football logo for your team.
[noAMP]

[/noAMP]
Build a legacy with Placeit's sports logos. Wide variety, easily edititable, unexpensive, and customizable straight from your browser. Forget about having to purchase, download, and install expensive software to your computer and use intead the only football logo generator that coaches use. What are you waiting for? Take the ball, run, and check below another great example of what you can create with Placeit.
[noAMP]

[/noAMP]
Doesn't matter if you are coaching a little league team, a youth team, or an adults' football team. The fact is that you need a logo that goes with your team's values and that accurately represents what you are all about. The football logo maker tool has hundreds of pre-generated graphics created by our in-house design team which you can use on to generate your new team logo that features your colors and your team name. Learn how you can also create merch to support your favorite team!
[noAMP]

[/noAMP]
Last but not least, creating a football jersey mockup and sending the mockup to a jersey manufacturer to have your uniforms made is another big recommendation. Mockups allow you to send your message through the best way possible and will help you prevent setbacks. Without the help of a designer, you will be able to create a professional-looking visual asset which will leave no room for errors.
[noAMP]

[/noAMP]
---
It Doesn't Get Any Easier Than This!
Stop wasting time using other services that over promise and under deliver. With Placeit you are in full control of what your new football logo design is going to be and how awesome your football team jerseys are going to look. Click on the blue button below and push the ball over the goal line!
[postCTA href="https://placeit.net/c/design-templates/?f_devices=Logo%20Maker&f_tags=Sports&h=3″]Create a Football Logo Now[/postCTA]
Bonus: Fantasy Football Logo Maker! Tried these to start playing on your league just like the pros!
---
---
Hundreds of Free High-Res Freebies Just for You!