How to Run a Contest to Grow Your Business and Your Blog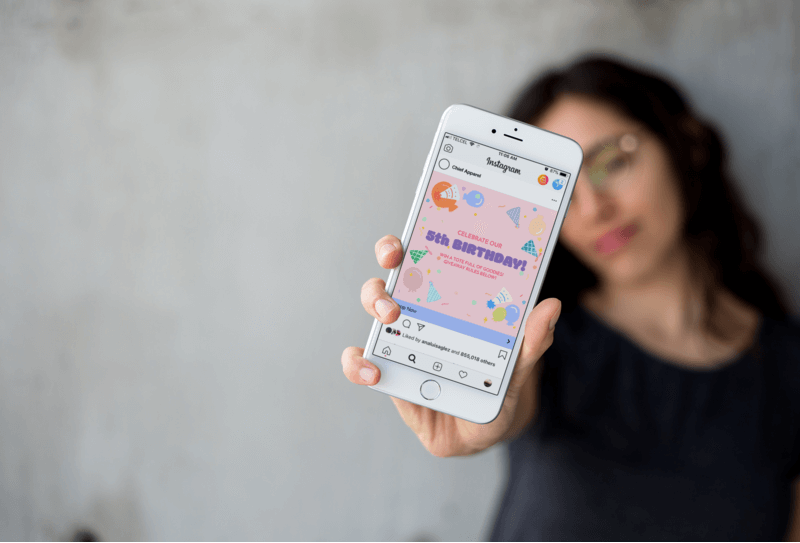 If you're looking for ideas on how to grow your business, you've come to the right place! One of the easiest ways to get your business noticed and increase everything from your site visits to sales is by running a contest online. If this is something new you'd like to try, we've got some useful tips to help you get it done!
✨ You might like these business templates.
What Are Online Contests?
Traditional contests, like a talent contest or a dance contest, are usually held in front of a live audience. Judges or even audience members vote to decide the winner. With an online contest, users participate in a contest that is hosted on a website or a social network. Users who wish to enter will have to submit some form of digital media as specified by the company that's hosting it. Other users can vote for the winner on the company's website or social media profile.
Contests and giveaways have become extremely popular online, especially with businesses looking to grow their brand's online presence fast. They're considered viral content, which means that a contest with your brand's name attached to it could potentially reach a large audience faster than a regular social media or blog post.
Why Run an Online Contest?
People love contests, especially if the prize is something that appeals to them and all it will cost them to enter is a few moments of their time. Because of this, people will keep participating in contests, not only by entering, but by engaging (sharing, liking, and commenting) on posts related to the contest.
Marketers and brands love viral content like this. They want more users online to engage with their content and to visit their website. Contests give marketers an opportunity to make the most of a highly engaging online campaign that can produce massive amounts of leads in a short space of time.
Contests allow brands to boost their:
Email lists
Social media followers
Social engagement (comments & shares)
Website traffic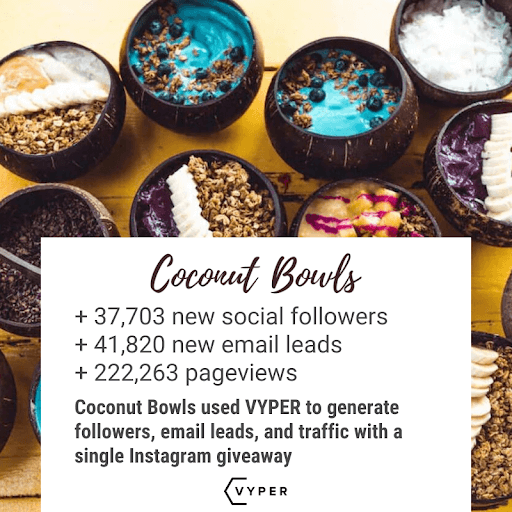 A single contest can potentially boost all of the above by the thousands. Coconut Bowls, an e-commerce store, managed to increase their email list, Instagram followers, and website dramatically just by hosting a single contest.
How Does an Online Contest Help a Business Grow?
You can customize a contest or giveaway to suit the goals that you have set out to achieve. If you are looking for more email subscribers, you can ask users to submit their email address to enter. If you want to replicate the success of Coconut Bowls, you can make use of 'bonus actions,' a feature that allows users to create bonus entries (or earn points) by completing additional tasks. These additional tasks can include:
Follow us on social media – Boosts social media followers
Visit our website – Boosts your website's online traffic
View our latest video – Increase views on YouTube (eg. A video promoting a new product launch)
Invite a friend – Entrants can refer more users (with potentially similar interests to them) to your contest. This helps your brand to broaden its target audience
Like, comment, and share this post – Highly engaging posts are more successful and discoverable on social media
If a business collects a large number of new emails and social media followers after a contest, that business will have a brand new audience to market their brand and product to. Using a contest to push traffic to a website (like an online t-shirt store) can potentially boost sales during the contest.
An online t-shirt store needs online traffic in order to get sales. If a contest can provide a surge of targeted traffic, then the income from the sales during this period can fund the contest itself.
Getting Started
Planning is essential when hosting a contest for your store. You must have a good idea of your campaign goals and how you will achieve those goals. Here are the steps you should take when planning and executing yours:
Choose a goal for your contest
Create an entry method
Decide how the winners will be chosen
Choose a prize
Launch and promote your contest
Announce the winner
Choose a Goal for Your Contest
As mentioned above, contests are viral and have the ability to generate traffic, leads, and social media followers. If you wish to achieve one or more of these goals, you will have to structure your contest accordingly. 
Here are some examples of contest goals:
Increase social media followers
Generate leads
Grow your email list
Create user-generated content (UGC)
If you have an online t-shirt store, a recommended goal would be to boost traffic to your store, with the hope that a percentage of that traffic will convert into t-shirt sales. A secondary goal can be to boost your social media following and email lists. This way, you can retarget your new audience on social media and via email once the contest is over.
Create an Entry Method
If these are your goals (website traffic, social followers, and email addresses), then perhaps you could ask users to input their email address to enter the contest. Ideally, each user should enter their email, visit your website, and follow you on social media. However, this can be too much to ask at once, which can be discouraging for the average user.
Leaderboard and Bonus Actions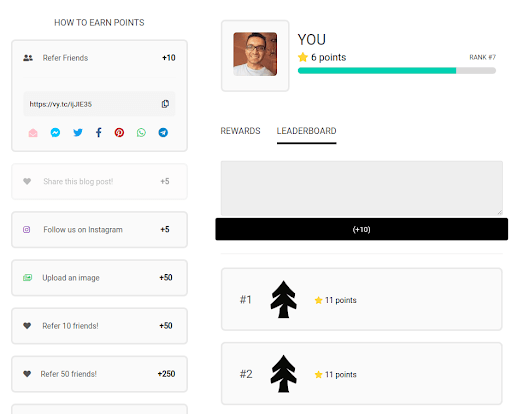 A leaderboard contest ranks entrants from those with the highest points to the lowest. Entrants earn points by performing bonus actions such as visiting your website, following you on social media, and referring friends. A leaderboard contest is an ideal way of turning your content into a real competitive game. The best part is that people will be competing to help you achieve your goals!
All of this may seem like it's tons of work and takes a lot of administration to manage a contest. However, you can use a contest management service such as VYPER to control and manage all aspects of your contest such as entries, bonus actions, contest tracking, and results.
Decide on How the Winners Will Be Chosen
A standard leaderboard contest will require contestants to battle it out to see who will be the best at completing the actions you decided on. However, you can get a bit more creative with your contest by asking contestants to complete a specific creative task, like creating a t-shirt design. Contestants can submit their work to your website (traffic boost) or your social media profile (follower and engagement boost). Other users on social media can vote for the winner, whose design will be used in an upcoming t-shirt and merch line. Such a contest can also be great for producing user-generated content, which is considered to be highly engaging content on social media. Apart from the winner, you can select a group of runner-up entries whose designs can be shared by you on social media at a later stage.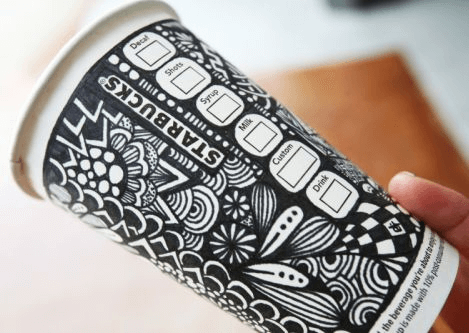 More contest ideas for your business or blog include:
Photography contest
Selfie contest
Recipe contest
Next model search
Live game streaming contest
Name our next product contest
Referral contest
Cosplay contest
Music production contest
Choose a Prize
It's all about the prize! The prize must be something that will get your audience all excited. Users must find the prize desirable enough to enter the contest and to share on their social networks. If the prize isn't that great, people won't share your content in a hurry. A critical error that most brands make when choosing a prize is mismatching their prize with the brand's requirements. Choosing an iPhone as the grand prize might seem like a great idea because entries will pile up. However, you will potentially end up with an overload of poor leads.
You will have followers and the email addresses of people interested solely in a smartphone and not what your brand has to offer. Try to select a prize that is related to your brand and its products in some way. If your blog offers courses or a subscription-based service, then perhaps offer your best course as the prize, or six months free access to your service. This way, you will mostly have people that are interested in your products entering your contest. The entries will be less than if you were to offer a smartphone as a prize, but you will have quality leads and fewer poor leads to sift through.
Pro Tip: If you are running a design contest for your t-shirt store with the winning design being printed on an entire line of merch, then you could giveaway that merch as the prize. This way, the winner will get to see their design in person.
Launch and Promote Your Contest
Contests might be considered viral content, however, you will still have to get the word out to as many people as possible. Take advantage of the excitement that is associated with a contest by promoting it on all of your marketing channels.
Some of the most popular ways of promoting a contest are:
Social media
Email
Website
Influencers
Social Media
Promoting a contest on social media is an ideal way of tapping into large communities of potential customers located on platforms like Facebook and Instagram. These platforms also allow users to share your contest post on their timeline, which will then become visible to their friends. The more your post gets shared, the better the chances are of more people discovering your post. This can also lead to more organic followers as new people are discovering your brand for the first time.
Getting people to comment, like, or tag others in your contest posts will increase the engagement on the post. Facebook recognizes posts with high engagement and makes those posts more visible to its users, again increasing the chances of more people discovering the post. The best part is that creating the assets to grab people's attention is easy if you have the right tools. Using a social media image maker, you can have your posts for all of your social media platforms ready in no time!
Email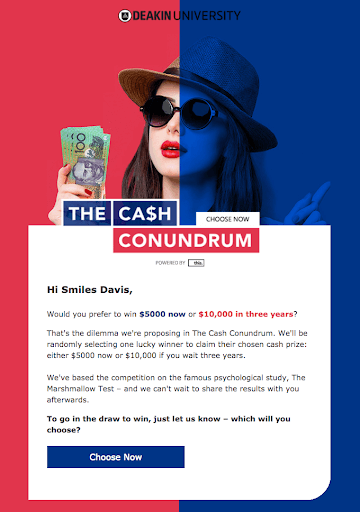 If you already have a growing email list, then it's a no brainer to send out a contest announcement email. An email like this can serve multiple purposes such as:
Inform people about the contest, the prize, and rules
Get people to enter the contest and refer friends
Deliver more information on your brand and its products
Opportunity to gain more traffic to your website
After sending out an email announcing the contest, you can send another email a week before the contest ends to remind subscribers to enter. Again, you can use this opportunity to drive more traffic to your store or blog by inserting a link to your website with a clear call-to-action. The last email that you send out will be to announce the winner. This will be one of the most important emails to a single person, the winner. However, it will also be an email that brings disappointment to other contestants.
It's best to carefully think out your copy when writing this email. If you feel that too many people will be left bitter and will begin to dislike your brand, then perhaps you could offer a gift or a discount/coupon to everyone else that entered.
Website
Contest management services like VYPER allow you to create a unique landing page for your content on their platform. They also give you the option to install a contest widget on your website. If you choose the latter, then you could host the contest on your own website. The downside of using your own website is that you will have to design and optimize a contest landing page from scratch. The upside is that you will get plenty of hits on your website. If done correctly, you can direct users to other product pages on your website after they have successfully entered the contest.
Influencers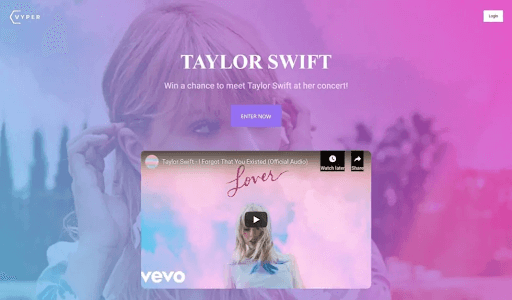 Influencer marketing has become very popular with brands in recent years. Brands team up with popular social media influencers so that they can get their products seen by an influencer's followers. This is always a quick way of getting a targeted market to discover your brand. You can partner up with a social media influencer to help you promote your contest. Instead of doing it all yourself, you will have someone else to help you get the word out to social media users.
Influencers love viral content, which is why a contest will be an ideal opportunity for them to generate some hype on their channels. Here are some tips on influencer marketing:
Find an influencer that is well suited to your brand. Using someone that is famous, but has followers with no interest in your brand can have a negative impact on your brand and theirs.
Smaller micro-influencers are good as long as their followers are interested in your brand.
Research an influencer before you partner up. Take a look into their followers and their posts. Then, ask yourself, will my product work in these posts? Is the influencer known for using my product or something similar? Will their followers potentially buy my product?
TL;DR
Online contests are fun and exciting for both the contestants and the brand that is hosting the contest. If you are hosting a contest for your store or blog, try not to get too carried away in the numbers. Instead, enjoy yourself. Have fun interacting with your audience on social media and on your website. Online contests can deliver large amounts of traffic to your website and boost your emails and social media followers. However, there will be some big-time brand building going on. Most of which you will not easily be able to track, which is why you should not sit and wait for the numbers to grow.
Have you used a contest in the past to promote your business or website? Did you see good results? Let us know in the comments below.
---
Author Bio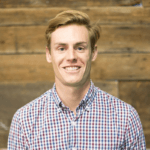 Jack Paxton is the co-founder of VYPER, a marketing tool that helps brands build viral giveaways and referral and reward programs. After millions of dollars spent testing different marketing strategies at his marketing agency. VYPER was built to be the perfect balance between gamification and incentivization to build email lists, social engagement, and revenue.
---
Promote Your Brand with a Contest
If you're getting ready to hold a contest to promote your brand, make sure you have great images to entice your audience to participate. To create eye-catching images to announce your contest on social media, use design templates. Using design templates, you can create images for all of your social media platforms without help from a designer, meaning you'll save time and money.
Create Social Media Images
"Using

Placeit

's social media templates is so easy and the results are great!
"
Steven Midori
5

/5
---