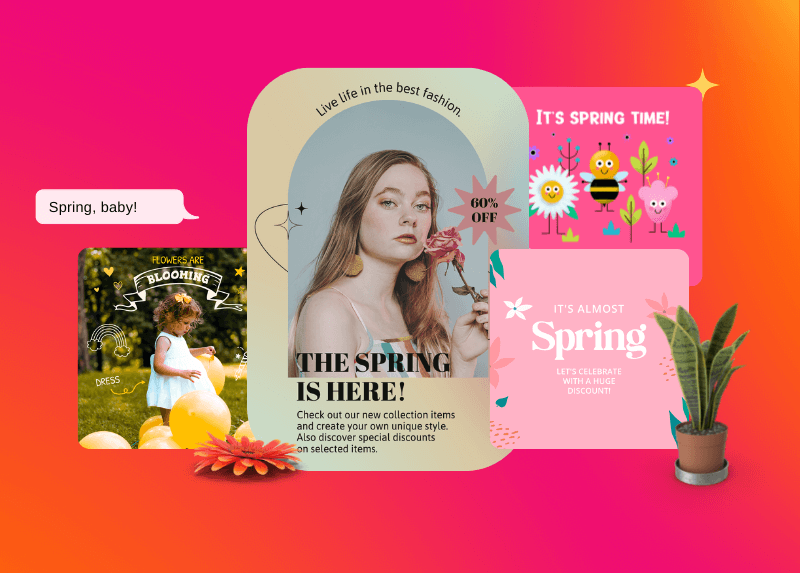 Spring is already in the air, and to celebrate the magic of this gorgeous season, we've brought up some of our most refreshing and vibrant spring templates to welcome these sunny months. Whether you're creating a video, a spring sales campaign, a new product or clothing line, or simply getting in tune and celebrating the season, we've got you covered! This blog will inspire you to start your next blooming and seasonal project! 
🐝 Buzzing Into Spring:
When Does Spring Start?
The official start of spring might vary according to your location. However, this year, due to the spring equinox, it starts one day before. In the Northern Hemisphere, springtime will begin on March 20th and end on June 21st. While in the Southern Hemisphere, spring starts on September 1st and ends on November 30th.
🌷 To avoid missing any important date, follow our up-to-date ecommerce calendar!
Spring Color Palettes
It's time to say bye-bye to the chilly colors of the winter and say hello to spring's fresh and vibrant colors. 
To get in the right mood, here you'll find some incredible and gorgeous spring color palettes to incorporate into any design. Whether you're dressing your website for the season, creating a spring poster, or designing a new t-shirt line inspired by spring, these color palettes will add the right pop of color to stand out.
Expect pastel pinks and purples to bold and bright yellows and greens; there are endless possibilities for this sunny season. Best of all, thanks to HEX codes, you can have these colors on your designs in a breeze. These codes are a combination of six different characters (including letters and numbers) that allow you to find a specific color.
To use them on Placeit or any other design editor, select the shade you choose and copy and paste it into your editor. When editing on Placeit, you can insert the HEX color of your choice in the "Custom" section, which is available in all templates. This way, you can customize the colors of your typography, backgrounds, and other graphic elements.
So without further ado, here are our favorite colors for springtime. But you can always go to our spring color palettes guide, in which we include a beautiful compilation with curated palettes and tips to start fresh the season.

#FFB7BB | #F1D0D7 | #FED9DF | #F2AF5C | #FFB28B
---

#A6034F | #F26DC4 |  #04BFBF |  #C0D904 | #EAF205
---

#DED0F2 | #03658C | #0388A6 | #6E8C03 | #D9B70D
---

#D94188 | #F2BE5C | #F2A03D | #D96704 | #F25050
---

#F2809F | #D285F2 | #4E35F2 | #6650F2 | #D9910B
---

#F27983 | #C9F2CC | #F2CC85 | #F29580 | #D91A1A
---

#F29BCB | #D2BAD9 | #B78DF2 | #F2D377 | #F2D3AC
---

#F2BF27 | #F2E6D8 | #F27B13 | #F24405 | #BF2424
---

#F2C4DE | #D3BDF2 | #CAC9F2 | #D0D5F2 | #F2F2F2
---

#F22973 | #72B6F2 | #6E8C03 | #F2E205 | #F2B705
---

#688C75 | #F2D857 | #F2ECCE | #D99441 | #F2811D
---

#FC6A5B | #E05169 | #F765C7 | #D351E0 | #C15BFC
---

#50C4F2 | #5FC2D9 | #FFBE55 | #FEB134 | #F29B30
🏄‍♂️ Splash into summer with these 30 Gorgeous Summer Color Palettes to Inspire Your Next Design
Spring Font Combinations
With Placeit's range of spring and floral fonts, keeping in tune with the season and your design needs is now easier than ever. 
Below you'll discover our favorite typeface combinations to refresh and incorporate into Placeit's 100% editable spring templates. However, if you have other font styles in mind, don't worry! You can look for them in our extensive free library that includes over 8,500 fonts. But for now, we suggest following these ready-to-use combinations that design experts have chosen as winners for springtime:
Clean Typefaces
HEADLINE + Syncopate

Maglony + Old Standard TT

RNS Miles + Losta Masta 

Open sans + Brandey

Landrina + Chelsea Market 

Avenir Next 

Hillstown Sans Aged
---
Cute Fonts
Cormorant + Ruincity 

Playfair Display + Boujond 

Retylle Solita + Barlow Condensed 

Boujound + Shrikhand 

Sniglet + Popstone + Hollanda 

Cervanttis + Qarvic 

Selina + Averia Serif 

Vintage + Morva 

Losta Masta + Fernstand

Narytta 
---
Playful Typographies 
Patrick Hand + Gorditas + Open Sans

Popstone + Corben 

Kreature + Bouchers Sans 

Syne + Pesaro 

Avenir Next + Scarletty 

Freedoka One + Lylas

Luckiest Guy

Lilita One 
+30 Spring Templates to Freshen up the Season
After familiarizing ourselves with the fundamental design concepts of the current season, let's explore the impressive array of spring templates that Placeit by Envato has to offer. 
Our extensive spring catalog ranges from bold and stylish graphics for spring break, 420, and Cinco de Mayo to gentle and stunning holiday spring templates associated with Easter and Mother's Day. Each template is exceptional in its own way, ranging from playful designs incorporating classic elements to sophisticated compositions with top-notch graphics. 
Moreover, our spring templates are available in various formats. Find everything from social media to printed materials and videos. Your challenge is deciding what kind of graphic you need and the content you share. Whether you're launching a seasonal promotion, unveiling a new spring-inspired product, or sharing an uplifting quote for these bright and sunny days, you'll find the perfect template to complement your brand's style and tone, allowing you to spread joy and connect with your most loyal customers.
😉 Pro Tip: click on each image to edit it to your own style
Revamp Your Social Media Feed With These Fresh Spring Templates!
Nowadays, small content creators and business owners make the calendar their best friend to launch new promotions or boost their current catalog. Brands that align themselves with the different seasons and events of the year are more likely to garner attention and drive sales. And to achieve these goals, social media platforms are your best tools to do so. 
Placeit offers an extensive collection of gorgeous templates for refreshing and enlightening your feed within minutes, even if you lack graphic design skills. Simply browse our vast selection of templates, choose your favorite, insert your content, modify the colors and graphics as needed, and that's it! You'll have a lovely spring image or video that accurately reflects your brand's identity. Plus, with Placeit, you don't worry about choosing the correct dimensions. Since all of our templates are ready to post on Facebook, Twitter, Instagram, and Pinterest, you won't have to worry about image size or quality.
🌻 Spring Instagram Captions
If you're looking for inspiration for your Instagram captions, don't worry; we've got you covered! Go from dull quotes to something cooler that will perfectly complement any image you've designed. So grab your sunglasses, and let's take a look at some witty and refreshing captions for this spring season.
"Spring has sprung. Let's have some fun in the sun!"

"Spring is nature's way of telling us to have fun!"

"Goodbye winter blues, hello spring hues"

"Spring is the perfect excuse to stop and smell the flowers"

"Spring: when nature paints the world in pastels"

"Bloom where you are planted, just like the flowers in spring"

"Spring showers bring May flowers and also new opportunities"

"The birds are chirping, the sun is shining, and I'm feeling alive"

"Let's leave the winter coats behind and embrace the warmth of spring"

"There's nothing quite like the feeling of the first warm spring day"

"Let the sunshine in and kiss those winter blues goodbye!"

"Time to ditch the shoes and feel the grass between your toes!"
Print Your Way Into Spring: Create the Best Offline Materials for Your Brand
Take advantage of the season to easily create eye-catching designs for spring t-shirts, mugs, greeting cards, business cards, flyers, posters, stickers, notebook mockups and design covers, patterns, and more. Bet for offering these colorful and blooming spring templates as a special seasonal line, personalized gifts, or cool marketing materials to complement your strategy. You can use our spring templates focused on offline materials to create all you need for your spring sales campaign.
T-shirts
Notebook Covers
Posters
Mugs
From Easter to Mother's Day: Our Holiday Spring Templates Have You Covered!
As we all know, spring is a three-month-long season filled with various events and special occasions that bring people together. These events go from fun and light-hearted celebrations to more serious and meaningful ones. At Placeit, we offer a vast collection of holiday templates that include all these events, allowing you to customize and infuse your unique style into each design.
Whether it's spring break, April Fool's, Easter, 420, Earth Day, Children's Day, Cinco de Mayo, Mother's Day, or National Love a Tree Day, we have you covered with tons of Spring holiday templates. So get inspired by these templates and find the perfect asset to help you make a grand entrance this spring.
Get the Freshest and Highest-Quality Spring Mockups
Looking for an easy and professional way to showcase your designs? Look no further than our collection of spring mockups! Our library offers a vast array of customizable mockups that are both realistic and visually appealing.
Save yourself time and money by avoiding hiring models or photographers. Instead, get stunning results with just a few clicks. Take a look at some of the examples below and start presenting your designs in the best possible light!
Watch Your Brand Bloom With the Coolest Video Templates
Embrace spring with our collection of dynamic and eye-catching video templates. Whether you're looking to promote a special Easter offer, advertise a spring break event on social media, or add a splash of seasonal flair to your brand's online presence, our customizable video templates are your best ally! 
Choose from various unique and engaging templates, and easily customize them with your text, color schemes, and graphics. Best of all, our templates are designed to be user-friendly and accessible. You don't have to have any experience with video editing; you can create professional-grade videos that look like they took you hours to make. 
🌞 Get these spring break and flowered templates! 
Helpful Tips for Nailing the Spring Season
Consider creating a moodboard for inspiration. Start by looking for ideas on sites like Behance or by observing natural elements around you. Collect a variety of references, including your central theme, colors, fonts, graphics, and textures.
💡 Envato Elements is a great resource for finding custom objects that match your spring theme.
Get up to date with new trends and designs. While classic spring motifs like flowers, bunnies, and butterflies always work well, staying up-to-date with current trends is also essential. Consider incorporating gradients, beach elements, textures, or tropical patterns to make your designs more modern and eye-catching. 
🌈 Make a splash with these gorgeous gradient palettes to enhance any design!
Keep in mind mobile-friendliness. Ensure your images and text are legible, clear, and easily read on mobile devices. This will help ensure the success of your designs on social media platforms.
For additional inspiration, check out Placeit's spring templates. Here you can have a clear idea regarding color and font combinations ideas. You can also read this blog for fantastic tips on how to give a fresh spin to any template. 
And lastly, stay creative and have fun with your spring designs! Remember that the key is ensuring your overall spring efforts are consistent and cohesive with your brand's image and essence. 
🔜 May Through August Trends: Get Ready for the Hottest Summer Sales
FAQ – Spring Templates
---
---
---