Is your team ready to show off their brand new uniform design? Are you fundraising for the next football season? Whether you are part of a school team or a uniform designer, you'll want to showcase your designs in real life settings, with high-quality pictures and without the inconvenience of arranging a photo shoot.
With Placeit's Football Uniform Designer you can present your new jersey design in different scenarios, with different types of people and best of all, you won't need Photoshop to achieve the stunning images you've always wanted for your designs.
To use the football uniform generator, the only thing you need to do is upload your team logo and select your team colors. Start by customizing the colors, then add the logo, and finally, you can even customize your player's numbers and font, this way you'll have a fully custom football uniform to show everyone you're ready to hit the field and start scoring touchdowns. Check out some of our best football uniform designers below: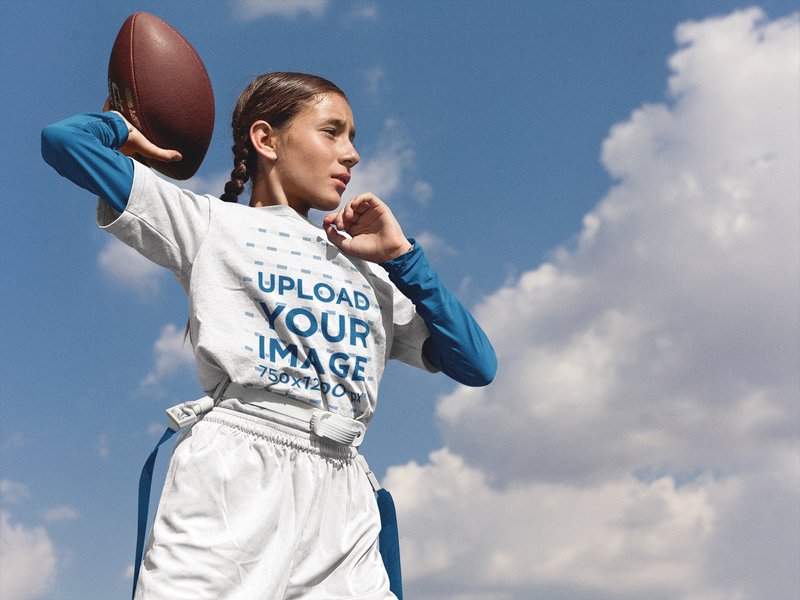 Promoting your uniform designs has never been easier! Use this uniform builder to create awesome imagery to showcase your custom uniform business or logo design agency. To use this image, all you need to do is upload your own football team logo and choose a color for the t-shirt and the shorts that will match your team's.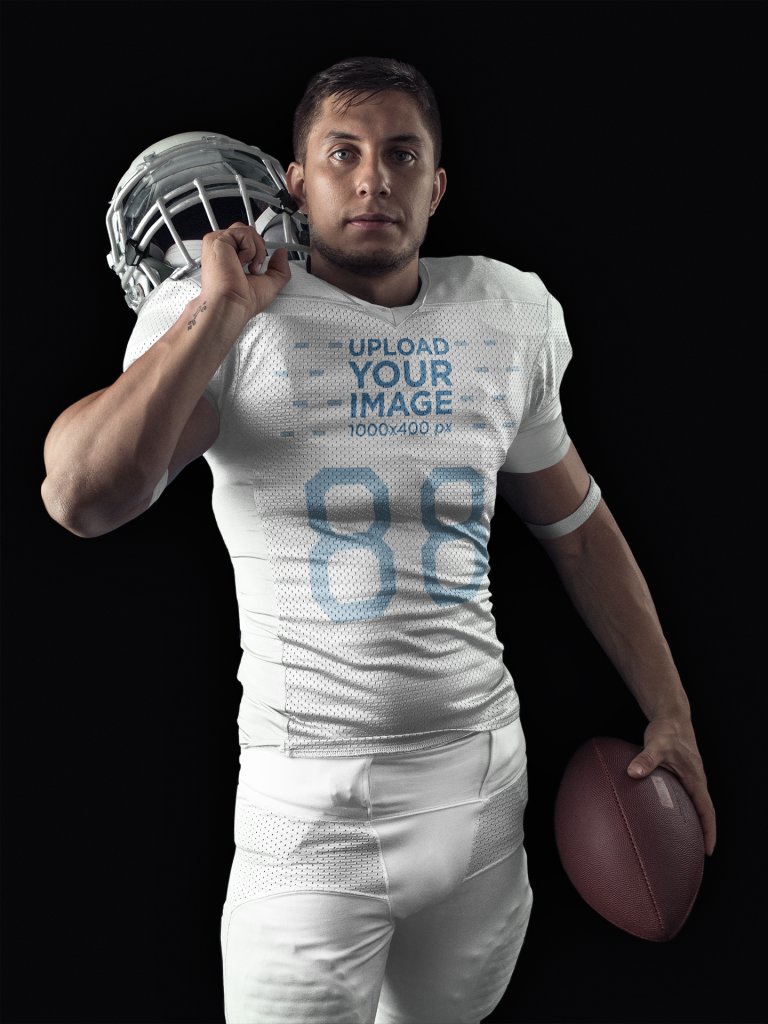 Need to show off the front of your brand new uniform design? This football jersey generator is perfect for the task. Just change the colors of the shoulders, the jersey, pants, and facemask, finally, upload your logo and change the player's number for a shot fit for your new uniform marketing campaign.
Is your youth football team ready for some new uniforms? Show them off with this custom football tshirt generator and start fundraising for the next youth football season. Use this image of a real life field and showcase your uniform design business. Add your custom design and change the color of the tee shirt, the stripes on the shorts and flags for a personalized design.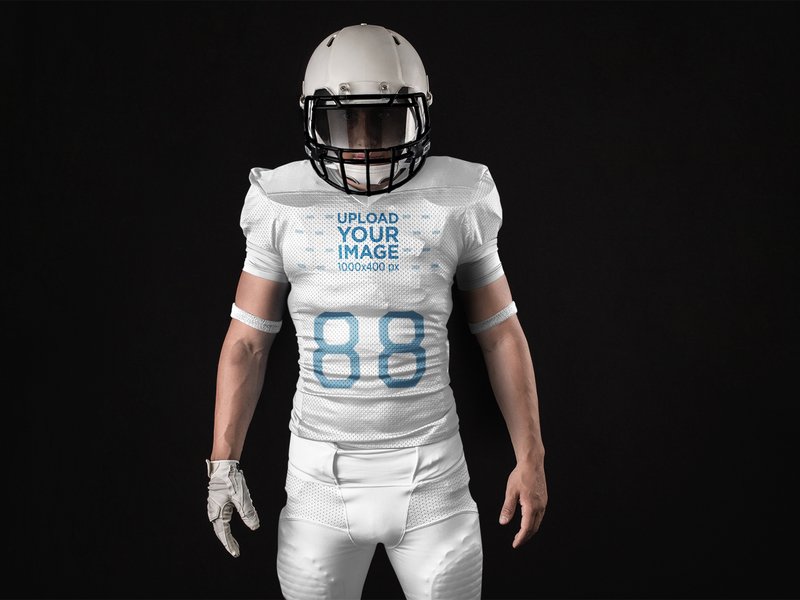 Showcase your brand new uniform design in this completely customizable football jersey generator. Change the colors of the facemask to the pants and arm bands and show your players their new uniform before even having to send it to the printers.

Display your custom football jersey design with this football jersey designer. Change the color of the shoulders, jersey, and background. Add your team logo and customize the number to advertise your jersey design business or your new team's jerseys in style.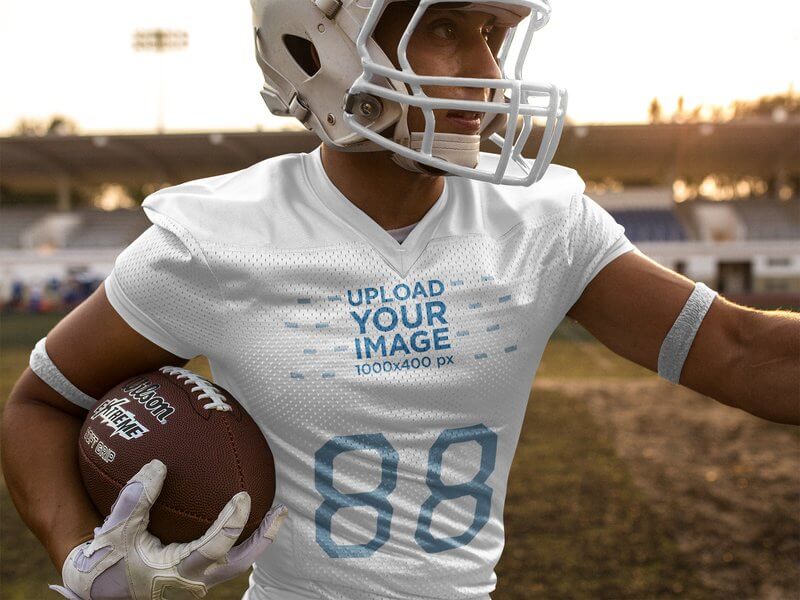 Are you looking for an action shot of a varsity football player to showcase your new design or your team's jerseys? This great picture will help you advertise your team's jerseys and show them off to potential buyers. Also, how cool is the background? A real life setting is what you need to market this jersey, look at the player, he looks like he's about to win! Customize everything, from the color of the mask, down to the arm bands. This football jersey generator is ready to take you all the way to the grand finals.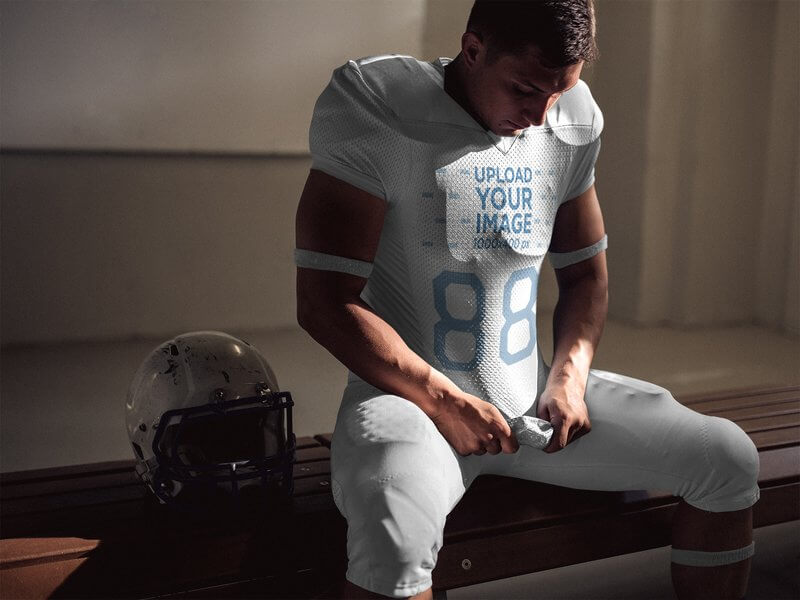 Try out this football jersey designer by Placeit and start showcasing your uniform designs in real life settings. Promote your uniforms from youth leagues all the way to junior varsity and varsity leagues and show your clients how their order will look once it's printed, without having to print out prototypes. All without the hassle of using Photoshop or hiring a graphic designer.
Showcasing your designs in a professional and high-quality manner is possible thanks to this football jersey generator. Let your customers, teammates, and coaches see the design in a real life setting and have them see the colors and graphics before ordering. Avoid confusion when placing orders and show your clients how the uniform jersey or tshirt will look in real life settings such as a locker room, a field or even in an action shot.
Use our football jersey designer now and start creating amazing images for your promotional materials that will impress clients and school board members alike!
---
---