5 Best Selling Device Mockups from Our Mockup Tool
At Placeit, we offer a huge variety of device mockups for you to choose from. We add new mockups every week, creating our huge 600+ mockups gallery. Then, using our powerful mockup tool, we allow you to create beautiful, photorealistic mockups ready for use. We often get asked which are our best selling mockups. They are, of course, the most versatile ones. Here are 5 of our constantly top performers.
iPhone 6 Versatility

Try it here.
Beautiful, cut-to-the-chase versatility. A man holds an iPhone 6 mockup. Behind it… anything you like! With this swappable-background mockup, you are able to choose from the many backgrounds we offer. You can also download a transparent version to use your own background. Then, you can chose which gesture the right hand is doing and where it is placed! Or if you desire so, you can remove the right hand completely. No wonder this device mockup is one of the most popular in our mockup tool.
3 for One
This device mockup actually features 3 different devices, which is great if you want to show different versions of your design. It features a Macbook Pro mockup, an iPad mockup and an iPhone mockup. They stand in front of the classic ultra-white Apple background, so this device mockup in our mockup tool is incredibly versatile and useful for any design, app or website you want to showcase. Try it now!
The Sole Macbook
A 15 inch Retina Macbook Pro mockup. White background. Elegant reflections. Perfect frontal shot. Need I say more? You can drop a screenshot that is 2880×1800 px in size into our mockup tool to get started. This is another versatile mockup that will allow you to display absolutely any design, image or software. You can also choose a URL and our mockup tool will generate a screenshot based on it.
The Sole iPhone 6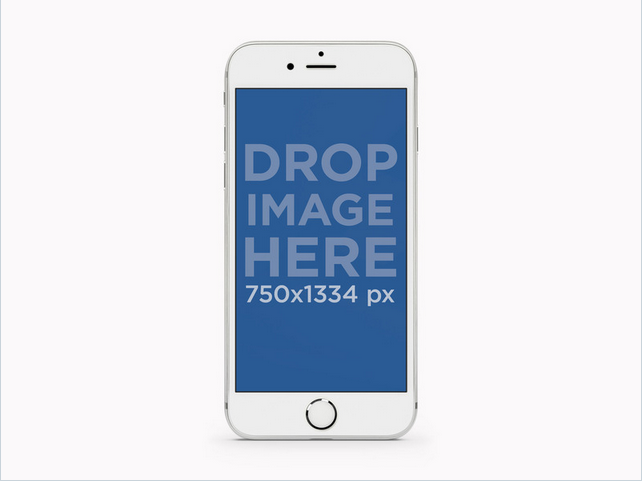 Try it here.
As you can see, our isolated product mockups are really popular. In this case, we have a white iPhone 6 displayed over an almost white background. The phone is perfectly retouched so that every little reflection and glare is enticing for your audience. A faint shadow on where the iPhone 6 mockup stands gives the perfect photorealistic look to this device mockup.
The Sole iPhone 6

Try it here.
A white iPad mockup. We have chosen to show it over a Spa table, but if you click here, you'll be able to choose from dozens of surfaces. Again, the versatility that our mockup tool provides is crazy! You'll be able to create your own personalized mockup to impress your clients and customers alike.
We have more than 600 device mockups and counting, so make sure to head to our mockup tool to get started!
---
---