There are plenty of ways to promote and monetize your podcast -we'll talk about some of them-. However, our main goal will be focused on podcast merch, a great promotion tool, side income, and branding winning strategy. So, if you've ever wondered if it's worth it or not to sell your merch, we're here to tell you that it definitely pays off! Let's check out why!
This Is What You'll Find:
---
First Things First: Can You Make Money From a Podcast?
Absolutely! In fact, there are different ways from which you can earn an extra income. Let's talk about some of the most common and functional alternatives to even make a living from an activity you love! 
⭐ We definitely recommend reading: 7 Expert Tips for Starting a Podcast in 2022
Get a Sponsorship
According to different sites, this is one of the most popular and paid-well practices to generate income. Have you ever noticed that the host sometimes highlights a brand's product or service while listening to a podcast? Well, that's a sponsor. You don't even have to do anything else but mention and clarify that it was a paid sponsorship. 
The more followers number, the better. Because more brands -aligned with your content- will want to contact you. 
💡 Don't miss out: How To Advertise Your Podcast in 2022
Become an Affiliate
An affiliate's someone who promotes a company's products and services. In return, and for being consistent, they can get a commission per the sold items. Even here at Placeit by Envato, we have a special program to support creators worldwide. 😉
Ask for Donations
If you know your work's value and you're a beginner, you shouldn't be ashamed to ask for a bit of help. Nowadays, this action is quite common in the online world, and fans are happy to support -economically- their favorite podcasters. Best of all, it's that your supporters can give you whatever amount they think it's fair. There aren't fixed or imposed quantities.  
P.S. We recommend sites like Ko-fi because they take 0% of your donations! 
Offer Premium Content
Some content creators tend to offer exclusive benefits to a segment of their audience willing to pay for it. Therefore, you can give a possibility -to whoever wants- to buy exclusive or premium content. In this case, episodes. Moreover, you can add different levels to cover everyone's budget.  
Sell a Service
If you master a topic, you definitely need to get the most out of it. A widespread practice is that some podcasters offer an exclusive service to their audience. For example, Haley Hoffman, author of the Big Conversations Podcast, provides Slingshot Sessions to help your manifestations and dreams come true. So, you can do the same and start giving an educational course or even providing a coaching/mentoring service in a specialized field. 
Additionally, you could sell online tickets for an exclusive event. This might be for more experienced podcasters, but it's a great way to earn an extra income by setting an entrance price to a unique or advanced conference/event. 
Go Live on Online Platforms 
Nowadays, some trendy platforms like Tik Tok or Instagram allow creators to go live to earn a bit of money. It's easy peasy, and you don't need to make a big deal to start, so this is a recommended practice for newbie podcasters. 
Sell Awesome Podcast Merch!
Last but not least, podcast merch! This is the resource on what we will be focusing on. So let's check out the details:
Why Create Podcast Merch?
Because it:
Gives your audience a chance to support you

Raises awareness about your podcast

Opens up new conversations with your audience

Helps you to promote your content

Reaches new audiences

Generates a passive income
P.D. Here's a real example of how a podcaster designed a whole podcast merch collection. 

When Is the Right Time to Make Podcast Merch?
There isn't perfect timing to make podcast merch. However, we advise you to avoid doing it when starting out. Creating and promoting merch is best when you already have a consistent audience. This way, you can be sure someone might be interested in supporting you.
How to Make Merch for Your Podcast?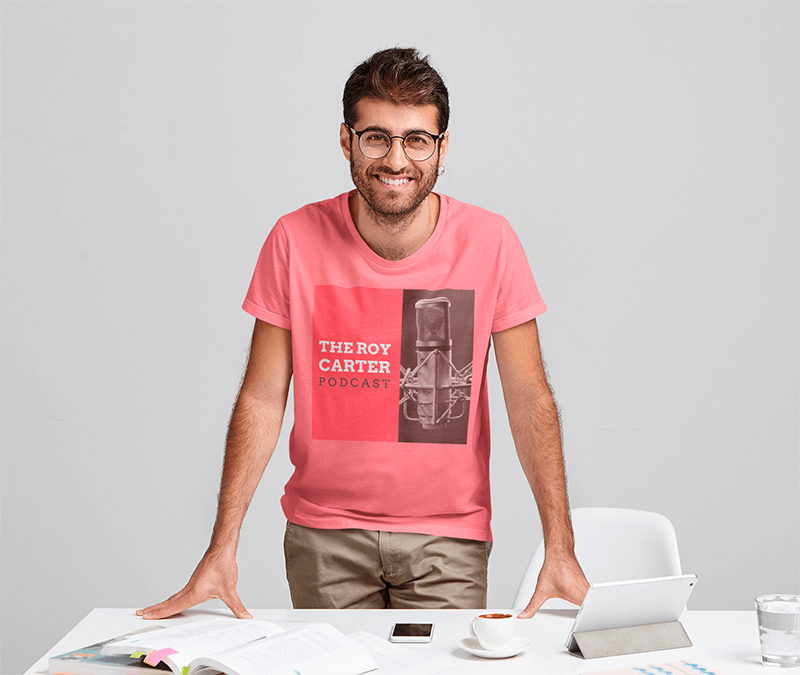 1. Choose Your Merch Model
Print on Demand
Print on demand is an excellent option if you're looking for ways to design your merch while a third party takes care of all the production, customer service, and delivery. This merch model will require a minimum investment of your time; no stock or storage is needed. POD platforms take care of all of it for you. 
You can choose from many different POD sites depending on your needs. Some POD sites are specialized for podcasters like Printful, Bonfire, Podcastmerch, Podswag, and more. Take into account each platform's fees, the type of products available, how fast their delivery is, and the quality of their products.
You might even want to order some merch first to see the whole experience for yourself. This, to us, seems great because you can focus on your podcast while someone else takes care of your merch for you. 
🔥 Not sure which POD site works best for you? Then take this quiz to find it out within minutes! 
Open Your Own Store
Another option is to manage your own storefront if you don't care about having an inventory or spending more time getting involved in the whole process. You could also use some kind of hybrid program. Having your own shop could be great for you to obtain higher profits, but it involves investing your time, having stock and storage available, looking for a supplier, and so on. 
Whatever works best for you! Get closer to each business model's cons and pros and make an intelligent choice.
2. Make Stunning Designs
This is the most fun part! You can make creative designs for your audience, and make something that would be irresistible! 
All your designs should be clearly branded; however, you can get a little more creative than simply using your logo. You can use a catchphrase, popular hashtags you've used, quotes, use a funny moment from your podcast, and so on.
Make a few different designs and test how they perform. With time you will get a closer idea of what your audience really likes. 
3. Pick Your Top Products
Start small; there is a whole world of products you can offer, but it is better to avoid overwhelming your audience. Just choose a few options for starters. You can offer products like t-shirts, hoodies, water bottles, buttons, pillows, socks, mugs, travel mugs, phone cases, and more. 
Consider what products might be helpful or trendy for your niche. What do they look for when acquiring merch? In this case, your audience won't be making a purchase to obtain a good; they are buying from you to say they love your podcast and would like to support you. 
 Let's go over a few merch ideas to monetize your podcast:
Podcast T-Shirt.

A piece of clothing with your own podcast swag.

Limited Edition Merch.

Create an urge from your followers by promoting limited edition goods.

Collaboration Merch.

Find a relevant influencer for your talking topics and create a collaborated design.

Create Seasonal Products.

Have a Christmas edition of your merch, Halloween, Pride, or any other special occasion! Depending on the season, you can also switch temporarily to sweaters, hoodies, and tote bags. 

Offer Custom Designs.

Offer custom designs for your followers. This can work great for gift ideas. Your fans will surely love it. If your podcast applies to kids, pets, yogis, or any specific niche, you can offer special garments for them. For example, provide eco-friendly merch if you are talking about eco-friendly lifestyles. In general, keep all of your podcast merch consistent with your overall message.
4. Promote
Cultivate a relationship with your audience where you feel comfortable enough to promote your merch. Here are a few ideas to do this smoothly:
Send the new on your merch to your mailing list.

Share it on your social media channel and in communities that are built around your podcast. 

Call it out on your episodes! 
---
Podcast Cover Maker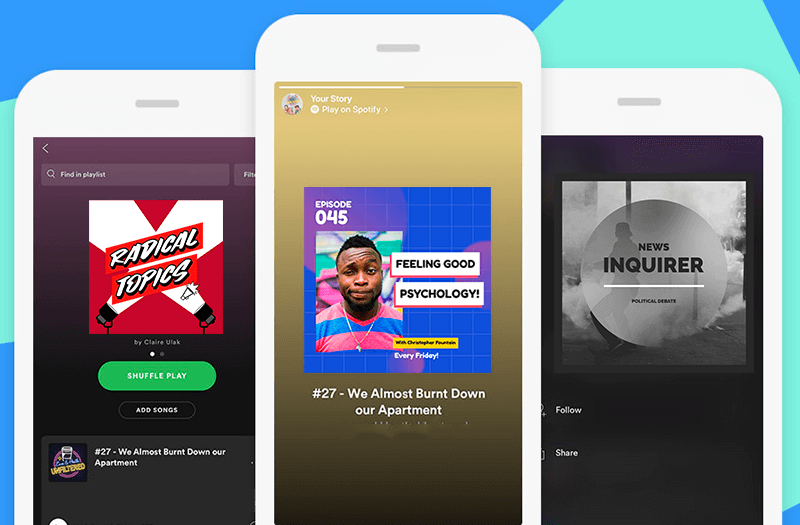 There are a few other wonders in Placeit by Envato you can use in your favor to grow your podcast brand and market it like a pro. We've talked about creating branded merch as a great way to promote your podcast and earn some extra income! But we had to mention that you can also make your podcast cover using this tool. It's super easy, and it only takes a few clicks to make your life waaaay easier.
Last Words
And that's a wrap! Creating awesome merch for your podcast is a great way to make some extra cash for your production, promote your podcast, reach new audiences, and create brand awareness among your followers. It's definitely something to try because it is super simple to set. Using print-on-demand platforms, you can get your shop in no time. Moreover, 
if you're looking for more art designs to enhance your podcast brand take a look at these podcast covers and design one of your own. Don't forget to check out this post in which we talk about different ways to advertise your podcast. See ya there! 
---
---
---