Raise Money for Your Cause with Custom Shirts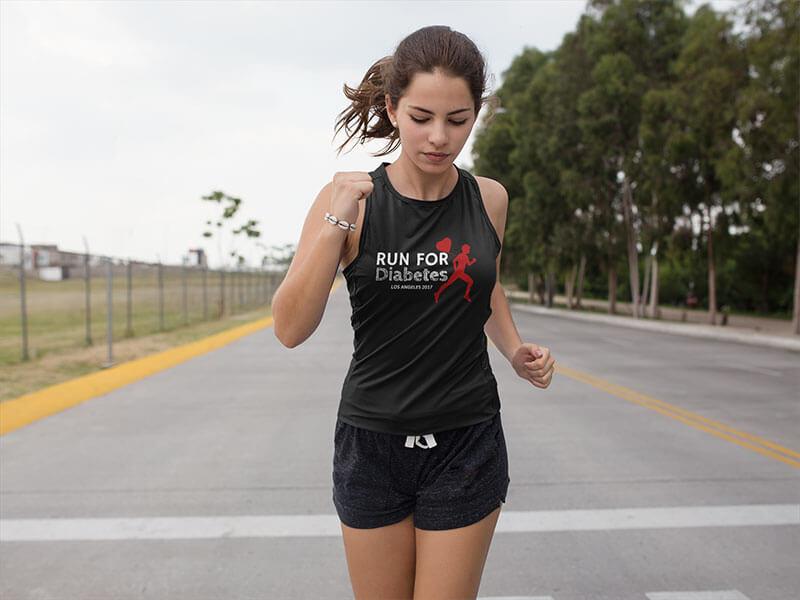 Organizing a race is a great way to make people come together and fight for a common cause, especially now that running has gained popularity among different groups and ages. Besides the attendees' entries, making and selling tshirts for the event is another way to raise awareness and collect donations. It's a low-cost product that people will be willing to purchase to support your cause. Why? Purchasing and wearing a tshirt makes people feel involved with the story behind it, it's not just a tee anymore, once someone buys a fundraiser shirt, it turns into a representation of a cause, a symbol of how they stepped in and did their part.
Think to create a shirt for raising money you'll need time, money to invest, a graphic designer? Sounds like a hassle, right?
Well, I've got some good news for you, over this post I'll show you just how easy it is to make a t-shirt fundraiser; in minutes, from your home computer, with no design skills, printing equipment or fancy software. Buckle up!
Step #1 Making a Tee Design for Fundraising T-Shirts
Contrary to common belief, you don't have to be a designer to make a design. There are tons of free tshirt designer tools out there to help you out in this process. There's no need for you spend hours into Photoshop tutorials trying to learn how to make each tool work for you, especially if all you are looking for is a tshirt design to raise funds for your cause. Design templates is a web-based tshirt designer that'll do all the hard work for you, allowing you to create a professional tshirt instantly and skipping the cost of hiring a designer.
TIP: this tool is 100% free with any Placeit subscription!
Keep reading to find out how to make a shirt fundraiser design.
What You Need to Make a Tshirt Design for a Race Fundraiser:
An idea for your fundraising campaign
It can be anything. Whether you are planning a 5K race for Cancer awareness or to collect funds for a relative's surgery or recovery, a BBQ to collect funds for a local event or someone's Honeymoon or trip abroad, you name it! We've listed some T-Shirt Ideas for Charity Walks here.
A browser (web or mobile)
I've said it before and I'll say it again, no fancy software needed, everything I'll show you how to do in this post can be done from your browser with an internet connection. I recommend Chrome on a desktop but even Safari on mobile will do.
Yes, that's it. I made you a video tutorial on how to make a design for a t-shirt fundraiser, here it is:

Aaaand, here's the design I made in the video if you want to see it up close: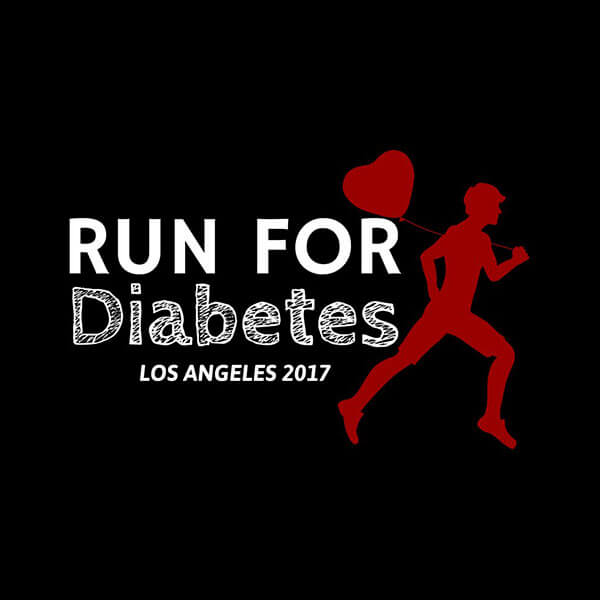 NOTE: as I said, the video has a transparent background, however, I added a black background so you could see it properly in the post. To upload it to POD sites, I'll use the transparent version.
Want to see more examples of what you can create with this tshirt design maker? Below are some awesome tshirt designs made with smart templates to make a shirt fundraiser, check 'em out!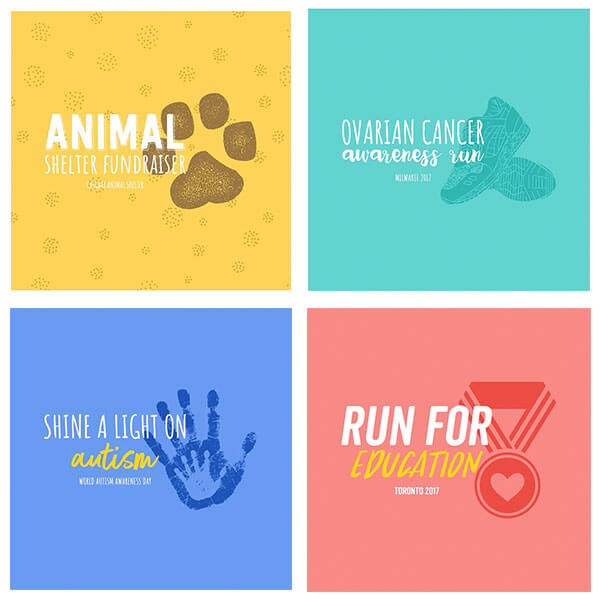 Step #2 Creating a T-shirt Fundraiser Campaign Online
Finding the right place to sell the tshirts to raise money for your fundraising is as equally important as making the actual the design, that's why you need to find sites that will allow you to raise money for your cause by selling tshirts with the design you made.
Pros of Using a Print-On-Demand Service for Your T-Shirt Fundraising:
No upfront costs of buying blank tshirts and printing them
No need to handle shipping
No need to keep inventory
Below are a couple of sites I've found that handle all the hassle of making and selling the tshirts to collect donations to support your cause.
With thousands of monthly designs being uploaded and sold, Spring has grown to be the go-to website when it comes to selling tshirts online so it only makes sense to use this platform to make a shirt fundraiser to collect money for your cause. Spring is aware that one of the most successful ways to raise money online is making a custom tee, which is why they came up with Spring for Fundraisers, a service designed for you to simply submit – or create – your design and offer it to the world.
How it works? You make a regular campaign and add the "Awareness" category to it, you will be given tons of sub-categories to be more specific with your cause's theme, this way, finding fundraisers on Spring is way easier for people looking to buy a tee and support a certain mission.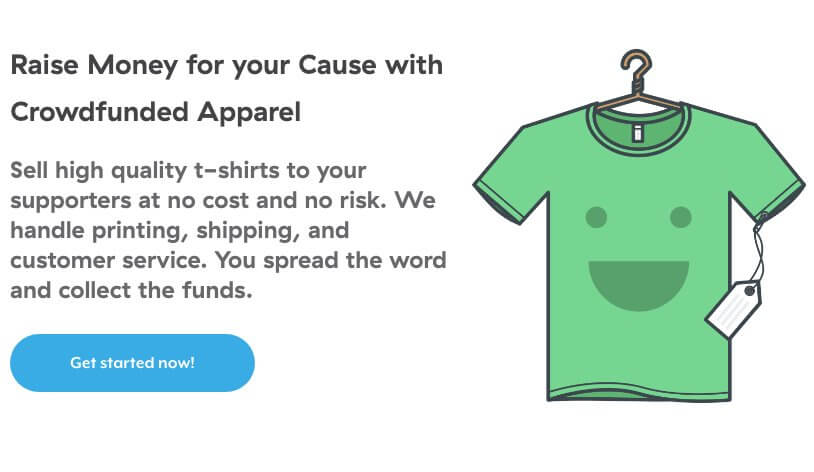 By making a crowdfunded tee you will be creating awareness of your cause while also making dollar bills out of it. Sharing your story and the purposes of the gathered money will make people more engaged with the cause and eager to participate and share the fundraiser!
And like everything Spring, making a t-shirt fundraiser campaign is as easy as it gets, don't trust me? Don't have to, just have a look at this video of how I went about making my own fundraiser shirt in Spring.

CustomInk is one of the major websites when it comes to custom apparel, why? They ship worldwide, they have all sorts of garments, friendly service and great reviews on the quality of their printing.
Besides all of these perks, this company also has a service called Booster, which was specifically designed for creating a t-shirt fundraising with no effort or expertise.



A great feature of this service is how you are able to add background information about your fundraising, this way you can get viewers involved with the cause and the reason behind why you are collecting donations, encouraging them to make their own.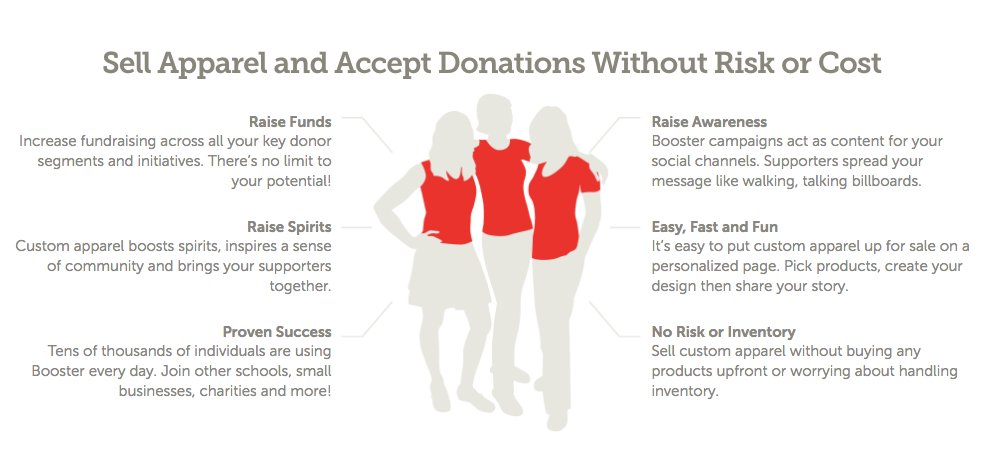 And here we go, I tested this tool for you with one of the designs we previously made to show you just how easy it is to make an actual fundraiser campaign on Booster to raise money for your cause, check it out!

Step #3 Using Social Media to Raise Money and Awareness for Your Cause
Once you've got your tshirt designs ready and your fundraising campaigns up and running, it's time to share it for the world to find out and pull out their wallets to donate!
Social media has made it easier for us to connect with people, not just to raise money, but also awareness; Facebook can help our tshirt fundraiser reach all sorts of groups, from friends and relatives to acquaintances and even complete strangers who can relate to your cause and may want to support it by buying a tee or sharing the link to your products.
To be able to run a successful campaign on Facebook Page, you will need powerful visuals to show your audience (a.k.a potential buyers) what the actual tee looks like in real life, to do this just visit Placeit Apparel and create a promo image using t-shirt mockups, tank top mockups or even hoodie mockups, it'll be a piece of cake.
How to Make a Facebook Ad Graphic
Check out Placeit's Apparel and pick a tshirt ad mockup
Add your fundraiser shirt design, same file you previously created works perfect!
Choose garment color > Add some text > Download!
Want to see the full process? Learn how to make a Facebook ad template in less than 3 min:

And here's how your t-shirt fundraiser design looks like displayed in a Facebook ad, pixel perfect and ready to raise some money for your cause: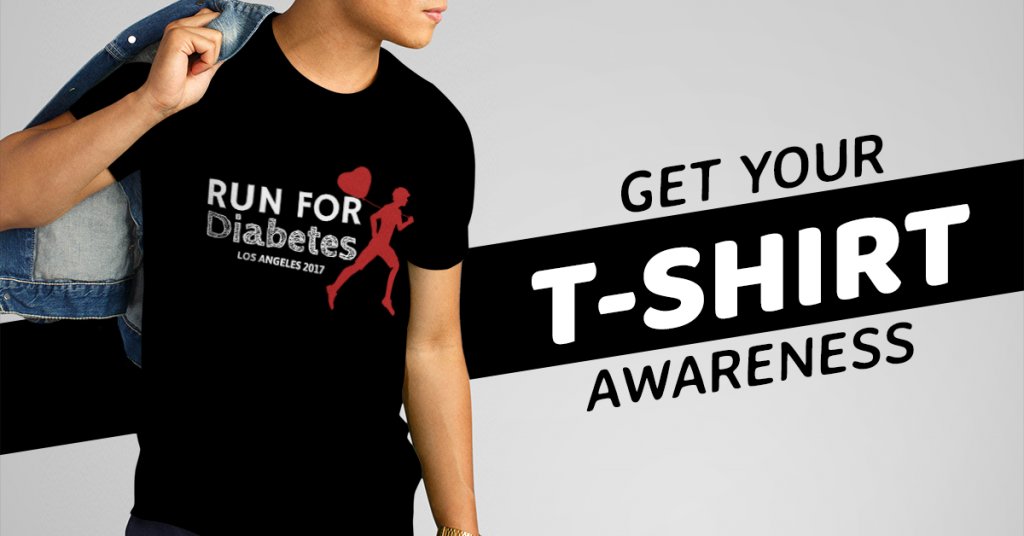 Now that you have professional images for social media, it's time to run Facebook ads to promote your campaigns, don't worry this is not as complex as it sounds. All you need to do is visit Facebook Ads Manager and create a campaign based on your audience and budget.
If it's your first time making a paid ad on Facebook and you want more guidance on the matter, I suggest reading this post on making Facebook Ads that convert that shows you how to do it step by step.
So there you have it, you are now all set up to make your very own tshirt fundraising from scratch, whether you are collecting funds to support the medical treatment or recovery of a loved one, a community service or any other cause that needs fundraising, making a tshirt to sell online is a great way to earn some money on the side to boost your project.
"My t-shirt designs are super easy to make with Placeit's design templates"
Theresa Smith 5/5
---
Raise Awareness for Your Cause with a Custom T-Shirt Design
Are you thinking about raising money for a cause? A t-shirt fundraiser is a great idea to raise awareness for causes that are important to you. With Placeit's t-shirt design templates you'll be able to create designs easily without the hassle of hiring a designer. Also, it's a great idea to promote your designs using Placeit's t-shirt mockups which are beautifully shot with professional models in real settings.
Make a T-Shirt Design Now
---