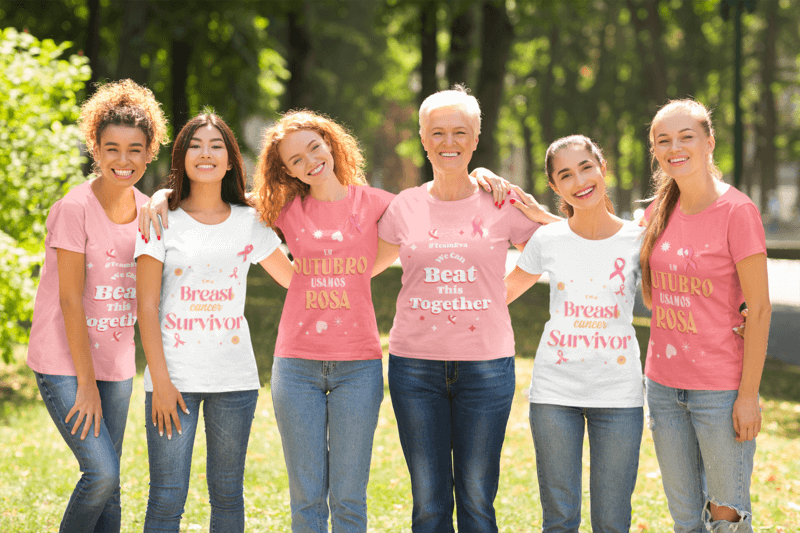 Showing our love and support for people living with breast cancer and survivors or fighters is a great way to raise awareness of this disease. We may not all be able to come up with a cure for cancer or participate in the latest research, but if we can do our part to help spread awareness by wearing and promoting breast cancer shirts, that sounds like a feasible contribution.
This Is What You'll Find:
Design a Breast Cancer Shirt From Scratch
Making your own breast cancer shirt is a great way to show your respect for a relative or close friend who is undergoing a battle with this disease; it's also a powerful way to raise awareness and help collect funds for treatments and other medical expenses. To make breast cancer awareness shirts, you don't need to hire a designer or buy fancy software. This post will show you how to make a breast cancer awareness t-shirt for free in a matter of minutes…Ok, if you need to hire a designer, please read this guide on how to hire from Fiverr; we don't want you to get scammed. Now, with that being said, let's start! 
📅 P.S. Don't miss out on any other important dates. Check out our e-commerce and t-shirt calendars to be aware of important days! 
---
Step #1 – Choose a T-Shirt Template
Placeit by Envato has brand-new t-shirt templates that let you become an artist or graphic designer in seconds! All you need to do is choose a t-shirt design template and customize it. Though there are many t-shirt templates you can personalize for your use case, we recommend you go for the breast cancer awareness templates.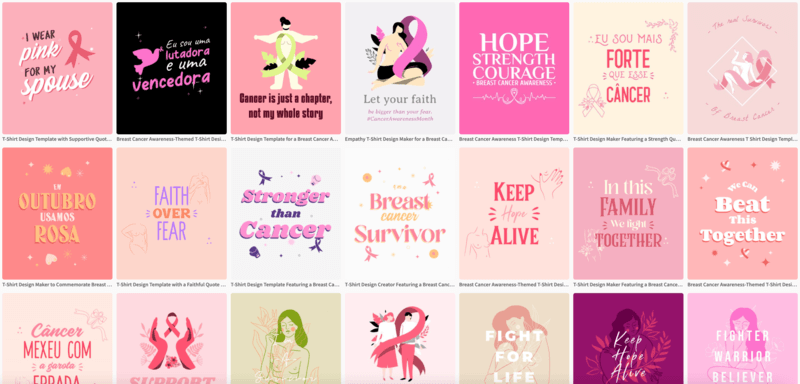 ---
Step #2 – Add Some Text to Your Shirt Design
If you are supporting a relative or friend's battle against breast cancer and are planning an event to raise funds, then making customized t-shirts for the occasion is the way to go, but don't just make a generic tee. Make your breast cancer shirts personal by adding text to honor the person you are making the fundraiser for. The great news is that you can do that super easily with design templates.
How? You will see the text fields on the left side of the template. Type your text, choose a font, and the right color, and voilá! Your text will automatically adjust when you add it to maintain its shape and center. You don't have to worry about a thing, have a look: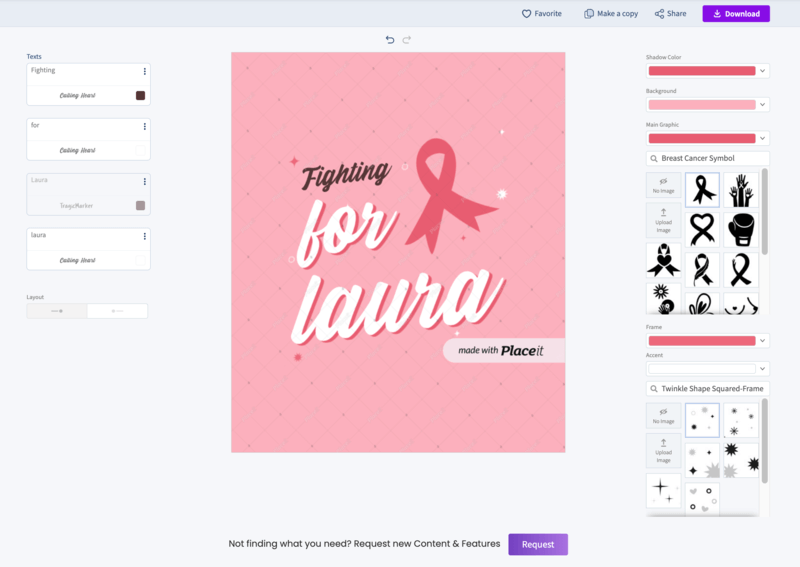 ---
Step #3 Choose a Graphic or Icon to Go With Your Text
Now you've got your text ready, it's time for us to add an image that will go with it. Graphics can be powerful assets as these help the message go throw in a quicker and more effective manner. This breast cancer awareness t-shirt template comes with lots of preset graphics that go along perfectly with the theme, which means all you need to do is select the one you like the most and click on it to add it to your design.
It is that simple. For example, our design reads "Fighting for Laura", it has the preset ribbon graphic, and it already looks great! But we can go ahead and test other options. Check them out: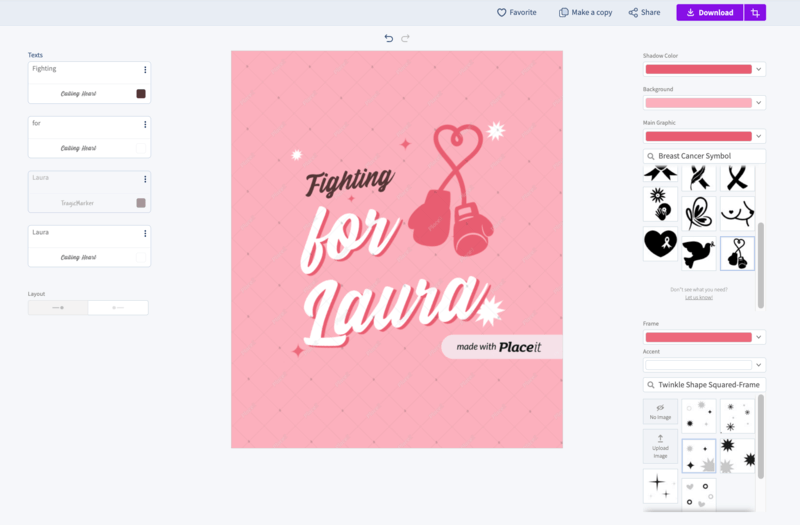 ---
Step #4 Add a Background, Pattern, or Photo to Support Your Design
Some design templates come with many backgrounds and patterns you can add to your design to complement it for different use cases. Check out some of these fantastic options and how they look with the design we made:
These backgrounds really help you give your design some personality if you are thinking of other ways to use it aside from shirts – We will go over this in the next step.
If you are just planning on making t-shirts, we recommend you avoid adding a background, photo, or pattern and simply download the image with a transparent background; this way, your design will look its best printed on t-shirts of several colors. To do this, just select the checkered icon, giving your design a transparent background.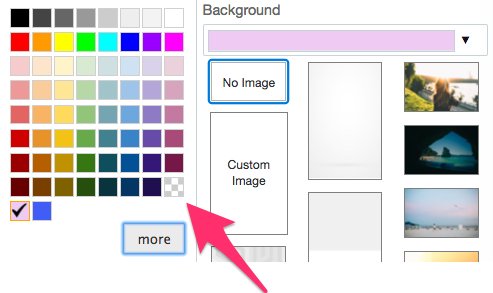 ---
Step #5 Give a Twist to Your Design
Your breast cancer shirt design is ready, but that's not the end! You can still use your design if you want to explore other possibilities besides printing t-shirts. 
Let's say after making your shirts, you want to use the breast cancer awareness design you created for printing a poster or to share on social media – it would make a great visual for your Facebook event! Or even place your design on a mug mockup! 
🌸 Visit Placeit Apparel for more marketing materials for your breast cancer shirt design! 
And that's it! See? Making your own breast cancer awareness shirt design wasn't as hard as it seemed, was it? So, if you are looking for more inspiration, these designs are made with the same Breast Cancer Awareness Template we've used all along! 
And here's a tutorial on the full process:
Wrapping It Up
While learning how to make your own breast cancer shirts is important, don't lose focus and avoid pinkwashing. 
If you are genuinely interested in joining this cause, do it with respect, support and transparency. For example, the recommended practices are not only to wear pink ribbons but instead inform how you will support this cause, whether with donations, campaigns, or actions to contribute and spread awareness about the importance of checking from early stages our bodies periodically to prevent this disease. 
---
---
---